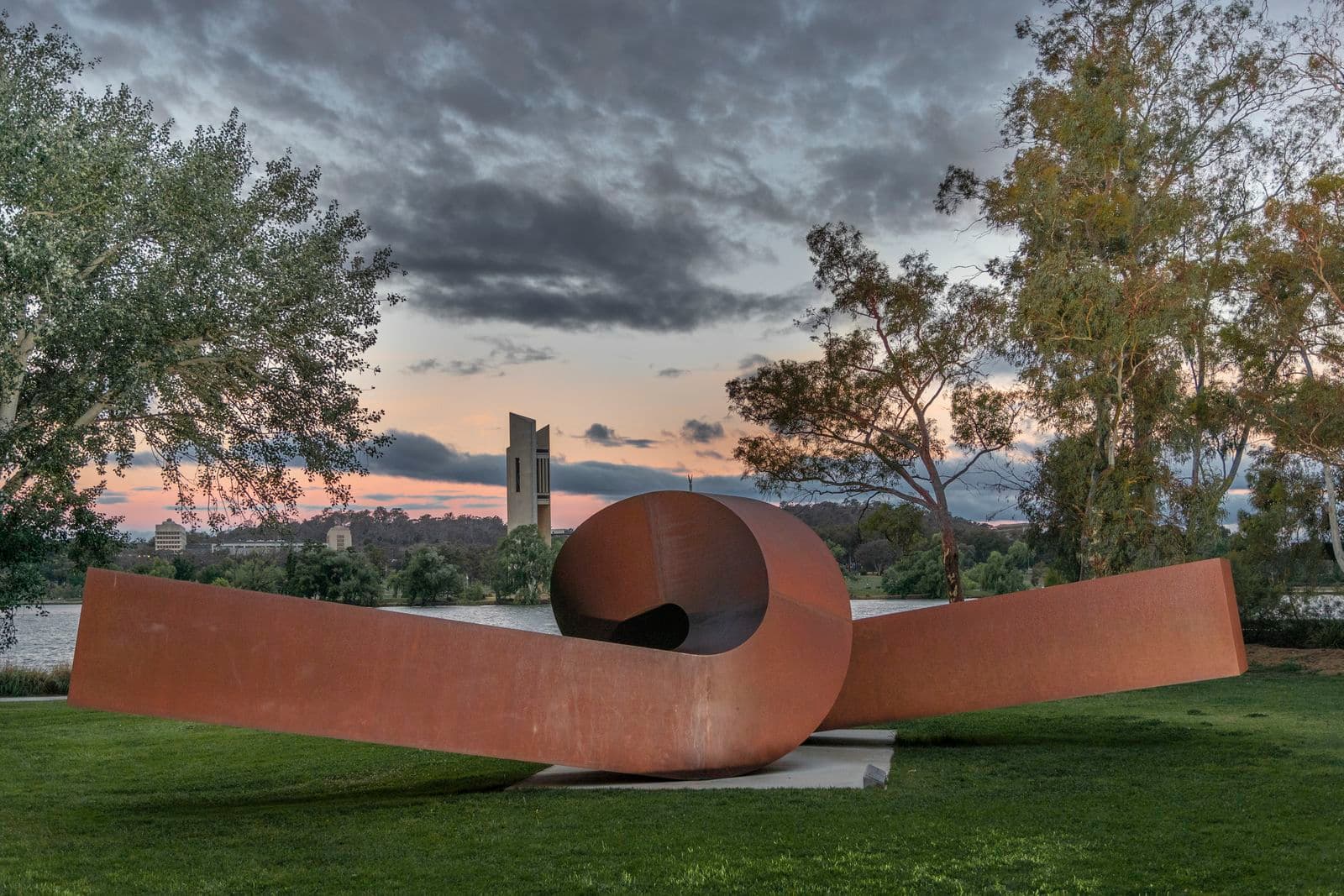 About
The grounds that lie between the National Gallery and the shores of Lake Burley Griffin were configured to display the Gallery's extensive collection of sculpture.
After a few years in the planning, earthworks and plantings commenced on the National Gallery sculpture garden in 1981. Harry Howard and Associates and James Mollison, the Gallery's first Director, designed this garden to complement the building. The diagonal of the main pathway and the floor plan of the garden repeats the triangular architecture of the main building.
The innovative landscape design included a set of 'outside rooms' plantings that showcased 26 sculptures made by international and Australian artists. Most of the sculptures were bought and placed in the garden during the early 1980s and reflect the abstract, industrial aesthetic of that time, however there are some works that are more evocative, for example the fog sculpture by Fujiko Nakaya and the Pukamani burial poles nearby. Antony Gormley's life-sized maquette for Angel of the North which faces the lake, was a significant addition in 2010.
The plants are native to Australia and were selected for their tolerance of Canberra's severe winter conditions and long hot dry summers. The seasons of the year form the main design structure with the Winter garden close to the building with warm winter slate and winter flowering acacias and the earliest figurative works of art. The Summer garden is the shady area beneath the Casuarinas and near the marsh pond. The Spring garden, full of spring flowering Grevilleas and Acacias is closer to the lake. The Autumn garden was never fully realised.
Fujiko Nakaya's fog sculpture Foggy wake in a desert: An ecosphere is in operation 12.30pm – 2pm daily.