James Turrell's 'Within without'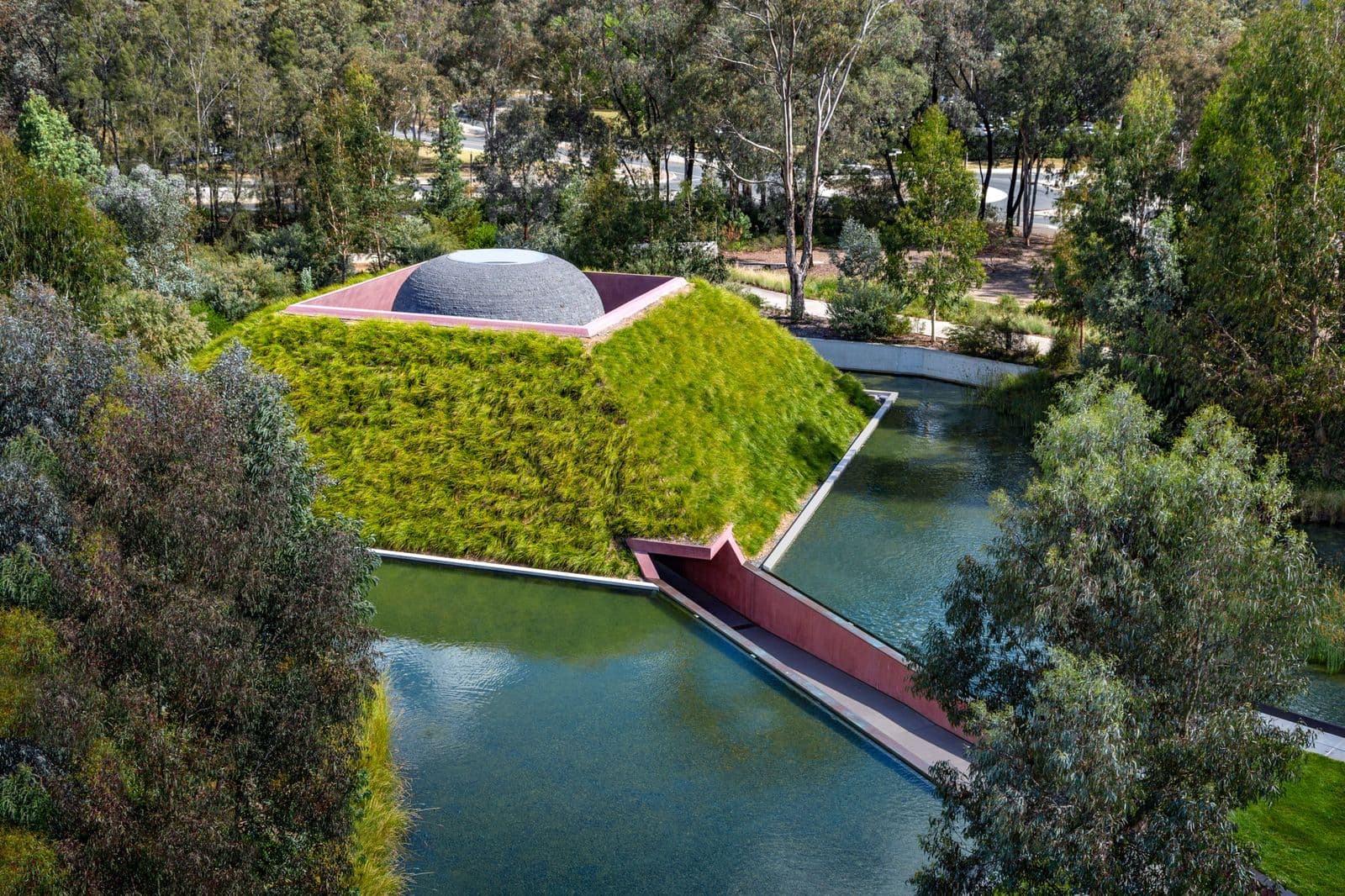 My work is about space and the light that inhabits it. It is about how you confront that space and plumb it with vision. It is about your seeing, like the wordless thought that comes from looking into fire. — James Turrell
About
Within without is a major Skyspace by American artist James Turrell, one of his largest and most complex to date. Light is Turrell's medium, and his Skyspace is a viewing chamber that affects the way we perceive the sky. Commissioned by the National Gallery of Australia, Canberra, Within without is located in the Gallery's new Australian Garden on the south side of the building.
We enter the work via a long sloping walkway. Inside is a large square-based pyramid with soft red ochre interior walls. A stupa made of Victorian basalt rises at the centre, highlighted by turquoise water. The stupa contains the viewing chamber—a simple domed space, open to the sky. A moonstone, set into the centre of the floor, echoes the oculus above.
Within the Skyspace, light seems more painterly. Movement and sound are intensified, the sky shimmers and pulsates. Within without is at its most dramatic and complex at dawn and dusk, marking the transition between night and day.
In asking us to take the time to notice these subtleties, Turrell reveals the immensity of the natural world and the beauty of celestial architecture. Within without offers artlessness, simplicity, unhurried perception. Within without has been constructed as part of the Gallery's Stage 1 building project.
Visit
Access
Please take care while visiting the Skyspace. Maximum capacity is 4 people. Climbing on the Skyspace, food, beverages and glass are not permitted.
Please respect that the Skyspace is a work of art and subject to the same conditions of access and entry as the rest of the National Gallery of Australia.
The ramps and walkways have open sides and no handrails
At night and before dawn the lighting in the work of art is very low
This work of art does not comply with Australian access standards
If you require assistance with access please contact a member of the gallery staff on ph: +61 2 6240 6411
There is no exclusive access to the Skyspace and no bookings are required.
Commercial photography is not permitted without prior arrangement with the National Gallery of Australia.
Location
In the Australian Garden on the south side of the Gallery. Open daily unless otherwise specified due to maintenance.
No bookings required. Closed Christmas Day.
Further information
Contacts
General information +61 2 6240 6411
For visitors with mobility difficulties
+61 2 6240 6411
Email: information@nga.gov.au