Founding of the Collection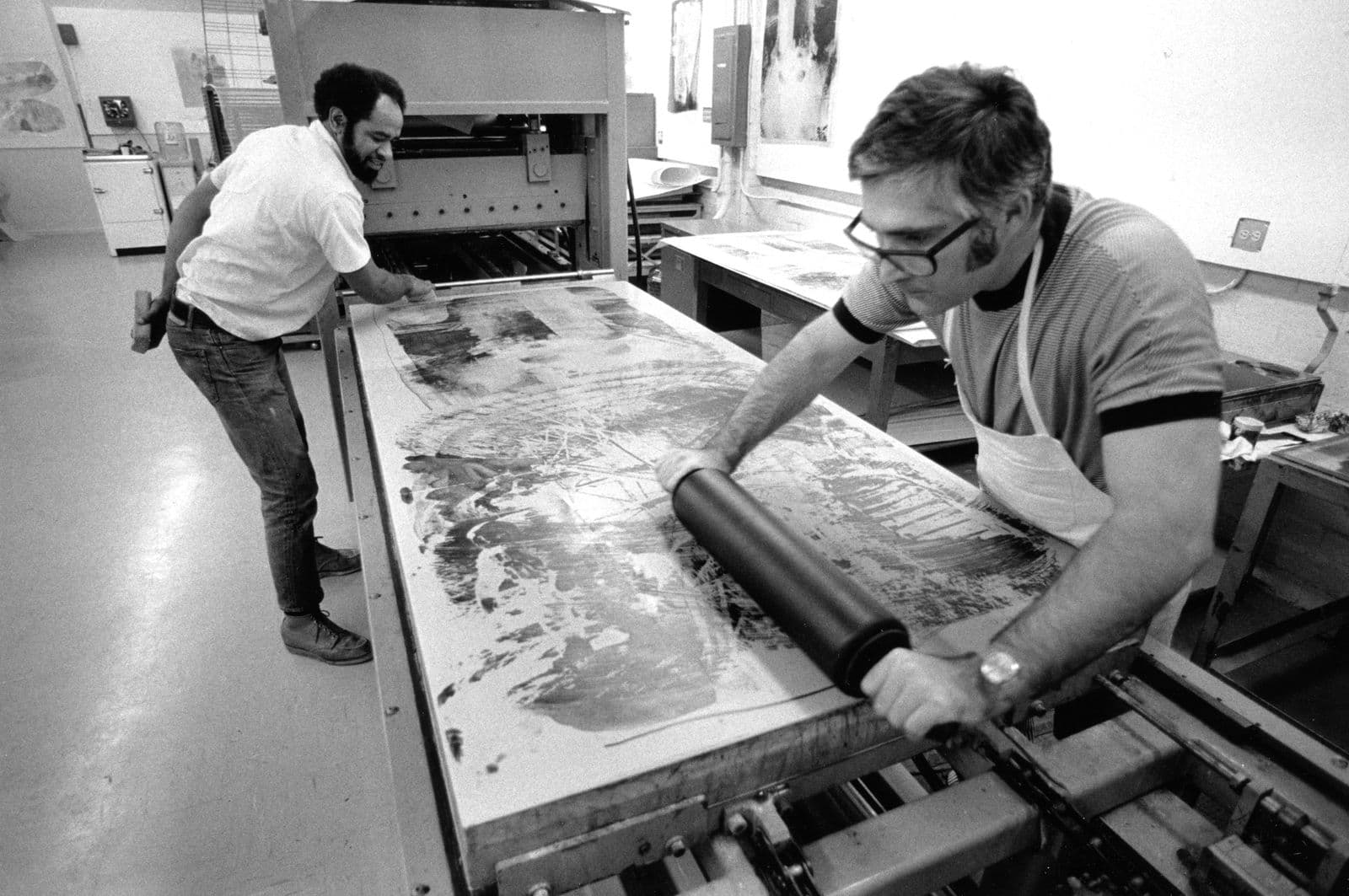 What happens when a talented artist experiences the creative environment of a Kenneth Tyler print workshop? This question is answered by the National Gallery of Australia's major collection of editioned original prints, screens, paperworks, illustrated books and multiples by a select group of artists—along with rare or unique proofs and drawings produced at the various Tyler workshops from the 1960s to the present day. These works display, in their distinctive ways, the many facets of their making, and document the extraordinary story of artist/printer collaboration in postwar America.
The Gallery's 'embryo' collection of international prints was known to Robert Hughes, who contacted then Director James Mollison to alert him to an opportunity—Ken Tyler was about to move from Los Angeles to new premises on the east coast of the USA, an expensive undertaking, and was looking to sell his private collection of printer's proofs.1 As with so many collections, it would have been a great loss should the Tyler collection be dispersed at auction. Hughes recalled the occasion in a recent conversation. He had met Tyler in Los Angeles through a mutual friend, the critic Barbara Rose, and became aware of this 'important opportunity for Australia to gain a collection of modernist, especially American prints'.2
Mollison at once recognised that this was a significant opportunity to build on the collection, and in September 1973, during a visit to the USA, he viewed the Gemini archive in Los Angeles. A formal letter offering the collection to the Gallery followed early in October. Tyler wrote:
At the suggestion of my friend, Robert Hughes, I addressed a proposal to him offering a selection of my personal collection of Gemini prints to the National Gallery in Canberra. This group totalled 311 prints created by 17 artists, all of whom I have collaborated with since I founded Gemini in 1965.

After subsequent conversations with Bob Hughes, who enthusiastically supports your new museum, it became apparent to me that perhaps this would be the opportunity for your museum to own my complete collection of printers' proofs. This unique body of work dates from 1966 to the end of 1973 and comprises 517 graphics by 30 internationally renowned artists…
The prescient Tyler added:
My intention has been that only an institution should acquire these prints and that a print archives be established to serve generations of scholars and other interested people. If possible, I would prefer that my future printers' proofs also be a part of this archive. This is the only complete set of work created by Gemini in existence and each proof, which serves as the standard for the edition of prints published, is in excellent condition.
With the opportune acquisition from Tyler of over 600 prints, rare proofs and related drawings the first riches arrived in Canberra on 25 January 1974.5 Like Mollison, the artists Fred Williams and James Gleeson (both members of the Acquisitions Committee) were enthusiastic supporters of the Gemini purchase, and on 5 December 1973 Gleeson, who was the chairman of the Committee, met Tyler in New York. He wrote in his diary:
To the Hotel Algonquin to meet Bob Hughes and Ken Tyler of Gemini Prints—and to an Italian restaurant on 53rd street for lunch. Discussed Tyler's proposed scheme to supply us with print proofs of every print made in the past, present and future (a trust to be set up). He is going to ring Jim [Mollison], as there is some urgency to get the trust established before the 10th December.
Hughes commented that Gleeson was excited at the prospect of such a purchase and immediately saw both the need for urgency and the importance of buying 'the whole damn thing'.6
Shortly after the successful New York meeting Mollison proposed to further augment the Gemini acquisition. After telephoning Tyler Mollison wrote on 11 December 1973 in a note for file:
My suggestion is that he includes his archive of artists' drawings and rare proofs, along with the right to print proofs produced at Gemini which we initially decided to purchase from him. We are agreed that while this collection of prints is exceptional, the addition to it of the 57 artists' drawings and rare proofs with which Mr Tyler said he would never part, makes this a collection which no other art gallery in the world could duplicate.
James Mollison was determined to build on the initial Gemini acquisition and developed a program of continuing purchase of Tyler print publications. Tyler had written to him in 1975:
As you remember at the time you acquired for your museum my personal collections of Right to Print proofs, rare proofs and preparatory drawings, I pledged to continue selling the museum all of my future works. All work dated since your acquisition has been kept in storage for you. Since I think of the National Gallery as having the complete archive of my work as a printer and publisher, I am anxious to have a perpetual program established.
The National Gallery of Australia opens
After the Gallery opened in 1982, Pat Gilmour (the inaugural Coordinating Curator of International Prints and Illustrated Books until 1989) and the staff of the department began a program of exhibitions drawing on the rich collections of prints and books already acquired by the Gallery.
In 1985, in recognition of Tyler's outstanding contribution to printmaking and to highlight the strength of the Gallery's Ken Tyler Collection, Gilmour organised the exhibition Ken Tyler: printer extraordinary. In 1986 the Gallery published Ken Tyler master printer and the American print renaissance. Tyler, who visited Australia during the exhibition and conducted master classes at the Canberra Art School, presented the Gallery with Frank Stella's Pergusa three double 1984—then considered the very latest in modern printmaking. A mix of relief etching, engraving, and screenprinting on two sheets of handmade paper, Pergusa three double spans a previously unheard–of 257.9 x 167.6 cm.
Exhibitions—either thematic or devoted to single artists drawn from the Gallery's Tyler collection—continued throughout the 1980s and 1990s. Further purchases from Tyler Graphics were made, including Roy Lichtenstein's Reflections on Crash 1990, acquired in 1991. In the latter years of the1990s a dialogue between Tyler and the Gallery took place regarding the possible expansion of the Gallery's Tyler collection.
With funds generously provided by Orde Poynton AO, CMG (the great benefactor of the department of International Prints Drawings and Illustrated Books),9 the Gallery acquired in 1999 an astonishing example of the collaboration between Stella and Tyler, the mural print The fountain 1992, along with the original collage.
This 67-colour, hand-coloured print combines woodcut, etching, aquatint, relief, drypoint and screenprint, printed on three sheets of natural kozo fibre handmade paper with seven screenprinted natural gampi fibre handmade paper collage elements, and spans over 2.3 metres in height by 7 metres in length. It should be viewed as Stella's magnum opus in printmaking to that time—a pivotal example of his abstract style, with signature forms, lines, colours, textures and layering, produced at such a scale as to reveal the artist's consummate skills and confidence.
As well as allowing a substantial discount in the purchase price of the print and collage, Tyler donated to the Gallery the three carved woodblocks and 105 intaglio plates from which The fountain was printed. In 1999 this entire group formed the centrepiece of a Stella exhibition at the Gallery, Masterworks, which presented a complete account of a recent and unique working method—late 20th–century printmaking at its most accomplished. An accompanying publication, The fountain: a print epic, documented the collaborative exercise. Both Stella and Tyler attended the opening festivities and both gave lectures as part of the program of events organised around the Gallery's 17th birthday on 12 October 1999.
A time capsule
In 2002, almost 30 years after the initial purchase, the Gallery acquired, through purchase and a major gift by Ken Tyler, a large holding of more than 4000 items. The acquisition comprised a collection of editioned prints, screens and multiples, as well as a group of rare and unique proofs and artists' drawings which would round out wherever possible the Gallery's existing holdings from the various Tyler workshops.
In addition there was to be a very generous gift from Tyler of photographic records, film and audio—historical material recording artists' working methods from the 1960s to the present day. A submission had originally gone to Council in June 2000—and it was noted that Dr Poynton enthusiastically supported the proposal.
Through a recent major gift and purchase the collection has been augmented to form an outstanding repository of the most important works produced at the Tyler workshops over nearly a 40–year period by significant artists—works that attest remarkable collaborations between the master printer and artists such as Josef Albers, Anni Albers, Anthony Caro, Sam Francis, Helen Frankenthaler, David Hockney, Ellsworth Kelly, RB Kitaj, Roy Lichtenstein, Joan Mitchell, Robert Motherwell, Bruce Nauman, Kenneth Noland, Claes Oldenburg, Ken Price, Robert Rauschenberg, James Rosenquist, Edward Ruscha, Richard Serra, Steven Sorman, Frank Stella, Masami Teraoka, John Walker and Andy Warhol.
The Gallery's collection encompasses a diverse range of styles and working methods of some of the most significant contemporary artists working in America in the second half of the 20th century—a time capsule for present and future generations that chronicles phenomenal developments in 20th–century printmaking.10 From the 'first notes on the piano'11 a symphony of extraordinary innovation and technical virtuosity followed.
As part of the Gallery's 20th birthday celebrations an exhibition drawn from the Gallery's collection from Gemini, Gemini GEL, the Tyler Workshop and Tyler Graphics opened to the public in October 2002. An accompanying publication and a website, The big Americans: the art of collaboration , were produced for the occasion.
At the same time, Tyler generously provided funds to establish the Tyler Print Fellowships and Tyler Print Internships. With this remarkable gesture Tyler and the Gallery will continue the links first established in 1973 their association into the new millennium.
Since 2002 the Gallery has drawn on the Tyler Collection as the basis for exhibitions and publications including Against the grain: the woodcuts of Helen Frankenthaler , Robert Rauschenberg 1967–1978 , Rosenquist: welcome to the water planet , Roy Lichtenstein: Pop remix , Robert Motherwell: At five in the afternoon , Behind the scenes: Tyler Graphics at work , Frank Stella: The Kenneth Tyler Print Collection and David Hockney in 2017.
In 2010 Tyler instigated a new stage in his longstanding relationship with the Gallery, funding a ten-year program to allow curatorial staff to work on the Tyler collections, assist in related exhibitions and publications, and further develop our Kenneth Tyler collections website. Tyler has provided additional finances to create a series of short films drawn from the Tyler footage. Produced by filmmaker Frank Cantor, these films document the activities of some of the key artists at Tyler's various workshops, and include a longer legacy film on the history of the workshop.
A comprehensive survey catalogue of the Tyler Collection, Workshop , was published in 2015. The International Prints, Drawings and Illustrated Books department conducted in-depth research into the work of each of the 77 artists featured in the Tyler Collection to produce informative catalogue entries accompanied by detailed chronologies of their work with Ken Tyler. Over the course of researching the publication interviews were conducted with artists Ed Baynard, William Crutchfield, Richard Meier, John Newman, Hugh O'Donnell, Sam Posey, Joseph Raffael, David Salle, Arthur Secunda, T.L Solien, Keith Sonnier, Altoon Sultan, Donald Sultan and Robert Zakanitch, as well as former TGL staff and printers.
Jane Kinsman
Senior Curator of International Prints
Drawings and Illustrated Books
Prime Minister William McMahon appointed James Mollison Acting Director of the National Gallery of Australia in October 1971, pending the establishment of the Gallery as a statutory body.
Robert Hughes, in conversation with Jane Kinsman 13 February 2002.
Ken Tyler, letter to James Mollison, 8 October 1973 National Gallery of Australia file 73/4882 quoted in Deborah Clark and Kathryn Weir 'Pop' Wall to Wall exhibition brochure (Canberra: National Gallery of Australia October 1998) p.8. Additional proofs and working drawings were subsequently added and the collection numbered over 600 works.
Ken Tyler, letter to James Mollison, 8 October 1973 National Gallery of Australia file 73/4882
A subsequent policy of purchase, formalised in 1982 as the Gallery's 'Continuing Print Programme', furthered this process of acquiring international prints produced at contemporary workshops. See Appendix C to Minutes of National Gallery Council Meeting 11 September 1982, National Gallery of Australia Research Library.
Robert Hughes, in conversation with Jane Kinsman 13 February 2002.
National Gallery of Australia file 73/4882–01.
Ken Tyler, letter to James Mollison 3 March 1975 National Gallery of Australia file 74/2240.
See Jane Kinsman Gift of Orde Poynton (Canberra: National Gallery of Australia 2003).
Other major collections of prints produced at the Tyler workshops include: the Walker Art Center, Minneapolis, USA; The Centre for Contemporary Graphic Art and Tyler Graphics Archive Collection, Fukushima, Japan; and the Singapore Art Museum. Tyler has given some prints from his workshops to: The Metropolitan Museum of Art, New York, in honour of William Lieberman; Tate Modern, London, in honour of Pat Gilmour; and the Addison Gallery of American Art, Phillips Academy, Andover, Massachusetts, in honour of Frank Stella.
Ken Tyler, in the documentary film Reaching out — Ken Tyler, master printer (Avery Tirce productions 1976).