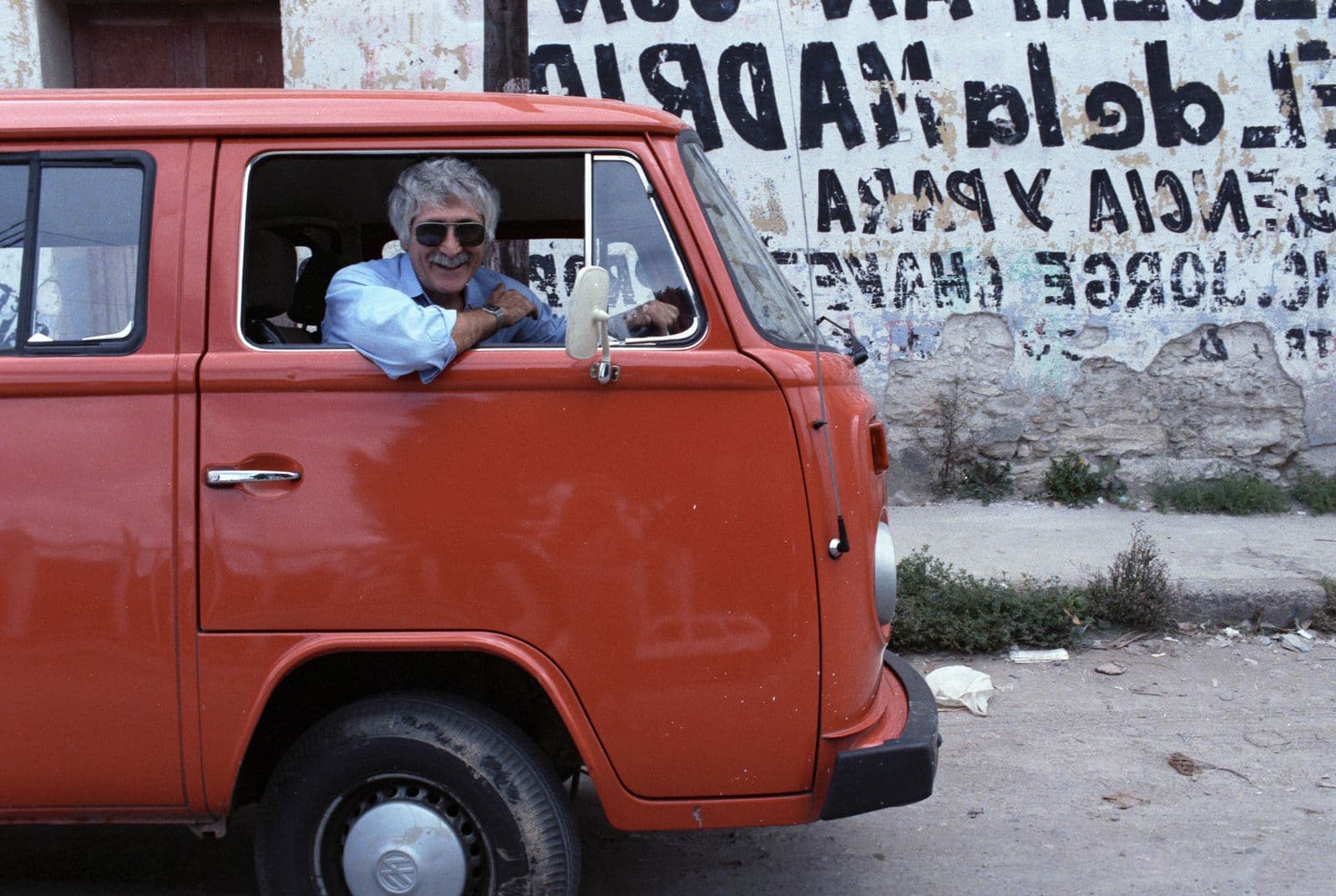 Kenneth E Tyler was born in East Chicago, Indiana in 1931. His family was one of the many who emigrated from Europe to the industrial heart of northern United States for a better life.
My mother came from Budapest, Hungary and my father from a small town in Romania near the border of Hungary. Both immigrated to the United States as young children. Mother's family name was Szilagyi and father's was Tyira, which was changed to Tyler in the U.S. My father worked in the steel mills in Gary, Indiana from the age of 12, and practised stonecutting with a mason from his home town in Romania as a second occupation.
This experience provided the young Tyler with an early appreciation of the need for technical excellence.
Encouraged by his school music teacher, Tyler developed an interest in the visual arts and subsequently studied at the Art Institute of Chicago from 1950 to 1951. Coming from a family of modest means Tyler had to work during his student years. From 1951 to 1952 he studied liberal arts at Indiana University, which, according to Tyler, consisted of 'one semester at the campus in Bloomington, Indiana and one semester at Gary, Indiana extension while I worked full time in the Gary steel mill and attended evening classes at the extension'.2
Tyler had planned further studies at the Sorbonne in Paris. It was during the Korean War, and while applying for his passport in September 1952, he was drafted for military service. He went through basic training, then got into Leadership School and then passed the exam for The Engineer Officers Candidate School [OCS], US Army, Fort Belvoir, Virginia. Tyler recently recalled the experience:
As an officer candidate, I excelled and when the Korean War ended in July 1953, I was offered an opportunity to leave OCS to go back to college without fulfilling my eight year officer obligation. I was given the title of Regimental Staff Artist; became editor of the Report (OCS newspaper); painted oil paintings of OCS scenes in my private painting studio and created an illustrated watercolor story of OCS for our retiring General Scott. Upon my departure in June 1954 the Army gave me all the contents of my lavish painting studio, which helped me immeasurably in art school for the next few years.
Following his time in the army, Tyler undertook further studies, receiving a Bachelor of Art Education from the Art Institute of Chicago in 1957, and has been an ardent educator ever since. Tyler then studied lithography under Garo Antreasian at the John Herron School of Art, Indiana, graduating with a Master of Art Education in 1963 and subsequently received a grant to attend the Tamarind Lithography Workshop in Los Angeles. This workshop, co-founded by June Wayne and Clinton Adams, was established in 1960 with a Ford Foundation Grant with the intention of reviving the art of lithography, which had reached a parlous state in the United States in the immediate post-Second World War period. In 1963 Ken Tyler took up a Ford Foundation fellowship at Tamarind to work under the master printer Irwin Hollander. During this time he also studied under the French master printer Marcel Durassier. Durassier, who was noted for his technical skill, had worked at the French lithography workshop, Mourlot Frères, with some of the great artists of the School of Paris, including Picasso and Miró. It was Durassier's belief that no matter what the imagery the printer should always provide the very best technical expertise for the artist. This attitude had a profound effect on Tyler. His experience at Tamarind allowed him to develop skills through research and practice, which earned him a reputation for technical wizardry, and he became a notable player in the advancement of printmaking in America.
A creative and brilliant technician, Tyler was the Technical Director of Tamarind during 1964–65. After his Tamarind experience Tyler, now in his early 30s, was keen to be an independent player. He was sufficiently 'desperate' to 'gamble everything' and in 1965 Tyler with his wife Kay set out to work with artists from 'the very top'4 and moved to establish his own print workshop in Los Angeles, Gemini Ltd. As Tyler later remembered, 'my workshop was a modest backroom space rented from Jerry Solomon's frame shop.'5
In the following year Tyler established the fine print publishing house, Gemini GEL (Graphic Editions Ltd), with partners Stanley Grinstein and Sidney B Felsen. The intention of the three directors was to publish state-of-the-art prints. Gemini GEL achieved its reputation because of Tyler's philosophy. A comment made by MoMA's William Lieberman in a lecture at the University of Southern California in 1965, had 'shocked' Tyler by stating the obvious — 'that great art is made by great artists'. With this in mind, Tyler deduced that 'great prints are made only by great artists'.6 He therefore set out to encourage and cajole the very best artists of his day to work with him, promising them: 'Here is a workshop, there are no rules, no restrictions, do what you want to do'.7  He took inspiration from the approach to printmaking by his idol Pablo Picasso, which was increasingly to throw out the rule book.
The value of the collaborative relationship between master printer and key artists is evident in the National Gallery of Australia's major collection of editioned original prints, screens, paperworks, illustrated books and multiples, along with rare or unique proofs and drawings produced at the Tyler's various workshops: Gemini Ltd and Gemini GEL in Los Angeles; and Tyler Workshop and Tyler Graphics Ltd at Bedford and Mount Kisco (both in New York State). The seeds of this collection were sown in 1973 when the Gallery acquired over 600 prints, rare proofs and related drawings from Tyler. Great riches arrived and a subsequent acquisition policy — formalised in 1982 as the Continuing Print Program — furthered this process over the years with acquisitions by way of purchase and gift from Tyler's workshops.
In 2002 the Kenneth Tyler Collection was augmented by a major gift and purchase, to form a storehouse of the major works produced at the Tyler workshops from the 1960s to the present (by major artists of the contemporary period). An accompanying exhibition, publication,8 and website The big Americans: the art of collaboration , were produced for the occasion, contributing to the Gallery's 20th birthday celebrations. In addition, and to complement this collection of original art works, there was a gift of rare and unique proofs along with documentation consisting of photographic records, film and audio — all significant primary source historical material recording the working methods of artists and printers and their collaborations from the 1960s to the present day. Before his death in February 2001, Dr Poynton — the important benefactor for the collection of international prints, drawings and illustrated books — enthusiastically endorsed the proposal and his funds assisted in the acquisition.
In 2012 Tyler was awarded an honorary Order of Australia at the Australian Embassy in Washington DC—one of only two Americans who had been awarded the Order of Australia at that time—for his outstanding generosity to the Gallery and specifically the Department of International Prints and Drawings. As well as donating his time, energy and remarkable knowledge over many years, Tyler and his wife Marabeth have provided a remarkable legacy for our country and the National Gallery of Australia.
The Kenneth Tyler Collection documents an extraordinary story of artist/printer collaboration in post-war printmaking in America. As each artist brought their individual talents and ideas to the studio, Tyler was able to facilitate and also to extend the possibilities available to them. Many artists including Anni Albers, Josef Albers, Helen Frankenthaler, David Hockney, Jasper Johns, Ellsworth Kelly, Roy Lichtenstein, Joan Mitchell, Robert Motherwell, Bruce Nauman, Claes Oldenburg, Robert Rauschenberg James Rosenquist, Edward Ruscha, Masami Teraoka, Wayne Thiebaud, Steven Sorman, Frank Stella and Andy Warhol produced some of their finest work in a workshop atmosphere that celebrated creativity.9
Jane Kinsman
Senior Curator of International Prints
Drawings and Illustrated Books
Ken Tyler, in correspondence with Jane Kinsman 17 March 2003.
ibid.
ibid.
Ken Tyler, in the documentary film Reaching out — Ken Tyler, master printer (Avery Tirce productions 1976).
Ken Tyler, 'Layers of space and time: Hockney's Moving focus' in Contemporary master prints from the Lilja collection (Liechtenstein and London: The Lilja Art Fund Foundation, Vaduz, Liechtenstein, in association with Azimuth Editions 1995) p.121.
Ken Tyler, in the documentary film Reaching out — Ken Tyler, master printer (Avery Tirce productions 1976).
ibid.
Jane Kinsman The big Americans: the art of collaboration (Canberra: National Gallery of Australia 2002).
Other major collections of prints produced at the Tyler workshops include: the Walker Art Center, Minneapolis, USA; The Centre for Contemporary Graphic Art and Tyler Graphics Archive Collection, Fukushima, Japan; and the Singapore Art Museum. Tyler has given some prints from his workshops to: The Metropolitan Museum of Art, New York, in honour of William Lieberman; Tate Modern, London, in honour of Pat Gilmour; and the Addison Gallery of American Art, Phillips Academy, Andover, Massachusetts, in honour of Frank Stella.