The Mulka Project: Djarraṯawun
Special Event
3–13 Mar 2023
Daily, 8–11pm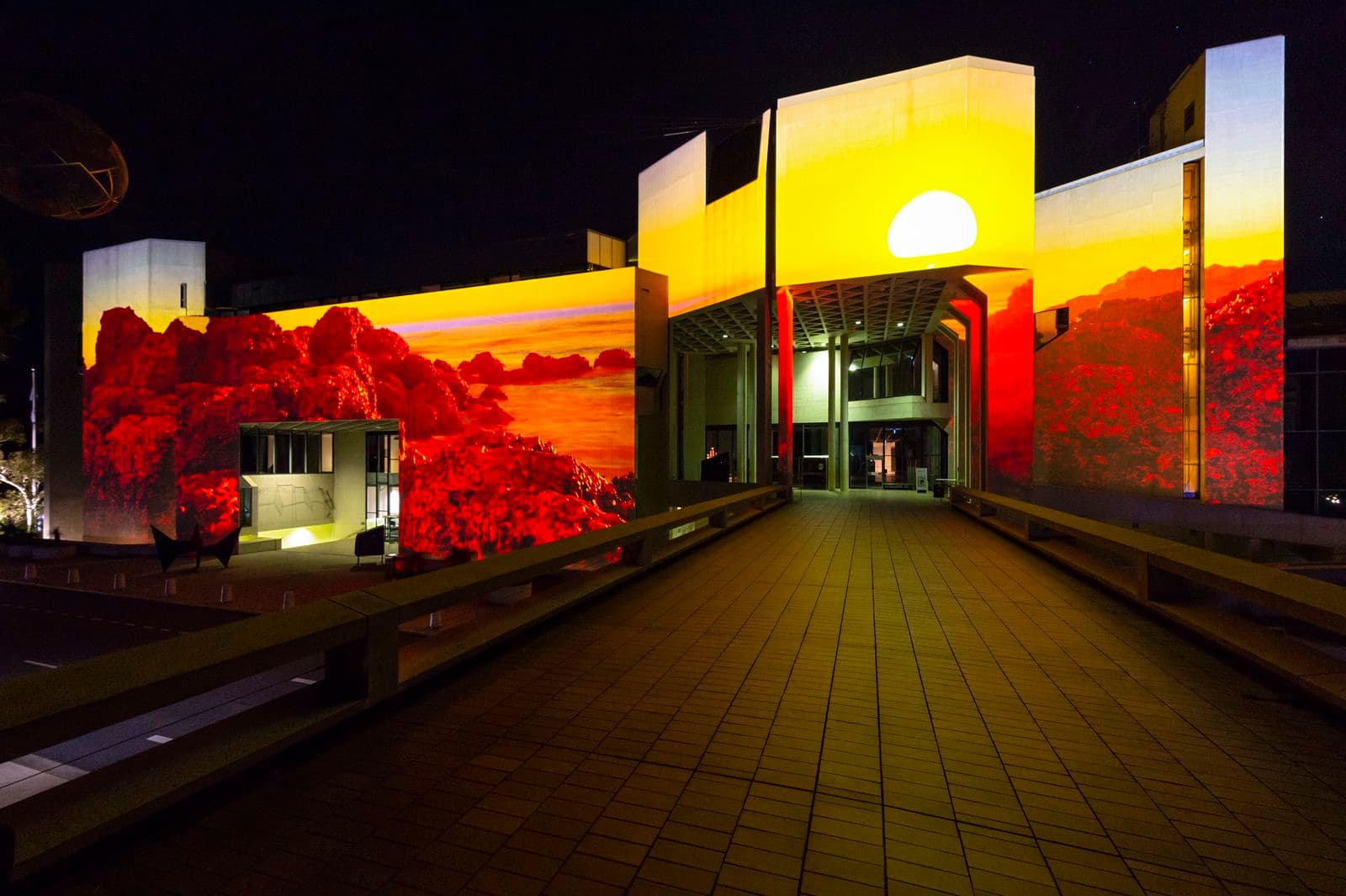 'We want to bring knowledge of the past to the present, to preserve it for future generations and to understand what meaning it has in the present day and age.'
About
---
The National Gallery has commissioned a new projection and sound-based work by The Mulka Project to illuminate the building's 60m façade for the 2023 Enlighten Festival.
Titled Djarraṯawun, the commission will be projected onto the complex architecture features of the National Gallery's western façade. Djarraṯawun is a composite video/animation work portraying the elemental forces and life cycles of our world. The three major elements of Djarraṯawun are walu (sunlight), makarran (lightning) and gurtha (fire). These elements intertwine with songlines and atmospheric soundscapes immersing audiences in the Yolŋu world of Northeast Arnhem Land.
Working across video, animation and new media, The Mulka Project sustains and protects Yolŋu cultural knowledge in Northeast Arnhem Land under the leadership of community elders. The Mulka production house, recording studio, digital learning centre and cultural archive are managed by Yolŋu law and governance.
Curators: Bruce Johnson-McLean, Wierdi | Birri Gubba people, Barbara Jean Humphreys Assistant Director, First Nations Engagement and Head Curator, Aboriginal and Torres Strait Islander Art; Kelli Cole, Warumungu/Luritja peoples, Curator, Special Projects, Aboriginal and Torres Strait Islander Art; and Peter Johnson, former Curator, Projects.
Viewer advice: Please be aware this work of art contains flashing lights, loud sounds and scenes depicting fire. Viewer discretion is advised.
Synopsis
The sun rises upon a coastal landscape.
Gapu monuk, the saltwater, laps against mangroves and oyster covered rocks as the sound of the sea mixes with the tapping of tools and the voices of Yolngu as they gather oysters. A campfire is heard burning as we see men with spears wander in the distant waters, calling for stingray, mud crabs, and fish:
"Brrrrrr Marrandjalk"
"Brrrrrr Djindjilma"
"Brrrrrr Guya"
Their harvest is placed upon the campfire to cook. The glow and smoke of the campfire mix with Djäpana, the sunset, and as the smoke rises it expands and transforms into warumuk wangupini, the dark storm clouds.
The clouds glow, illuminated by the bright moon. They continue to build as the first bolt of lightning strikes. As the lightning continues the songlines of the thunder man Bunuwal begin to sing out from within the cloud, mixing with the sound of thunder. The thunder gets louder, the strikes get closer, and suddenly a fierce bolt of lightning strikes.
With a mighty boom and a shower of sparks the singing stops abruptly. The sparks spread out and a grass fire begins at the base of the column. The clouds move on and the lightning ceases as the grass fire spreads, illuminating and silhouetting the gadayka stringy bark forest. As the sound of the crackling fire increases, archival recordings of children singing fire songs begin to sound out of the smoke. The children sing the fire as it runs its course across the building and peters out. All that remains is single solitary patch the size of a small campfire.
The sun rises upon a coastal landscape