A Melbourne Mood
Cool Contemporary Art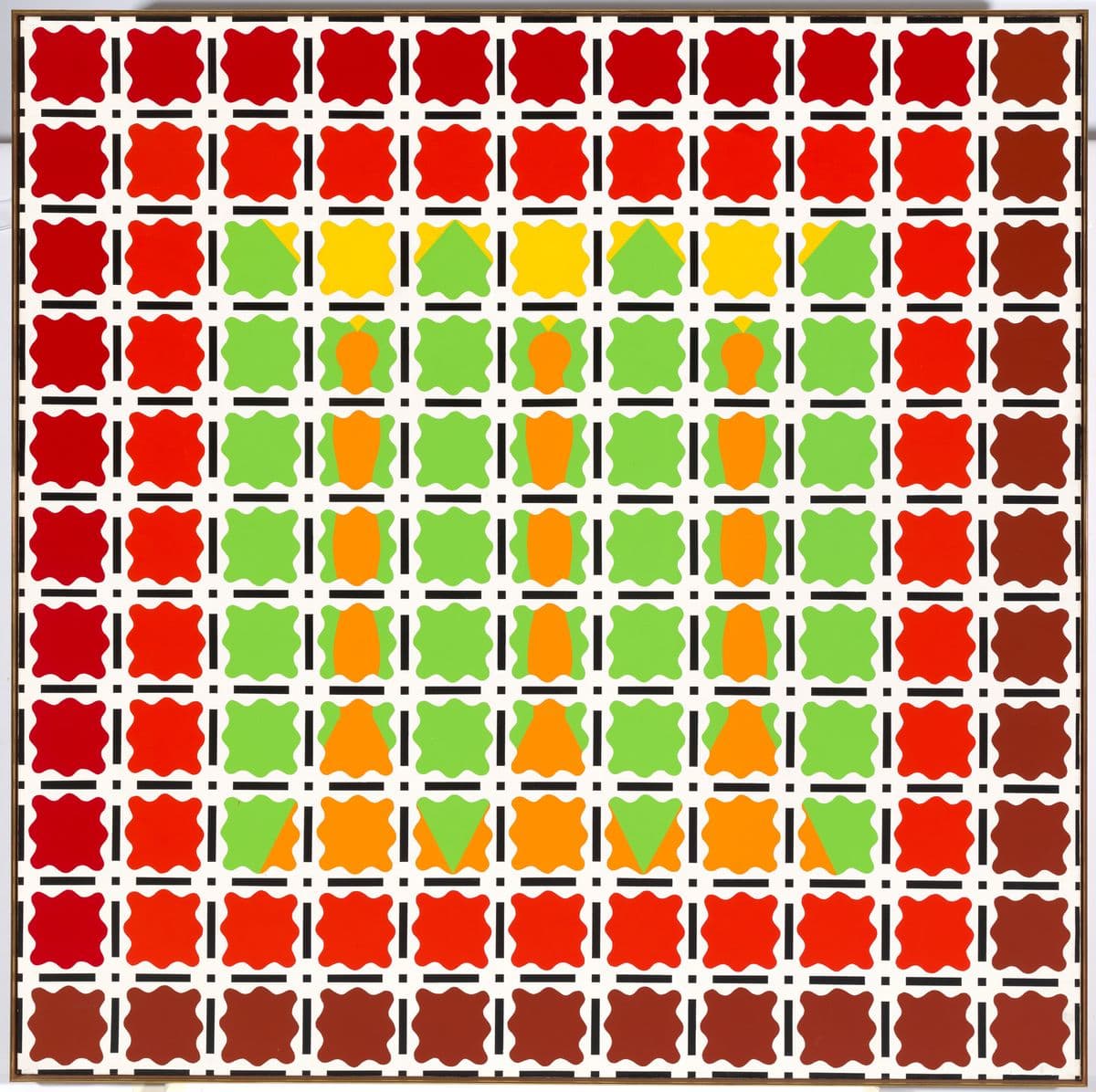 About
---
This exhibition took place at Melville Hall, Australian National University.
A.N.G at A.N.U
The Australian National University has made Melville Hall available to the Australian National Gallery for temporary exhibitions on a number of occasions over the past decade. In recent years the Gallery's extensive holdings of contemporary art, both Australian and foreign, have been drawn upon for these exhibitions. The contemporary art programme, named A.N.G. at A.N.U., has been developed especially for the art public of Canberra. The first A.N.G. at A.N.U. exhibition, Photography: The Past Ten Years, held in 1980, presented a newly energized art medium. The next, Landscape—Art: Two-Way Reaction, was concerned with newly significant art themes of ecology and environment. The third, How Formal Should I Go? (a very brief exhibition with no published catalogue) was about extremes of art styles.
The next exhibition of Australian art for A.N.G. at A.N.U. will be a survey of contemporary Australian decorative arts, drawing largely upon the Crafts Board of the Australia Council Collection of 1980, recently received by the Gallery. It will be displayed during the summer holidays of 1983-84.
A Sydney sensibility will be focussed upon later in 1984, as counterbalance to A Melbourne Mood. It will be concerned less with artistic stylishness, or with self-expressive psychic inner necessities, than with direct response of the senses to outer, material realities. It might be called The Sydney Touch.
The present exhibition, A Melbourne Mood: Cool Contemporary Art, focusses on a sensibility rather than a style, subject matter or medium. This cool sensibility is traced in Melbourne's art from the 1950s till today.
This will be the first showing of some of the works bought in 1969, the first year of serious collecting for the Gallery by its ancestral body, the Commonwealth Art Advisory Board. James Mollison, then advising the Board, recognized the significance of the style defined by the National Gallery of Victoria's 1968 exhibition The Field, and arranged the acquisition of some of its key paintings (and other similar works) by Janet Dawson, James Doolin, Dale Hickey, Robert Hunter, Paul Partos and Trevor Vickers. The Field was presented as a new abstract style. This exhibition shows that elements of that style were also part of a continuing cool sensibility in Melbourne art, a sensibility that has transcended style and the figurative/abstract demarcation in postwar art.
Following the style of the Gallery's earlier exhibition publication, The Philip Morris Arts Grant: Australian Art of the Past Ten Years, the catalogue gives a full checklist of the Gallery's major holdings in the area of this exhibition, sometimes indicating further 'uncool' holdings by artists represented in it.
Introduction
The exhibition is about a mood; it is about style only insofar as a style may stem from or coincide with this sensibility. The mood is cool; the place is Melbourne. The time extends from the 1950s to the 1980s and the art media are many. The artists range from the oldest and earliest, John Brack and Eric Thake, to the youngest and latest, Maria Kozic and Philip Brophy, and the heart of the exhibition is in the late 1960s and through the 1970s.
The exhibition was to comprise contemporary Australian art from the Australian National Gallery's collection. The collection had a special, hitherto unexhibited, strength in Melbourne art. The choices could have been a survey of the 'best' art, or a theme exhibition, or one that defined a style or traced an art movement or a group of artists, or something that arose directly out of the present vogue of expressionism and showed the art of the immediate past in a new light. The last was chosen.
However it was decided not to trace the Melbourne predecessors of the 'new' expressionists. That would have made a pleasing and enlightening exhibition, stacked with paintings by Peter Booth, Ken Whisson, Jan Senbergs, the Boyds, Roger Kemp, Leonard French, Asher Bilu, Andrew Sibley and others, even Fred Williams at certain moments. In the background would be the 1950s Antipodeans and the 1940s angry expressionists. Melbourne since the wartime 1940s has been the home of expressionism, and although some 'new' artists explicitly dissociate themselves from the past it would be relatively easy to stabilize them. That would, however, disregard the fact that for the new expressionists—as well as other new artists—the past is another country. It is a defenceless country and it may be plundered, but it is inherently foreign. The new art's use of the past, as a field of images and grammar of ornament—in Europe and America perhaps more than Australia—almost makes nonsense of the usual art-historical exercise which would place the artists within a tradition.
The exhibition is therefore designed around the cool sensibility that has characterized much of the art of the recent past and continues to be a cutting edge in new art. It is a sensibility more characteristic of Melbourne's art than that of other Australian art centres; it is perhaps a reaction against Melbourne's expressionism.
Cool is defined in the Oxford Dictionary as "unexcited, restrained, relaxed, unemotional, lacking zeal, lacking cordiality, calmly audacious". We can apply this definition to works of art and ask ourselves whether they are cool. But there is also a deeper sense by which our present way of life can be said to be cool.
Following Marshall McLuhan's book Understanding Media (1965), 'cool' has come to represent primarily the communications industry. The media are cool because they displace direct personal experience. Through television, radio, newspapers and film mediation governs our senses, thinking our thoughts, describing our feelings and categorising our experiences before they happen. We talk, eat, consume, walk, listen, love and react to people and places according to patterns taught us by the media. Now we are fully conscious of this; thirty years ago we were not. Our senses are keyed to the media codes of news speech, disc-jockey speech, sports speech, 'Soaps' speech; we are not sufficiently amazed by parliamentary speech, nor by the mole-like singlemindedness of the language of experts. We are affected by these codes far more intimately than by what they refer to for the codes have become life. It is to them that our senses are attuned, so that the adolescent learning sex and love walks round wired for sound. The media set us at a distance and, despite accelerated communication, we are further from immediate contact than people have ever been before. Lacking zeal, we rarely translate the codes into terms of a single reality. Our essential cool is that in the past twenty years we have come to live with the knowledge that reality has somehow slipped away and mediation has taken its place.
The Oxford Dictionary also tells us that 'cool' nowadays sometimes means 'excellent'. It is not cool to be earnest or scientific. It is not cool to be art-historical or penetrating or observant. It is not at all cool to believe in progress. Thus, paradoxically, to be cool is to be fashionable while not being at all modern.
It is the cool of our times that art expresses. It is in the restraint of hard-edged flat-colour painting and in the calm audaciousness of Pop Art, and in the distancing of new 1980s expressionism that overtly quotes stories and images of the past in a parade of dispassionate liveliness. (The new Expressionism is virtually Conceptual Art.) One stream of art began by quoting the media (Pop Art) and later refused to make a distinction between itself and the media. Within its ironical scope are fashion, politics, sex, dreams, and emotions of affection and aggression.
Who has been cool amongst Melbourne's artists? Peter Booth, one of Melbourne's foremost contemporary painters, has never been; even at his most controlled he was definitely hot. Mike Brown, father of Australian Pop Art, is too warm and too magical, and too late an arrival in Melbourne from 1960s Sydney to be significant for our theme. Juan Davila's style is cool but sexual imagery heats the work. Clement Meadmore's New York sculptures are superficially cool but at heart they are as abstract-expressionist as his Melbourne and Sydney sculptures; his furniture is another matter. On the whole, though, lots of Melbourne's best artists of the past twenty years have been cool. Their works have been alienating when they might instead have charmed; when their subjects have promised intimacy they have imposed the cool barrier of professional idiom; or they have been cool in the way the media industry is cool, presenting life as 'style'.
Melbourne's cool art has been presented in a context equally cool: behind the stylish Toorak Road shop-front of Gallery A, within Pinacotheca's shadowy colonnades, hidden aloft in the bright austerity of Art Projects. The pristine new National Gallery of Victoria building of 1968 was the setting for The Field exhibition.
Appropriately, the earliest works shown here are of shop windows. Eric Thake's watercolour The Wide Boys (1952) and John Brack's painting Men's Wear (1953) epitomize much of the art in the exhibition which has found its subjects in aspects of the real world that look like art. Clothing is evidently art: a statement of the wearer's identity. Clothing in a shop window is doubly art since, like painting and sculpture, it is artfully arranged and presented, framed behind glass, for an audience.
Thake's work includes photographs, such as The bushranger, that recognize an art-like look in objects of everyday life, in this case a petrol pump like Sidney Nolan's Ned Kelly; and succinct linocuts, such as Goodnight Lachaise, that wittily set at odds the accepted perceptions and functions of art objects.
John Brack's art is figurative, lean, angular, sometimes acid in colour, often scarifying in subject and expression but always cool in mood. Being cool, his social comment is not clouded be personal expression as with Arthur Boyd, Albert Tucker and Noel Counihan. Being cool, his paintings point outwards. What Brack observes is not necessarily cool at all. In some images a message is expressed that for all its dispassion is far less kindly than the subjective concern of the expressionists. John Brack's Still: War and Peace is a metaphor of the Vietnam war. It represents a battle of forms, a rain of pens, a balance of blue and green hues and a resolution of magic symbols (some of the Bodhisattvas on the postcards are guardians of peace, others of war). Another layer of expression involves the onlooker. Brack has observed a difference between people looking at paintings—they are anxious—and people looking at postcards of paintings—they are at peace. As spectators of his paintings are we, too, at war? Already we observe a hidden content belying the blandness of some cool art.
Men's Wear was the centrepiece of Brack's first one-man show in November 1953. He had  painted an actual, seedy shop in Russell Street.  While he was looking in the proprietor spotted  him and came out, full of business. Some critics missed the art in Brack's paintings, describing them as caricatures, but in the Australasian Post Arnold Shore explained: "they employ the same approach to Art expression as Botticelli, and Giotto, and the Great Orientals". Men's Wear "triumphs over banality; records in Art what stares us in the face day by day".
Brack's Mens Wear is a paraphrase of Seurat's La Parade; his The bride and groom is a quotation of Rembrandt's The Jewish Bride. Academic art has always been comfortable with pre-used imagery and Brack (who for six years in the sixties was head of Melbourne's National Gallery School) has the academic's sense of tradition as a repository of images to be translated to suit today's specific occasions.
Brack has always admired Seurat; their paintings share the same excessive deliberateness, the same careful plottings of lines, tones and colours, and the same unaesthetic, vulgar subjects. There is a liking for observer sports. Seurat painted circuses, the 1880s new and multi-coloured Eiffel Tower, the Sunday promenade. Brack's subjects of shop windows, skaters, jockeys, ballroom dancing and a wedding, are everyday spectacles that from the outset are designed to be looked at.
Seurat's classic equation of emotions with specific lines and colours is what we also see in Brack's paintings. Seurat advised: "By gaiety of tone is meant that warm tones dominate; by gaiety of line, ascending indications of direction (above the horizontal); by serenity, that there is equality between dark and light tones, between warmth and coldness in hues, horizontality in line. By sadness of tone is meant that dark tones dominate, by sadness of hue that cold hues dominate, and by sadness of line that the indications of direction run downward..." The sobriety of Men's Wear is conveyed in a multitude of vertical and horizontal lines and a range of brown colours. Accents of dourness are the downward-inclining lines in the proprietor's face, shoulders and arms; those of bright cheer are the models' upward perky smiles, their flippant lapels, their three-footed stands, and the animated jigsaw of a display of modern neckties, one of which is sported by the otherwise unmodern proprietor. The strongest tonal contrast and most active line is the artist's reflection in a mirror. As in paintings by Velasquez—detached observer of a seventeenth-century Spanish court—Brack has put himself in the picture.
Images of public display, by these and other artists, using a variety of styles and media, are a feature of Melbourne cool. There are Ivan Durrant's photoreal image of Lana Turner, Hollywood star of movie magazines; Bob Jenyns's frontally-posed cultural-exchange portrait of himself and the Chinese peasant painter Mr Liu; and Maria Kozic's Queens, shown in true perspective. More subtle are an inadvertent Display of orthopaedic appliances temporarily heaped in a shop window, to be seen and painted by Brack, and two Quality Meats, Corned brisket and 59 cents a pound, painted by Durrant. The pieces of meat, having been carefully prepared and pinkly lit for sale by a butcher, are glisteningly represented as art. Another example is William Delfield Cook's A cane seat with plant (1970), where the pictorial devices are those of an advertisement in Vogue Living: the chair is presented alone with an attractive accessory; it is shown frontally, suggestively pushed forward; luxury is emphasized by a velvety surface of fine black lines, the mesh of which is the artist's recreation of a suave quality he admired in eighteenth-century reproductive mezzotints. Sam Schoenbaum's 30-minute black and white video Still life: breakfast piece (1976), a stationary bowl of fruit formally displayed before a stationary camera, is given life by garden light and movement through a Richmond (Melbourne) window and by breakfast sounds and conversations; it was made and named 'classically' in full knowledge of seventeenth-century Dutch still-life painting and of the various still-life categories.
Cool may refer both to image and non-image. Thus it ignores the great abstract/figurative demarcation in twentieth-century art.
The restraint of hard-edged flat-colour painting in the 1960s was the mark of its New York originators, the younger generation of painters who reacted against the older generations Abstract Expressionism. Melbourne had a tradition of figurative expressionism. Here hard-edge appealed as much because of its denial of imagery as because of its disavowal of individual sensibility. The Field exhibition at the National Gallery of Victoria's new building in 1968 was the style's high tide in Australia. Included here from The Field or its period are works by Trevor Vickers, Paul Partos, Janet Dawson, James Doolin, Dale Hickey, Robert Hunter, Mel Ramsden and Ian Burn. According to the aesthetic of hard-edge, paintings and sculptures were to refer to themselves only, not even to the artist via the intimate marks of something handmade. So the painted surfaces and edges were immaculate. The ingrained tradition of looking through a frame into an image was circumvented by leaving the middle blank (as Partos, Ramsden, Robert Jacks, and, later, Peter Tyndall have done) or by shaping the canvas oddly and thus imparting sculptural energy to painting. The onlooker was invited to notice the painting or sculpture as an object, to see its shapes, the flat surface and the disposition of colour.
By imagery and sensibility, ostensibly left out of cool abstraction, in fact flooded in. In a muted, minimal way Partos's canvases of the late 1960s draw attention to their intimate, sensuous surfaces as have his earlier and later paintings. Ti Parks, Robert Rooney and Dale Hickey slyly imported imagery into their ostensibly abstract patterns. In quite another way, so did Janet Dawson. Hard-edge, after all, was a passage in the careers of most of its practitioners, most of whom started with a different style and moved on through hard-edge to others. How hard-edge was interpreted depended very much on the artist.
Ian Burn's mirror pieces and Mel Ramsden's even wittier conceptual art addressed themselves to the context of viewing the work of art. Mel Ramsden's black painting is accompanied by a message: "The content of this painting is invisible; the exact character and dimension of the content are to be kept permanently secret, known only to Ian Burn". His white painting carries a printed guarantee: "This white painting contains a circle..." The circle in this painting is as undetectable as the content of the other work. Through the seventies Peter Tyndall also made the observer the subject of many paintings. A person looking at a work of art by Tyndall will not necessarily be enlightened by the signs painted on it. The most that is suggested, by means of a rectangle and maybe a human outline, is that we are looking at a picture of someone looking at a picture, a picture within a picture (perhaps remotely a painting by Fred Williams, Larry Poons, Dale Hickey). In the context of this exhibition, we will be reminded of the onlooker mirrored in John Brack's Men's Wear, the figure in Brack's Inside-out and outside, and Eric Thake's Goodnight Lachaise.
Other artists of The Field moved into process art; and later the sculptors Clive Murray-White and David Wilson made the sculpting process and heavy metal material the subject of art. Robert Jacks went to New York in 1968 and the focus of his work shifted from hard-edge towards the processes and material used in making art, to rubber, paper, graphite, cutting and mark-making. Thus his art departed still further from the traditional iconic concept of 'the work of art'. At the same time its appearance of immaculate craft was enhanced until, indeed, craft seemed the sum. A similar refinement has characterized the work of John Nixon. Everything he touches becomes handsome. Even when his materials are yellowed newspapers printed with inflammatory texts, which consequently have the crudity inherent in cheap newsprints and instant news, his assemblage transforms this raw vitality into something stylish. Understandably he now titles everything he does 'Self portrait' and dreams of a future museum where his entire output may be together in a few rooms.
In Melbourne, then Sydney through the 1960s, Janet Dawson became aware that artistic statements matched particular responses to locality. The Melbourne paintings were of interiors; Sydney's became exterior. The original Wall, which is also ambiguously a mirror, was painted after she moved to Sydney, and was the last of the Melbourne interiors. Her paintings were far more abstract than Brack's – no one was likely to describe them as caricatures – and their irregular, intuitively derived expression contrasts with his classicism and with that of many of The Field painters. Whereas these other artists were able to work with classic formulations she explored American Abstract Expressionism. She was disciplined to a degree by an image, the associations it had for her, and a strong sense of what a painting could, or could not, be. In this painting the image of a wall contradictorily suggests softness rather than solidity, impalpable space as well as a barrier, and reflection instead of separation: the artist had been reading William Empson's Seven Types of Ambiguity. Control and rigour were concentrated on the process of painting, of observing herself in the act and the image as it evolved under her hands. In this way the painting made itself: she paused if it were going wrong and stopped when she recognized its resolution. Like earlier abstract expressionists the coolness and distance she established was that of a painter holding back from predetermining a work of art before it had virtually made itself. Her coolness was that of the player, not the planner.
Her cool for this exhibition is also the circular coffee-tables she designed in 1964 and 1968. They were first made as a promotion for Laminex plastics at Gallery A, Melbourne, in the days when it had a design and contract furniture department, when it was sponsored by Adroit Manufacturing Pty Ltd, makers of custom-built office furniture, and when its artists' catalogues carried advertisements for Dunlop Vinyl Tiles. The sculptor Clement Meadmore had designed furniture, including a string chair, and for Gallery A there was a "crafted timber chair for dining in elegance and comfort". He designed the legs for some of Janet Dawson's tables. She retrieved the easy-care Laminex plastic sheeting from its usual kitchen and bathroom habitat for use in trendy, modern living rooms, not so much with irony as to emphasize its beauty.
The thermometer by which we measure cool is likely to change its reading upon an instant. Janet Dawson's art verges on the earnest. Jonas Balsaitis's complexly layered paintings are cool with an edge of obsession as are his films to which they are closely related. Lesley Dumbrell has a slow and methodical method of planning and working which, together with the muted sprightliness of her paintings, makes her work undeniably cool; though she, too, has an offsetting seriousness. James Doolin's paintings for The Field exhibition of 1968 were cool with a suggestion of spiritual space. Robert Hunter's minimal differentiation of whites and greys is cool. Cool too are Bea Maddock's prints; and the painting Solitary, a list of synonyms collaged in restrained capitals and veiled by creamy wax, is, like its unsociable subject, coolly detached.
The art of Dale Hickey and Robert Rooney has been definitely and permanently cool, though in appearance quite unlike the contemplative greyness of much of Melbourne's late-1960s art. They first made a reputation in the late 1960s with a mixture of Pop Art and hard-edge hardcolour painting; that is, they adopted the big-time international style of hard-edge large-size colour painting which was moving in on Australia and taking over from the local Melbourne tradition of expressive figure painting; and they combined the international style with regional Melbourne subjects: knitting and cake packet cut-outs for Rooney, the bricks and timbers of suburban house walls for Hickey. Their art seemed rather irreverent at the time. In the early seventies Rooney's photographs of a Holden parked in suburban streets and Hickey's 'anti-big' exercises in a traditional method of tonal landscape painting were also local in reference and blandly cosmopolitan in effect. Moving since then through a succession of stylistic attitudes, both artists have maintained a distance from the works of art they have made. Neither artist has been, nor looks like ever being, identified by a particular theme, image or style.
Rooney has said that the breakthrough for him came in 1967 when he combined his serious painting with the entertainments to which he had long been addicted. Nearly all the images in his hard-edge paintings came from his entertainments, which were parodies of art, collections of images that were not art but "looked like paintings". Such was the diagram taken from a knitting book which he used in the Superknit paintings, or the plastic clothes-pegs from which came the three columns in the Australian National Gallery's Kind-hearted—Kitchen-garden ll. He was conscious of colours appropriate to hard-edge in fake kitchen interiors in McEwan's hardware stores: "a brightly coloured window, a green wall outside, and tins of paint sitting on the counter". He probably collected a particular German chocolate cakebox top because its scallop shape was then appearing everywhere in hard-edge painting. He used it in the Kind-hearted—Kitchen-garden paintings. His paintings thus parodied hard-edge but had to be fully as good. He worked in Source Bookshop which specialized in American publications. Assiduously he looked at reproductions in art magazines, for example, at Terry Setch's wallpaper abstractions reproduced in Studio from the mid 1960s. He adopted from Frank Stella the device of interlocking colours within squares. He took infinite pains. Preparation for the Kind-Hearted—Kitchen-garden paintings took fully a week's fiddling work with stencils.
There are links, both incidental and profound, between many of the artists and works of art in this exhibition. Within months of each other in the early fifties Thake and Brack painted the window displays of seedy clothing-shops situated within half a block of each other in Russell Street, Melbourne. Janet Dawson and Dale Hickey both painted walls in the late sixties and each rendered the subject ambiguously. Psychologically the most interesting coincidence has been the number of artists whose works contain a sly, or shy, sub-layer of meaning or reference beneath a surface of cool equilibrium. Peter Tyndall, Brack and Thake each have chosen – quixotically – to describe the observer of the work of art. Suburbia, fashion and public display have been consistent themes in cool Melbourne art since the early fifties. Yet these have not been part of Melbourne's sense of its own continuing and characteristic traditions.
Many of the artists represented in this exhibition have grown up and lived or still live in the mid-eastern suburbs of Melbourne and of them John Brack, Robert Rooney, Howard Arkley and Jenny Watson have found images specifically from the locality. Howard Arkley grew up knowing that he lived two streets away from John Brack's home in Surrey Hills. Robert Rooney's second strong early imprint of art came in November 1953, shortly after seeing an exhibit of Blackman's Schoolgirls, when he visited Brack's exhibition and was impressed by Men's Wear. Peter Tyndall's first visit to an art exhibition was to John Brack's one-man show at Joseph Brown's in 1970; he soon abandoned his architecture studies for self-taught painting and gave himself, for his twenty-first birthday, Ronald Millar's book on Brack. Robert Rooney—whose only remembered change of address in forty-four years has been to move, aged six, from number 9 to number 20 Broomfield Road, Hawthorn—has been as attentive to the details of his environment as was novelist Hal Porter (Watcher on the Cast Iron Balcony) years earlier to the Melbourne suburb of his early childhood.
Jenny Watson showed paintings of all the five houses she had lived in at a major exhibition at Powell Street Gallery in 1977. Three of the addresses were in the eastern suburbs. Each house was given two paintings of its public-display streetfront, both with white borders, like snapshots. A small, straightforward depiction of the house had the lettered address superimposed upon the image, as in a television credit. An enlarged version repeated the same image, this time dislocated within a grid as if a preliminary squared-up sketch were being honoured by a lush, painterly copy. The grid, the tacky physicality of the paint and the repetition of the image, all drew attention (as, in other ways, had Brack, Rooney, Hickey and Dawson) to the hitch between subject and idiom. While much of Watson's art has been autobiographical she has also been devoutly professional. And, since the 1930s, professionalism has entailed not craft, as it used to, so much as keeping abreast of trends abroad. The effect has been to divorce the artist's profession from family, friends, neighbours, from the artists past (before becoming an artist) and from the localisms of locality. Jenny Watson's Houses are a diagram of this divorce. The coolness in the alienation of images, in this case loaded with sentimental associations, which are deliberately set at a distance by professional mannerisms.
By the 1970s artists everywhere were disenchanted with the successive rule of one international art movement after another. Pluralism of styles and materials was a revolt from within the profession: artists also attempted a rapprochement with the world outside high art. Those on the political left were interested how high culture was being used in social control and sought a way through to the public by using techniques of the popular media. Punchy messages were delivered, in posters styled on advertisements (for example Ian Robertson's "Accordin to Mao"), in videos styled on television commercials, in glamorous. heroic paintings: they were eye-catching, their idiom was familiar to everyone, and they were instantly digestible. Ironically, some of the advocates of political art in the 1970s and early 1980s—lan Burn, Mel Ramsden, Terry Smith—made their way to simple media-style communication from the obscure cloisters of Art and Language and of Conceptual Art. Media art, a zealous tactic of the Left, was the epitome of cool in other artists not so politically committed.
Popular appeal is surely the rationale of new expressionists who, wanting both the power of kitsch and the seriousness of high art, invoke for their art the mastery of high culture in the past They heroicize themselves by ransacking the past for styles and images to be re-presented in huge paintings. Perhaps aggrandizement of this sort is too Wagnerian to be cool. It certainly is not the detached spirit of Randall-Bendinelli's videos or those of a group with a pronunciation, "tsk-tsk-tsk", but no name, which makes videos, posters, music and concerts that are frankly dependent on fashion and the media. They assemble popular images taken from television, classifying the gestures and postures of people in the media, identifying the teeth, hands, lips, eyes of the media. At their concerts they repeat ad nauseum not quite the same phrase of music and gyrate in a not-quite-ironic imitation of the pop idols.
Jenny Bannister, fashion-designer cum artist, enjoys a similar ambivalence. Her clothes may be consumed as fashion and admired as art. Her costumes are theatrical in the extreme; whether lightheartedly funky, or coolly new-wave or something closer to the movie futurist costumes of Barbarella and Mad Max, they are at the edge of usefulness and astonishment. Status as an artist has given Jenny Bannister independence and the pleasure of doing what she pleases for an art audience. Fashion offers status of another sort (Bannister's clothes sell well) and a fast-changing mode offers the brisk challenge of pacing herself by it.
Howard Arkley says of his work that it "had direct outside content and is not rigidly self-referring", though, as pattern, it is more deceptively formalist than the work of "tsk-tsk-tsk" and Jenny Bannister. Arkley says that the chairs have multiple meanings, belonging to art history (to Bauhaus or Rietveld for example) and to everyday suburban life. He took patterns from the linoleum and laminex of his childhood home in one of Melbourne's middle-eastern suburbs – he still makes observant expeditions back – then from his adult environment have come the patterns on pin-ball machines, gift-wrappings and computer printouts. Arkley paints his fuzzy, all-over, subtly-varied patterns on canvases, showing them in dealers' galleries; but patterned chairs, carpets, walls and plans for patterned crockery, tables, billboards and books are evidence that what he has taken from his environment shall eventually return to it. His most conspicuous 'return' is one of Melbourne's tramcars, painted not with advertising but with art, one of a series of art-trams in a quintessentially Melbourne project for bringing art to the community.
Cool is defined as "unexcited, restrained, relaxed, unemotional, lacking zeal, lacking cordiality, calmly audacious".
This exhibition is of cool art. It is not strictly art-historical, nor is it logical in the usual sense, because sensibility is transcendent. Neighbourhood and time, measured from where we are now, otherwise hem in our lives. We generally exercise a dot-to-dot method of understanding ourselves and our society, whereby events and images are clustered in patterns ordered by time and place. But sensibility is limited by neither time nor place. Bypassing logic, it fuses past and present; it links things which otherwise do not touch; and does this so powerfully that whatever is illuminated affects us with a sense of immediate relevance.