Australian Decorative Arts
The Past Ten Years
Exhibition
14 Dec 1983 – 26 Feb 1984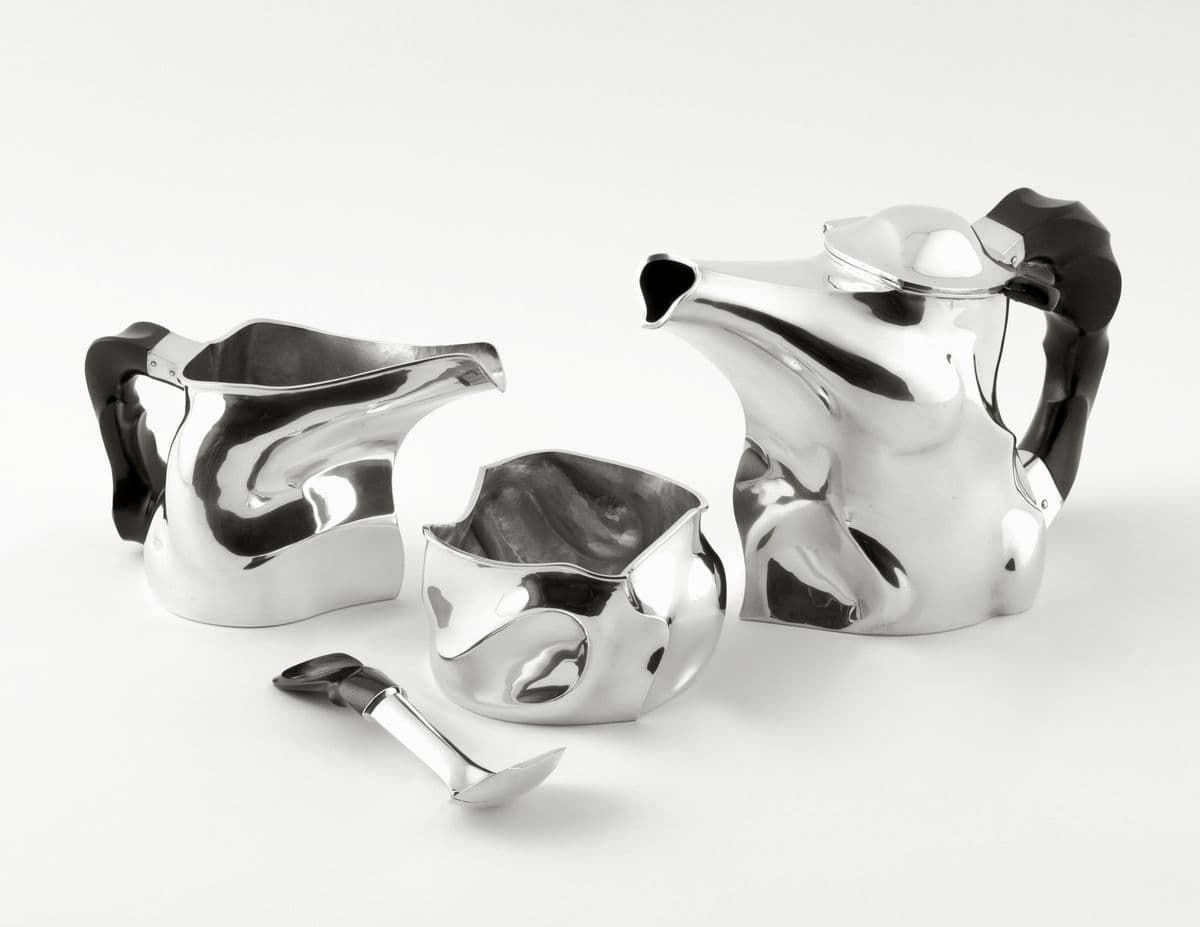 About
---
This was a touring exhibition.
Essay
Drawn from the permanent collection of the Australian National Gallery, this exhibition is an examination of developments in the decorative arts in Australia over the past ten years. It comprises work in a wide variety of media: clay, wood, glass, metal and textiles.
The origins of the Gallery's Australian decorative arts collection go back to a few objects acquired in the 1950s and 1960s by the Commonwealth Art Advisory Board. This was not a major area of the Board's concern and the few decorative arts objects it acquired were mostly contemporary Australian ceramics intended to furnish Official Establishments at home and overseas. In 1967 the decision was made to build a national gallery and systematic collecting began in 1969 when substantial funds became available. Although some purchases continued to be made in accordance with the earlier intentions, a policy was gradually developed which looked to a decorative arts collection that would complement a display of Australian paintings and sculptures. The appointment of a Curator of Australian Decorative Arts in 1980 demonstrated the Gallery's dedication to the growth of a significant collection in this area.
The Gallery's policy relating to Australian decorative arts has developed since 1980 and as a result the collection has grown greatly in some areas. In other areas growth has been slow or plans for the future are still to be implemented. Some areas of growth have been unexpected, resulting from generous gifts or the availability of large collections for purchase.
The collection of Australian art as displayed in the Gallery is illustrative of its history and development from the earliest days of the colony until the present. Chronological displays bring together works in many different media within the same period. Paintings and sculptures are displayed beside drawings, prints and photographs. Decorative arts, including furniture, silver, ceramics and textiles, further extend the viewer's impressions of the period. A progression through the galleries shows relationships between one period and another and the combination of media helps the viewer to appreciate the cultural unity of Australian arts.
Besides collecting decorative arts for display within the galleries of Australian art, the Gallery has developed a policy of establishing study collections in certain areas, especially ceramics and textiles. These collections are national in scope and include items of modern manufacture such as machine-made ceramics and textiles designed by artists for commercial production, as well as popular or folk art which includes 'brickies' pieces' and crocheted doilies, artists' studio ceramics and 'art clothes'. Although many of these objects would add little to the Gallery's permanent displays of Australian art, the study collections provide unique reference resources.
The Australian National Gallery's extensive and broadly-based collecting policy will ensure that these study collections continue to grow, not only through acquisitions of historical interest but also through those which exemplify current trends and developments. The future development of such collections in all areas of Australian decorative arts is ensured by the Gallery's firm commitment to contemporary art, which was emphasized by the decision in 1983 to assign funds from admission charges to purchases of the work of young and newly emerging artists not yet, or inadequately, represented in the collection. These funds have made possible some of the most recent acquisitions, which are shown for the first time in this exhibition and are acknowledged as having been purchased from Gallery admission charges.
These recent acquisitions and the policy which encourages such involvement with newly emerging artists are a direct response to one of the most generous gifts the Australian decorative arts collection has received. The large collection of the Crafts Board of the Australia Council, approximately 750 objects in all media, was given to the Australian National Gallery in 1980. It is fitting that what is destined to be the most important collection of contemporary Australian decorative arts will have its origins so closely linked with the organization directly responsible for much of the vitality that exists in the area today. Objects from this gift are acknowledged 'Crafts Board of the Australia Council Collection 1980'.
Patronage
The Crafts Board of the Australia Council held its first meeting in Melbourne on 16 March 1973. Its founding chairwoman was the potter Marea Gazzard. She was succeeded by Darani Lewers, silversmith, and Cedar Prest, glass artist, each having three years in the chair. In 1983 textile artist David Green was appointed chairman. The Crafts Board has had three directors: Jeff Newman, mid-1973—June 1974; Michael Griggs, June 1974—April 1978; and David Williams, from July 1978. The Board had four well-defined aims in forming a collection and mounting exhibitions of Australian decorative arts. These were seen as assistance to artists by purchasing their work; encouragement to State and regional galleries in acquiring Australian decorative arts and in mounting exhibitions; a counterbalance to the large number of exhibitions of contemporary decorative arts coming into Australia from overseas in the early 1970s; and support of the Board's long-range plan to develop in Australia's strong professional basis for activity in the decorative arts. In effecting these aims one of the Crafts Board's most important functions has been its initiation and support of exhibitions intended to be sent overseas.
Since 1973 assistance has been offered to potters sending their work for exhibition at the Concorso Internazionale della ceramic d'Arte Contemporanea at Faenza in Italy. The consequent strong representation of Australian potters at this important exhibition resulted in several awards and increased overseas recognition of their work. In 1975 the Crafts Board's first exhibition, Wood and Clay, selected by Marj Richey, adviser to the Board, toured Australia and New Zealand. Later, as Australia Clay, it toured the United States. Other important exhibitions sent overseas were 10 Australian Jewellers, selected by silversmith Helge Larsen, which toured South-east Asia in 1976 and 1977 after an Australian tour in 1975; Recent Ceramics, an Exhibition from Australia, selected by Marj Richey, which toured extensively in Europe from 1978 until 1983; Objects to Human Scale, an Exhibition of Contemporary Australian Jewellery, selected by Helge Larsen, which toured in Australia and Japan in 1979 and 1980; Australian Jewellery, selected by Dick Richards, Curator of Decorative Arts at the Art Gallery of South Australia, Adelaide, which began its tour of Europe in 1980; and Contemporary Australian Ceramics, selected by Ken Hood, Deputy Director of the National Gallery of Victoria, Melbourne, which was shown in Australia in 1983 before beginning its tour of New Zealand and the United States.
In national terms the most important and influential exhibition mounted by the Crafts Board was Australian Crafts: A Survey of Recent Work, which opened at the Adelaide Festival of Arts in 1978. Selected by the potter Bernard Sahm and mounted in association with the Crafts Council of Australia, this was the first national exhibition of contemporary decorative arts in a wide range of media to tour Australia. In the following year it toured New Zealand.
Smaller touring exhibitions shown in regional galleries and community places have been an important result of the Crafts Board's influence. In an attempt to reach the isolated artist, both professional and hobbyist, ten exhibitions were mounted, covering many and varied aspects of the decorative arts. Among others, Crafts in Gear and Miniature Textiles are well remembered for the way in which they stimulated enthusiasm and activity.
In terms of Australian decorative arts the 1970s might best be remembered for the awakening of interest in the arts of the past. Landfall: the Capital James Cook Bi-centenary Exhibition of Australian Art, held at the National Gallery of Victoria in 1970, exhibited examples of decorative arts amongst Australian painting and sculpture for the first time. That exhibition gave importance to what had previously been regarded as too eccentric or humble to be included in exhibitions of fine art. Later exhibitions at the National Gallery of Victoria gave further significance to Australian decorative arts.
Colonial crafts of Victoria: Early settlement to 1921, an exhibition researched and selected by artist and historian Murray Walker, documented the quickly disappearing past of kerosene-tin furniture and painted gum-leaves and attracted a large and fascinated public. The first attempt to document all aspects of craft or decorative art in a particular State, it was the forerunner of other similar studies of colonial craft, a programme encouraged by the Crafts Board and the Crafts Councils of each State to mark the 1988 bicentenary of European settlement.
The Kangaroo in the Decorative Arts, an exhibition mounted in 1979 by Terence Lane, Curator of Decorative Arts at the National Gallery of Victoria, was devoted to a highly specialized aspect of the decorative arts, the whimsy of which was not destroyed by its scholarly nature. Exhibitions such as this would have been unthinkable in the previous decade, but growing self-assurance and the rebirth of a nationalism that has gained vitality as the bicentenary approaches have encouraged a more suitable climate, both political and social.
The National Gallery of Victoria figures prominently in this development of interest throughout the 1960s and 1970s, for more than any other art museum it has had a strong commitment to the decorative arts, Australian and international, historic and modern. The first Curator of Decorative Arts, Ken Hood, a devotee of Australian ceramics whose support and influence have been of great importance, selected one of the first exhibitions of contemporary decorative arts to be mounted by an Australian art museum. Australian and New Zealand Pottery, which toured Australia in 1963 and 1964 and New Zealand later, was an exhibition of seminal importance which reflected the great enthusiasm for the medium at the time. The H.R. Hughan Retrospective Exhibition, at the National Gallery of Victoria in 1970, again selected by Ken Hood, honoured one of Australia's greatest potters. Australian Ceramics, under the joint auspices of the Australian Gallery Directors' Conference and the Crafts Board and also selected by Ken Hood, toured Australian State and regional galleries from 1974 to 1976. That exhibition was certainly the most influential to have been devoted to a single medium in recent times.
Under the influence of Ken Hood, the National Gallery of Victoria's special concern for contemporary Australian ceramics has resulted in a programme beginning in 1979 of exhibitions and catalogues systematically documenting the history of Australian studio pottery. Allan Lowe— Pottery 1929-1979 in 1979, The Painter as Potter: Decorated Ceramics of the Murrumbeena Circle in 1982, Klytie Pate Ceramics and Harold Hughan: A Retrospective Exhibition in Honour of his Ninetieth Birthday, both in 1983, have been exhibitions in this programme.
As awareness of Australian decorative arts increased throughout the 1970s, art museums around Australia began to take an interest in various aspects. Exhibitions were mounted and acquisitions made, and eventually curatorial departments were initiated, revived or expanded. Throughout the 1970s and into the 1980s commercial galleries interested in and devoted to the exhibiting of Australian decorative arts were established in all State capitals and many regional centres. Periodicals especially concerned with Australian decorative arts were founded and have flourished in the past decade. Of particular importance for their concern with contemporary issues and work are Pottery in Australia, first issued in 1962, and Craft Australia, first issued in 1971. The aims of the Crafts Board were already being fulfilled; its role of stimulating activity relating to the decorative arts within the Australian community was coming to fruition.
A number of books devoted to the history of the decorative arts in Australia have been published since the appearance in 1972 of Early Colonial Furniture in New South Wales and Van Diemen's Land, by Clifford Craig, Kevin Fahy and E. Graeme Robertson, but few have given attention to contemporary work. Increased activity in the decorative arts in the past few years has already stimulated the publication of several recent books.
Australian Decorative Arts in the Australian National Gallery, by John McPhee, published by the Gallery in 1983, describes the collection, including some contemporary objects.
Ceramics
In the knowledge of these developments one becomes aware of the pre-eminence of pottery, setting in in the 1960s and gaining strength throughout the 1970s. Besides the special interest taken by the National Gallery of Victoria, many other factors have contributed to its popularity and development. Pottery has dominated in schools and colleges where art skills are taught as well as in the literature and in exhibitions and art museum acquisitions.
Australian Decorative Arts: the Past Ten Years naturally places an emphasis on ceramics, the most mature of the decorative arts in Australia.
Most of those who can now be seen to have been the first modern studio potters working in Australia looked to the revived studio pottery movement in England. There Bernard Leach (1887-1979), with the influence and assistance of the Japanese potter Shoji Hamada (1894-1978), developed a style of work firmly based on a combination of English and Japanese folk traditions. Leach's A Potter's Book, first published in 1940, and the writings of the Japanese Soetsu Yanagi, who championed Japanese folk art and the unknown craftsman, had a profound effect on twentieth-century ceramics. The existence of an outstanding collection of Chinese ceramics in the National Gallery of Victoria, and Australia's links with Asian countries, particularly Japan, compounded the influence of Asia upon potters working in Australia. Many of these potters, H.R. Hughan, Reg Preston, Peter Rushforth, Carl McConnell, Milton Moon, Les Blakebrough and Col Levy, have worked throughout the 1970s, and their dedication, exhibitions and teaching have been major influences upon young potters and community expectations. All except H.R. Hughan and Reg Preston have visited or worked as potters in Japan.
The first Japanese potter to visit Australia was Takeichi Kawai, (born 1908), who in 1964 worked at the Sturt Workshops at Mittagong, New South Wales, at the invitation of Les Blakebrough. The following year Shoji Hamada, the famous Japanese potter and Living National Treasure, gave demonstrations and exhibited a group of ceramics at David Jones' Art Gallery in Sydney. Several Japanese potters have come to live in Australia either permanently or for long periods of time. The most important of these was Shigeo Shiga, who worked first at the Sturt Workshops from 1966 to 1968 and then in Sydney until he returned to Japan in 1979. Hiroe Swen, who has worked in Australia since 1968 and Mitsuo Shoji, who first worked in Australia from 1973 to 1975 and then again from 1978, have both developed styles that represent a merging of Japanese and Western aesthetic.
A younger generation of potters follows in individual ways various aspects of the Asian tradition. Some like Phillip McConnell have lived and worked in Japan for long periods, others like Victoria Howlett have become fascinated by the calligraphic effects of brush decoration, or specific techniques such as raku, with which both Jeff Mincham and Bruce Anderson have experimented and to which they have brought a modern Western sensibility.
The size of the Australian continent and its unwelcoming and sometimes bizarre landscape have always fascinated its European immigrant settlers, who, unlike the Aborigines, did not belong. The landscape itself has been the subject of much Australian painting, and pottery, more than any other decorative art, has paralleled this interest. Few of the early Australian studio potters used Australian clays and minerals for bodies, colour and glaze. The difficulties of preparation and the long experimentation necessary to establish known effects and predictable results daunted all but the most dedicated and not many continued to pursue their original interest when the rewards were so few. A notable exception is the Western Australian potter Eileen Keys. Self-taught, from the late 1940s she experimented with local clays and minerals, at first from necessity, later from enthusiasm and love. Her interest in and knowledge of a wide variety of clays, earths and minerals as sources of body and colour expressive of the landscape from which they come is most impressive. Eileen Keys combines the delicacy of colouring that is characteristic of the Australian landscape and its vegetation, and the ruggedness of the landscape itself, especially that of the North-west, to produce pots that are unique in the history of Australian ceramics.
Other potters such as Mab Vandeth, Joan Campbell, and Peter Travis have produced ceramics which are often sculptural in intent and evoke particular aspects of the landscape. The surface of Peter Travis's Erotic landscape bowl appears as an ancient skin, stretched, folded, pitted and marked with the effects of time, while Joan Campbell's Form seems to swirl like some cloud-mass in a biblical creation scene. The flecks of mica that glint through the body of the piece like stars heighten Campbell's effect. Mab Vandeth's Pilbara is a monumental object, seemingly more the result of some ancient geological process than a potter's art. Several younger potters, among them Toni Warburton, David Potter, and David Woodland, choose as subject or motif images strongly relating to landscape, and especially the sea, the seashore and sea life. Whereas there is a quality of wonder and awe in the work of the older generation, in the work of the younger potters there appears a concern for minute and delicate detail expressive of the possibility that exists for mankind to destroy the environment.
Although the Aboriginal people of Australia never previously made pottery, the establishment of the Tiwi Pottery on Bathurst Island, Northern Territory, in 1970 has resulted in works decorated with some of the most delightfully observed images of Australian flora and fauna. Who could not find pleasure in John Patrick Kelantumama's pelicans on a plate made in 1979? The establishment of the Tiwi Pottery was guided by Ivan McMeekin (born 1919) and the English potter Michael Cardew (1901-1983) during the latter's visit to Australia in 1968. It produces a ware decorated in a manner that reminds one both of Aboriginal bark painting and of English slip-ware.
Thancoupie, Australia's most established Aboriginal potter, is represented in the exhibition by a pot made in 1977 which is finished with a simple salt-glaze only. Chara the Fire man evokes an Aboriginal legend about the loss and regaining of fire.
Peculiarly Australian imagery, particularly of flora and fauna, has always been a subject for Australian artists. Sony Manning's pair of vases, 1982, combines her extraordinary skills with inlaid coloured clays with delightful images of magpies. Stephen Szönyi's Camera obscura 2: Bears' picnic, brings great humour to an Australian bush tradition. Mark Stoner's Corrugated form, 1979-80, is a more urbane observation of a ubiquitous aspect of the Australian landscape.
An exhibition of non-functional ceramics at the Powell Street Gallery, South Yarra, Melbourne, in December 1972, including work by Joan Grounds, Margaret Dodd and Lorraine Jenyns introduced Funk Art ceramics to Australia. Although the tradition of sculptural ceramics is an ancient one that includes such masterpieces as those made in the factories of France, Germany and England in the eighteenth century, the Bernard Leach Asian aesthetic has dominated the potter's art for much of the twentieth century. Ceramics as small sculptures and objects d'art were the reinvention of the American West Coast potters and the hippy generation.
A few months later, in February 1973, Marea Gazzard's large-scale ceramics, sculptural in conception and execution, were exhibited in a dramatic environment with the woven textiles of Mona Hessing. First displayed at the Bonython Gallery in Paddington, Sydney, this exhibition was later shown in the equally dramatic setting of the temporary exhibitions gallery of the National Gallery of Victoria. Could pottery ever be the same again? The functional versus nonfunctional, art-versus-craft debate began to rage and has continued to dominate the thoughts of many Australian artists throughout the decade since.
Ceramics, like other art forms in the 1970s, were found to be a good means for the expression of personal and political beliefs. Brett Whiteley's decoration on a vase, about 1975, shows the horrors of heroin addiction. Margaret Dodd's This woman is not a car, 1977, is a vehicle for feminist philosophy and Olive Bishop's Wash and War of the same year makes clear its statement about the futility of war. Mark Thompson's The Martyrdom of Christopher the Unwise was the centrepiece of a controversy concerning the official treatment of a Director of the Adelaide Festival of Arts in 1980. Murray Walker's Flesh plate of 1982, a nightmarish reminder of the possibilities of a nuclear explosion, shows a woman eating her own breasts.
Emerging towards the end of the 1970s was a group of potters concerned with delicacy and refinement of decoration and detail. They often work in various forms of porcelain and usually reject figurative imagery. Their bowls, boxes and other potentially useful objects are rendered useless by construction, decoration or extreme refinement. These are objects to look at; their surfaces capable of being damaged by handling. Colours are usually delicate, often white, although in rejection of the long tradition of tasteful eastern glazes and the browns of much Australian pottery a few have adopted the commercially prepared glazes that allow them to achieve brilliant primary colours and exotic effects.
Among these potters, Sandra Black and Stephen Benwell have been exhibiting for some time. Colour is restrained or absent and controlled and delicate designs decorate the surface of their fine-bodied pots, large and small. A sense of whimsy can be found in Stephen Benwell's smaller objects and in Sandra Black's bowls pierced into uselessness. Jenny Orchard and Marc Sauvage both employ a bolder colour scheme; the former decorates her child-like forms with the colours a child might choose, the latter evinces an exacting display of skill resulting in an object of great sophistication.
Metalwork
Contemporary gold and silversmithing and work in metals, including jewellery, largely derives from the influence of artists who have been trained in Europe. Helge Larsen, who arrived in Australia in 1961, and Frank Bauer and Ragnar Hansen, who both arrived in 1972 were trained overseas before arriving. Others such as Darani Lewers, the wife of Helge Larsen, and Emanuel Raft furthered their studies abroad. There had been little activity in the area of silversmithing in Australia since the end of the nineteenth century and these artists who brought European traditions with them were able to train their students and followers in similar skills.
This training in traditional European skills given Australian silversmithing some of its most impressive objects. Ragnar Hansen's teaset and Hendrik Forster's coffee pot, both 1982, and jewellery by David Walker, Philip Noakes, David Selkirk and Johannes Kuhnen are objects of beauty which show great skill and understanding of the art.
Several silversmiths and jewellers have become fascinated by new and exotic materials, often of little or no intrinsic value; titanium, anodized aluminium, stainless steel, ivory, wood, plastic and a variety of found objects are often used. Sometimes these are used in combination with precious materials, although like Lyn Tune's Cut and wear postcard jewellery the attempt is to create jewellery that everyone can afford.
Trends and fashions have produced objects such as Martha Henderson's Dis-tress, Barbara Rees's Eye lapel-piece, both 1977, and Peter Scott's flashing Australia brooch, 1980. A concern with various social and political issues can be seen in the jewellery of Peter Tully, whose Bachelor's belt: Angel of Love, Ambassador to Hell, 1978, is as strong a statement about the gay movement as is Marian Hosking's protest badge, Oil and water don't mix, 1983, about the conservation movement. Lyn Tune's Insigns neck-piece, 1982, is less obvious in its search for symbols to represent the women's movement.
As in ceramics, the Australian landscape has provided inspiration for silversmiths. Norman Creighton's Six farm cubes, 1977, is an early example of a twentieth-century Australian silversmith making a purely decorative object. The subject emphasizes its ambivalence as a luxury object: symbols of a hard life on the land, a water tank, a windmill, a dam and a drinking trough. Kate O'Sullivan's Bracelet, 1979, and Dorothy Erickson's Strings 5, neck-ring and brooch, 1980, both in silver and gold, take the landscape as their source of inspiration for pattern and design. The delicacy of scale and colour in the flora of the Australian bush has inspired the work of Sieglinde Brennan and Marian Hosking's Brooch: Callistemon in 1983.
Textiles
Mona Hessing's textiles exhibited with Marea Gazzard's ceramics at the Bonython Gallery and the National Gallery of Victoria in 1973 were among the earliest in Australia to cross the boundary between usefulness and decoration. Her soft-sculptural weavings in natural-coloured fibre possess an underlying discipline previously seldom associated with weaving. Rigidly observed geometric patterns make order of pieces that could be arranged in various ways. The impact of her work upon many Australian weavers was considerable. Merrill Dumbrell's rug is a similarly skilful object of usefulness and great unassuming beauty.
The use of natural fibres and often natural colour was characteristic of much Australian textile making until artists such as Vivienne Pengilley began to exhibit work which rejected these values. Her textile collages, as wall hangings or as soft-sculptural pieces, suddenly presented unexpected new possibilities in textile art.
Few individual Australians have succeeded in taking-up the challenge offered by the work of the Polish artist Magdalena Abakanowicz (born 1930) when it was exhibited in Melbourne and Sydney in 1976. The economics of production have daunted most who have attempted to work with large-scale weavings of various kinds. Nevertheless, the establishment in the same year of the Victorian Tapestry Workshop on the initiative of the Government of Victoria, through the Ministry for the Arts, has proved to be one of the most successful ventures in the area of monumental textile art. The Workshop quickly became known for the quality and individuality of interpretation of its work. Not included in this exhibition are the two tapestries the Australian National Gallery commissioned in 1981 from the Workshop. Pretty as, designed by Richard Larter (born 1929) and Rosella, designed by Leslie Dumbrell (born 1941) now hang in the children's theatre of the Australian National Gallery.
In 1973 two designers of clothes, Jenny Kee and Linda Jackson, collaborated in establishing the Flamingo Park dress shop in Sydney. Now well known for work which has done much to bring about the unprecedented popularity of Australian motifs in fashion, Flamingo Park designs have had a great influence upon Australian fashion and textile design. Jenny Kee's The Wattle dress of 1977 has become a classic.
Linda Jackson's fabrics, and the fabrics of those she has inspired, have revitalized the art of painted and dyed textiles. Jenny Kee's and Linda Jackson's enthusiasm for the vitality of Aboriginal art has encouraged them to look for inspiration in that ancient culture as well as to seek and encourage suitable work for their use in their own clothing.
The Utopia Women's Batik Group, established in the late 1970s at Utopia in the Northern Territory, introduced Aboriginal women to a new craft form from which some splendid fabrics have emerged. The involvement of Linda Jackson with this group in the early 1980s resulted in the employment of new techniques and the production of textiles of great beauty. The story-telling and freedom of design of the length of painted fabric, For Linda, made at Utopia in 1983 make it a wonderful example. The excitement of painting and printing fabrics has led Linda Jackson to establish a workshop for this purpose in Sydney, where experimental work is carried out by many artists. Some of these fabrics are used in clothing made by Linda Jackson. Others like Yarralboalla Karuldai (Rock painting) by Lawrence Leslie, have been preserved as precious objects.
Some artists and clothing designers such as Peter Tully and Jenny Bannister have employed unusual and alternative materials in the making of garments. Others have found the opportunity to express personal opinions through their work. The sweater designed by Frank Watters and Des Partridge and knitted by Marie Partridge in 1979 is a strong statement against the intensive industrialization of the Hunter Valley, New South Wales. Katie Pye's Religious Cavalier, 1980, is as contentious an outfit as one could ever wear. Sex, politics and religion are all integral parts of its message. Mark Arbuz's Shorty pyjamas carrybag of 1979 is a more laconic view of life in the Australian suburbs.
The Art Clothes exhibition at the Art Gallery of New South Wales, Sydney, in 1980 was the first serious examination of the work of young Australian artists working with textiles and clothing. This exhibition assembled by Jane de Teliga, then the Gallery's Assistant Curator of Prints and Drawings, demonstrated the excitement and vitality of this new aspect of Australian art.
Woodwork and furniture
The unusual and sometimes unique qualities of Australian timbers have long attracted Australian artists. Cedar (Toona australis), huon pine (Dacrydium franklinii) and blackwood (Acacia melanoxylon) have often been used both for furniture and for useful and decorative wooden objects. In the 1970s this interest increased as Australians became more aware of their environment and the unique qualities of certain areas of the landscape. Anthropologists, botanists, zoologists, geologists and other scientists as well as conservationists and artists were amongst those who agitated for the preservation of those areas. The heightened awareness of the Australian landscape and its flora also stimulated a renewed interest in the unusual timbers available to the Australian craftsman. Huon pine was especially popular for the natural beauty of its wood when turned, and artists such as Neville Cordwell and David Ralph were some of the first to exploit its almost mystical qualities. Like Richard Raffan's spillikins in mulga (Acacia aneura), their pieces exhibit the artists' great skill as wood-turners.
The carved work of Fred Smith and Ben Trupperbaumer exhibits a different aesthetic, the former being more akin to the Japanese and the latter an expression of the artist's interest in and involvement with the forces of nature.
The most innovative and important furniture maker to have emerged in the 1970s is Kevin Perkins, who is represented in this exhibition by an early work of 1978. Perkins's later pieces of furniture successfully combine large natural forms of branches and roots as major parts of a more conventional whole. In such work the delicate balance between rustic asymmetry and extreme sophistication is indicative of this artist's importance as a furniture maker in the 1970s.
A newly emergent interest in Australian folk art in the 1970s, fostered by exhibitions such as Chairs made by Tasmanian Bush Carpenters during the 19th and early 20th centuries, held at the Tasmanian School of Art Gallery, Hobart, in 1978, and Colonial Crafts of Victoria, at the National Gallery of Victoria in 1978, stimulated the work of several artists. David Ralph's chair, 1979, made from the bushwalker's nightmare, horizontal scrub (Anodopetalum biglandulosum), follows a traditional pattern, but Gay Hawkes's Drought, 1982, pushes the realm of the stool far beyond usefulness. It has become an object, although still useful, of great expressive quality. Her love of the Australian bush and fear for its destruction are keenly felt by the viewer. Such work presents the possibility of a new and stimulating direction for Australian artists working with wood.
Glass
Studio glassmaking is Australia's youngest art. The first full-scale workshop was set up at the Jam Factory in Adelaide in 1975 under the supervision of Samuel J. Herman. His production there influenced many who have experimented with this difficult medium since.
In 1975 an exhibition of American glass organized by the Crafts Board toured Australia. Including the work of Marvin Lipofsky (born 1938), Harvey Littleton (born 1922), Dale Chihuly (born 1914) and Richard Marquis, it encouraged greater interest in the medium. Richard Marquis's Australian visit and workshops in 1975 and the exhibition which followed showed further evidence of his skills. His Star pile, made in California in 1974 and exhibited throughout Australia, was typical of the work that caught the imagination of Australian artists and encouraged new attitudes towards the use of glass. Nick Mount, who later worked with Richard Marquis in California, returned to Australia with similar skills; his collaboration with Warren Langley has produced work of great wit.
The Wagga Wagga City Art Gallery's Glass Biennial, first held in 1981, has been a great incentive to this new art. Its occurrence in this New South Wales country town indicates success in achieving the aims the Crafts Board of the Australia Council first set out in 1973.
Australian Decorative Arts: the Past Ten Years is the first exhibition of its kind. An attempt to survey all areas of the decorative arts over a decade has not previously been attempted in Australia. Although basing the exhibition entirely on the collection of the Australian National Gallery must mean that there are weaknesses and omissions, the opportunity is nevertheless gained to stand back and look at what has been achieved and at what is lacking, both in the Gallery's collection and in the work of Australian artists.
It is hoped that this exhibition will be informative and stimulating for its public, and that at the end of the next decade a similar gathering of Australian decorative arts will be able to show much further development.
John McPhee
Curator, Australian Decorative arts