Cressida Campbell
Exhibition
24 Sep 2022 – 19 Feb 2023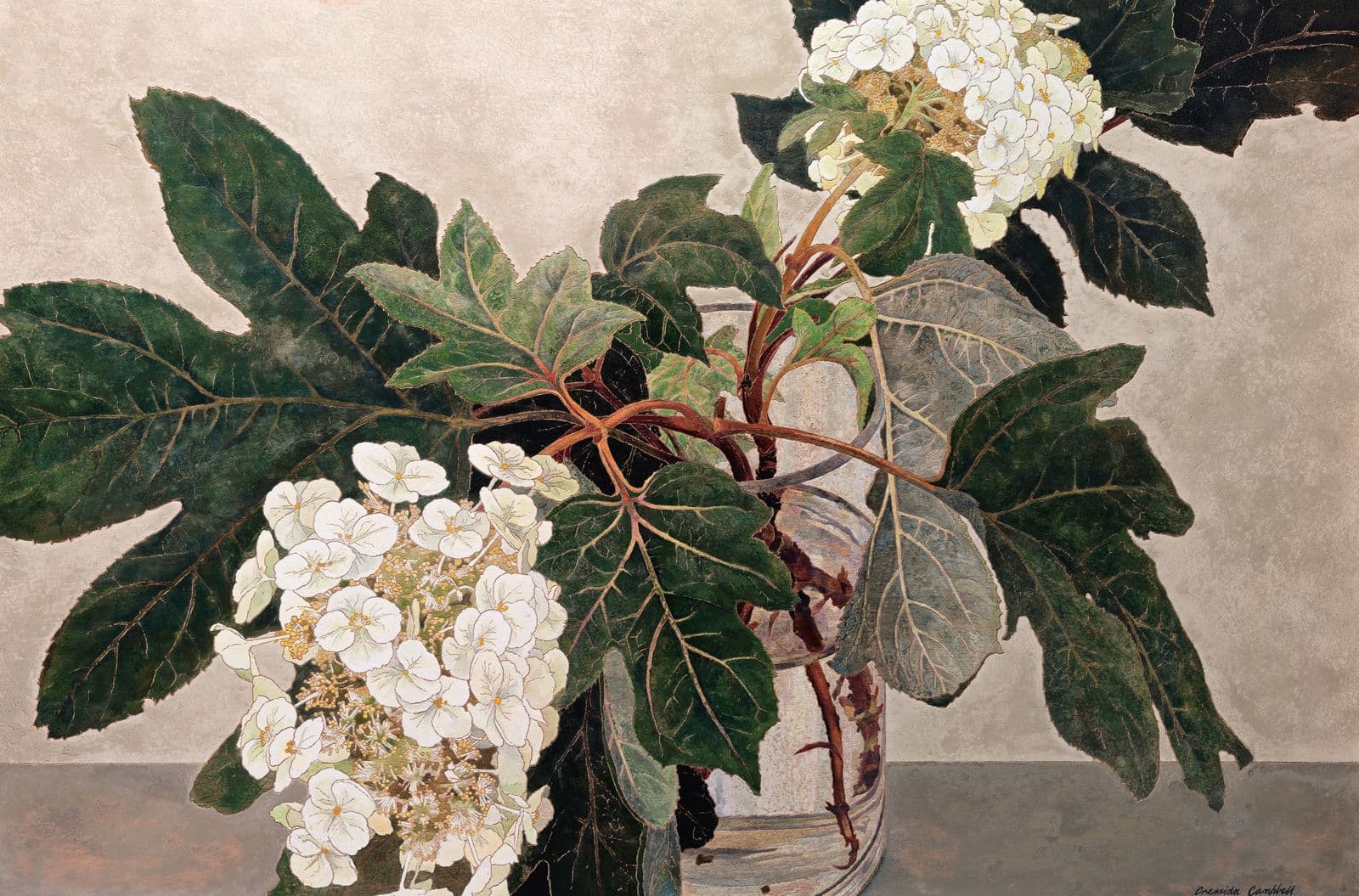 'My main inspiration comes from what is directly around me... I remember combinations of colours I see in houses, pictures, gardens, buildings or sculptures here and round the world.'
About
---
Cressida Campbell is among Australia's most significant contemporary artists working with painting and printmaking. Directly inspired by her surroundings, for over 40 years the Gadigal/Sydney-based artist has transformed commonplace experiences from her life into single edition prints and painted woodblocks.
Combining keen observation with a delicacy of line, Campbell's woodblock paintings and prints capture the overlooked beauty of the everyday. Through her views of a working harbour or burnt bushland, an arrangement of nasturtiums or a plate of ripening persimmons, the artist celebrates the transitory moments of life.
The survey exhibition will present the depth and virtuosity of Campbell's work, extending from intimate interior views through to panoramic coastal landscapes. It will be accompanied by an exhibition catalogue that features writing from curators, artists, poets and other voices.
Cressida Campbell is a Know My Name project.
Curator: Dr Sarina Noordhuis-Fairfax, Curator, Australian Prints and Drawings
Tickets
Members Tickets
Log into your online account to access discounted Exhibition tickets
Season Tickets
Season tickets holders can attend multiple times for the duration of the Exhibition
National Gallery Members, log into your online account to access discounted season tickets
Become a Member
Join as a National Gallery Member to receive a complimentary ticket to Cressida Campbell *
*for first time members only, one ticket per membership.
Exhibition ticket prices

| | |
| --- | --- |
| National Gallery Members | $17 |
| Adult | $22 |
| Concession* | $20 |
| Child (5 to 16 years) | $6 |
| National Gallery Member Season | $34 |
| Adult Season | $44 |
| Companion ** | Free |
| Mini Members (5 to 16 years) | Free |
| Child (4 years and under) | Free |
Publication
Cressida Campbell celebrates the career of an exceptional Australian colourist who has worked between painting and printmaking for over forty years. Combining keen observation with rigorous design, Campbell uses an innovative process to create woodblock paintings and unique woodcut prints that take direct inspiration from the everyday. Moving between still-life arrangements, domestic interiors, gardens and coastal panoramas, her stylised compositions intertwine life and art. These formal meditations on ordinary beauty are testament to Campbell's astonishing attention to detail and technical virtuosity.
This book offers new insights into Cressida Campbell's artistic vision, featuring original research and reflections from curators, artists, poets and writers, as well the artist's own autobiographical notes. Generously illustrated, the publication will locate Campbell within the lineage of significant Australian contemporary artists.
PUBLISHED SEPTEMBER 2022
264 pages
300 x 245 mm
Full Colour | Hardback
RRP A$89.00*
ISBN 978 0 642 33501 2
*Members discount available for publication purchases made at the Gallery in the Art Store only.
Purchase here
The Kitchen Shelf
Published to accompany the exhibition Cressida Campbell at the National Gallery of Australia this beautiful colouring book, featuring Campbell's extraordinary work The Kitchen Shelf, is suited to aspiring colourists young and old. Packaged between beautiful cloth covers, twenty beautifully concertinaed pages unravel to reveal a full colour, 1.8-meter reproduction of The Kitchen Shelf. On the other side, a simple line drawing of the work invites you to create your own colour story. This beautiful product is a must have for winding down in the summer season.
PUBLISHED DECEMBER 2022
20 pages
300 x 245 mm
Full Colour | Hardback
RRP A$39.99*
ISBN 978 0 642 33502 9
*Members discount available for publication purchases made at the Gallery in the Art Store only.
Purchase here
Stay
Planning a short break or weekend getaway in Canberra? Find more than you came for when you visit Canberra. Whether it's iconic masterpieces, breathtaking natural beauty or world-class wining and dining, everything is just moments away. Indulge in wine tasting and boutique shopping, power through mountain biking and rock climbing, and experience a jam-packed calendar of festivals and events.
Our Major Partner Qantas offers domestic flights to Canberra from most major Australian cities including multiple daily domestic flights to and from Sydney and Melbourne.
Featuring Cressida Campbell's Ginkgo, 2016, Cressida collaborated with our Supporting Partner Archie Rose, to create a limited edition gin in celebration of the exhibition.
Accommodation packages
Book your Canberra accommodation package that includes tickets to Cressida Campbell.
Partners and Donors