Haegue Yang: Changing From From To From
Exhibition
27 May – 15 Oct 2023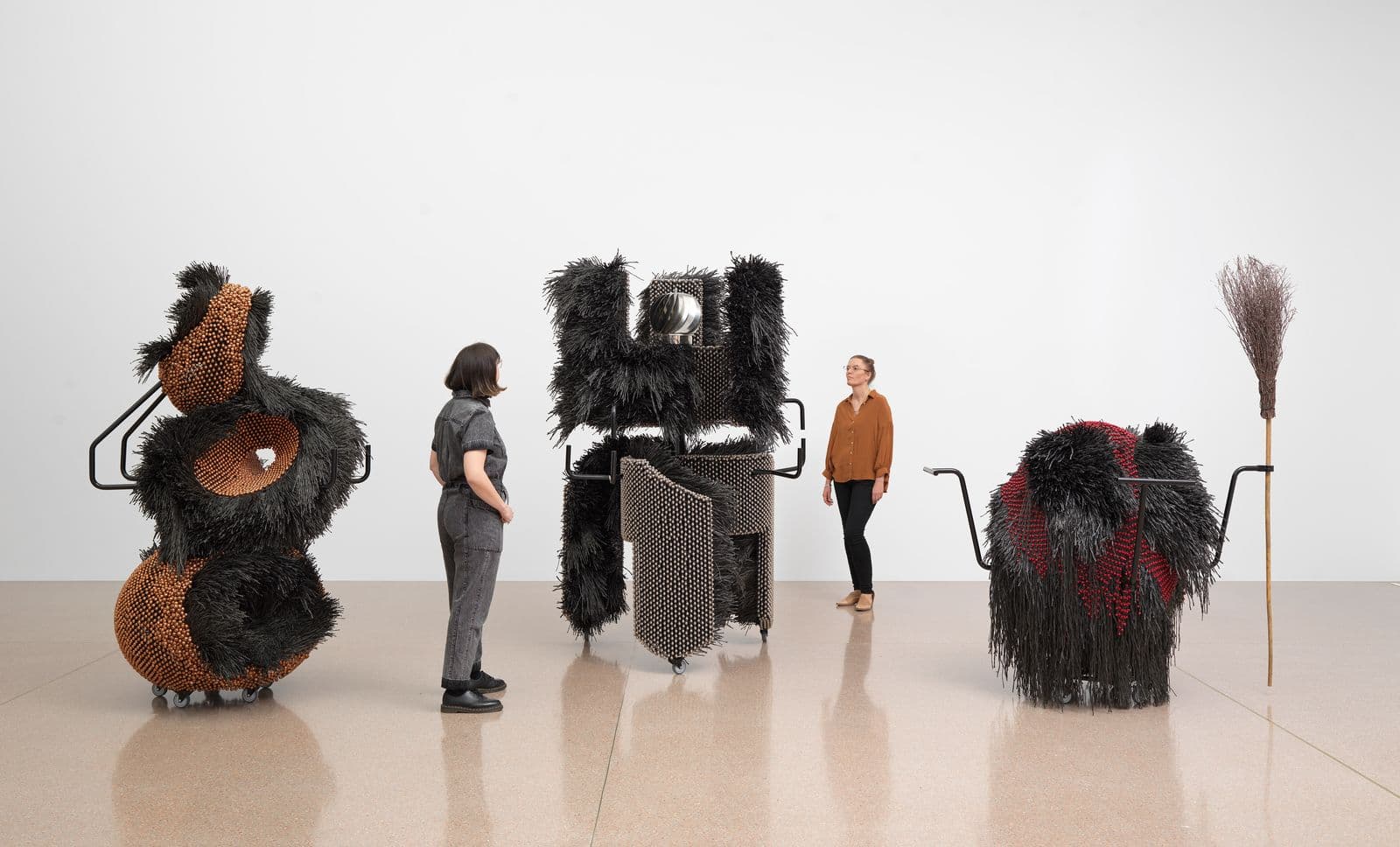 'Historical figures inhabit my head like creatures in a mystic landscape. They are my tools to carve this landscape, finally becoming mountain peaks and rivers in my idiosyncratic way.'
About
---
Haegue Yang is known for her open, fluid approach to art-making. Her prolific practice synthesises diverse media and subject matter with the ambitious desire to connect disparate locations, periods and styles. Constantly on the move, the Seoul and Berlin-based artist continually seeks out unexplored narratives, processes and materials, combining industrial objects and intensive, craft-based techniques to produce immersive and engaging artworks.
The exhibition title, drawn from a poem by Chinese-British conceptual artist Li Yuan-chia, evokes the notion of migration between locations. The exhibition features four works that express different strands of Yang's multivalent practice, linked by her abiding interest in mobility and transformation. Each work explores physical, social and conceptual movement: from the activation of the sculptures, Sonic Intermediates – Three Differential Equations 2020 to the layered imagery of shifting water and weather patterns in the wallpaper, Non-Linear and Non-Periodic Dynamics 2020.
Yang describes her approach to art as a form of abstraction that is filled with personal and mystical connections. Her references are drawn from multiple histories and artistic figures and allude to a range of scientific, cultural and political sources. Yet her work remains open to interpretation, avoiding definition and embodying endless possibilities for generating evocative forms.
Curators: Russell Storer, Head Curator, International Art and Beatrice Thompson, Associate Curator, Asian and Pacific Art
Activations
Sonic Intermediates – Three Differential Equations will be activated by members of our team each Saturday at 11am, 12pm, and 1pm
27 May – 15 Oct 2023
In Sonic Intermediates – Three Differential Equations 2020 Yang pays tribute to three of her artistic predecessors. Each sculpture is inspired by the life and work of a pioneering modernist artist—Naum Gabo (1890–1977), Barbara Hepworth (1903–1975) and Li Yuan-chia (1929–1994)—each of whom explored new directions in sculpture and moved between various locations. The sculptures, coated in tiny bells and set on casters, fill the space with a subtle rattling sound when activated. The resonance of the bells evokes shamanistic ritual, as if summoning these artists to an encounter in the present.
ACKNOWLEDGMENTS
The National Gallery acknowledges the Ngunnawal and Ngambri peoples, the Traditional Custodians of the Kamberri/Canberra region, and recognises their continuous connection to culture, community and Country. We would like to thank Paul Girrrawah House, Ngambri (Walgalu)/Wallaballooa (Ngunnawal)/Pajong (Gundungurra)/Wiradjuri (Erambie) peoples, for sharing his deep knowledge of Country with Haegue Yang, which inspired and informed her selection of the local elements incorporated into the design for Non-Linear and Non-Periodic Dynamics.
The National Gallery of Australia thanks the galleries of the artist:
Galerie Barbara Wien, Berlin
Galerie Chantal Crousel, Paris
Kukje Gallery
kurimanzutto, Mexico City / New York
Studio Haegue Yang, Berlin: Liene Harms, Chieko Idetsuki, Cheongjin Keem, Nicolas Pelzer, Katharina Schwerendt, Tsukasa Yamamoto
Studio Haegue Yang, Seoul: Hwiwon Chun, Heeyun Im, Insun Kim, Myoungjung Kim, Junseok Lee, Jiyoung Noh, Sihyun Ryu, Solkyu Yang, Heejung Ye