Project 4: Justene Williams
Victory over the Sun
Performance
Fri 14 & Sat 15 Oct 2022, 6pm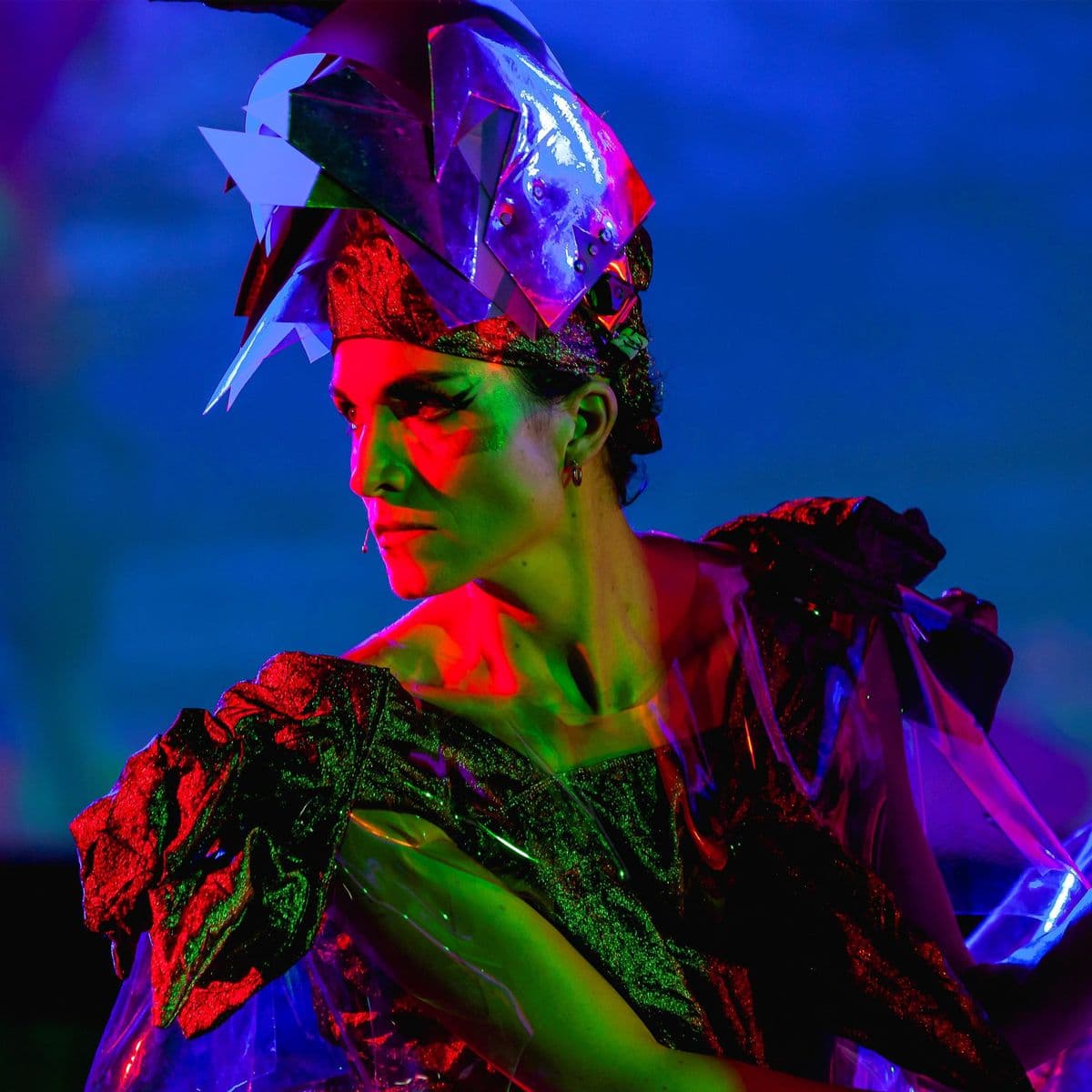 I say it looks Baroque Grunge. I came from the 90s grunge scene that was big in Sydney, and I don't think I'll ever lose its influence: that free-play messiness, that Arte Povera aesthetic.'
About
---
Justene Williams with the Sydney Chamber Opera, Tobias Cole and Canberra Choral Society
In 1913 the Russian Futurists unleashed Victory over the Sun: an opera come proto-science fiction saga of time-travelling revolutionaries. Set and costume design by Ukrainian-born artist, Kazimir Malevich, included an early version of Black Square (1915) – a painting which transformed art of the twentieth century and beyond.
The text: untranslatable. The music: lost to history. Alongside Stravinsky's The Rite of Spring, Victory is one of few artistic works which provoked a riot at its premiere.
The 20th Biennale of Sydney brought together Justene Williams and Sydney Chamber Opera to make a new Victory for the 21st century. With Williams' costumes newly acquired into the National Gallery collection, this remount, staged in celebration of the Gallery's 40th anniversary, brings together these visionary collaborators to perform the work once more.
Victory is a work of passionate strangeness for the digital age that shows us worlds the Futurists could never have imagined. Drones soar, history collapses, and a pair of strongwomen battle over humanity's fate in a glorious dream of tomorrow.
Welcome to the new future.
Project 4: Justene Williams: Victory over the Sun is a Know My Name project.
Justene Williams: Meanjin/Brisbane-based artist Justene Williams has been making and exhibiting since the 1990s. Her work utilises video, photography, sculpture and performance, fused into high-energy environments.
Sydney Chamber Opera and collaborators: Jack Symonds: Artistic Director, Pierce Wilcox: Director and Librettist, Huw Belling: Composer, Alexander Berlage: Lighting Design, Matthew McGuigan: Sound Design
Chorus: Tobias Cole and The Canberra Choral Society
Production: The Street Theatre: Caroline Stacey OAM, Dean Ellis and Gerry Corcoran
Curator: Elspeth Pitt, Senior Curator, Australian Art.