Margaret Preston: Australian Printmaker
Exhibition
18 Dec 2004 – 25 Apr 2005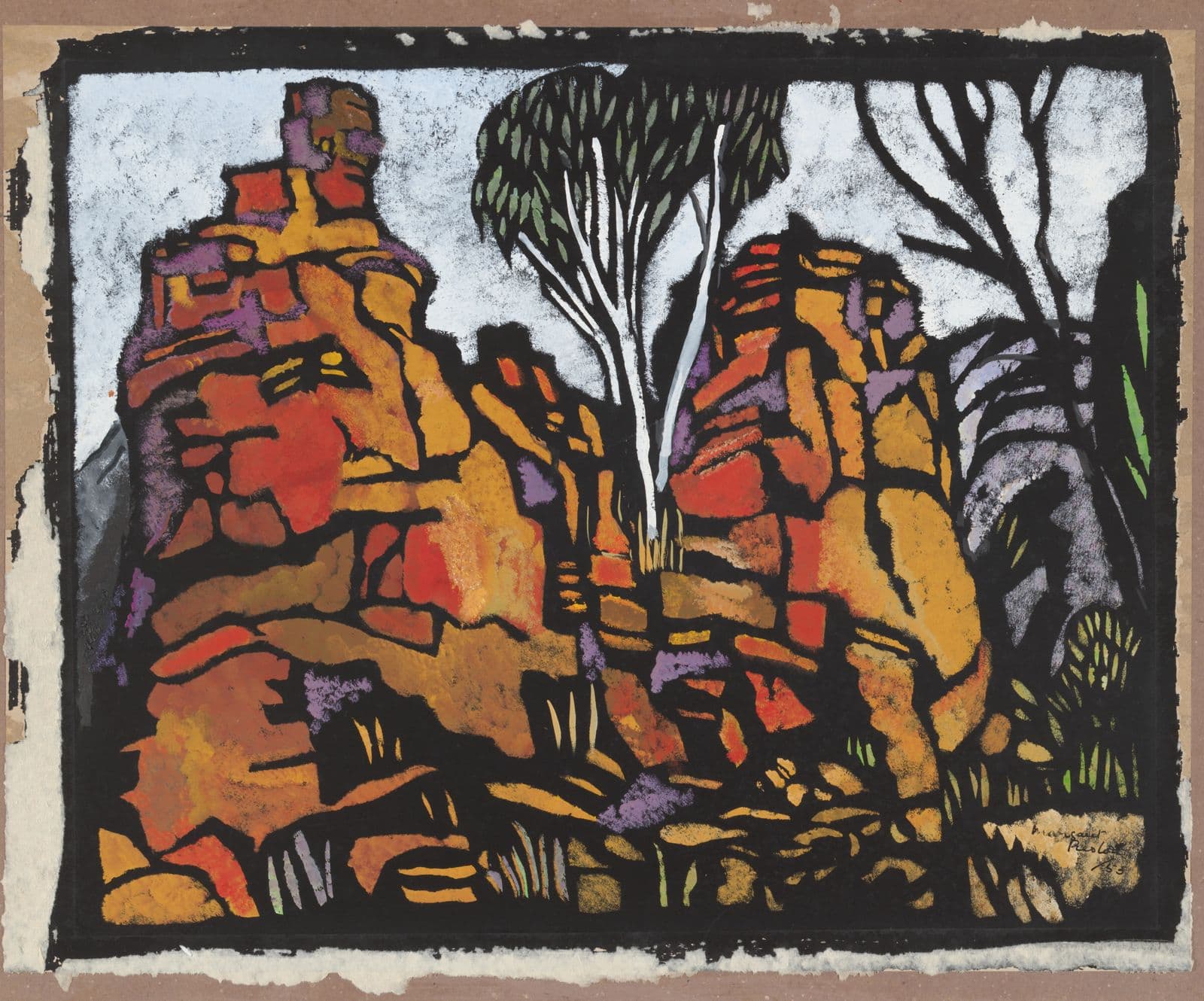 About
---
Margaret Preston's prints produced between 1916 and 1956 show an artist moving away from European traditions to a unique art based on the land and experience of the Asia-Pacific region. Her work of the 1920s is energetically decorative and popular; that produced in the 1950s – when she was in her late 70s – is profound.
Margaret Preston: Australian printmaker is proudly supported by SMS group, Saville Park Suites, Fyshwick Fresh Food Markets
Introduction
Over the last 20 years the National Gallery of Australia has assembled an extraordinary collection of etchings, woodcuts, masonite cuts, monotypes and stencils by the Australian artist Margaret Preston (1875–1963). Of all Australian artists, Preston is one of the most widely known, her vibrant  decorative paintings and prints of distinctively Australian subjects (flowers, birds, animals and landscapes) have delighted the Australian public since they were first exhibited in the early 1920s. Over Christmas and the New Year the National Gallery will be presenting the exhibition Margaret Preston, Australian printmaker. It will include a comprehensive display of the artists printed work from 1916–1956, as well as personal items selected from the Gallery's rich Research Archive.
Quick-witted, and a lively writer on art and travel (which she claimed was her hobby) Preston was also an accomplished lecturer and children's educator. She delivered her ideas in short staccato sentences which could illuminate difficult ideas, or, when the speaker was provoked, could cut to the quick. Preston was adroit at the promotion of her work and ideas. In 1927 when Art in Australia devoted a complete edition to her paintings, prints and writings, she not only paid for additional colour illustrations, but also wrote an autobiographical essay with the provocative title From Eggs to Electrolux. For many years this piece formed the basis of our knowledge of the artist's early life. However research by many art historians (which began in the early 1970s), has shown that what Preston wrote, did not always tally with fact. On her marriage certificate, for example, she reduced her age by some eight years, making herself slightly younger than her husband! Her autobiography was in essence an entertaining piece of fiction based on her life.
The biographical details that Preston so carefully glossed over have been the subject of ongoing scholarly investigation, and many details of her life have now been recovered and scrutinised The National Gallery of Australia has contributed much to this new research by its acquisition of documents relating to the artist's life. There is now an outstanding archive which contains among other items, the artist's (and her husband's passports), notebooks with writings on colour theory and screenprinting, photo albums documenting their trips to New Zealand, the Pacific and South America in the 1930s, and even a recipe scrapbook from her childhood.
These insights into her life have led to a corresponding reappraisal of the artist's work.  After an extensive stay in England Preston returned to Australia in 1919, she married on the last day of the year, and entered the decade of the 1920s with a new professional name, and place of abode. Her desire to establish a uniquely Australian art was formulated soon after she settled in Sydney. The colourful woodcut views of Sydney harbour, vases of Australian flowers, birds and animals that she produced in the 1920s remain her best known work. The popularity of these consciously decorative works has diminished the attention that has been paid to the prints that she produced over the next twenty-five years.
In the late 1920s Preston rejected colour and her prints became stark and geometric. The 1930s saw her travelling to Japan and South East Asia and there was a corresponding interest in asymmetrical design and close observation of nature. But it was her relocation from Sydney to the small community at Berowra on the Hawkesbury River (1932–39) that changed her art radically. Here she came to understand the fundamental form and spiritual nature of Australia's ancient landscape. She joined the Anthropological Society of New South Wales and studied the art of Aboriginal Australians and immersed herself in the theoretical writings of the great Chinese landscape painters. The landscape became the prime theme for her later mature works. Prestons last major exhibition was held at Macquarie Gallery, Sydney in 1953, where she exhibited 28 stencil prints. The exhibition was opened by the then youthful Bernard Smith (they both were members of SORA, Society of Realist Artists), and the 78 year old artist attended carrying a bouquet of Australian wild flowers in one of her own woven baskets.
The prints produced for this exhibition are her most profound. In them Preston has imbedded the experience of a lifetime, fusing together her ideas to create a unique vision of the Australian landscape, both physically and spiritually. In preparing a lecture on the nature of the Australian landscape observed: The gay setting sun or the sweet morning mists are all accidents of time … droughts are a misfortune but like the sunrise, only temporary. It is the land itself.
Roger Butler
Senior Curator
Australian Prints and Drawings
Essay
Over the Summer of 2004–05, the National Gallery of Australia presents an exhibition of prints by the Australian artist Margaret Preston (1875–1963). The exhibition includes early etchings produced in London, the highly decorative woodcuts made in Sydney in the 1920s, bush flowers and landscapes which reflect on her life in Berowra, and the masonite cuts and monotypes which lead to her magnificent final series of stencil cuts first exhibited in the early 1950s. All the works are from the national collection. Also in the exhibition will be items from the National Gallery of Australia's research archive to give an insight into the artist's life and work. There are passports that belonged to Preston and her husband, notebooks with writings on colour theory, lecture notes, 13 photo albums documenting their trips to New Zealand, the Pacific and South America in the 1930s, and a recipe scrapbook from her childhood.
The acquisition of prints by Margaret Preston has been a priority since the early 1970s, when the Gallery first began to assemble a comprehensive collection of prints by significant Australian artists. It was natural that Preston's work should be considered essential to this collection. Regarded as one of Australia's most important artists, both as a painter and printmaker, Preston was also widely recognised for her lifelong commitment to a distinctively Australian art.
By the 1970s, however, the artist's prints were already scarce. Many had been produced in small editions or unique impressions; some were held by long-established public collections, while others seemed simply to have disappeared with the passage of time. Nevertheless, the search for these rare works was undertaken with great enthusiasm and perseverance, and now over 120 prints have been acquired. Many of these were purchased after 1985 under the auspices of a special fund from Gallery admission charges, and a number were received as donations from private individuals. As a result, the Gallery now has a collection of works by Margaret Preston which encompasses all periods of the artist's life – from her earliest etching experiments of 1916 to the stencil prints and woodcuts, made only years before her death in 1963.
Margaret Rose Macpherson, as she was known until 1920, decided early in life to become an artist. In 1888 she trained for several months with Sydney landscape painter W Lister Lister, and in 1893 enrolled at the National Gallery of Victoria Art School where she studied for just over four years. In 1898 she registered as a student at the South Australian School of Design, Painting and Technical Arts in Adelaide. Both the Gallery School and the South Australian School of Arts were influenced to a significant degree by the German aesthetic tradition, which emphasised the importance of rendering a subject with rigorous fidelity to nature. Margaret Macpherson's first visit to Europe in 1904, and her studies in Munich and Paris, had little impact on the naturalism that dominated her work from this early period.
Only after returning to Paris some eight years later did Macpherson recognise the decorative possibilities of art. Japanese prints, and the work of the French post-Impressionist artist Paul Gauguin were a revelation to the young Australian, who realised that 'a picture that is meant to fill a certain space should decorate that space'.
With the outbreak of the First World War Macpherson travelled to England, where she exhibited at the Royal Academy, the New English Art Club and the Society of Women Artists. Two years later, in 1916, she enrolled at the Camberwell School of Arts and Crafts as a student of pottery, at the same time developing her interest in fabric printing and dyeing, basket weaving and the various techniques of printmaking.
The artist's earliest prints were etchings – many of them depicting picturesque thatched cottages in Bonmahon, a small town in Southern Ireland, and in Bibury a quaint village in the Cotswolds. Macpherson visited both villages on several occasions, sometimes accompanied by her own students. She soon realised, however, that she was not comfortable working as an etcher, and later remarked that the process required too much equipment.
It was in the 'friendly little craft' of woodblock printing that she was to excel. Working with readily available materials, she began to use the knowledge she had gained from her study of Japanese prints to cut bold, decorative prints of still-life subjects. One of her earliest woodcuts, Still life and flowers c.1916–19, an impression of which is in the Gallery's collection, reveals the extent to which Macpherson had absorbed the Japanese ideas. Even her monogram, 'MRM' (the initials of her maiden name), had been cut in the manner of a Japanese seal.
In 1919, Margaret Macpherson married wealthy businessman William Preston, and settled in the Sydney harbour-side suburb of Mosman. Views of boats floating on expanses of ripping blue water, and of houses clustered on foreshore hills – as in Shell Cove, Sydney c.1920 – are the most characteristic prints from the early years in Sydney.
Her first major showing in Australia in 1925 was with her friend Thea Proctor in exhibitions in Melbourne and Sydney. They had an extraordinary impact. Preston included a total of 65 prints, many of them hand-coloured in rich scarlets, blues and greens, and all of them framed in Chinese red lacquer frames. Harbour views were again prominent, but Preston's vision of the waterfront in works such as Circular Quay 1925 was, in comparison with earlier views, compact and busy, captured through striking contrasts of black and white combined with elaborate patterns and repetitions.
Other prints from this period featured native flora and fauna. In some instances Preston made use of readily recognisable and popular themes, but it was with still-life subjects such as Platylobium 1925 that she convinced her public that Australian native flowers were equal in beauty to any exotic species. The artist's next major exhibition, held in 1929 at Sydney's Grosvenor Galleries, further explored these ideas, and included Wheelflower c.1929, a work that has become one of her best known prints.
From 1932 to1939 Preston lived with her husband at Berowra, on the upper reaches of the Hawkesbury River. The area was one of rugged natural beauty, and the artist's house was surrounded by scrubland. For the first time Preston found herself living in the bush. Prior to this the native flowers that featured in her paintings and prints had been purchased from local florists; they now grew in abundance around her home.
Prestons prints became simpler, larger, and less reliant on the use of bright colours. Flowers were no longer arranged in vases, but, in prints such as Banksia cobs c.1933, were presented to the viewer in their natural state. Preston also visited Japan in the early 1930s and influence of Japanese art, with its asymmetrical compositions is revealed in many of her works from these years.
While living at Berowra, and undoubtedly prompted by the Aboriginal rock engravings found near her property, Preston also developed what was to be a lifelong interest in Aboriginal art. On returning to Sydney in 1939 she became a member of the Anthropological Society of New South Wales, and later visited many important Aboriginal sites throughout Australia.
Preston believed that Aboriginal art provided the key to establishing a national art that reflected the soul of the vast and ancient continent of Australia. During the 1940s Aboriginal motifs and symbols, together with dried, burnt colours derived from bark paintings, became increasingly prominent in her prints. The artist's titles from this period frequently acknowledge her sources, and reveal the extent to which she was seeking to combine traditional Aboriginal designs with the themes she herself had been exploring since returning to Australia.
In many works from the 1940s Preston employed a new technique. Rather than engrave a huon pine block as had for so long been her practice, she began to work with the rough side of masonite –; a brand of hardboard recently introduced to Australia. Masonite enabled her to produce prints with a looser, less definite quality that she identified with the Australian countryside. Preston had little patience for cutting the different blocks required for colour printing, and in most instances chose to colour black and white images by hand. In her masonite cuts, however, she began to paint colour directly on to the block before printing.
The natural outcome of this experiment was that she finally dispensed altogether with engraved lines, and turned her attention to the production of monotypes. In a sudden burst of creative energy, after caring for her husband during a 6-month illness in 1946, Preston produced about 100 monotypes – works that were remarkably varied in both subject and style. While some of these prints featured realistic landscape and still-life subjects, others clearly revealed the artist's debt to Aboriginal art. Landscapes such as Ferntree gully 1949, were well received by the critics, who saw in them a return to a more traditional method of working.
But it was in 1953, at the age of 78, that Preston produced her most significant prints. The exhibition at Macquarie Galleries in Sydney, opened by the then young art historian Bernard Smith, included 29 prints made using the ancient technique of stencilling. Many of the works exhibited incorporated her fusion of Aboriginal and Chinese concepts. Preston had admired Chinese art since 1915, when she acquired her first books on the subject, and she had visited China on two occasions. Chinese elements may be found in several of her paintings of the 1940s, and are particularly evident in works such as Flying over the Shoalhaven River 1942. In her prints of the 1950s, however, Preston combined Chinese ideas with her understanding of the Dreamtime of Aboriginal Australians.
Shoalhaven Gorge, N.S.W. 1953, represents one of her most successful attempts to synthesise these two traditions. Using the stencil process long associated with both Chinese and Aboriginal art, Preston brought to her subject the thick, opaque browns, whites and ochres of Aboriginal bark painting. Human habitation has no place in this timeless landscape. The geological features of the gorge are ambiguously depicted, and it is possible to read the massed shapes as a flat plain, a gigantic cliff, or a river valley. The never-ending geological changes caused by earthquakes, upheavals and slow erosion are all part of Preston's vision. The flat black cardboard onto which the stencil is printed may alternately be seen as defining the structure of the landscape or as representing the blackness of eternity: the Dreamtime, the void into which all eventually returns before being reborn.
Dry River bed, Northern Territory 1953, a recent acquisition by the Gallery, is one of Preston's most dramatic works. The ancient stacks of eroded rocks drenched in sunlight are rendered in orange, yellow and ochre, the shadows purple, while a thin white gum reaching skywards coolly divides the composition.
Preston did not let age change her working habits. In her later years she continued to paint, make prints, and travel. At her death in 1963, at the age of 88, she had produced over 400 prints. In a career spanning almost six decades, she created a body of work that demonstrates not only her extraordinary originality and the intensity of her commitment to a national art, but also the constant grappling of one artist with the problems of her times.
Roger Butler
Senior Curator of Australian Prints and Drawings
The exhibition coincided with a revised and expanded edition of The prints of Margaret Preston: a catalogue raisonné which detailed and illustrated all of the artist's printed work