Masterpieces from Paris
Van Gogh, Gauguin, Cézanne and Beyond
Exhibition
4 Dec 2009—
18 Apr 2010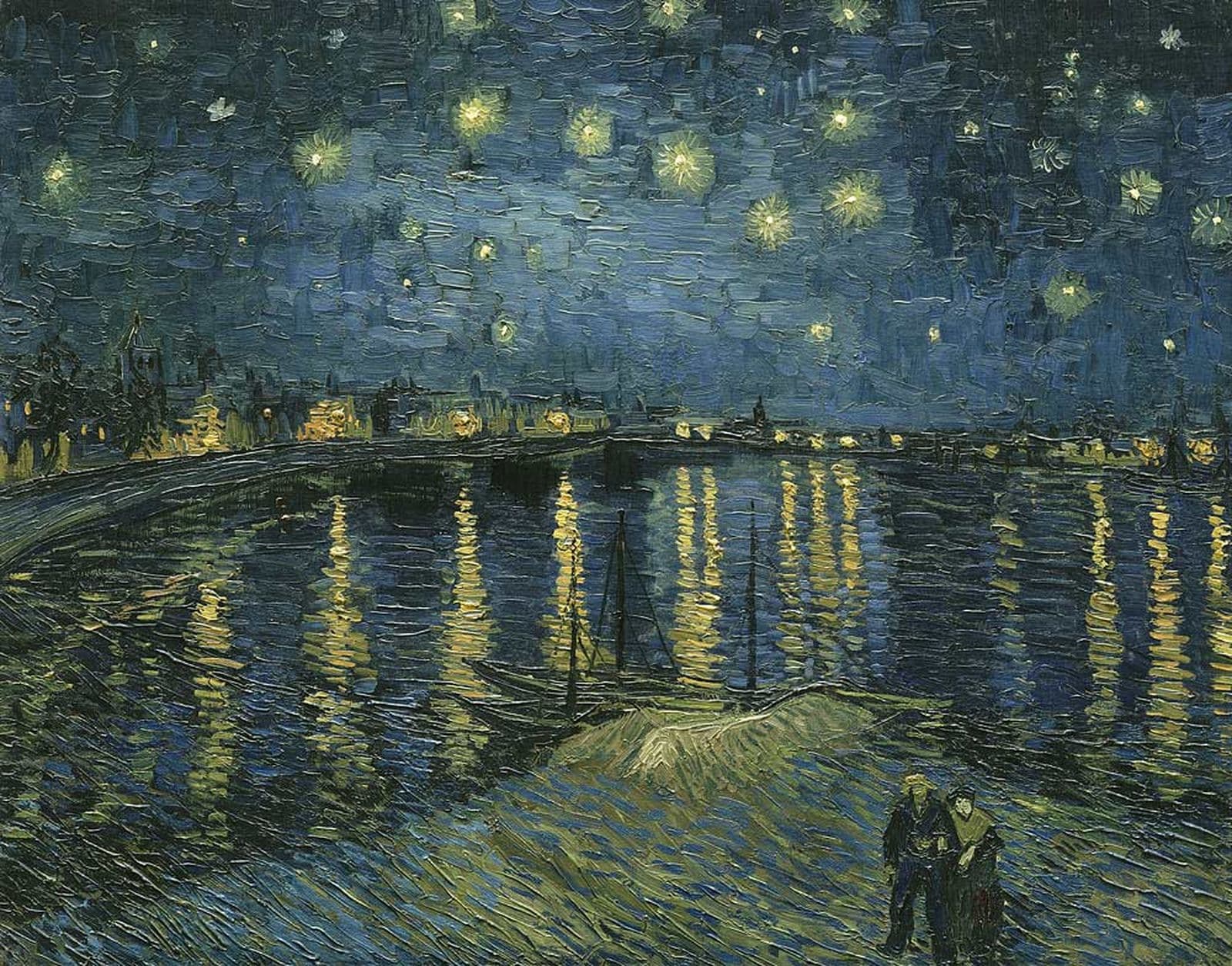 About
---
Masterpieces from Paris: Van Gogh, Gauguin, Cézanne and beyond features 112 of some of the best-known works of modern art from the Musée d'Orsay in Paris, one of the great museums of 19th-century art. Famous works include Van Gogh's Bedroom at Arles 1889, Cézanne's beloved Mount Saint-Victoire c 1890, Gauguin's Tahitian women 1891, as well as many other great examples of Post-Impressionist art. A collaboration between the Musée d'Orsay and the National Gallery of Australia, this extraordinary exhibition is one of the most spectacular to come to Australia.
Masterpieces from Paris explores the dramatic changes in late 19th century European art through some of the best-known and much-reproduced paintings. Indeed many of these paintings are central to the Musée d'Orsay's high reputation, both in France and world-wide. There are only a handful of Post-Impressionist works in Australia—including Georges Seurat's study for Le Bec du Hoc, Grandcamp 1885 at the National Gallery of Australia—so the opportunity to create an exhibition from a single collection of such outstanding quality is rare indeed.
Post-Impressionism announces a break from Impressionism, the revolutionary movement which occurred in France in the second half of the 19th century. By the mid 1880s, artists were experimenting with even more radical ideas. Van Gogh's intense, richly coloured surfaces communicate emotionally through the artist's expressive manipulation of paint. Gauguin's monumental, decorative and often exotic works stand for a new and at times brutal aesthetic directness.
Cézanne's mastery of the genres of still-life, landscape and portraiture fulfils his own prophetic promise to 'astonish with an apple!' These artists encapsulate the challenges to painting and the development of a multi-faceted avant-garde at this time: Pointillism, Neo-Impressionism, Synthetism, Symbolism, School of Pont-Aven, Cloisonnism, the Nabis and Intimism.
In addition to some of the most famous painters, the exhibition includes Symbolist masterworks by artists who are now less known to a general public, but who had a profound impact on their contemporaries. Visitors will find jewel-like domestic scenes and figures, portraits of friends and family members, as well as several large decorative schemes designed for specific interiors. Masterpieces from Paris reveals cross-influences between artists, and shows the flowering of the modern movements throughout Europe. These fascinating paintings forecast the development of Fauvism, Cubism, Expressionism and led also to Abstraction in the 20th century.
Themes
In the 1880s a new generation of artists, including Vincent van Gogh, Paul Gauguin, Paul Cézanne and Georges Seurat, burst onto the cultural scene in France. They announced a break with Impressionism, competing with the older painters and with each other, to develop the range of styles now known as Post-Impressionism. Masterpieces from Paris displays key paintings by famous and influential artists along with the work of their peers, revealing the artistic diversity of the times.
This exhibition explores movements such as Pointillism, Neo-Impressionism, Synthetism and Symbolism, as well as the groups of artists known as the School of Pont-Aven and the Nabis. Emile Bernard, Pierre Bonnard, Maurice Denis, Claude Monet, Gustave Moreau, Henri de Toulouse-Lautrec, Paul Signac and Edouard Vuillard, among others, are well represented. Masterpieces from Paris shows how the radical experiments of Post-Impressionism are the basis for modern art in the twentieth century.
After Impressionism
The Salon—a juried system of exhibitions and prizes run by the ultra-conservative Academy of Fine Arts—dictated artistic careers in 19th-century France. The Impressionists were one group who broke free from the restrictions of the Salon, setting up a series of independent exhibitions from 1874 to 1886.
The Impressionists painted in a spontaneous and luminous style using a palette based on pure or unmixed colour. They often worked out-of-doors and chose subjects from everyday life which at the time was considered shocking.
After 1886, Claude Monet painted larger and more decorative works and began to work in series. Other Impressionists such as Edgar Degas, Camille Pissarro and Alfred Sisley reworked their earlier styles with a new freedom.
Neo-Impressionism
Neo-Impressionism, also known as Pointillism and Divisionism, developed in the late 1880s as a reaction against the spontaneity of Impressionism. Led by Georges Seurat, the group applied the new ideas and colour theories of French and foreign scientists. Seurat developed a precise, systematic technique using pairs of opposites from the colour spectrum—red and green, blue and orange, yellow and violet—to create greater vibrancy. At a distance these complementary colours blend in the viewer's eye, in a process known as 'optical mixture'.
Paul Signac, Charles Angrand and Henri-Edmond Cross were the first to join the Neo-Impressionist group. The display of Seurat's painting A Sunday afternoon on the island of La Grande Jatte 1886, in the final Impressionist show, prompted others to join the group, including older, established artists such as Pissarro and Maximilien Luce. Seurat's involvement in Les XX (The Twenty) exhibitions in Belgium sparked interest in the new technique outside France. After Seurat's premature death in 1891, Signac took leadership of the group, initiating the second wave of Neo-Impressionism. His technique became freer, as he used large dots and saturated colour, especially after his 1892 move to St-Tropez in the south of France.
Cézanne / van Gogh
Paul Cézanne exhibited twice with the Impressionists, in 1874 and 1877, when his paintings were singled out for particularly harsh criticism. After 1886 he was increasingly isolated in Aix-en-Provence although his work was much admired by other artists, as Maurice Denis' large 'manifesto' painting—Homage to Cézanne—suggests. The still-life genre was of great importance to Cézanne. He delighted in portraying forms reduced to their geometries, and in depicting objects as living beings—declaring I will 'astonish Paris with an apple'. Cézanne and other painters who took cues from him—Paul Gauguin, Paul Sérusier and Pablo Picasso—celebrate the refined beauty of the ordinary. These artists cropped compositions, compressed space and tilted the picture plane.
Van Gogh arrived in Paris in 1886, at a time of great artistic change: older Impressionists such as Claude Monet and Camille Pissarro were rethinking their approach to painting, and Gauguin and Georges Seurat were jostling for leadership of the avant-garde. Artists were now absorbing a wide range of influences—medieval glass, Japanese art, popular prints and photography. Seven paintings by van Gogh show his transformation over a three-year period, from the relatively subdued, naturalistic view of a Parisian restaurant with its feathery, Impressionist-like brushstrokes, to the radically coloured, painterly treatment of his bedroom at Arles.
Gauguin + Pont-Aven School / Toulouse-Lautrec
In July 1886 Paul Gauguin left Paris on the first of many journeys, both within France and abroad. He was searching for a place to live simply and cheaply, away from the increasing industrialisation of the capital. Initially he travelled to the town of Pont-Aven in Brittany, western France. There he led a group of younger artists and, with Emile Bernard, developed a style known as Synthetism inspired by the pious rural community of the region. The paintings are dominated by large blocks of bright colour, emphasising exotic and spiritual themes. Many of these artists also favoured a technique where blocks of colour have dark, often black, outlines mimicking the visual effect of cloisonné enamel.
Unlike Gauguin and his followers, Henri de Toulouse-Lautrec worked almost exclusively in Paris. His sources of inspiration lay in and around the cabarets and brothels of Montmartre, and his paintings are dominated by the performers and prostitutes with whom he felt a close affinity. His style is characterised by the use of bright flat colours, inspired by the Japanese woodblock prints (ukiyo-e) popular in 19th-century France. He also favoured a sketchy unfinished look, often leaving patches of canvas visible in the work.
Symbolism / The Nabis
The paintings in this room span four decades and fall into two related groups. The Symbolists—such as Pierre Puvis de Chavannes, Gustave Moreau and Odilon Redon—explored mythology, philosophy and dreams. Puvis' The poor fisherman was much admired when shown in 1881. Its large size elevates the plight of the poor to the scale of fresco painting. Redon's dreaming figures and strange hybrid creatures capture a sense of other-worldliness.
The second group, led by Paul Sérusier, were a collection of disaffected art students—including Pierre Bonnard, Maurice Denis and Edouard Vuillard—who called themselves the Nabis (the name is based on the Hebrew and Arabic words for 'prophet'). As well as artistic interests, the Nabis were drawn together by idealist philosophies and Symbolist literature.
Some works, such as Sérusier's The talisman, adopt Paul Gauguin's style in the use of unmodulated colour and simplification of forms. Other works share the sombre colours and reduced palette of Puvis' paintings, but are more intimate in scale. Jewel-like domestic interiors and portraits capture vignettes of everyday life and celebrate ties of friendship and family between the artists
Decoration / Rousseau
During the late 1800s many artists developed a renewed interest in the decorative possibilities of painting. Pierre Bonnard, Maurice Denis and Edouard Vuillard were commissioned by a close circle of private patrons to create large-scale panels for domestic interiors.
These artists wanted to break away from easel painting and traditional modes of representation, to merge art with daily life. They were influenced by the British Art and Crafts movement and by Art Nouveau. The muted palette of many of their schemes often reflects the tone and texture of fresco painting. Vuillard's Public gardens, for example, was inspired by medieval tapestries.
Henri Rousseau also worked on a large scale. A self-taught artist, he worked largely in isolation. His work is characterised by flat forms and a certain naivety. Ridiculed at the time, Rousseau's bold, simple renditions of exotic and dream-like subjects were a major influence on the art movements of the 20th century, especially Surrealism.
Exhibition Sponsors
Presenting partners: Musée d'Orsay, ACT Government, Australian Government Art Indemnity Australia
Principle partners: National Australia Bank, Channel Nine, JCDecaux
Major sponsors: Qantas, NGA Council Exhibition Fund, Yulgilbar, The Age, The Canberra Times, The Sydney Morning Herald
Supporters: ABC Local Radio, WIN Corporation, Novotel Hotels, Pol Roger Champagne, Yalumba Wines