The Art of Photography 1839–1989
Exhibition
17 Jun 1989 – 27 Aug 1989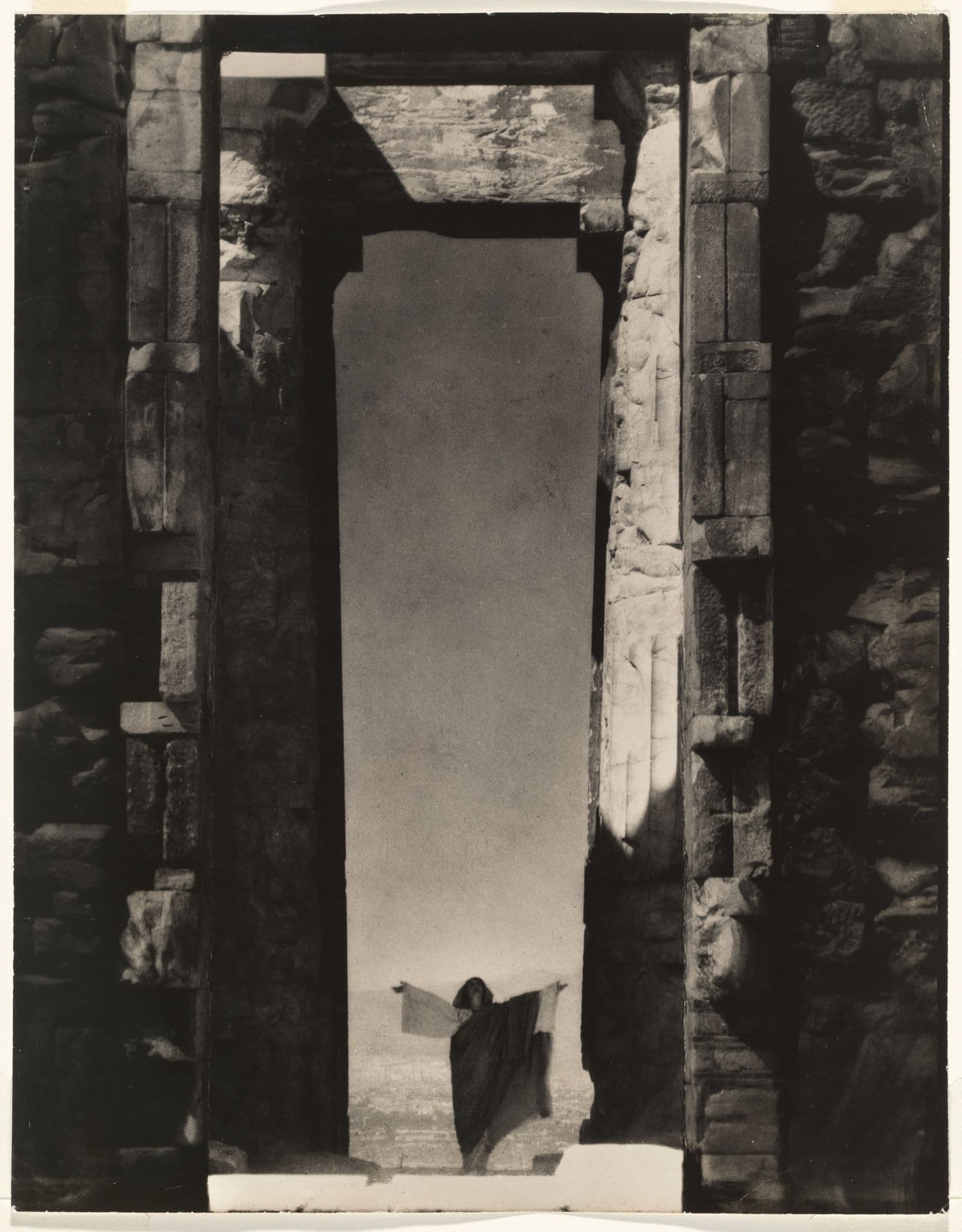 About
---
The era of photography began in 1839, when Louis Daguerre in France and William Henry Fox Talbot in England simultaneously announced the development of the processes that allowed the fixing of an image. The Art of Photography brings together an extraordinary range of photographs spanning the history of photography in celebration of the 150th birthday of the medium.
This exhibition has been organized by the Royal Academy of Arts in London and the Museum of Fine Arts in Houston, and the Australian National Gallery, Canberra, was invited to be the third venue for the show. Over 400 works were selected from major public and private collections principally in the United States and Europe, and numerous photographs from the collection of the Australian National Gallery have also been included. Many of the photographs have rarely been exhibited and all prints are in immaculate condition.
Curatorial Introduction
There are many ways of considering photographs. The curators of The Art of Photography state that they are primarily concerned with 'photography as a new visual means of communication governed by its own techniques and capable of creating images that [are].... works of art in their own right'. Mainly American and European (especially English and French) photographers were selected, and each is represented by a number of works.
Works in the exhibition can be divided into three categories: photographs consciously made in the tradition of painting, printmaking and drawing; photographs made to record and describe; and photographs that use the unique qualities and possibilities inherent in the medium.
One of the earliest and most widespread uses of the new medium was portraiture. The famous and not-so-famous flocked to photographic studios to obtain an exact likeness of themselves. Nadar, who ran a studio in Paris, became renowned for his simply composed but eloquent portraits of some of the celebrities of the day.
Photography was a product of the modern age which also produced the railway and the telegraph –an age of new systems of communications. Many of the first photographs were taken for scientific purposes, as were those by T.H. O'Sullivan who was an official photographer on geological surveys and expeditions in the American West in the 1870s. His photographs were produced as documentary records and were considered to be more accurate than any draughtsman's renditions.
This exhibition also features early examples of travel photography. Photographers quickly responded to a market of armchair travellers eager for exotic pictures: John Thomson and Felice Beato worked in China and chose picturesque subjects that included landscapes, architecture and people dressed in their national costumes.
From its beginnings there has been debate about whether or not photography - a mechanical medium- could produce works of art. As early as 1869, Henry Peach Robinson was concerned with pictorial effects in photography; Julia Margaret Cameron's works were obviously artistic in intent, as were those of P.H. Emerson. Artists trained in other media also took up photography; Gustave Le Gray, whose moody seascapes have become classic nineteenth-century images, was trained as a painter.
In 1892, a number of photographers committed to promoting artistic photography formed a group called the Linked Ring in London. This group was part of a wider international movement — known as Pictorialism — that was concerned with creating art photographs. Pictorialist photographs were often soft focus and deliberately lacking in detail, as the interest was in effect rather than information. The work involved considerable manipulation including painting on the negative and retouching the prints which Pictorialists believed embodied an artist's contribution. The exhibition includes Pictorialist work by Edward Steichen, Heinrich Kühn and others.
With the outbreak of the first world war, many considered the Pictorialist style of photography to be out-dated and irrelevant, only capable of evoking a world that had gone by. A new era had begun and Russian and German artists among them Alexander Rodchenko, El Lissitzky, László Moholy-Nagy-led the way in developing radical forms of expression appropriate for the new age. Experimentation flourished; new techniques included photomontage (sometimes incorporating lettering), extreme close-ups, and photographs taken from above and below the subject. Exponents of this New Photography, like August Sander, worked in sharp focus and often favoured the use of glossy paper with no retouching, so as not to glamorize their subjects. At the same time, in the United States the modernist style was adopted by Alfred Stieglitz, Paul Strand, Edward Weston and others. The emphasis on an absolutely photographic approach, and on beautifully crafted prints which required mastery of darkroom techniques, became a peculiarly American phenomenon. By comparison, prints by European photographers of the same period often look unfinished.
The advent of photojournalism was made possible, in t part, by technological advances. The introduction of lightweight 35 mm cameras opened up a whole new range of possibilities to photographers, allowing them to work quickly, with a casualness and spontaneity that was impossible with the earlier large-plate cameras and tripods. The human interest photographs of Henri Cartier-Bresson and others were reproduced in newspapers and in the picture magazines that flourished in Europe from the late 1920s onwards. The famous American magazine Life frequently commissioned photographs from W. Eugene Smith, whose career exemplified that of the concerned photojournalist.
Other commercial fields of photography that have flourished during the twentieth century are those of advertising, fashion and celebrity portraiture. The exhibition includes examples of such commercial work by Baron Adolf de Meyer, Martin Munkácsi and Irving Penn, whose photographs were made for reproduction as advertisements in various magazines.
During the 1960s a new generation of photographers emerged in the United States. They made photographic works of art particularly intended for purchase by both private collectors and public institutions, especially the Museum of Modern Art in New York, which consolidated its position as the premier institution promoting photography as art.
Some of the new generation deliberately made their photographs as symbols of emotional experience. Others, like Lee Friedlander, adopted a more neutral aesthetic and produced deadpan photographs of urban scenes that were explorations in the way the camera pictured the world. Diane Arbus's disturbing portraits showed a darker side to the American dream, also present in William Eggleston's colour photographs taken during the 1970s.
The documentary approach, which has enjoyed a long tradition in England, is represented in this exhibition by Bill Brandt, with contemporary work by such artists as Chris Killip and Martin Parr.
The exhibition closes with a selection of contemporary photographic work by European and American artists who have been influenced by widely varying sources. Their works are a testimony to the rich possibilities of the photographic medium.
Helen Ennis