The Screenprint
Exhibition
1 Jun 1983 - 30 Nov 1983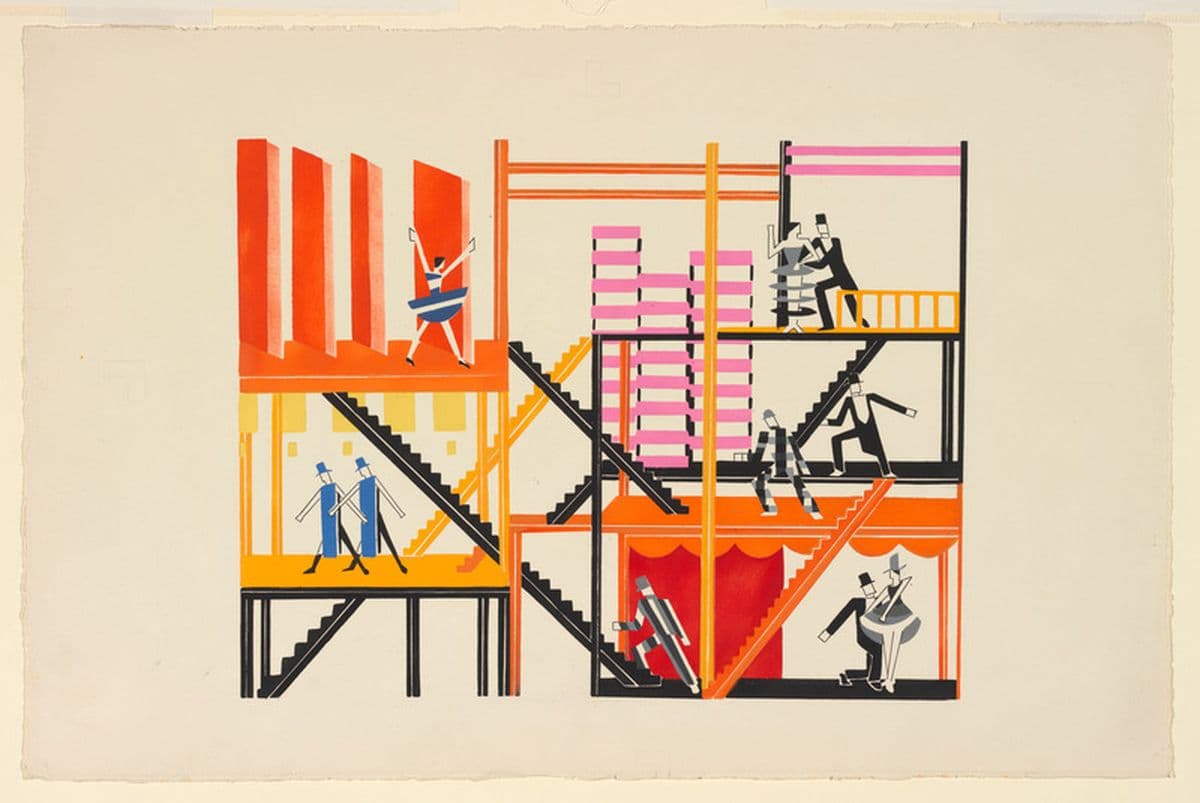 Essay
Screenprinting, one of the most recent graphic techniques to develop, is related to stencilling, which is one of the oldest.
A stencil is a pattern pricked or cut out of a sheet of reinforced paper, celluloid or thin metal, through which colour can be repeatedly brushed or stippled to make an edition of prints. The French call the technique pochoir.
As well as helping Emperors such as Theodoric and Charlemagne, who couldn't read or write, to form their signatures, stencilling provided colour on fifteenth century woodcut playing cards and some of the earliest printed books. This century, between the wars, the technique reached a peak of sophistication in the service of the high fashion industry, particularly in the French haute couture periodical, the Gazette du bon ton. A classic book on the subject, Jean Saudé's Traité d'enluminure d'art au pochoir also appeared and inspired printers in other countries, such as the Curwen Press in England, to use stencilling in book illustration.
Perhaps the greatest example of stencilled work by a major artist was Matisse's startlingly beautiful book Jazz. Theoretically, by 1947 when this appeared, Matisse could have used screenprinting to realise it. The advantage that screenprinting has over stencilling is that the design no longer has to depend on ties or awkward joins to hold free-floating shapes within an area of colour. The Japanese had tackled this problem by joining their stencil parts together with human hair.
The screenprinter's solution was to stretch a permeable woven fabric taut on a frame as a carrier for the stencil which could be simply formed from cut paper, from liquid painted onto the fabric, or from a photographically exposed and hardened film of gelatine or emulsion. All of these devices selectively block the mesh to prevent the passage of ink as it is carried by a rubber blade called a squeegee across the fabric in contact with a sheet of paper. Where the mesh remains open, ink passes through onto the paper; a separate screen is normally made for each colour.
Despite the fact that screenprinting developed this century and received its first patent as recently as 1907, we are as ignorant about who originally discovered it as we are about who initiated the woodcut. In its early days, the technique was used mainly for advertising: poster colour was pushed by roller through paper stencils held on stretched organdie. An early refinement was the use of silk as a mesh—hence the term silkscreen. Silk however has long since been superseded by synthetic or even metal meshes.
In the thirties, the silkscreen process was used by poster artists in the United States who were working on the Federal Art Project imaginatively set up by Roosevelt's government to employ artists during the Depression. Guy Maccoy, a muralist on the Project, who had also been influenced by imported stencil prints from France, claims to have made the first fine art screenprints in 1932. He ran off two images in editions of 30 each but did not proceed with the technique at that time because of the inadequate inks available. Anthony Velonis however, initially a stencil cutter with the poster workshop of the Graphic Arts Division, helped improve the available materials and in 1938 wrote the first technical treatise for artists:—Technical problems of the artist-technique of the silk screen process.
The New York branch of the Project published and distributed the handbook, with its elegant screenprinted cover by Velonis who also persuaded the project organizers to set up a screenprinting studio to make artists' prints. In discussion with Carl Zigrosser, then of the Weyhe Gallery, later curator of prints at the Philadelphia Museum, Velonis suggested the word 'serigraph' (from Classical roots meaning 'drawing on silk') as a name which would distinguish the fine art from the commercial process; almost immediately the term was attacked as pompous and pseudo-learned. Velonis also screenprinted a catalogue cover for the group exhibition of 'silkscreen stencil prints' shown at the Weyhe Gallery, New York in March/April 1940. It depicts a stork carrying an ornately framed picture in its beak to advertise '... new colour prints in a new creative medium'. There were 44 prints by 11 artists in what claimed to be the first group exhibition of screenprints. In fact, it came hard on the heels of an earlier show featuring 24 artists and 61 prints which opened at the Springfield Museum the previous week.
Several of the artists involved in the early days of the process helped form the National Serigraphic Society, which popularised screenprinting after the second world war by touring exhibitions demonstrating its painterly possibilities. The United States Information Service took these exhibitions to Europe where the potential of the technique was recognized by Luitpold Domberger of Stuttgart in Germany, who was to become one of the most famous screenprinters working with artists. In 1949 Domberger introduced screenprinting to his artist neighbour Willi Baumeister, who was among the first Germans to use it. The same year, the Hungarian Op artist, Vasarely, working in Paris with the commercial screenprinter, Arcay, also made his first screenprint. Vasarely's working method was very different from that of the American serigraphers who had emphasized the autographic, hand-made aspects of the process, for he believed it was the duty of the best artists to create prototypes capable of multiplication by technicians. A Vasarely image would thus, in various sizes, be realized by others using paint, screenprinting ink, or even tapestry wools. This collaborative way of working became increasingly characteristic of the medium as time progressed, but it deeply shocked those who equated original printmaking only with traditional hand methods.
Although one can point to growing use of the process in the late forties and early fifties—Francis Carr in England and Alan Sumner in Australia to give widely separated examples—in America, where it began, screenprinting gradually lost ground. Despite the efforts of the National Serigraphic Society, the generation of Abstract Expressionists who dominated the forties and fifties did not find it of much interest, although Jackson Pollock made monochrome photo-screenprints after several paintings in 1951.
Ironically the Society that had tried to propagate it, closed its doors through lack of support in 1962 at the very moment that Robert Rauschenberg and Andy Warhol, out of an interest in process, began screenprinting readymade images from the media into their 'paintings'. Rauschenberg united photo-screenprinted elements representing everyday life with gestural handmarks in works such as Crocus, while Warhol made mechanically repetitive portraits of Troy Donahue, Elvis Presley and Marilyn Monroe rejoicing in the screen's capacity to reproduce. In the face of works such as these, the division between multiplied prints and unique paintings became increasingly arbitrary. Alain Jacquet of France actually made 90 copies of a screenprinted work on two panels measuring in all 1.75 x 2 m.
The most important American screenprinted graphic portfolio was that titled Ten works by ten painters published by the Wadsworth Atheneum in 1964. It included Stella, Ad Reinhardt, Warhol, Lichtenstein and Motherwell among others. Possibly the greatest contribution to screenprinted graphic art has been that made by a British printer and the artists from both sides of the Atlantic who worked with him. The American art historian, R. S. Field, who mounted Silkscreen: History of a Medium at the Philadelphia Museum of Art in 1971/72, later expressed the opinion that Chris Prater almost single-handedly at his Kelpra Studio in London had metamorphosed screenprinting into a fine art. In the show Field mounted, out of 104 contemporary examples of the technique from a number of studios, the lion's share—a third of them—had been printed at Kelpra.
In 1957, Prater, with the help of his wife Rose, set up on a shoestring in London as a commercial screenprinter. Inside a decade, his name had become a byword among artists who admired his mastery of the craft and the collaborative relationship he was able to enter into with them. In 1970 the results of his labours were recognized in a major show mounted by the Arts Council of Great Britain—a singular honour for a printer at that time. Meantime, the Trustees of the Tate Gallery in London, to which institution Rose and Chris Prater eventually presented their printer's proofs, began to realise that such a significant body of screenprinted work was being produced by the leading painters of the day, that the Tate would have to open a print department rather than leave the collecting of prints to the Victoria and Albert Museum as hitherto.
The artists who found screenprinting of particular relevance were those reacting to Abstract Expressionism with the hard-edged Constructivist-inspired geometries of Op art (Josef Albers, Bridget Riley) and the group known as Pop artists who used images which had already appeared in print in the mass circulation media then coming increasingly under scrutiny. In America this usage often involved a brash large-scale representation of a single icon. In England it was more general to collage several images together in poetic association. To realise this, photo-screenprinting was a most appropriate method, and although in retrospect it was ridiculous to complain that such photographic images were not 'hand-made', screenprinting has always had to fight to surmount the stigma attaching to non-autographic techniques.
What the print trade calls an 'original print' was developed during the nineteenth century in contradistinction to reproduction, which in consequence became an increasingly dirty word as photomechanical process work developed after 1880. As late as 1960, an 'original print' was being defined both in Europe and America as a print formed without any reliance on photography. Although Dada artists such as Max Ernst and Man Ray had clearly shown that photomechanics could be creatively used, this view was, and possibly still is, far from being universally accepted; the sixties however did much to lay the prejudice to rest.
The breakthrough in England came in 1963. Richard Hamilton, who before working at Kelpra had even tried photomechanical screenprinting himself in the poster for the 1956 'This is tomorrow' exhibition, suggested to London's Institute of Contemporary Arts that it should commission a portfolio of screenprints by 24 artists, most of whom were new to the process. The portfolio was published in 1964 and some prints from it sent to the Paris Biennale des Jeunes the following year. The organizers of the Biennale, scandalized, insisted on the screenprints being segregated from the handmade ones. Nevertheless, screenprinting had made its mark. Eduardo Paolozzi, who had previously encountered the process when teaching textile and surface design, went on to create at Kelpra a major tour de force with the As is when suite based on the life and writings of the philosopher, Wittgenstein. Stemming from collage, but employing mechanical tints and patterns in the most inventive way, the series proved seminal for Paolozzi's later work and a masterpiece of screenprinting.
Whether as a method for achieving the rich deposit of colour loved by hard-edge painters, or for its potential in manipulating lens-formulated images, from this moment screenprinting came of age. It has now consolidated itself all over the world as a major form of graphic expression for artists of the twentieth century.
Pat Gilmour 1983

The Screenprint in Australia
The technique of screenprinting was first used commercially in Australia in the late 1920s. By the early 1930s it had become a popular process.
Advertisements in 1932 portrayed it as progressive and adaptable 'to the production of showcards, posters, transfers, lampshades, calendars, novelties, signs on wood, glass and iron'. Screenprinting outfits 'complete with all necessary instructions' were available from three pounds and the Commercial Arts Studios in Melbourne offered instruction in the technique.
Although many Australian printmakers and painters worked as commercial artists during this period and must have been aware of the new technique, none used it to produce 'fine art' prints. Presumably they identified it with 'Iow' art.
Artists' adoption of screenprinting in Australia developed from its use in textile printing. In Melbourne in August 1937 Frances Burke and Morris Holloway, two graduates from the Melbourne Technical College, founded Burway Prints, the first registered textile screenprinting workshop in Australia. Two years later in Sydney, Claudio Alcorso established the firm Silk and Textile Printers of Australia which was to involve many printers in screenprinted fabric design. Margaret Preston, Russell Drysdale and many other artists contributed designs for their 'Modernage' fabrics released in 1947.
Ethleen Palmer, a printmaker best known for her Japanese style linocuts in the 1930s, had gained a working knowledge of screenprinting by 1944. In December of that year she gave a radio talk for the Australian Broadcasting Commission explaining 'An easy method of printing Christmas cards and calendars'. All of her screenprints (she called them serigraphs after the American example) date from 1949 or later and rarely transcend their craft origin. In October 1949 she exhibited 'serigraphs' at Grosvenor Galleries, Sydney, jointly with Margaret Oppen who showed printed fabrics.
The first screenprints that owe more to fine art than to craft traditions are those produced by Alan Sumner in Melbourne between 1945 and 1951 under the guidance of Jack Rule, a commercial artist and printer. Equipment for amateur screenprinters that had been available in the 1930s was no longer obtainable and Sumner made all his own screens, inks and stopout varnishes. His screenprints were exhibited in most Australian States and were relatively popular, his 'Christmas morning' of 1948 selling out completely.
Margaret Preston also explored the technique. An article she published in the Society of Artists Book 1946-7 gave practical instructions on how to make a screen, squeegee and mix ink as well as describing the 'Profilm', cut paper stencil and lacquer stopout methods. She illustrated the article with three of her own screenprints which unfortunately cannot now be traced. Preston's brief flirtation with screenprinting led her back to the simple stencil and she made an exciting series of gouache stencils in the early 1950s.
Of the other early practitioners of screenprinting, mention must be made of Raymond Glass, an American who worked in Melbourne in the early 1950s and exhibited a number of Mexican-influenced screenprints before returning to America. Ray Crooke also produced screenprints from the early 1950s after studying textile printing as part of his commercial art training at the Swinburne Technical College. The medium was used by few other artists during these post-war years.
Renewed interest in the technique was stimulated in April 1958 when Jim Hays gave a lecture-demonstration of screenprinting to the Contemporary Art Society in Sydney. Among those who attended were Henry Salkauskas, who later produced a bold group of painterly screenprints before giving up printmaking in 1965. His gestural images display possibilities for the screenprint that is rarely associated with it. John and Barbara Coburn also attended the 1958 lecture, Barbara Coburn later becoming a master printer, editioning works for her husband and other artists.
Hard Edge painters of the 1960s, such as Alun Leach-Jones and Sydney Ball, exploited screenprinting's ability to create precise areas of flat colour. Their decorative prints, mostly executed in Melbourne, made the medium widely popular. At this time most art schools added screenprinting departments to their print workshops.
From Pop Art and its figurative offshoots developed a new generation of screenprinters. Handcut stencils, tusche and glue methods increasingly gave way to photographic stencils. Political and community groups recognized the potential of screenprinting to produce cheap posters, and in 1973 Colin Little formed the Earthworks Poster Collective at the Tin Sheds, University of Sydney. Their posters of highly sophisticated images and professional technique are among the most dynamic prints produced in Australia in the 1970s.
Screenprinting during the early 1980s has seen a return to simpler forms of stencil making, hand and photographic work often being combined. Collectives such as Redback Graphix of Wollongong continue the political use of poster making; other artists maintain screenprinting as a traditional, limited edition technique and a few artists such as Julia Church produce screenprints which cross these boundaries. Her prints are produced in unlimited editions and are unsigned. Their destination is the Canberra street rather than the gallery wall.
Roger Butler 1983