Yayoi Kusama
THE SPIRITS OF THE PUMPKINS DESCENDED INTO THE HEAVENS
Touring Exhibition
Art Gallery of South Australia
1 Apr 2022 – 13 Mar 2023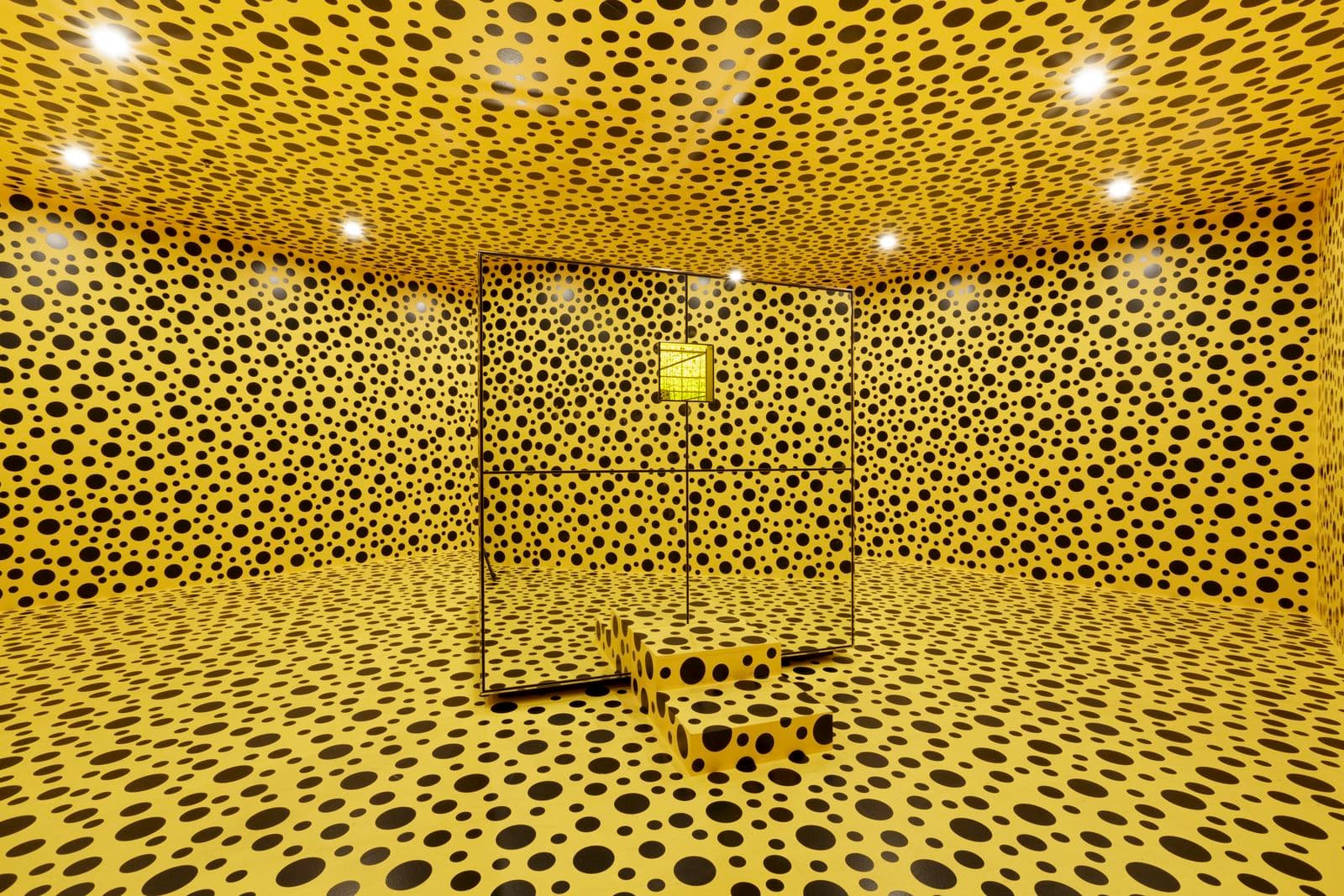 About
---
Barely contained, a bright yellow room is overrun with black dots and a 'peep-show' mirror box is camouflaged by the reflections of its surrounding environment. With this installation, artist Yayoi Kusama invites viewers to immerse themselves in her world, to participate in an experience of both claustrophobic and infinite space, and a round trip from the microscopic into the cosmic.
A distinctive set of recurring motifs – dots, nets and eyes – have afforded Kusama a career-long investigation into the aesthetics of accumulation and obsession. With their disarming anthropomorphic forms, pumpkins are the most mystical of Kusama's motifs and have attained the status of fetishized object within her oeuvre. Here, as if implanted on our optical nerve, the dots of the wider room and the pumpkins within the 'peep-space', seem to reproduce at an alarming rate, overgrowing their environment and threatening to obliterate the viewer's body.
Yayoi Kusama is among the world's most influential artists. She has played a major role in the development of art in the late 20th century and maintains critical importance in our contemporary era. The artist is best known for her pioneering and multi-reflective installations. Reminiscent of the early biomorphic imagery of Phalli's field 1965, and Mirror Room (Pumpkin) 1991, Kusama's recent infinity experience, THE SPIRITS OF THE PUMPKINS DESCENDED INTO THE HEAVENS, joins an iconic lineage.
The inclusion of Kusama in the national collection has been made possible through the generous and committed support of Andrew and Hiroko Gwinnett.
Dates & Venues
National Gallery, Canberra
1 Dec 2018 – 23 May 2021
TOURING DATES
Art Gallery of South Australia, SA
1 Apr 2022 – 13 Mar 2023