Ann Newmarch
born 1945 Tarntanya / Adelaide
---
"Art should be made out of personal experience not out of "art" concerns. Personal experience is only a useful source of art when it is accompanied by an understanding of the social conditions in which it arises. An artist has a responsibility as an image make to concerns wider than herself or her art."
---
---
Artworks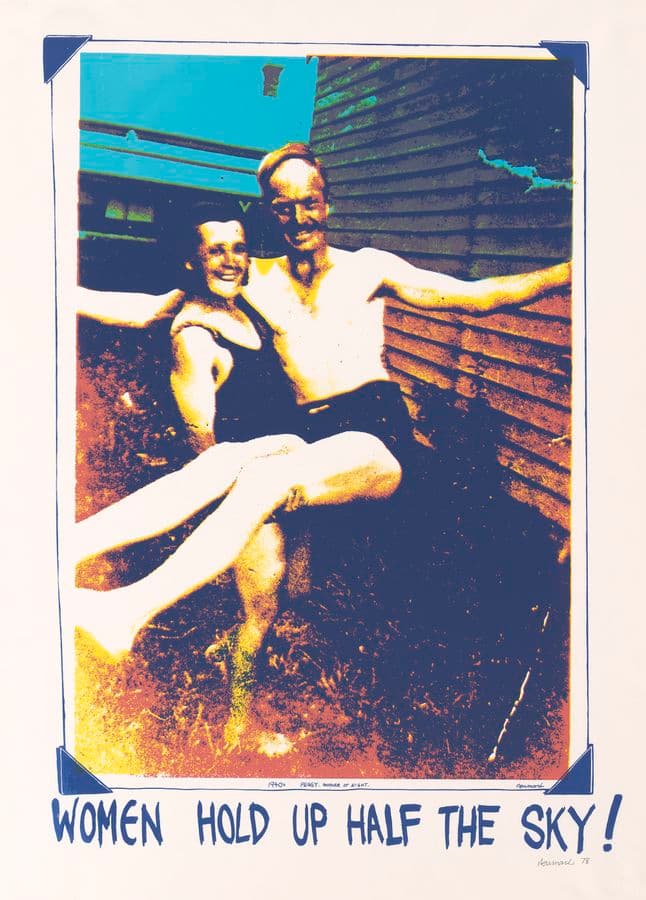 ---
Ann Newmarch by Julie Robinson
Excerpted from the Know My Name publication (2020).
In the late 1970s Ann Newmarch, a leading artist in the women's movement, began to recall memories of her Aunt Peggy, who she had not seen for many years, but whose unconventional life and determined spirit she admired. This led Newmarch to re‑establish a close association with her aunt and inspired a series of works celebrating Peggy's remarkable life, the most well‑known being her screenprint Women hold up half the sky! 1978.
By then Peggy had eight children, 23 grandchildren and seven great‑grandchildren, and her life story epitomised the feminist ethos. Left to raise her children as a single mother, she built a house for her family, while working two jobs. Unable to afford tradesmen, Peggy did most of the work herself, making concrete bricks each night after the children had gone to bed and becoming adept at electrical wiring, plumbing and plastering. She was 'a small, nuggetty, very strong woman who could do anything. The things that she learned how to do, she had learnt by necessity rather than by desire'.(1)
Women hold up half the sky! is based on a photograph of Peggy from the 1940s— a small 6 cm sepia photo that was tucked away in the corner of an album:
It had been bent and folded, had obviously been screwed up at some stage, then it had been straightened out and popped back in … It was a little summer picture of something she had done for a dare when a whole lot of people at a party had said 'I bet you couldn't lift your husband up'.(2)
In this screenprint the tiny photograph of her aunt taken in a moment of fun, has, with the addition of Mao Zedong's famous quote, been transformed into an empowering image for womanhood.
Screenprinting emerged during the 1970s as a low cost and accessible art form for expressing political and social convictions and, in Adelaide, Newmarch was the leading exponent. Her art practice was based on the philosophy 'the personal is political' and by the late 1970s, as a mother of two young boys, women's issues and motherhood took a greater prominence in her oeuvre. As seen in Women hold up half the sky! Newmarch aimed to 'show the strong encouraging aspects of women', in contrast to her earlier, rather pessimistic stance which focused on suburban alienation and critiqued advertising images of women.(3)
Initially conceived as an ephemeral poster—'It was never intended as an art image, it was intended as a confirming, joyful, cheap available poster'(4) —its reach has been extensive, being collected and exhibited nationally and internationally. In 2007 it was exhibited in Los Angeles and New York in the groundbreaking WACK! Art and the feminist revolution, a global survey of feminist art. Newmarch, who was represented by nine works, was the only Australian artist included.
(1) Ann Newmarch, transcript of talk at Art Gallery of South Australia, Adelaide, 27 June 1989, held in AGSA collection file.
(2) As above.
(3) Newmarch artist's statement in Australian Perspecta, Art Gallery of New South Wales, Sydney, 1981, p113.
(4) Newmarch, 1989.
Citation: Cite this excerpt as: Robinson, Julie. "Ann Newmarch" in N Bullock, K Cole, D Hart & E Pitt (eds), Know My Name, National Gallery of Australia, Canberra, 2020, pp 274–275.
JULIE ROBINSON is Senior Curator, Prints, Drawings and Photographs, Art Gallery of South Australia, Adelaide