Brenda L. Croft
Born 1964 (Wadjak boodjar/Perth)
Gurindji/Malngin/Mudburra People
---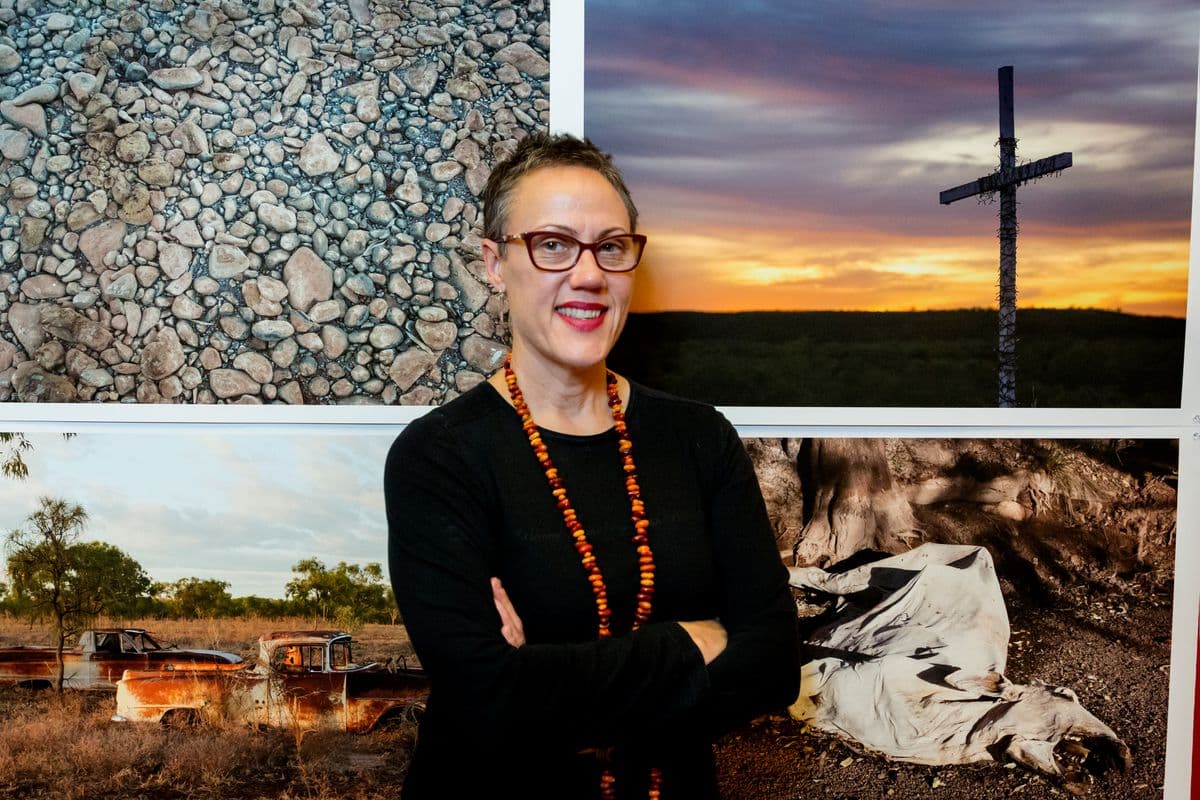 ---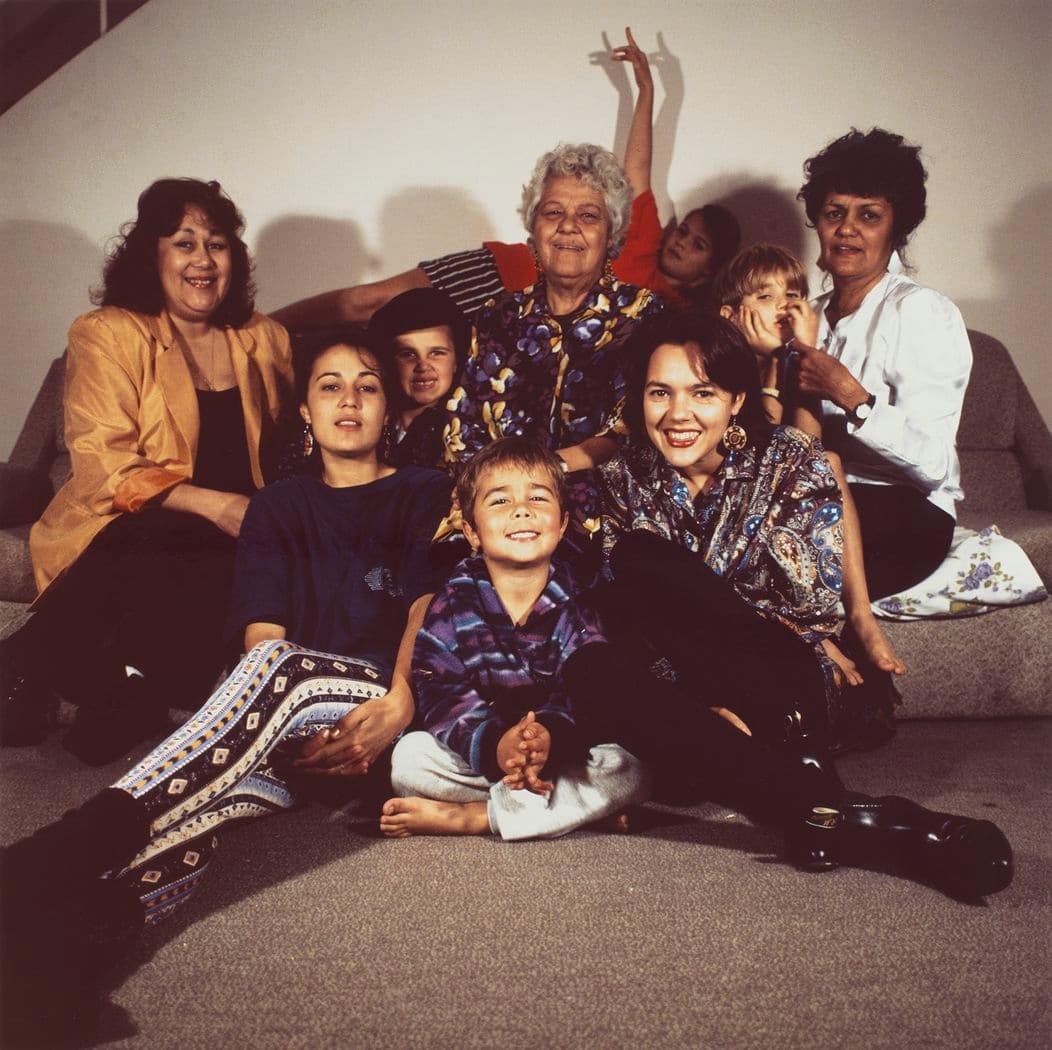 Brenda L Croft by Hetti Perkins
Excerpted from the Know My Name publication (2020).
The Big Deal—is a card game, is the Mabo issue, is a land deal, is no big deal, but it all comes down to being Black and living in the city, and all the roads that lead you here … All this BIG DEAL is about letting you see something of us on our terms. This is about being a Black woman—you might be mother, sister, aunt, cousin, daughter, friend—no difference, the DEAL is the same.(1)
With hindsight more than a quarter of a century on, Brenda L Croft's The Big Deal is Black series reads as a tribute to enduring friendships forged during—and as a result of—the heady days of the late 1980s and early 1990s. It was an era of political tumult, mass Bicentennial protests, the founding of the Aboriginal Provisional Government, the dissolving of the Department of Aboriginal Affairs, the High Court's Mabo decision and Prime Minister Paul Keating's Redfern Statement.
From the artist's point of view, the series is a form of intergenerational self‑portrait. Through the lens, she saw herself—past, present and future. A Gurindji/Malngin/Mudburra artist, Croft was studying and working in Sydney throughout this period. She was a founding member and subsequently General Manager of Boomalli Aboriginal Artists' Co‑operative and a volunteer broadcaster at Radio Redfern which became Koori Radio, broadcasting nationally 'live 'n' deadly' from the heart of Redfern. The Big Deal is Black sets the context for the artist's generation, a 'cast' of actors, artists, writers, curators and performers, who inherited a legacy of activism and honed it into a form of cultural activism.
In The Ingrams three generations of the prominent Wiradjuri family crowd into the frame: grandmothers, aunties, sisters, mothers, cousins and grandchildren. Aunties Norma, Sylvia and Millie (seated at the rear from left to right) represent the earlier generation of Aboriginal political activists who paved the way, founding and championing community organisations in Redfern; the legal, health, housing, social, childcare and aged care services which were the first of their kind nationwide.
Aunty Sylvia Ingram Scott was recognised with a State Funeral when she passed away in 2011. Then Premier of New South Wales, Kristina Keneally recalled 'her fire for a cause, for her people, could burn slowly, and constantly, and achieve so much'.(2) It is a family trait; her sisters are respected Elders in Sydney's inner‑city Aboriginal community and continue to be tireless advocates for their people. Millie's daughter Suzanne, who is seated in front of her mother, was also portrayed in Sue Ingram, Botany Road/Regent Street, Redfern 1992.(3) As Suzanne's proudly defiant stance in the latter work suggests, the Ingrams—like Brenda's family—refuse to accept their fate as 'survivors of the colonial wars … [to be] exiled in the Housing Commission 'burbs'.(4) For them the fight is not over.
(1) Brenda L Croft, artist statement in Brenda L Croft 'The Big Deal is Black' / Destiny Deacon 'Caste offs', Boomalli Aboriginal Artists' Co-operative, Chippendale, 1993, np. The joint exhibitions were held at the Australian Centre for Photography, Sydney, from 2–24 July 1993.
(2) 'State Funeral for Sylvia Scott', at sbs.com.au/news/state-funeral-for-sylvia-scott, accessed 14 November 2019.
(3) This was included in the Conference call installation, a collaboration with internationally renowned African-American conceptual artist and activist Adrian Piper commissioned for the 1992 Biennale of Sydney.
(4) Marcia Langton, quoted in Hetti Perkins, Art + soul: A journey into the world of Aboriginal art, Miegunyah Press, Carlton, 2010, p 56.
Citation: Cite this excerpt as: Perkins, Hetti. "Brenda L Croft" in N Bullock, K Cole, D Hart & E Pitt (eds), Know My Name, National Gallery of Australia, Canberra, 2020, pp 86–87.
Image caption: Brenda L. Croft, Gurindji/Malngin/Mudpurra peoples, The Ingrams: (back row) Norma, Sylvia, Jarin and Millie (middle row) Shanae and Jemiah (front row) LeeAnne, Jayden and Sue 1993, dye destruction photograph, 99.4 x 99.0 cm (sheet), National Gallery of Australia, Canberra, purchased 1994 © Brenda L. Croft/Copyright Agency.
HETTI PERKINS is an Arrernte and Kalkadoon curator and writer.
Brenda L. Croft appears in