DI$COUNT UNIVER$E
Cami James and Nadia Napreychikov
Established Narrm/Melbourne 2010
---
"Our work has always been laced with social, political and feminist ideology. We started in order to empower young women like ourselves who couldn't afford expensive fashion, who were sick of being told what luxury was, who should be allowed to wear it and that their bodies weren't good enough. Following that, we as the designers have been empowered and inspired by representing these women" — Cami James and Nadia Napreychikov, 2020
---
---
Biography
DI$COUNT UNIVER$E is the fashion label of Australian designers Cami James and Nadia Napreychikov. Originally based in Melbourne, the pair launched the label online via their fashion blog in 2010 and soon attracted a loyal following. Known for its adventurous spirit, DI$COUNT UNIVER$E's garments are characterised by brightly coloured, sequined designs that draw upon a range of influences including punk, glam rock, camp and popular culture and are often injected with humour and an ironic feminist edge.

James and Napreychikov's aims are not superficial. Through DI$COUNT UNIVER$E they seek to subvert the luxury fashion industry, stating in their 2009 manifesto that it was not simply a label but "whatever they are doing at the time". They describe themselves simultaneously as "a brand, an idea, an image, a dialogue, a strategy, a transformation, a design, a blog, a motion picture, a label, a personality, a website, a quote, a garment, an emotion and an evolution".

The DI$COUNT UNIVER$E WOMEN 2019 collection was developed in New York against the backdrop of the #MeToo movement. It is a body of work imbued with the brash spirit of the new era of women finding their voices and speaking out against assault. The collection was shown during the 2018 New York Fashion Week where DI$COUNT UNIVER$E models – including cisgender and transgender women – marched down the runway in flat velvet slippers, rather than high heels, and wore garments emblazoned with the glittering words 'not for sale' that bluntly denounced the objectification of the female form.

Since launching DI$COUNT UNIVER$E, James and Napreychikov have refused to align themselves with the cycles of the fashion industry by being anti-seasonal in their approach and continue to retail primarily through their website and pop-up stores.
Biography written by National Gallery of Australia Sid and Fiona Myer Curator of Ceramics and Design Rebecca Edwards
Artworks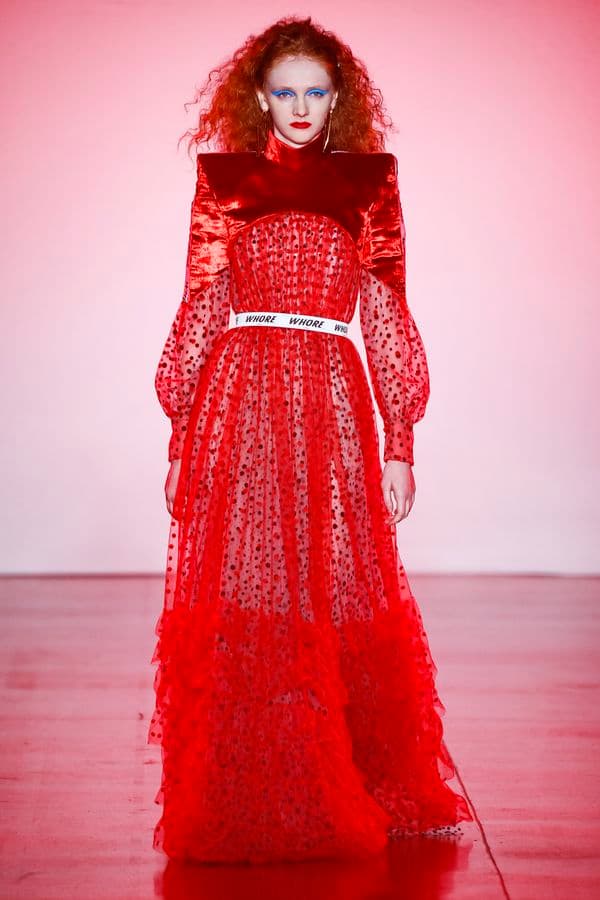 ---