Dora Chapman
Born 1911 (Wamamukurta/Mt Barker, South Australia); Died 1995 (Tarntanya/Adelaide)
---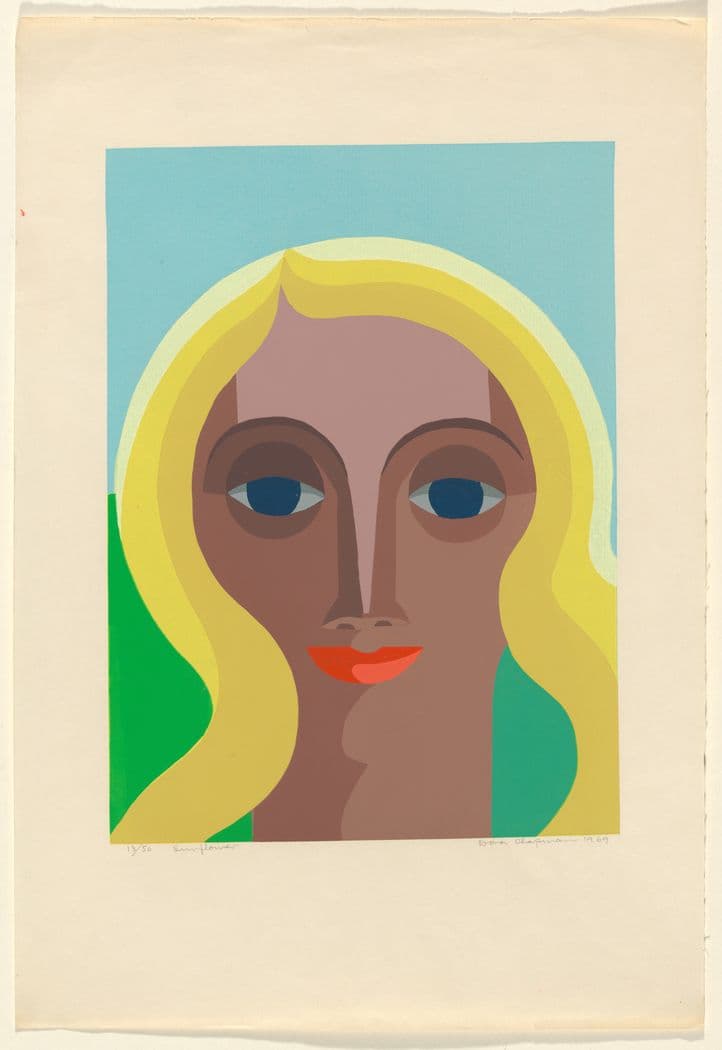 Dora Chapman by Margaret Worth
Excerpted from the Know My Name publication (2020).
Dora Chapman was my most influential art teacher.(1) She had a reputation for demanding a strong work ethic and high standards. There was no chatter! This was during an era with a trending philosophy of art education to 'do your own thing' and 'find yourself'.
Chapman, more than any other teacher, helped me to find myself as an artist. And in following her guidance, informed by perception, sharp analysis and experience, I blossomed. In 1964 in Australia, her teaching practices were new and very much at the leading edge. She led me to a level of awareness that was super creative. It spilled over into my other studies.
Little‑known as an artist in her own right, it was her husband, James Cant, who was publicly recognised. This was partly due to Chapman's career‑long subjugation of her own artworks to Cant's. Her priorities reflected the prevailing culture and sadly deprived us of more of her insights.
The series of prints that followed her retirement, including Sunflower 1969, are a revelation of contemporaneity. I saw Sunflower for the first time in 2019. It is one of a series of women's heads presented as colour screenprints—a new medium then for her. Each one is distinctly different in characterisation, but they are not portraits. They describe something else. In Chapman's words 'to discard images is to turn one's back on living things'.(2) These works bring representation to abstraction.
Two aspects stand out: the gaze, and the centre line from the brow to the chin. The gaze is neither staring nor vacant. It is considered and directed—straight at the viewer. It is also an expression I remember well from Chapman's classes! Her knowledge of representation expertly informs the translation of character to abstract form. A sentient being is distilled to a visual essence.
The colours in Sunflower are a surprising combination of contrasts, from lime yellow to emerald green, sky blue and bronze. They enhance the abstract forms and emphasise the bold curves that flow from a focal point at the top left. It pins the image to the surface and counterbalances the featured pink‑red lips.
The geometry, the colour contrasts and the flat surface of the medium are forces equal to the power of the gaze.
Sunflower is Reality.
(1) Margaret Worth, artist and designer, attended the South Australian School of Art from 1963–67. Chapman lectured there from 1958–69.
(2) Jean Campbell, James Cant and Dora Chapman, The Beagle Press, Sydney, 1995, p 101.
Citation: Cite this excerpt as: Worth, Margaret. "Dora Chapman" in N Bullock, K Cole, D Hart & E Pitt (eds), Know My Name, National Gallery of Australia, Canberra, 2020, pp 74–75.
Image caption: Dora Chapman, Sunflower, 1969, screenprint, printed in colour inks, from multiple stencils, 55.8 x 38.1 cm (sheet), National Gallery of Australia, Canberra, Gordon Darling Australasian Print Fund 1997.
MARGARET WORTH is an artist and designer.