Ethel Carrick
Born 1872 (Uxbridge, United Kingdom); Died 1952 (Narrm/Melbourne); Australia periodically from 1908
---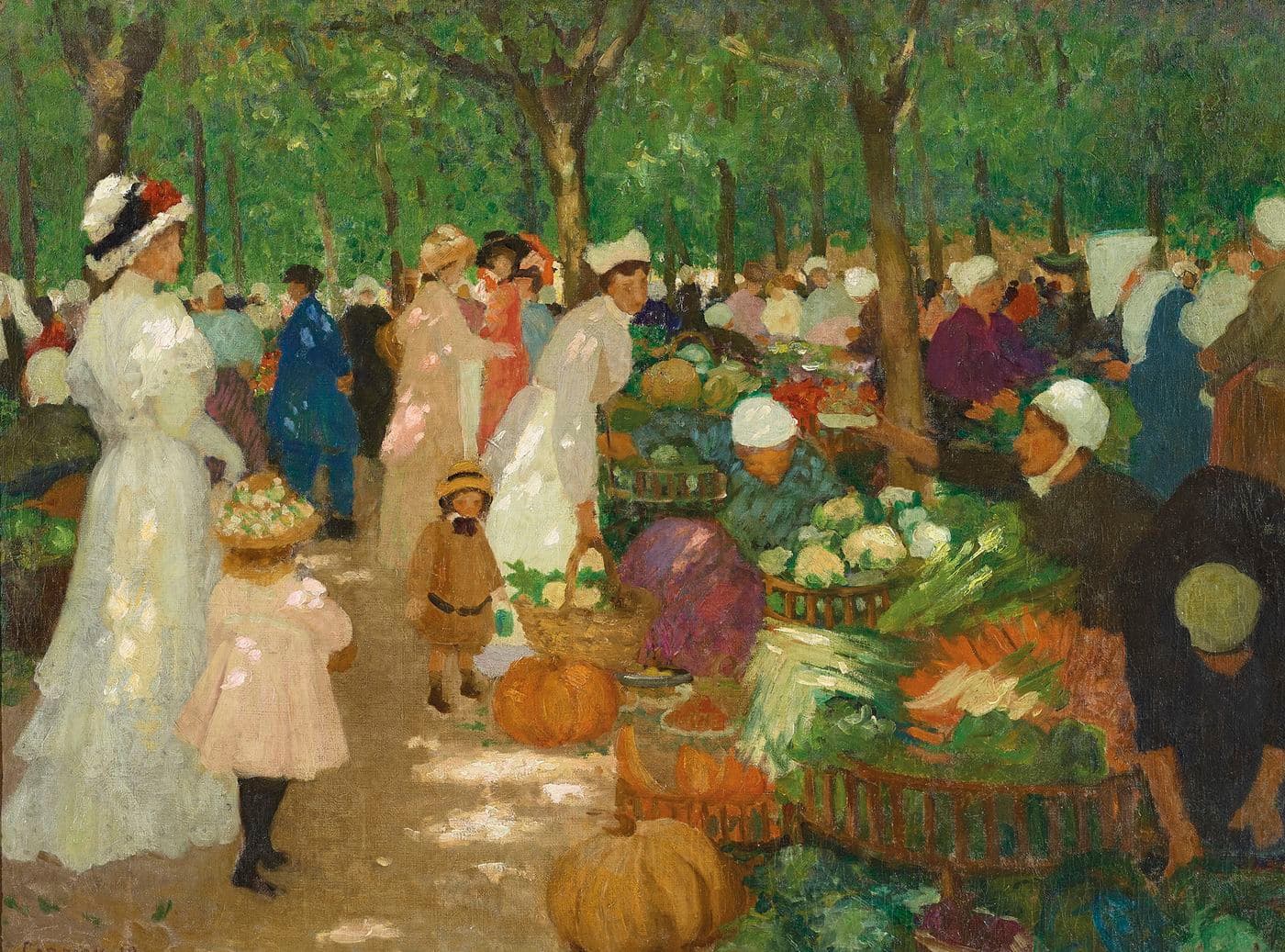 Ethel Carrick by Emma Kindred
Excerpted from the Know My Name publication (2020).
Following the opening of her solo exhibition at Anthony Horden's Fine Art Gallery in Sydney in 1913, Ethel Carrick described her love of a subject that would remain a constant theme within her work—the crowd:
It's people who attract me. Crowds are to me what a magnet is to a needle. I love the color, life, movement, and individuality of a crowd. It's rather unfortunate, as I hate noise, but my private feelings have no chance against the compelling charm of a mass of people. To me it has the attraction a fine orchestra has to a musician, and often when I've been painting some of the groups I am showing in my exhibition, I have felt them as musical chords.(1)
In The market 1919, the brilliance of the crowd is captured in high key notes as passages of dappled sunlight are described in generous daubs of thick oil paint across the canvas. A fashionable woman in cascading white muslin and her youthful companion lead us into this energetically arranged bustle of market stalls teeming with luminous produce. The avenue of slender trees and gravel pathway suggest the Jardin du Luxembourg or Jardin des Tuileries in Paris, both in the vicinity of the Montparnasse studio Carrick had returned to during the First World War. Australian art critic JS MacDonald, who had also lived in Paris, praised Carrick's work: 'Mrs Fox has a palette that is bright and of considerable range, and her attack is bold and lively … She is at her best when depicting groups of figures in the sunlight.'(2)
At 75 by 100 centimetres the canvas is large in comparison to the smaller vigorously painted works she completed at open‑air markets, the beach or promenade. While Carrick remains faithful to the vibrant colour and brushwork of the modern French painting that she so admired, the scale of the work suggests The market was constructed from such studies.
English‑born Carrick studied at the Slade School in London. In 1905 she married Australian artist Emanuel Phillips Fox after meeting at the plein‑air artists' colony in St Ives, Cornwall. They settled in Paris and shared a life of painting expeditions through France, Italy and North Africa until his death in Melbourne in 1915, after which she continued to travel widely. When questioned regarding the impact of marriage on her artmaking, Carrick was adamant in her response:
My marriage has never made any difference to my work, and instead of losing my individuality I have developed it … I think one reason why we work so well together is that we always put our art before everything else. That comes first, anything else, after.(3)
(1) 'Distinguished woman artist', The Sun, Sydney, 9 November 1913, p 19, at trove.nla.gov.au/newspaper/article/229343041, accessed 23 October 2019.
(2) JS MacDonald, 'Impressionistic art', The Herald, Melbourne, 1 June 1925, p 13, at trove.nla.gov.au/newspaper/article/244042985, accessed 23 October 2019.
(3) 'Distinguished woman artist'.
Citation: Cite this excerpt as: Kindred, Emma. "Ethel Carrick" in N Bullock, K Cole, D Hart & E Pitt (eds), Know My Name, National Gallery of Australia, Canberra, 2020, pp 72–73.
Image caption: Ethel Carrick, The market, 1919, oil on canvas, 75.0 x 100.00 cm, private collection, courtesy of Smith & Singer Fine Art.
EMMA KINDRED is Curator, 19th Century Australian Art, National Gallery of Australia, Canberra.