Ethel Spowers
Born 1890 (Narrm/Melbourne); Died 1947 (Narrm/Melbourne)
---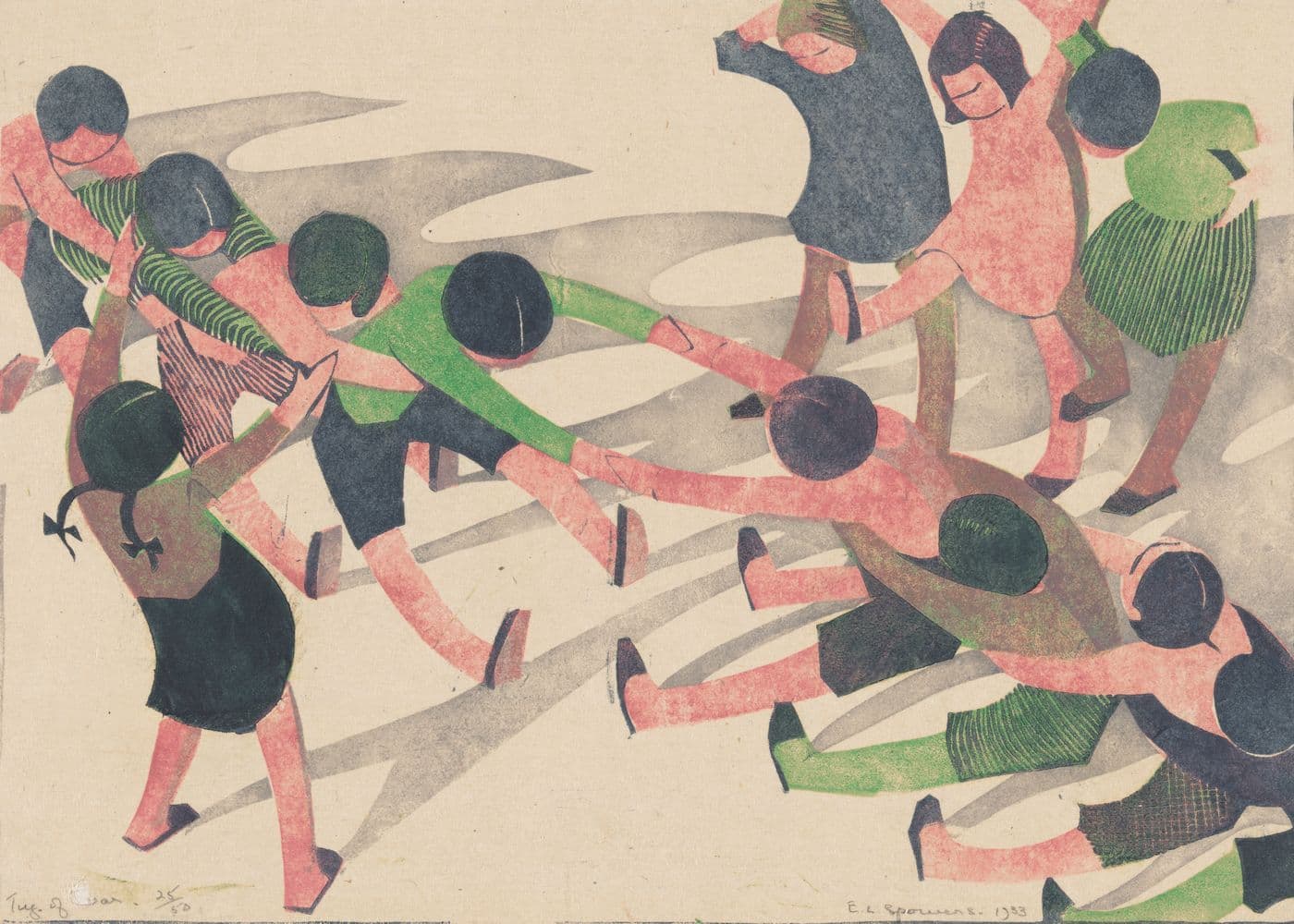 Ethel Spowers by Cathy Lahey
Excerpted from the Know My Name publication (2020).
Ethel Spowers' vibrant colour linocut Tug of war 1933 marries her interest in modernist composition with her delight in depicting children at play. The print's dynamic rhythm and bright, syncopated colour reveal the transformative impact that influential English artist Claude Flight's modernist teachings had on her art. Flight energetically promoted the colour linocut as a medium ideally suited to the modern age through publications, exhibitions and especially through his printmaking classes at London's Grosvenor School of Modern Art between 1926 and 1930. Here his methods and ideas inspired artists from around the world, including Spowers and fellow Australians Eveline Syme and Dorrit Black, all of whom became important advocates for modernist art on their return to Australia.
Spowers first became aware of Flight's ideas through her close friend, Syme, who in 1928 bought a copy of his groundbreaking book Lino‑cuts. A hand‑book of linoleum‑cut colour printing (1927). The artists were so impressed with what Syme described as the 'vital and essentially modern' nature of the reproduced linocuts that within a year they had both spent time studying at the Grosvenor School.(1) Here they learnt Flight's method of colour printing without a linear key block and were inspired by his exhortations to capture the speed and movement of contemporary urban life through the use of simplified form, bold colour and rhythmic patterns. All three Australians responded eagerly, quickly developing distinctive new styles and subject matter.
During the 1920s in Melbourne Spowers had established a reputation for her decorative watercolours, children's illustrations and colour relief prints executed in the Anglo‑Japanese manner. The first linocuts she made after studying with Flight were vibrant urban street scenes and images of rural labour that employed abstracted and rhythmic form. She continued to refine these qualities in a series of seven linocuts depicting children's games that she made between 1932 and 1936.
Tug of war is one of these and the print's diagonal composition, accented colour and repeated, curvilinear forms convey a powerful sense of movement and youthful exuberance. This group of works comprises some of the most reductive and dynamic of all of Spowers' prints, their encapsulation of the energy of children at play marking her own unique contribution to the celebrated prints of the Grosvenor School artists. Spowers, along with Syme and Black, promoted interest in the modern colour linocut in Melbourne and Sydney in the late 1920s and throughout the 1930s by exhibiting their own work, writing about Flight's ideas and teaching his methods. Spowers also acted as an agent for the prints of Flight and other Grosvenor School artists in Australia, exhibiting impressions and taking orders for sales. Through these activities, the three artists each played a vital role as advocates for modernism in the inter‑war period in Australia.
(1) EW Syme, 'Claude Flight and his teaching', The Recorder, Arts and Craft Society of Victoria, no 3, September 1929, p 3.
Citation: Cite this excerpt as: Lahey, Cathy. "Ethel Spowers" in N Bullock, K Cole, D Hart & E Pitt (eds), Know My Name, National Gallery of Australia, Canberra, 2020, pp 332–333.
Image caption: Ethel Spowers, Tug of war, 1933, colour linocut, 22.6 x 31.6 cm, National Gallery of Australia, Canberra, purchased 1976.