Ewa Pachucka
Born 1936 (Lublin, Poland); Died 2020 (Auvergne-Rhône-Alpes, France); Active Gadigal land/Sydney 1971–1975 and nipaluna/Hobart 1975–2000
---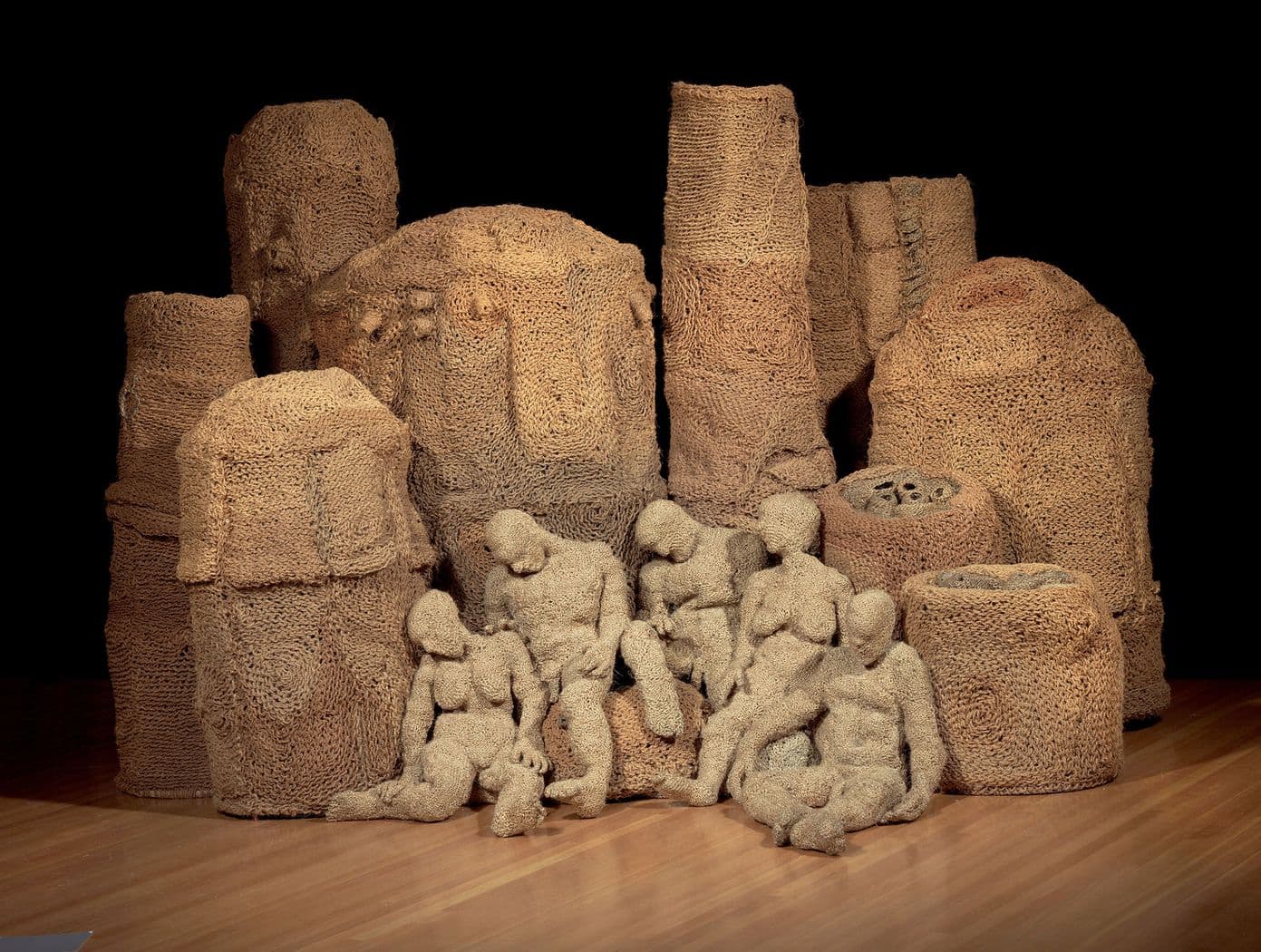 Ewa Pachucka by Susan Best
Excerpted from the Know My Name publication (2020).
Ewa Pachucka's Landscape and bodies 1972 is a mysterious pastoral scene with five nude figures (three men and two women) crafted from sisal and hemp. The artist's choice of materials was determined by her interest in the realistic rendering of human skin: 'I try to master my ability with fibres because this material is more human than marble or wood. To me it looks more like flesh.'(1)
Originally trained as a painter and sculptor in her native Poland, Pachucka turned to fibre art through the influence of Polish weaver Jolanta Owidzka. Landscape and bodies was made during her time in Australia—she arrived in 1971 and departed in 2000, settling first in Sydney and subsequently in Hobart.
The sculpture is fabricated using the traditionally feminine domestic craft of crochet; support for the complex structure is provided by concealed wooden armature. The tableau is almost life size with the figures arranged in a tight group in a strange landscape comprised of various cylinders, suggestive of both landforms and agricultural vats used to store harvest.
The pastoral genre of nude bodies set in the landscape is a familiar one in painting from Giorgione through to Manet, Cezanne and Matisse. It is not a typical subject matter for figurative sculpture, where the decontextualised body has dominated. The transposition of a painterly genre to sculpture is a highly unusual feature of this work, along with its extraordinary use and transformation of very simple materials.
The nude in the landscape is often justified in modern art by turning the figures into bathers. In Pachucka's work the nudity remains unexplained, although in her other works the classical idea of Arcadia is invoked to suggest harmony between bodies and their context. Landscape and bodies shows the figures apparently asleep: their bodies are slackened, chins resting on their chests. The artist describes them as 'human figures resting in a landscape'.(2) When first exhibited at Rudy Komon Art Gallery in Sydney in 1972, the nudes were shown in semi-darkness, which reinforces the idea of slumber despite the upright posture.(3) What circumstances might bring these seated figures together and enable them to collectively nod off?
Pachucka is often compared to her contemporary, Magdalena Abakanowicz, another Polish artist using textiles as a sculptural medium. Abakanowicz's large woven abakans resemble the kind of vaginal imagery advocated by American feminist artist Judy Chicago. Pachucka and Abakanowicz are perhaps best described as proto‑feminists, as neither positioned their work in relation to feminist concerns.(4)
With the resurgence of fibre arts in contemporary Australian and international art, Pachucka's work is ripe for reinvestigation. Locally, artists such as Elizabeth Pulie, Sarah CrowEST and Raquel Ormella, among many others, routinely use and fabricate textiles.
(1) April Hersey, 'Ewa Pachucka: Craft of the people', Craft Australia, no 2, 1977, p 18.
(2) Ewa Pachucka quoted in Robert Lindsay, Survey 5: Ewa Pachucka, National Gallery of Victoria, Melbourne, 1978, np.
(3) As above.
(4) See Agata Jakubowska, 'The "Abakans" and the feminist revolution', in Sascha Bru et al (eds), Regarding the popular: Modernism, the avant-garde and high and low culture, Walter De Gruyter, Berlin, 2011, pp 253–65.
Citation: Cite this excerpt as: Best, Susan. "Ewa Pachucka" in N Bullock, K Cole, D Hart & E Pitt (eds), Know My Name, National Gallery of Australia, Canberra, 2020, pp 292–293.
Image caption: Ewa Pachucka, Landscape and bodies, 1972, crochet, sisal, hemp, wooden armature, 202 x 308 cm (overall), National Gallery of Australia, Canberra, purchased 1973.
SUSAN BEST FAHA is Professor of Art Theory and Fine Art, Queensland College of Art, Griffith University, Brisbane.