---
"A very important aspect of my work is you can't get an eye and the brain behind an eye if you assault it … Watercolour is a device. I openly explored it and exploited it to my ends, but I wanted to make beautiful things as well." — The Strait Times, 2018
---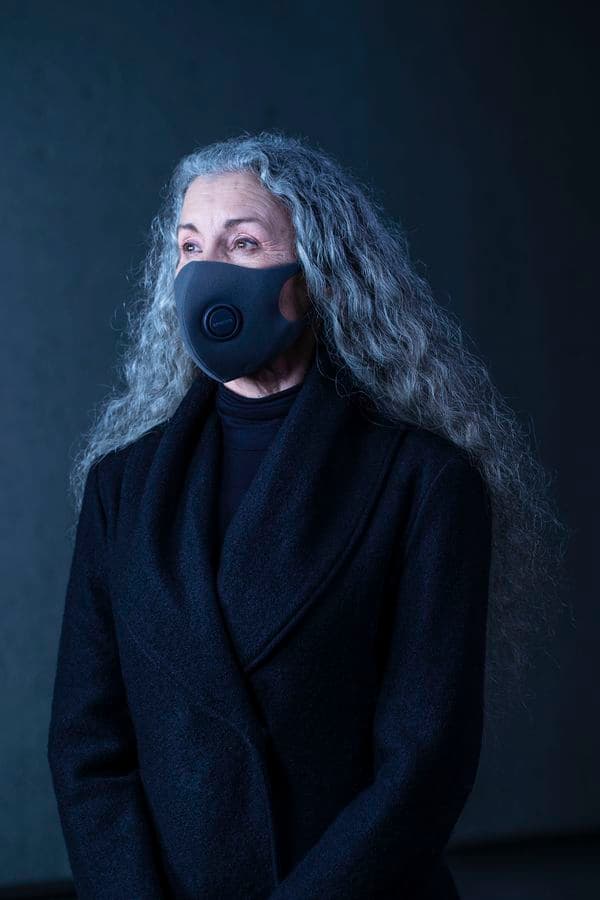 ---
Biography
eX de Medici is a voice of dissent in the Australian art world. Her meticulous still lifes of skulls, helmets, guns, flowers and insects are at once beautiful and ugly, designed to lure the viewer into confronting scenes of power, violence, corruption and greed. de Medici was born in the Riverina town of Coolamon, but grew up in Canberra where she became involved in the punk underbelly of the nation's capital. She studied fine art at the Canberra School of Art and worked in performance, installation and photography. While in Melbourne in 1988 de Medici got her first tattoo. She went on to become a tattooist for the next 12 years, shifting her practice from traditional art mediums to bodies: 'I'd been working in decayable materials and the human is the most decayable of all things.' Through an Australian Council Overseas Development Grant de Medici was formally apprenticed to a tattooist in Los Angeles, where she honed her craft. During the 1980s, when fears of the HIV virus were circulating, she exhibited photographs of tattooed skin next to framed blood samples and the stained swabs that were the byproducts of the tattooing process. de Medici exhibited drawings and photographs of work relating to her tattooing practice throughout the 1990s.
In 1998 the artist viewed an exhibition on the work of the nineteenth-century botanical illustrator Ferdinand Bauer, which included exquisite watercolours of Australian native flora and fauna, drawn during Matthew Flinders' circumnavigation of the continent (1801-1803). Recognising that Bauer's skill and discipline were not dissimilar to the requirements of tattooing, de Medici chose to work in watercolour. The traditional reputation of watercolour as a conservative, feminine medium for amateurs also appealed to the artist's contrary stance. She embarked on a large intricate painting, Blue (Bower/Bauer), which took 18 months to complete. Containing detailed studies of flowers, fruit, porcelain, skulls and manacles, the work critiques Australian politics and history, including de Medici's own family history in the penal colony of Norfolk Island. de Medici meticulously drew studies of each object before painting them into the composition because watercolour, like tattooing, leaves no room for mistakes. She followed this work with Red (colony), featuring detailed studies of moths, which led to de Medici working with entomologists at CSIRO as an Artist Fellow from 2000-2012. In 2001 she held an exhibition of 54 watercolours of 27 species of tiny moths. Her portrait of rock band Midnight Oil, commisioned by the National Portrait Gallery in 2001, was painted with sharpened quills cut from the feathers of wedge tailed eagles on six large sheets of skin-like vellum that were sewn together.
De Medici was awarded the APW Collie Print Trust Printmaking Fellowship in 2006 and was an official war artist to the Solomon Islands Peace Keeping Mission in 2009. de Medici has long worked in the vanitas tradition, using the motif of the skull as memento mori in tattoos and watercolours. In later years, de Medici interchanged the skull with helmets and gas marks, entwined with flowers and ornament. Her work continues to interrogate the nexus of power, violence and greed; reviling profiteering and the corporatisation of war through images that seduce and repel.
Biography written and edited by Dr Nicola Teffer in collaboration with NGA curatorial and research staff
Artworks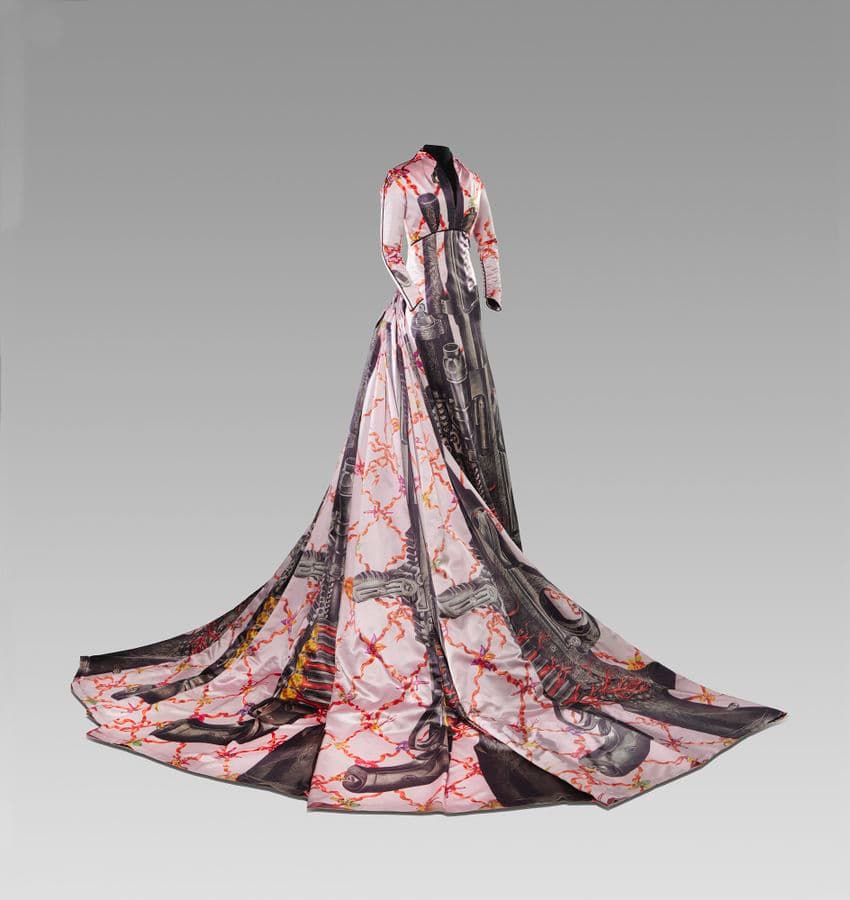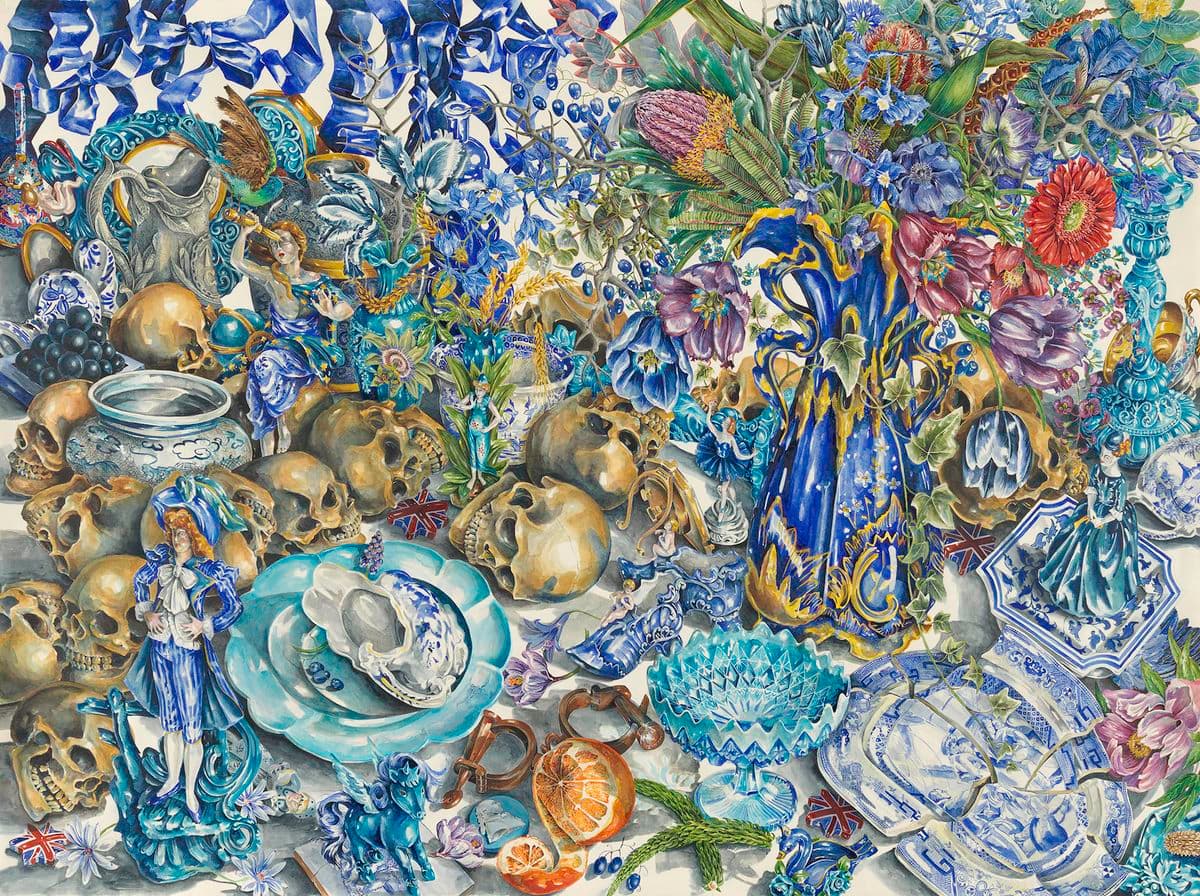 ---