Frances (Budden) Phoenix
Born 1950 (Gadigal land/Sydney); Died 2017 (Tarntanya/Adelaide)
---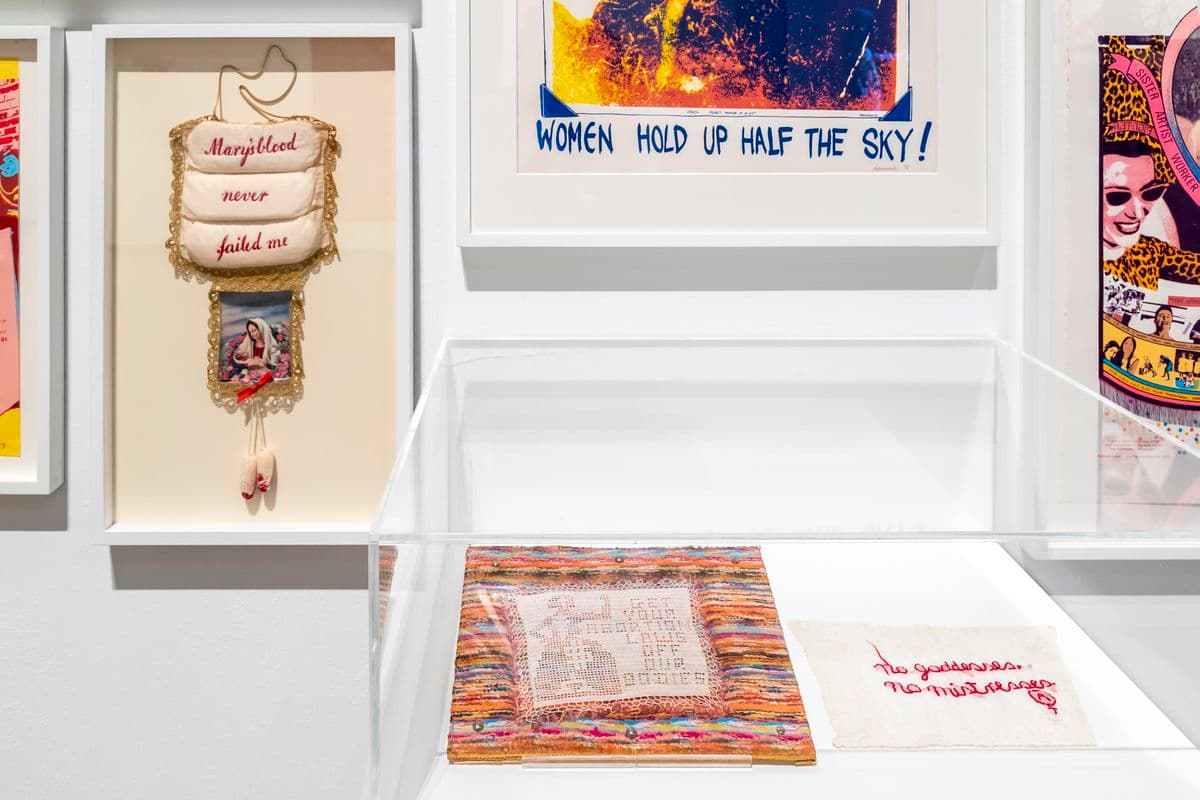 ---
Frances (Budden) Phoenix by Alison Alder
Excerpted from the Know My Name publication (2020).
In 1979 the authors of The D'Oyley Show: An exhibition of women's domestic fancywork catalogue wrote that 'the work in this exhibition is not revolutionary', but to my eyes, as a second‑year student at a regional art school, the work was both revolutionary and revelatory.(1)
It was reported in the 1978/79 edition of feminist art journal Lip that there was only 'one sole monograph and less than a dozen slides by women artists, out of several thousand' in my regional art school library.(2) However, things were changing. Groups like the Women's Domestic Needlework Group, and individual artists, were developing new models of art practice and forging pathways out of the closed‑shop patriarchal art industry.
Established in 1976 by Frances Budden, Joan Grounds, Bernadette Krone, Kathy Letray, Patricia McDonald, Marie McMahon, Noela Taylor and Loretta Vieceli, the Women's Domestic Needlework Group aimed to elevate and promote women's domestic needlework—the collective nature of production, the expression of community and the development of a common language.(3) They researched the conditions under which textiles were produced, the functions they served and the beauty of the designs as well as, importantly, producing artwork themselves.(4)
Frances (Budden) Phoenix had a history of working within a feminist framework. In 1975 she made Queen of Spades, a clever reworking of the traditional doily form. Feminist scholar, artist and educator Elizabeth Emery wrote that the Queen of Spades is 'at once an object of activism as much as it is an object of art; a wholly politicised tribute to the work, bodies and histories of women'.(5) The soft pink cotton doily, delicately crocheted in scallop stitch and complete with plastic zipper, is wryly humorous and subversive.
This sharing of knowledge and discourse through needlework continued inThe D'Oyley Show, a major exhibition researched and created by the Women's Domestic Needlework Group. McMahon's cotton doily with black, red and yellow glass beads which declared Aboriginaland. Land Rights. Not Mining, or Phoenix's artwork demanding Get Your Abortion Laws Off Our Bodies, revived and resituated the tradition of women inscribing messages into their work. Previously overlooked works by First Nation, working class and migrant women were presented and promoted in the exhibition, catalogue and posters. The posters themselves were beautiful, informative and accessible artworks. The exhibition toured, not only to metropolitan art galleries, but to venues in Broken Hill, Orange, Bathurst, Maitland, Armidale and Lismore.
The groundbreaking work of the Women's Domestic Needlework Group, and artists like Francis (Budden) Phoenix, encouraged and inspired many women to see that it was possible to build dynamic progressive communities of art practice outside of the mainstream. It is thanks to these trailblazers that the insurgency endures, as women continue to create art relevant to those marginalised in an increasingly neo‑liberal world.
(1) Frances Budden et al, The D'Oyley Show: An exhibition of women's domestic fancywork, Women's Domestic Needlework Group, Sydney, 1979, p 4.
(2) Barbara Campbell, 'A survey on women's art and theory courses and feminine sensibility', in Lip 1978/79, North Carlton, 1979, p 61.
(3) Frances Budden changed her name to Frances Phoenix in 1982. See 'From outlaws to in‑laws: 2015 Australia's Homosexual Histories Conference', at prideadelaide.org/ahhc2015/assets/ahhc-2015-abstracts-biographies.pdf, accessed 7 February 2020.
(4) Budden et al, p 4.
(5) Elizabeth Emery in Michelle Arrow and Angela Woolacott (eds), Everyday revolutions: Remaking gender, sexuality and culture in 1970s Australia, ANU Press, Acton, 2019, p 120.
Citation: Cite this excerpt as: Alder, Alison. "Frances (Budden) Phoenix" in N Bullock, K Cole, D Hart & E Pitt (eds), Know My Name, National Gallery of Australia, Canberra, 2020, pp 62–63.
ALISON ALDER is Head, Printmedia and Drawing, ANU School of Art and Design, Canberra.
Frances (Budden) Phoenix appears in