Janet Cumbrae Stewart
Born 1883 (Narrm/Melbourne); Died 1960 (Narrm/Melbourne)
---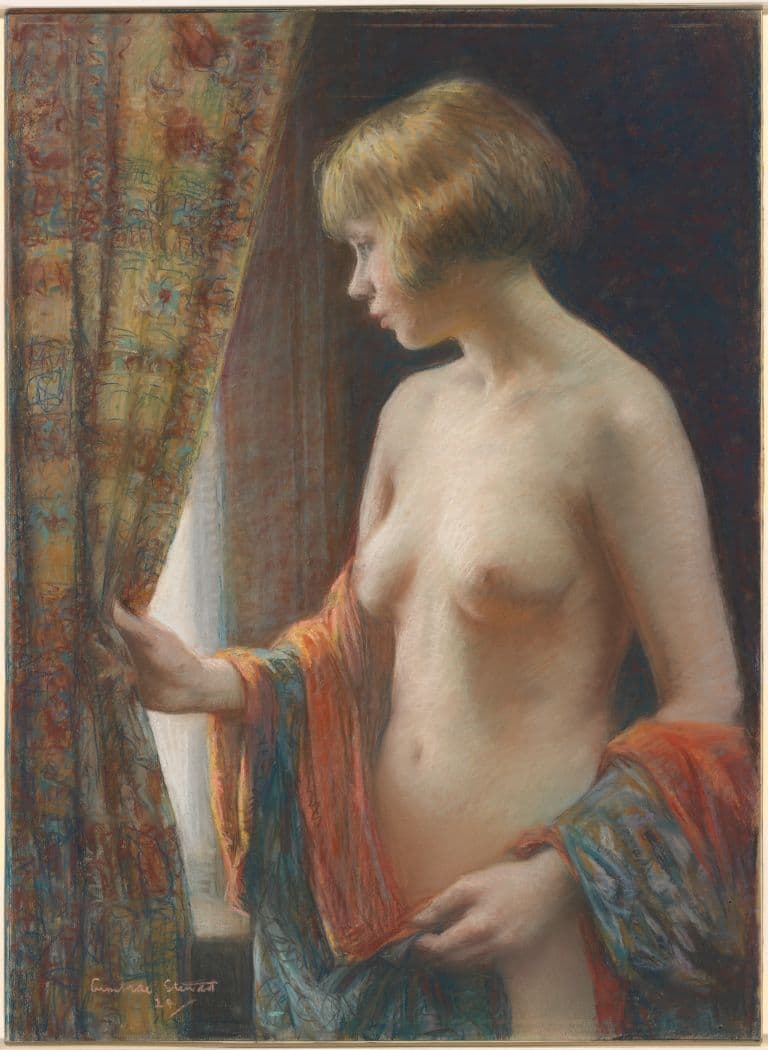 Janet Cumbrae Stewart by Juliette Peers
Excerpted from the Know My Name publication (2020).
'Do women have to be naked to get into the Met. Museum?' asked New York's Guerrilla Girls in 1989 via an iconic poster, contrasting the female gender of 85% of nudes on display with only 5% of the exhibits being by women artists.(1) Janet Cumbrae Stewart's Early morning 1924 is simultaneously the under‑and over‑represented factors in the Guerrilla Girls' famous expose of art world bias, as are all of her luminous pastel nudes. Her works sit uneasily within current debates about the politics of subject matter and the power relationships between the painter and the painted. Art professionals' uncertainties have frequently overwritten Cumbrae Stewart's outstanding technical and design abilities, consistent across a very large oeuvre and substantially uncelebrated by academics or curators. Equally overwritten is a notably successful career at a national and international level from about 1907–40. Like Dame Nellie Melba, Cumbrae Stewart was classed as 'one of Australia's most famous daughters' and moved freely among social and bohemian elites in Europe.(2)
Early critics downplayed the sensual implication of a woman favouring nude studies. Cumbrae Stewart's practice challenged stereotypes of women as passively asexual, yet also placed her at the zenith of the traditional hierarchy of academic art, a position reserved for males. Conversely, later generations found her work disappointingly tame and conventional. She cuts across separatist constructs from the 1970s that regarded men and women's art as visibly different. Yet her work also embodies the existential heart of darkness within separatist art theories. If women artists are blamed for assimilating a male vision via an aesthetic version of the Stockholm syndrome, then how do they forge careers in an art world shaped and run by men?(3) Does this cross‑generational ambivalence actually centre upon Cumbrae Stewart's (somewhat acknowledged) queer identity?(4) As the lack of diversity in university curricula and public gallery displays and purchases is increasingly scrutinised, Cumbrae Stewart resonates with discussions around cultural inclusiveness and rethinking the art historical backstory.(5)
If queer theorist Erica Rand can suggest that 'roles are only as fixed as costume' Cumbrae Stewart's highly performative tableaux elaborate a refined and artificial world.(6) Here femininity is neither trivial nor submissive, but triggers a playful display of colour, texture, materiality, gesture and semi‑narrative. Additionally, Cumbrae Stewart astutely documents changing dress and styles, an Australian precursor to the synergies between high fashion and contemporary art that have enhanced art and curating practices in the last 25 years. Her adolescent, svelte, bobbed‑hair models of the 1920s, seen in Early morning, not only reflected new ideals of beauty, but affirmed the association of youth with a transformed, progressive society emerging from the ruins of war‑torn Europe. The clear, bright light filtering through the curtain also suggests this mood of optimistic change; the gesture of looking out of the picture plane, holding the curtains open, implies a reaching out beyond the confines of the domestic.
(1) A copy of the poster is in the collection of the National Gallery of Australia, acquired as part of the Guerrilla Girls' Most Wanted portfolio of prints.
(2) 'Cumbrae Stewart: Famous artist', The Register, Adelaide, 17 March 1925, p 4.
(3) A complex discussion around these issues referencing Janet Cumbrae Stewart is found in Pamela Gerrish Nunn, 'A view of one's own: Female artists and the nude', Australian Journal of Art, vol 1, no 1, 2000, pp 73–7.
(4) There are a number of references to Cumbrae Stewart's 'friend of many years standing' in the Australian press: 'The life of Melbourne', Argus, Melbourne, 7 October 1947, p 8; 'Taming the wild', The Advertiser, Hurstbridge, 31 March 1939, p 5. Argemone Ffarington Bellairs' reminiscences appeared in 'Aristocratic woman is "Bill" to her friends', Smith's Weekly, 5 June 1937, p 3.
(5) Cumbrae Stewart rarely recorded her opinion but wrote to the Argus refuting a homophobic essay which defined 'effeminate' men as a modern Australian menace. Her comments were included in an article 'Men resent being called ladylike' on 13 August 1938, p 11. While her language is guarded and she does not mention women, she is publicly taking a political stance around gender.
(6) Erica Rand, Barbies' queer accessories, Duke University Press, Durham, 1995, p 2.
Citation: Cite this excerpt as: Peers, Juliette. "Olive Cotton" in N Bullock, K Cole, D Hart & E Pitt (eds), Know My Name, National Gallery of Australia, Canberra, 2020, pp 92–93.
Image caption: Janet Cumbrae Stewart, Early morning, 1924, drawing in colour pastels, 75.4 x 55 cm, National Gallery of Australia, Canberra, purchased 1975.
JULIETTE PEERS is widely published on Australian women artists, is a committee member of the Women's Art Register, and undertakes projects and blogging for the Sheila Foundation.
Janet Cumbrae Stewart appears in