Jean Baptiste (Pulukatu) Apuatimi
Born 1940 (Malawu, Bathurst Island, Northern Territory); Died 2013 (Wurrumiyanga, Bathurst Island, Northern Territory)
Tiwi people
---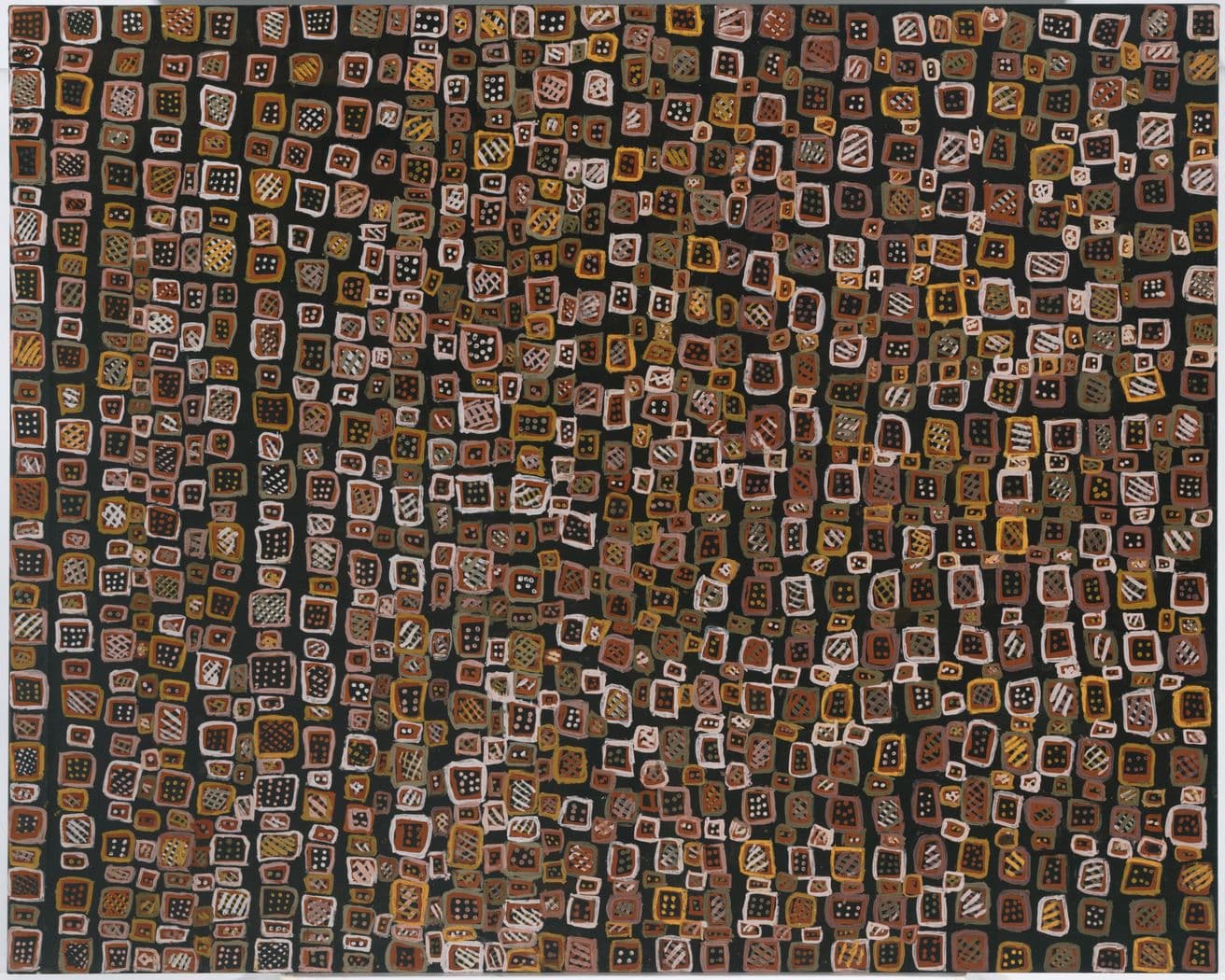 Jean Baptiste (Pulukatu) Apuatimi by Margie West
Excerpted from the Know My Name publication (2020).
Jean Baptiste (Pulukatu) Apuatimi emerged as an internationally acclaimed artist while working at Tiwi Design art centre in Wurrumiyanga (Nguiu) on Bathurst Island. This was the final stage of a relatively long career that started in collaboration with her talented husband Declan Apuatimi. After he died in 1985, a grieving Jean Baptiste moved from Wurrumiyanga to Milikapiti on Melville Island, and started her solo career at Jilamara Arts alongside such luminaries as Kitty Kantilla (Kutuwalumi Purawarrumpatu).
Like Kantilla, Jean Baptiste transitioned away from ironwood carving to ochre painting at Jilamara. Three years later, she returned to Wurrumiyanga, and by 1997 began her most significant period at Tiwi Design. Her commitment to carrying on Declan's artistic legacy was the enduring focus for all her work, yet undertaken with a dazzling originality uniquely her own. Her Jikapayinga, freshwater crocodile paintings are a case in point. Inspired by Declan's carvings, she created the first of these paintings for her inaugural solo exhibition in 1999 at Sutton Gallery in Melbourne. The distinctive iconography of squares on a black background was repeated throughout her career, such as this large work from 2007. Here the grid of irregular squares creates a vibrating movement by their increasingly random orientation, varying size and outlines in bright flashes of white or yellow ochre. Collectively this creates a powerful optical dynamic, like a centrifugal force, drawing the eye rhythmically around the painting's centre to evoke water surging over a scaly skin. As Jean Baptiste explained in 2007:
Jikapayinga live in waterlily place. My husband taught me to paint Jikapayinga, that cheeky crocodile. She look after her baby, that why she jump out of water. I never go in boat on freshwater, I'm frightened she might jump and grab me. Long ago my husband was hunting and fishing when a big crocodile jumped out of the water and grabbed his arm … That crocodile let go and died.(1)
Jean Baptiste's daughter Marie Josette Orsto, also a talented artist, remembers her mother's last Jikapayinga work: two etching and aquatint prints stitched together with supplejack cane, then inverted on a plinth to replicate a three‑dimensional bark tunga (basket). This remarkable work was created for Jean Baptiste and her daughter's collaborative exhibition Maternal lines in 2012 at Darwin's Northern Editions Gallery and Print Workshop. Orsto recalls her mother dancing at the exhibition opening, just months before she passed away:
She danced her father's three dances there—lullaby, jerrekapai (crocodile) and wind. I remember. It was the last one (exhibition). Mum was better at painting, better than me. Everyone loved her. We were artists together, but now mum passed away and I'm carrying it on. Me and my brother and children, we're passing on our culture.(2)
(1) Jean Baptiste Apuatimi recorded and transcribed by Angela Hill at Nguiu, 3 February 2007 for National Indigenous Art Triennial 07: Culture warriors, National Gallery of Australia, Canberra.
(2) Marie Josette Orsto, interviewed by Margie West, 18 September 2019.
Citation: Cite this excerpt as: West, Margie. "Jean Baptiste (Pulukatu) Apuatimi" in N Bullock, K Cole, D Hart & E Pitt (eds), Know My Name, National Gallery of Australia, Canberra, 2020, pp 32–33.
Image caption: Jean Baptiste Apuatimi, Jikapayinga, 2007, natural earth pigments and binder on canvas, 160.0 x 200.0 cm, National Gallery of Australia, Purchased 2007.
MARGIE WEST is Emeritus Curator, Museum and Art Gallery of the Northern Territory, Darwin.