Jenny Kee
Born 1947 (Gadigal land/Sydney)
---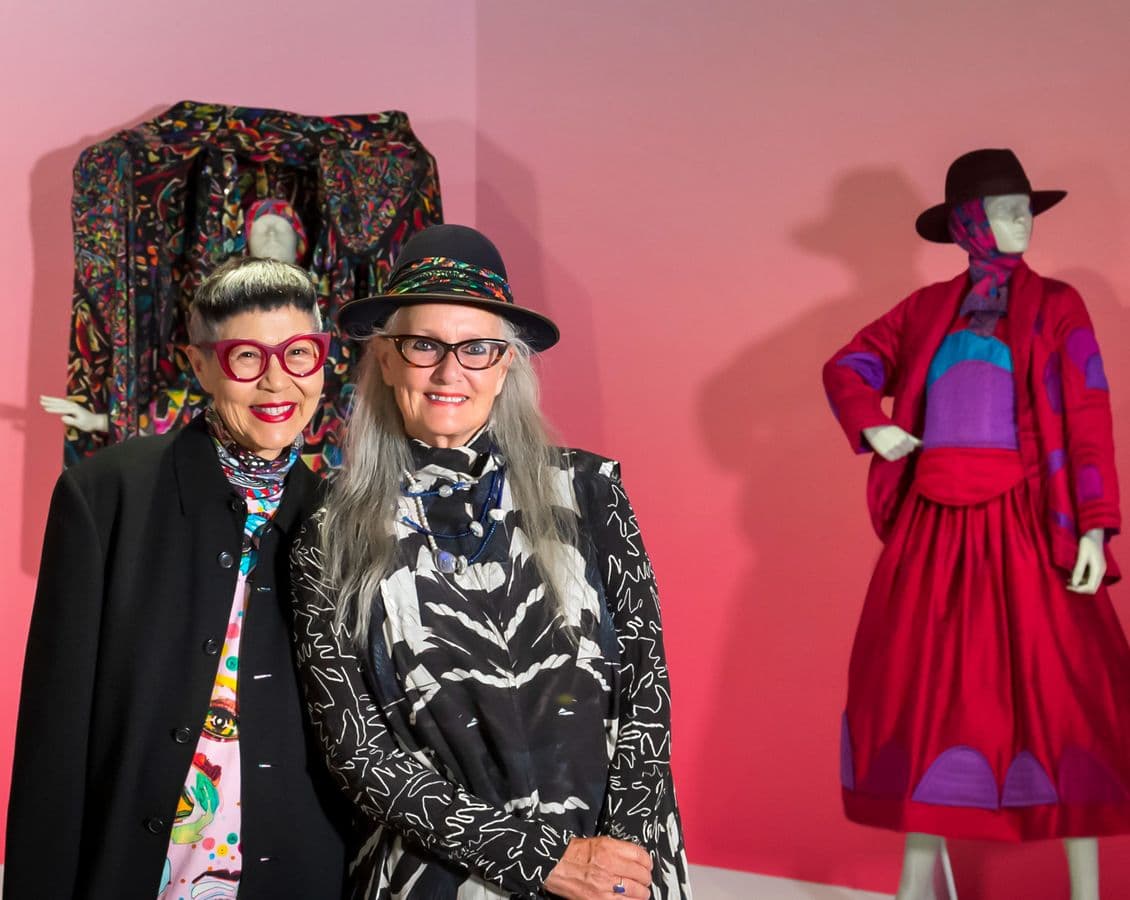 ---
Biography
Jenny Kee AO is a pioneering figure in fashion design, best known for her vibrant Australiana knits and her creative partnership with fellow designer Linda Jackson AO.
Kee was born in Sydney in 1947 and studied fashion design at East Sydney Technical College in 1963. Her formative experiences as a designer occurred in London, however, where she travelled at the age of eighteen. As she explained: 'When I got off the boat I went straight to Biba, the hippest of the London boutiques in Abingdon Road, Kensington … this was not a mere dress shop, this was a complete fashion environment and what I travelled all the way from Sydney to see'.[1] After time working in sales at Biba in the late 1960s, Kee began working with antique clothes dealer Vern Lambert at the Chelsea Antique Market where she was surrounded by an eclectic variety of traditional garments from around the world, retro clothing and vintage haute couture. In this environment, her personal style rapidly became more dramatic and idiosyncratic.
Returning to Australia, Kee opened the fashion boutique The Flamingo Park Frock Salon in Sydney's Strand Arcade in 1973. Soon after she was introduced to Linda Jackson AO, a fellow fashion designer who had just returned from several years travelling throughout Southeast Asia and Europe. The pair became immediate friends and their meeting marked the beginning of an enduring partnership. They shared a mutual love for the Australian environment and vintage clothing, and soon developed a distinct voice in fashion through their inventive garments and bold prints. Their creations were entirely their own, independent of the conventional marketplace and fashion trends, and Flamingo Park became a hub for those interested in a creative and artistic fashion. For the following decade, Linda's fashions retailed in Flamingo Park and together they hosted regular Flamingo Follies fashion shows that combined their designs with music and performance.
Jenny and Linda went their separate ways in 1982 and Flamingo Park closed in 1995. Kee and Jackson's friendship continues today and both have found success in independent projects. Kee had developed an interest in quirky knits while in London, and later funnelled this interest into her own range of colourful Australiana knits. In 1982, Princess Diana famously wore her 'Koala' jumper to a polo game and in the same year, Karl Lagerfeld used her Opal fabric design in sixty-five garments for his first collection with Chanel, bringing Kee's work to international attention.
Jackson and Kee's work has been influential on new generations of fashion designers, including Anna Plunkett and Luke Sales from Romance Was Born, who have devoted two collections to the fashion design duo: Cooee Couture (2015) and Step into Paradise 'kinda couture' (2018). In 2019–20 Kee and Jackson's work was the subject of a major survey exhibition, Linda Jackson and Jenny Kee: Step into paradise, at the Museum of Applied Arts and Sciences, Sydney.
(1) Jenny Kee quoted in Glynis Jones, Jenny Kee and Linda Jackson: Step into paradise, Thames and Hudson, Port Melbourne, 2019, p 19.
BIOGRAPHY WRITTEN BY SID AND FIONA MYER CURATOR, AUSTRALIAN ART REBECCA EDWARDS IN COLLABORATION WITH JENNY KEE
Artworks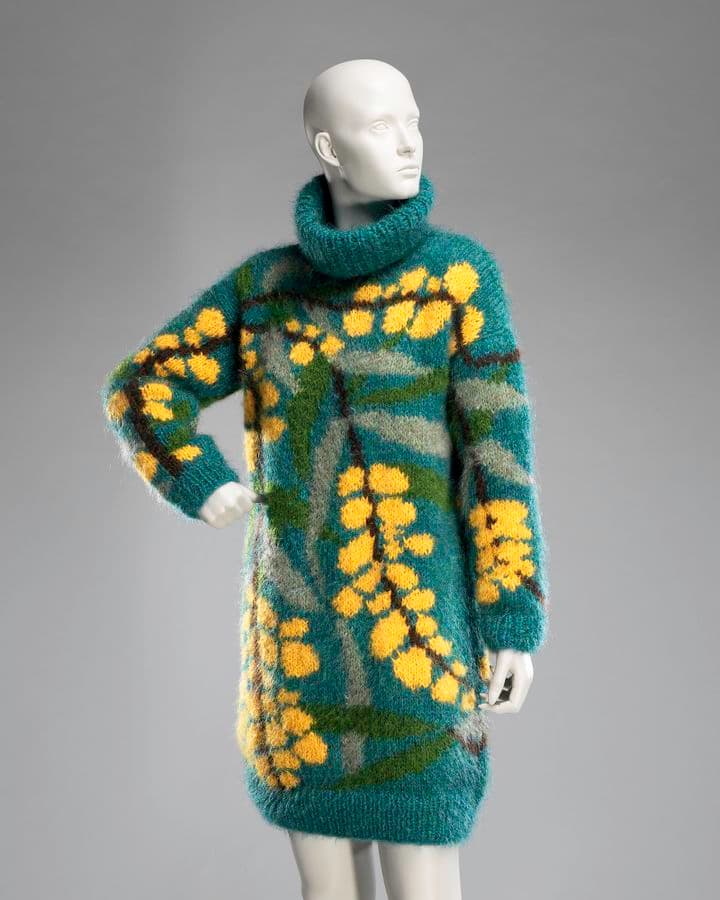 ---
Jenny Kee and Linda Jackson by Rebecca Evans
Excerpted from the Know My Name publication (2020).
Headscarf and sunhat clad, and framed by the iconic Bondi Beach, Australian designers Jenny Kee and Linda Jackson appear to have stepped out of the 1950s in their vintage‑inspired ensembles. Taken in 1975, this photograph by Annie Noon shows the designers wearing Jackson's Tutti frutti and Love letters outfits, featuring 1950s fabrics and accessories. Although most Australians will be familiar with Kee and Jackson's dazzling use of native flora, fauna and landmarks in their work, this photograph shows the early influence of mid‑century style on both designers. For over 50 years Kee and Jackson have shared a formidable partnership, founded in a common aesthetic and a desire to produce a distinctly Australian fashion vernacular.
Born and raised in Bondi, Kee trained in fashion design at East Sydney Technical College before moving to London in the 1960s, a mecca for culture, art and fashion. Soon after returning to Sydney in 1973 she met Jackson, a Melbournian who studied dressmaking, design and photography and had also recently returned from overseas. As creative collaborators, Jackson and Kee worked together from 1973–82. Kee ran the legendary Flamingo Park store in Sydney's Strand Arcade between 1973 and 1995. As Kee says:
With Linda's unusual clothes and other pieces I collected from London, it was really a mix … We had cushions, crocheted items, flamingos and reggae music blasting out of an apple green jukebox. It was very kitsch, but romantic. Six months later, in April 1974, my knits went into the store and I have never looked back.(1)
In 1982 Kee and Jackson ended their formal partnership. Jackson embarked on a nomadic existence, collaborating with Indigenous Australian women artists at Utopia Station in the Northern Territory to produce textiles and garments that drew on their artistic traditions and landscape. She later recalled: 'I loved watching the artists sitting around the fire, creating their batiks, marking their stories onto silk and cotton. The batik technique seemed to suit the heat and red dust of the desert … Meeting these women in their place made my heart sing!'(2)
Kee became known for her popular knitted jumpers in bright colours and patterns, including the infamous koala knit worn by Princess Diana. A quintessential Kee design is the 1980–85 Oz all ensemble, featuring a myriad of classic Australian references: lines drawn from Dorothea Mackellar's famous 1908 poem My Country, the Sydney Opera House, Uluru and Sturt's Desert Pea.(3) This work is a romp through Australiana imagery, fearlessly proclaimed in colour and form.
Since the early 1970s, both Kee and Jackson have paved extensive careers as artists and designers, individually and in collaboration with some of Australia's brightest creatives. They are friends first and foremost and continue to play significant roles as mentors and supporters of local fashion and design industries. Their quest to create bold, unapologetic Australian contemporary design is their legacy and ongoing passion.
(1) Jane Rocca, '"Creative version of a first love": The colourful impact of Jenny Kee and Linda Jackson', Sydney Morning Herald, 6 October 2019, at smh.com.au/lifestyle/fashion/creativeversion-of-a-first-love-the-colourful-impact-ofjenny-kee-and-linda-jackson-20191002-p52wy5.html, accessed 25 November 2019.
(2) Ansie van der Walt, 'A thread runs through it: Linda Jackson and Utopia', Adelaide Review, 24 April 2017, at adelaidereview.com.au/arts/visual-arts/2017/04/24/thread-runs-linda-jacksonutopia/, accessed 25 November 2019.
(3) The Oz all outfit features Kee's Uni Oz pattern knitted in the skirt, which is also the print of the author's childhood bedsheets.
Citation: Cite this excerpt as: Evans, Rebecca. "Jenny Kee and Linda Jackson" in N Bullock, K Cole, D Hart & E Pitt (eds), Know My Name, National Gallery of Australia, Canberra, 2020, pp 206–207.
REBECCA EVANS is is Curator, Decorative Arts and Design, Art Gallery of South Australia, Adelaide.