Margaret Preston
1875 Tarntanya / Adelaide – 1963 Gadigal Country / Sydney
---
Artworks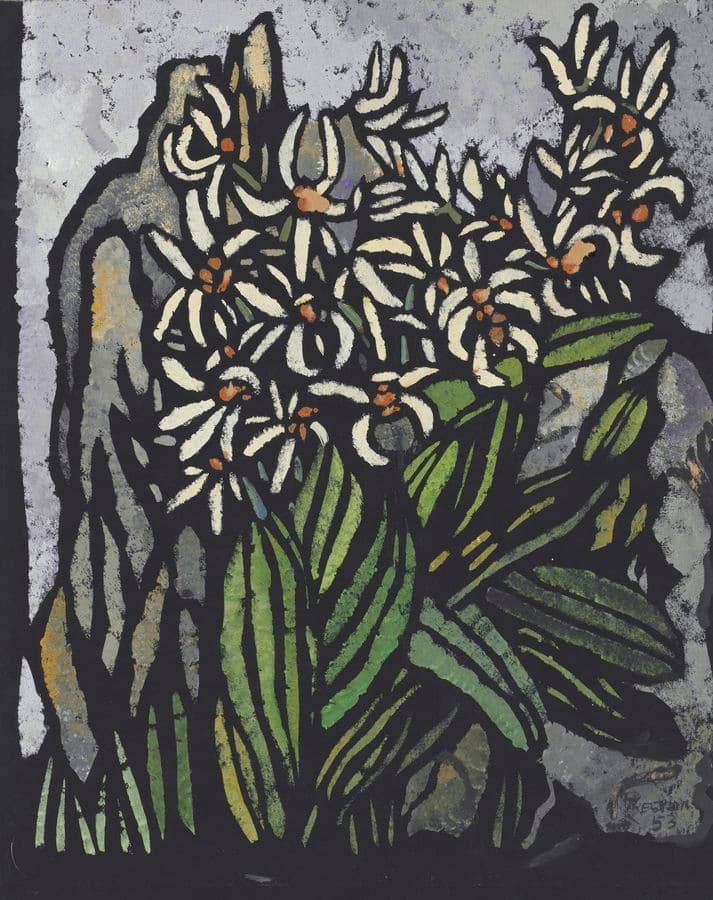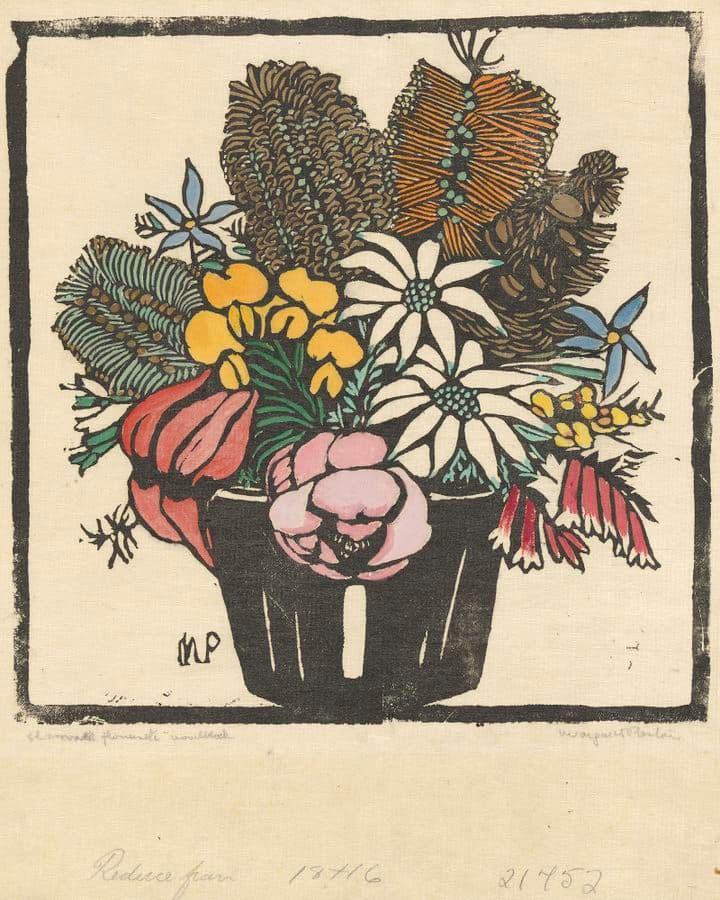 ---
Margaret Preston by Deborah Edwards
Excerpted from the Know My Name publication (2020).
It's certainly not flashy. One could confidently call it understated, a word not often used in the vicinity of Margaret Preston. But then, after she had finished painting this self‑portrait Preston told a Sydney journalist: 'I am a flower painter, I am not a flower.'(1) An achiever, not the passive subject of someone's gaze.
This was a commission from the Art Gallery of New South Wales Trustees and Preston professed herself 'thrilled' to receive it.(2) Created as one of nearly a dozen similar requests to artists who the Trustees viewed as having distinguished themselves in perpetuity, Preston was the first woman invited and the only modern painter among them.(3) She had in fact ended the decade on a high note as a very successful artist—with a book published, good sales, her first solo exhibition extensively reviewed, and her position within the Sydney art establishment reinforced. More importantly she had solidified her platform to 'modernise' and 'Australianise' Australian artistic traditions.
If her portrait of the 'new woman' in The flapper of around 1928 had lacked the racy modernity that characterised alluring 1920s American prototypes, Preston's self‑portrait, a considered statement of artistic positioning, was even further removed from such glamour. Here she has observed her subject with the dispassionate gaze of the still‑life painter; styling herself as the sober technician of change into a new modernity, and using a palette 'subdued, simple and severe' in colour, like the characteristics Preston championed as quintessential to Aboriginal art and thereby quintessentially Australian.(4)
Yet if dispassionate, Preston's portrait is also sympathetic. With only the essential identifiers to hand—her palette, a pot of Australian Christmas bells, and her proximity to the 'modern domestic' (the gridded brick veneer of urbanised‑suburbanised Australia)— Preston rises from the black expanse of her painting apron with the arresting intellectual power of a visionary gaze.
Preston would subsequently speak to women artists on the importance of having 'good portraits' of outstanding Australian women, as 'proof that women who think for themselves do not necessarily look like something out of the dust‑box, which seems to be the general impression'.(5)
It may have been this impulse which propelled Preston to paint herself as substantially younger than her then 55 years, but I think it was her interest in particularising, in an essentialist vision, that moment when she became the pragmatic but idealistic artist‑visionary that she was.
(1) 'I am not a flower. Mrs Preston's Art Gallery portrait', Sun, Sydney, 6 April 1930, quoted in Elizabeth Butel, Margaret Preston: The art of constant rearrangement, Viking in association with the Art Gallery of New South Wales, Melbourne, 1986, p43.
(2) 'Artist self portrait', Daily Telegraph, Sydney, 14 April 1930, p22.
(3) JS McDonald, letter to Preston, 6 December 1929, Preston file, Art Gallery of New South Wales, Sydney.
(4) 'Australian artists speak: Margaret Preston interviewed by Syd Ure Smith', 2FC, Sydney, 3 June 1945.
(5) 'Women's news. Women Painters Exhibition at the Art Gallery', Sydney Morning Herald, 5 August 1946, p6.
Citation: Cite this excerpt as: Edwards, Deborah. "Margaret Preston" in N Bullock, K Cole, D Hart & E Pitt (eds), Know My Name, National Gallery of Australia, Canberra, 2020, pp 300–301.
DEBORAH EDWARDS is a consultant curator and writer and former Senior Curator, Australian Art, Art Gallery of New South Wales, Sydney