Nora Heysen
Born 1911 (Hahndorf, South Australia); Died 2003 (Gadigal land/Sydney)
---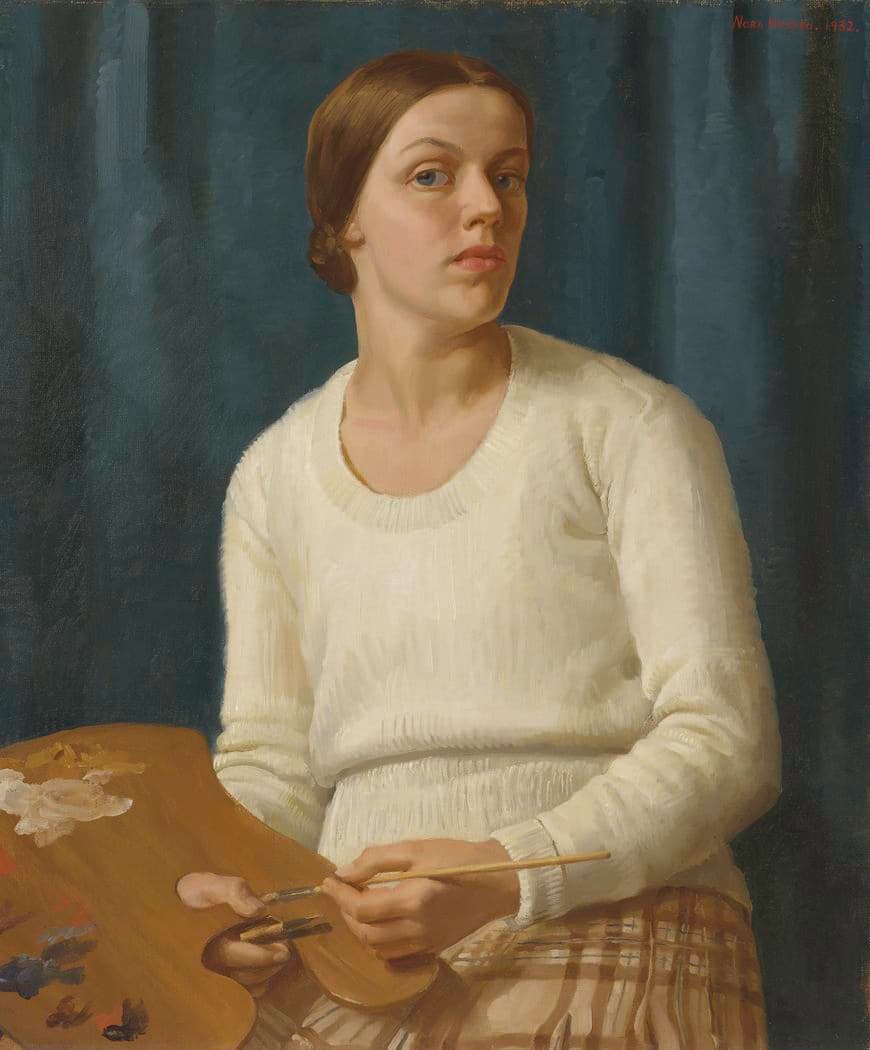 Nora Heysen by Catherine Speck
Excerpted from the Know My Name publication (2020).
Nora Heysen painted her self‑portrait many times during her lifetime as a way of defining herself; this striking 1932 version was completed at 21 years of age. Already she presents herself as confident and determined, the focus is on her and her alone. There are few studio props in the composition other than the palette she holds, a gift from Dame Nellie Melba, and a brush in each hand. She is dressed simply in a cream jumper and a brown tartan skirt, framed by a rich blue curtain, all of which focus the viewer's eye on the subject, an emerging artist. Her strong facial features, piercing blue eyes and serious expression announce her presence in the art world. That confidence and self‑belief at a young age was not misplaced either. Another more classically composed self-portrait exhibited in Sydney in 1932 had been purchased by Howard Hinton and presented to the Art Gallery of New South Wales. That gallery already had her Petunias in their collection, while the Art Gallery of South Australia had acquired her Scabious, and Queensland Art Gallery had purchased A mixed bunch, all still lifes painted in 1930.
The artist, the daughter of Hans Heysen, exhibited this Self‑portrait in her highly successful 1933 solo exhibition in Adelaide, but it remained unsold and in the artist's collection until it entered a private collection in 1989. The sales, though, from the exhibition funded her studies in London from 1934–37. That time overseas, and her engagement with modern art and Post‑Impressionism in a major cosmopolitan centre, was pivotal to how she went on to approach painting portraits. She wrote home to her parents:
I feel in sympathy with the impressionists who wanted to break away from all the old traditions, and find a new way to express beauty in nature. I feel I am getting nearer to that. I ultimately want losing a little of my hitherto rather photographic outlook, and getting more art and feeling into things. I feel freer and surer of myself, and know what I want.(1)
Once back in Australia, she quickly established herself as an up‑and‑coming artist, winning the Archibald Prize in 1938 for her richly coloured post‑impressionist portrait of Madame Elink Schuurman. She was the first woman to do so, although she had to endure criticism from aggrieved male artists over her win.(2) In 1943 she was appointed an Official War Artist, again the first woman to take up this post. Despite these honours, her name dropped off the radar of Australian art until the 1970s when feminist art historians and curators began 'recovering' women artists. Heysen's art, including this stunning self‑portrait, was looked at afresh for its undeniable strength, vitality and belief in self that a modern woman artist needed to succeed.
(1) Nora Heysen to her parents, Easter Sunday 1936, in Catherine Speck (ed), Heysen to Heysen: Selected letters of Hans Heysen and Nora Heysen, National Library of Australia, Canberra, 2011, p 56.
(2) Max Meldrum, a fellow entrant, went so far as to declare that if 'I were a woman I would prefer raising a healthy family to a career in art. They are more attached to the physical things in life'. 'Domestic ties downfall of women art careerists', Brisbane Mail, 23 January 1939. Reports such as 'Artist-father helped. Archibald prize won by woman', Sydney Morning Herald, 21 January 1939, linked Nora's win to her father. Some artists were convinced that influential Heysen family friends had been involved in the judging and that it was decided on 'some other basis', and called for an enquiry: 'Archibald Prize: Enquiry urged', Argus, 11 March 1939; 'Knockabout', Daily News, 13 March 1939; and 'Letter to the Editor', Sydney Morning Herald, 14 March 1939.
Citation: Cite this excerpt as: Speck, Catherine. "Nora Heysen" in N Bullock, K Cole, D Hart & E Pitt (eds), Know My Name, National Gallery of Australia, Canberra, 2020, pp 190–191.
Image caption: Nora Heysen, Self-portrait, 1932, oil on canvas, 35.5 x 81.0 cm (framed), National Gallery of Australia, Canberra, Masterpieces for the Nation Fund 2011.
CATHERINE SPECK FAHA is Professor of Art History, University of Adelaide and author of Heysen to Heysen: Selected letters of Hans Heysen and Nora Heysen (2011).