Nyapanyapa Yunupiŋgu
Use of the artist's name is permitted in accordance with the family's advice
Born 1945 (Yirrkala, Northern Territory); Died 2021 (Yirrkala, Northern Territory)
GUMATJ PEOPLE
---
Biography
Nyapanyapa Yunupiŋgu was taught to paint by her father, the cultural leader Muŋgurrawuy Yunupiŋu. She is of the Gumatj people of Yirrkala and is a sister of Galarrwuy and Mandawuy Yunupiŋu, both Australians of the Year. While she respects the traditions of her people, the exciting aspect of Yunupiŋu's art practice is her innovative approach to traditional practice. Unlike traditional bark painting of Arnhem Land, Yunupiŋu does not segment components of the narrative into various compartments; rather, it is one story within one rectangular frame. Equally, the content of the bark painting is a portrayal of historical or contemporary events and activities, rather than a traditional story narrative.
Her life stories are vividly depicted in both figurative and abstract form. Her earliest bark paintings were depictions of collecting bush foods, such as wild apples, and are both figurative and landscape in form. In 2008, Yunupiŋu's wondrous depictions of Sydney—hotel rooms, the Harbour Bridge, traffic and multilane highways—captured the essence of city life. This momentous occasion was savoured, captured and immortalised in her paintings on bark. Her second trip to Sydney was two years later and inspired equally stunning work.
Yunupiŋu uses natural earth pigments in a distinctive way. The bark is primed with either black or red ochre. The figurative element is then drawn on the sheet of bark using white ochre. Yunupiŋu paints the entire background in segments of white crosshatching. These works are bright, clear in their contrast and have a wondrous sense of buoyancy. This energy and unpredictable rhythm can also be a reference to the power and strength of the Ancestral spiritual realm.
In 2009, Yunupiŋu removed the figurative elements from her work so that only the layered coloured segments of crosshatching remained. This technique is called 'mayilimiriw'. The literal translation of mayilimiriw is 'meaningless'; that is, they have no Dreaming narrative; however, they are not devoid of substance. These works no longer exist as landscapes in a horizontal plane, but rather are transferred onto a vertical plane. She is also known for her innovative 'white paintings'. They are unpretentious intuitive white waves of free-flowing crosshatching evocative of the melodic rhythm of the ocean's competing currents.
Yunupiŋu has exhibited work in many important Australian and international group exhibitions and biennales, including Undisclosed: 2nd National Indigenous Art Triennial at the National Gallery of Australia in 2012. She won the Bark Painting Award at the 34th National Aboriginal and Torres Strait Islander Art Award, Museum and Art Gallery of Northern Territory, Darwin in 2017.
Biography written by Lara Nicolls in collaboration with NGA curatorial staff. Edited by Dr Nicola Teffer and Will Stubbs, Buku-Larrnggay Mulka Centre.
Artworks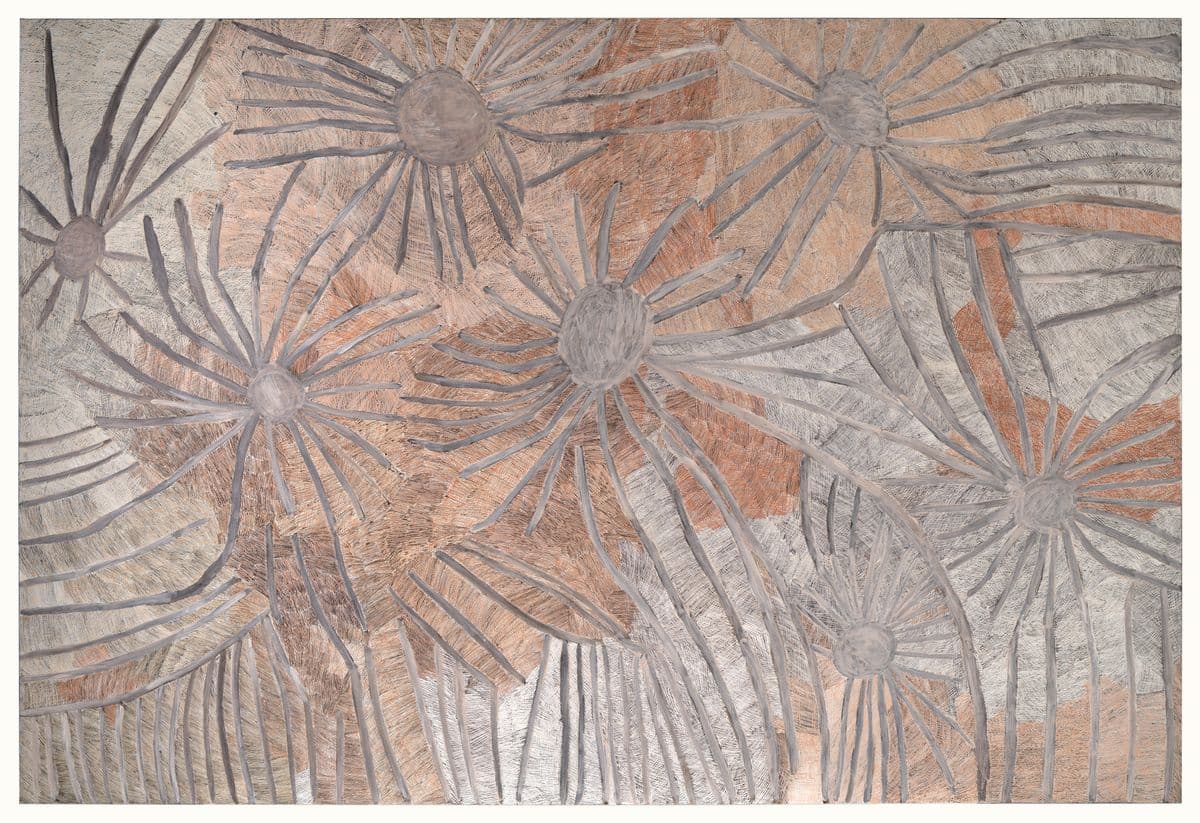 ---
Nyapanyapa Yunupiŋgu by Tina Baum
Excerpted from the Know My Name publication (2020).
The bark painting movement established at Yirrkala in the Northern Territory was initially dominated by senior cultural men. Over the years this has expanded to include many of their daughters and granddaughters, who have also embraced and excelled in this medium. Gumatj artist Nyapanyapa Yunupiŋgu, who started as a printmaker in 1996 and began painting in 2007 in her early sixties, is one of those women.
'My father Munggurrawuy Yunupiŋu taught me how to paint. I learnt from watching him. He was always working. He said to me, 'When I am gone you will follow behind me and paint too. Show the people—paint and work'. That is what he said, and that's what I do. I love working. I miss it when the bark is too dry to harvest or I can't find carving wood or make a print. It is the way I was brought up.'(1)
She and her sisters Gulumbu, Barrupu, Djakanŋu, Dhopiya, Djerrkŋu and Ranydjupi each developed their own distinctive styles focusing on different subject matter. With Gulumbu, it was Garak, the universe or stars, and for Barrupu, it was Gurtha, ancestral fires; both are sacred Gumatj clan designs.
In contrast, Nyapanyapa developed a unique, spontaneous and expressive approach that has fostered a freedom outside of cultural ways and teachings. Her early works explored everyday events and personal interests on bark through an animated storyboard viewpoint, as seen in Sydney Harbour Bridge 2008 and Sydney Hotel 2010, using her typical palette of black, red, brown, white and yellow ochres.(2)
As her experimentation and confidence developed, she continued refining and producing more abstract and finer linear works. This new direction is seen in Marwat 2014, a drawing in black pen with designs she describes as mayilimiriw or meaningless. The lines are themselves part of the experimentation, consisting of fine white parallel organic strokes, layered and criss‑crossed on a black base. The striking combination of black and white is another feature of her more current works as she experiments with depth, shapes, composition and layers. The overall effect is shimmering, vibrant movement and energy that draws your eye across the work.
Yunupiŋgu's works offer a refreshing visual shift that sets her apart from her family's styles and the customary ancestral or cultural stories that artists from this region typically depict. Revealing her masterly aesthetics and talent through her own effortless and impulsive hand movements, she establishes her individuality in new and dynamic ways.
(1) Artist statement, unDisclosed: 2nd National Indigenous Art Triennial, National Gallery of Australia, Canberra, 2012, p 135.
(2) Both works are in the collection of the National Gallery of Australia, Canberra.
Citation: Cite this excerpt as: Baum, Tina. "Nyapanyapa Yunupiŋgu" in N Bullock, K Cole, D Hart & E Pitt (eds), Know My Name, National Gallery of Australia, Canberra, 2020, pp 378–379.
Tina Baum is is a Larrakia/Wardaman/Karajarri woman and Curator, Aboriginal and Torres Strait Islander Art, National Gallery of Australia, Canberra.