Nyukana Baker
Born 1943 (Pukatja/Ernabella, Northern Territory); Died 2016 (Mparntwe/Alice Springs, Northern Territory)
PITJANTJATJARA PEOPLE
---
Artworks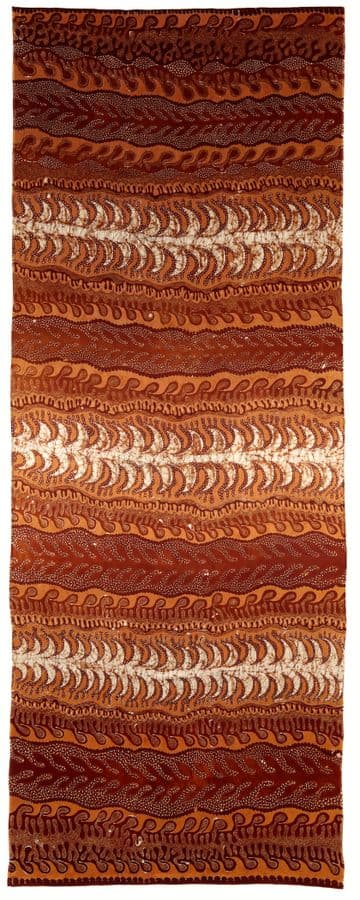 ---
Nyukana Baker by Mary-Lou Nugent
Excerpted from the Know My Name publication (2020).
I first learnt the Ernabella design as a schoolgirl, by telling stories in the sand—milpatjunanyi, the story telling game. I have always made the Ernabella design and my own design has changed only a little bit over the years, and yes, each artist has got her own design.(1)
The work of Nyukana Baker is an exemplar of textiles generated by Aboriginal artists, predominantly women, in the central Australian communities of Ernabella and Utopia. It comes from a vibrant textile movement germinated in Ernabella in the late 1970s, a movement which had itself grown from an earlier focus on woven textiles. Ernabella, 400 kilometres south of Alice Springs in the Musgrave Ranges, began as a mission station in the late 1930s, and the Pitjantjatjara women who lived there worked at the community's art and craft centre, Ernabella Arts, producing woven and knotted rugs.(2) They were introduced to the art of batik making by visiting artists from Adelaide and Alice Springs and women such as Baker, an early exponent, were instrumental in leading the way for other artists in transferring milpatjunanyi (sand drawings) onto the flowing surfaces of silks and cotton lengths. Batik is an exacting art requiring great skill and experience with fabric and dying: in this work Baker has employed brushes and Indonesian tjantings (tools) to apply wax to the silk which is then dyed several times over.
The batik movement gathered momentum contemporaneously at the Anmatyerre community of Utopia, 275 kilometres north‑west of Alice Springs. Anmatyerre artists including Emily Kame Kngwarreye, Gloria Ngale and Lena Pwerle took readily to the art form, and went on to achieve fame through silk lengths characterised by free‑form imagery and colourful gesture centred on women's awely (ceremony). In 1996 artists from Utopia travelled to Indonesia as part of a skills exchange program with artists from Yogyakarta. The Hot wax project, as it became known, resulted in a major travelling exhibition and formed the basis for further exchanges between Indonesian and Australian artists.
In Textile length, silk batik 1985–86 Baker has employed the strong linear and elongated forms of the walka (art) of the Pitjantjatjara people to portray traditional Jukurrpa (Dreaming) stories from her Country at Kanypi, west of Ernabella. Baker's career has been extensive; she has been a practising artist since she commenced her career at Ernabella Arts at the age of 15 and has exhibited in numerous national and international exhibitions. As curator Diana Young notes, Baker 'is probably the first Indigenous woman to spend her entire working life making a living as a professional artist. She has become a role model for other talented, ambitious young women'.(3)
(1) Don't ask for stories: The women from Ernabella and their art, Aboriginal Studies Press, Canberra, 1999, p 83.
(2) Mary-Lou Nugent, Putting in the colour: Contemporary Aboriginal textiles, Jukurrpa Books, Alice Springs, 2001, p x.
(3) Diana Young, Nyukana (Daisy) Baker: A retrospective, Jam Factory Contemporary Craft and Design, Adelaide, 2009, p 2.
Citation: Cite this excerpt as: Nugent, Mary-Lou. "Nyukana Baker" in N Bullock, K Cole, D Hart & E Pitt (eds), Know My Name, National Gallery of Australia, Canberra, 2020, pp 36–37.
MARY-LOU NUGENT is is Manager, Travelling Exhibitions, National Gallery of Australia, Canberra.