Olive Cotton
Born 1911 (Gadigal land/Sydney); Died 2003 (Cowra, New South Wales)
---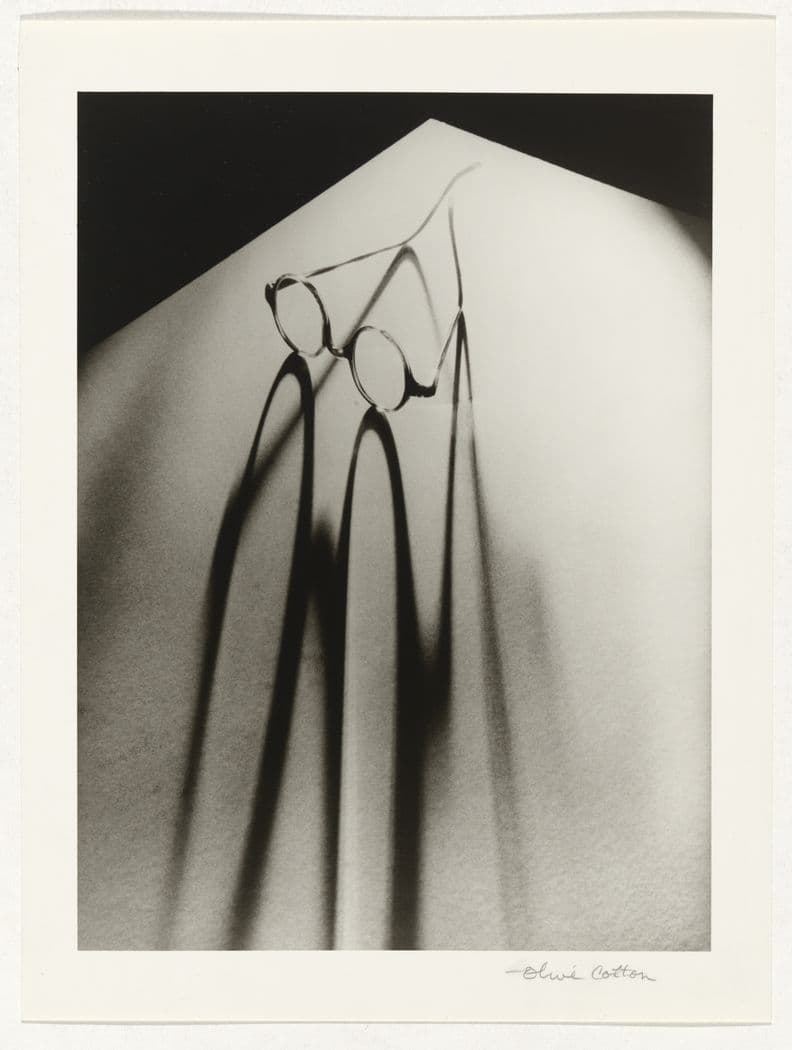 Olive Cotton by Helen Ennis
Excerpted from the Know My Name publication (2020).
Glasses 1937 is not a typical photograph by Olive Cotton. Throughout her career she found the great majority of her subject matter in the natural world rather than the human one. Glasses also stands out as a rare example of a commercial assignment undertaken during the pre‑war years when she was working at the Max Dupain Studio in Sydney. Her role from 1934–39 was studio assistant, not photographer, a position that was held exclusively by Max Dupain and his male employees Geoffrey Powell and Damien Parer. Cotton later recalled that Glasses 'was commissioned as an advertisement for spectacle frames. I tried to make it more interesting by using the spotlight to cast longer shadows'.(1) Unfortunately the client has not yet been identified and it is not known whether or not Glasses was published in an advertisement and circulated publicly.
What is clear, however, is that Cotton was pleased enough with the photograph to make a vintage print for herself and then to return to the negative again decades later to have additional prints made. The National Gallery of Australia's print is from an edition issued in 1997. Cotton was 86 by then; too frail to work in the darkroom she remained involved nonetheless, approving and authenticating the prints produced on her behalf for an expanding and increasingly appreciative audience.
While Glasses is exceptional in some regards it also relates to a small group of still lifes the artist made a few years earlier. Teacup ballet 1935 is probably the best known, but others were of equally prosaic objects, such as clothes pegs, ice‑cream cones and cream bottles. Artist Margaret Preston's analogy of the studio as an artist's laboratory where formal problems could be addressed was apt for Cotton's approach at this crucial time.(2) Her aim was to master the technical and aesthetic aspects of her medium. Light emerged as her central preoccupation and she explored its atmospheric, sometimes transformative qualities. As she later said: 'Light brings a subject to life … That's the main thing about all my photographs, the light no matter what it's of. That's what draws me to take a photograph.'(3)
Like her other still lifes Glasses has a dramatically pared‑down composition. In this case, the elimination of extraneous background detail was an ideal advertising ploy, directing the viewer's attention to the spectacle frames and the consumerist fantasy they invoke. Cotton downplayed their utilitarian value in favour of their aura. The implication is that these stylish glasses will endow their wearer with modernist credentials, showing them to be part of the zeitgeist—someone who belongs 'consciously and proudly to this age'.(4)
(1) Olive Cotton in Helen Ennis and Sally McInerney, Olive Cotton: Photographer, National Library of Australia, Canberra, 1995, p 10.
(2) Margaret Preston, 'Aphorism no. 46' in '92 Aphorisms by Margaret Preston and others', in Sydney Ure Smith and Leon Gellert (eds), Margaret Preston: Recent paintings, Art in Australia, Sydney, 1929, np.
(3) 'Olive Cotton, artist', c 1992, unnamed author, MS 66 Papers of Helen Maxwell Gallery, National Gallery of Australia Research Library & Archives, Canberra.
(4) GH Saxon Mills, 'Modern photography: Its development, scope and possibilities', The Studio, Autumn 1931, p 14.
Citation: Cite this excerpt as: Ennis, Helen. "Olive Cotton" in N Bullock, K Cole, D Hart & E Pitt (eds), Know My Name, National Gallery of Australia, Canberra, 2020, pp 84–85.
Image caption: Olive Cotton, Glasses, 1937 (printed 1997), gelatin silver photograph, 33.1 x 24.9 cm (sheet), National Gallery of Australia, Canberra, purchased 2016.
HELEN ENNIS FAHA is Emeritus Professor, School of Art and Design, Australian National University, Canberra.