---
"Me & you refers to the idea of the self and the other being indistinct. In many cases those closest to us are the most difficult for us to see: we are merely mirrors to each other. This indistinction is important to me, because we are so dependent on those closest to us for definition. Without the mirror of another we may cease to exist." — Sanné Mestrom, 2020
---
---
Biography
Sanné Mestrom makes art about art. Entwining the historical and the contemporary, she makes sculpture that reworks and reflects the histories of modernism. Born in Heerlen in The Netherlands Mestrom came to Australia via New Zealand as a 17-year-old. She studied fine art at RMIT, graduating with honours in 2000, and went on to do a PhD thesis on the power of place and the politics of perception which she completed in 2008. A Graduate Certificate in Public Art followed in 2011. She was appointed senior lecturer at Sydney College of the Arts (Sculpture), University of Sydney, in 2019.
Mestrom began as a painter, with works such as Corner relief, an illusionistic watercolour that turns the flatness of a De Stijl painting into a paradoxical rendering of three-dimensional space. In 2015 (and again in 2019) she appropriated Frank Stella and Ad Reinhardt's Black paintings from the early 1960s and reworked them as large handwoven tapestries with her mother, a skilled tapestry maker, and a guild of craftswomen in regional Victoria. While referencing the work of male abstract artists, Mestrom's process disarms the modernist investment in a singular authorial eminence through a collaborative and communal process.
Mestrom shifted her focus towards an examination of spatial and sculptural properties in 2009, with wall drawings that used pictorial and optical illusion to challenge the act of perception. In 2013 she produced a series of ceramic works that used Giorgio Morandi's still life paintings of bottles and jars as source material for a work that considered his meditations on light, line and objects in three dimensions. For Mestrom, this is a strategy of playing with the language of the modernist period through a postmodern lens, questioning the value of authorship, originality and mastery by using methods of replication and repetition. In sculptures such as Me and you, Dora Maar, and Soft kiss, Mestrom borrowed aesthetic cues from Picasso and Brancusi and recast them in other materials, often leaving them slightly imperfect and unfinished as a critique of the modernist drive towards resolution.
Untitled (Self portrait, Sleeping muse), for which Mestrom was awarded the Woollahra Small Sculpture Prize in 2019, is a four-kilogram bronze sculpture of Mestrom's head, displayed on a plinth that is a minimalist scupture in its own right. The work began as a realistic self portrait, but when it was at the foam prototype stage Mestrom's dog 'chewed off all the extremities of the form, including the nose and ears, and it ended up resembling a smoothed out egg, which is a lot like Brancusi's work, Sleeping muse.' Through chance and intention, Mestrom de-monumentalises archetypal works of the art historical canon to explore the psychological, emotional and cultural significance attached to them.
Biography written and edited by Dr Nicola Teffer in collaboration with NGA curatorial and research staff
Artworks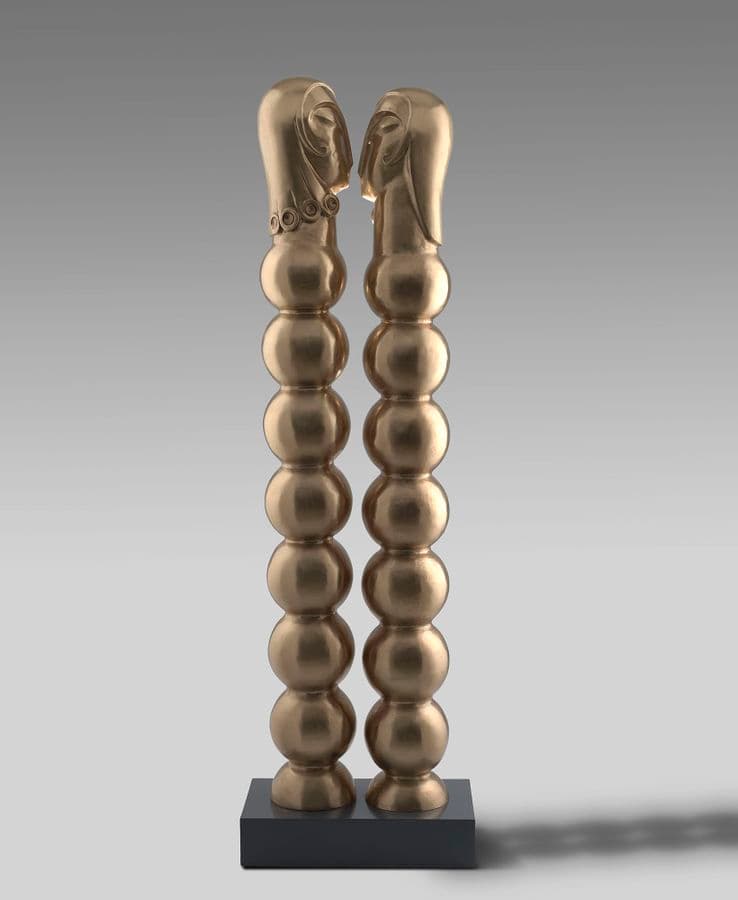 ---