Sarah Contos
Born 1978 (Wadjak boodjar/Perth)
---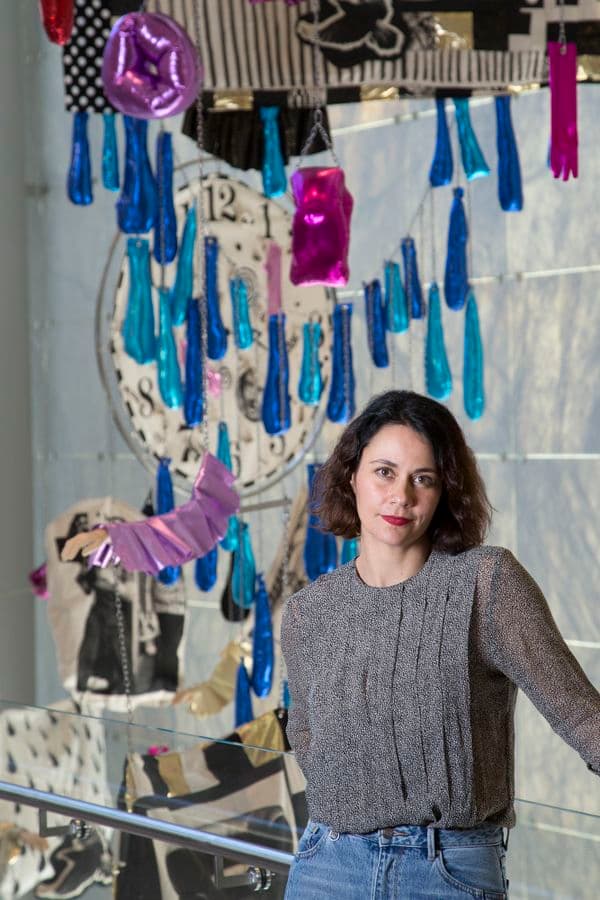 ---
Sarah Contos by Jaklyn Babington
Excerpted from the Know My Name publication (2020).
The bedroom and the studio are spaces situated between the private and the public worlds we all inhabit. Both highly charged, yet often diametrically opposed in function: representing rest and recovery as distinct from work. These two spaces co‑exist with intricate psychological and emotional influence over the other and provide a potent basis for the creative universe of artist Sarah Contos.
For Contos, the bedroom is for retreat, at times an essential site of aloneness, where binge‑watching television and movie marathons are therapeutic; one's heart is healed. Over time, the bedroom becomes a performative space, re‑energising and returning the artist, circuit‑like, to the outside world with a re‑sparked artistic imagination. Conversely, the studio is operational: a site of practised activity, a testing of ideas and critical assessment where intellect takes over.
But what happens when the artist decides to collapse the bedroom into the studio, and expose her private world as the 'work' itself? Asking Contos to take up an extraordinary challenge—the Balnaves Contemporary Series commission to be exhibited at the National Gallery of Australia in 2018—the artist immediately envisaged a large scale, soft sculptural installation with the working title: 100 Films To See Before You Die—a riff off Kenneth Anger's Hollywood Babylon. Further thought, however, provoked Contos to switch modes: pop culture was thought too mass, too removed, too impersonal. A change of title and an intimate mood piece was subsequently written by the artist, and provided to the team as an outline of the artistic intention/atmosphere for the work:
The vibe is ……
Jumping on a freshly made bed
An autograph book with dog
eared corners
The smell of fairy floss
An overfilled raspberry coke slushy
Looking backwards at a projector
in a movie theatre
Looking forwards to seeing someone
you love
Heavily sequinned pyjamas
A found lost toy
A flick of a cigarette butt
A curl of the tongue
A crushed can in the gutter
An exquisite corpse
Of course, the National Gallery required detailed plans to be drawn, material assessments to be completed, complex engineering specifications to be followed. Yet, once installation began in the enormous 16‑metre ceiling space of the gallery's front entrance, Contos worked with astonishing expression and creative freedom.
The artist pumped a sometimes fragile, sometimes fierce, life‑force through Nikola Tesla Sends Theda Bara To Mars. With all elements connecting, disconnecting and reassembling in tilts, turns and overlays, Contos' kinetic installation oscillated between private and public: stuffed toys, doonas, pillows, cigarettes and raspberry slushies appear intertwined with black and white cinematic icons. As a melding of multiple movie plots, and a 'replay' of teenage fantasy, Nikola Tesla Sends Theda Bara To Mars explores the infiltration of popular culture into the bedroom. The artist's work felt raw. Ultimately, it formed a gutsy aerial projection of slushy, flashy, vampy and tear‑filled cinematic frames across the gallery space: the private as public confession.
JAKLYN BABINGTON is Senior Curator, Contemporary Art, National Gallery of Australia, Canberra.