Thanakupi
Born 1937 (Weipa, Cape York, Queensland); Died 2011 (Weipa, Cape York, Queensland)
Dhaynagwidh/Thaynakwith people
---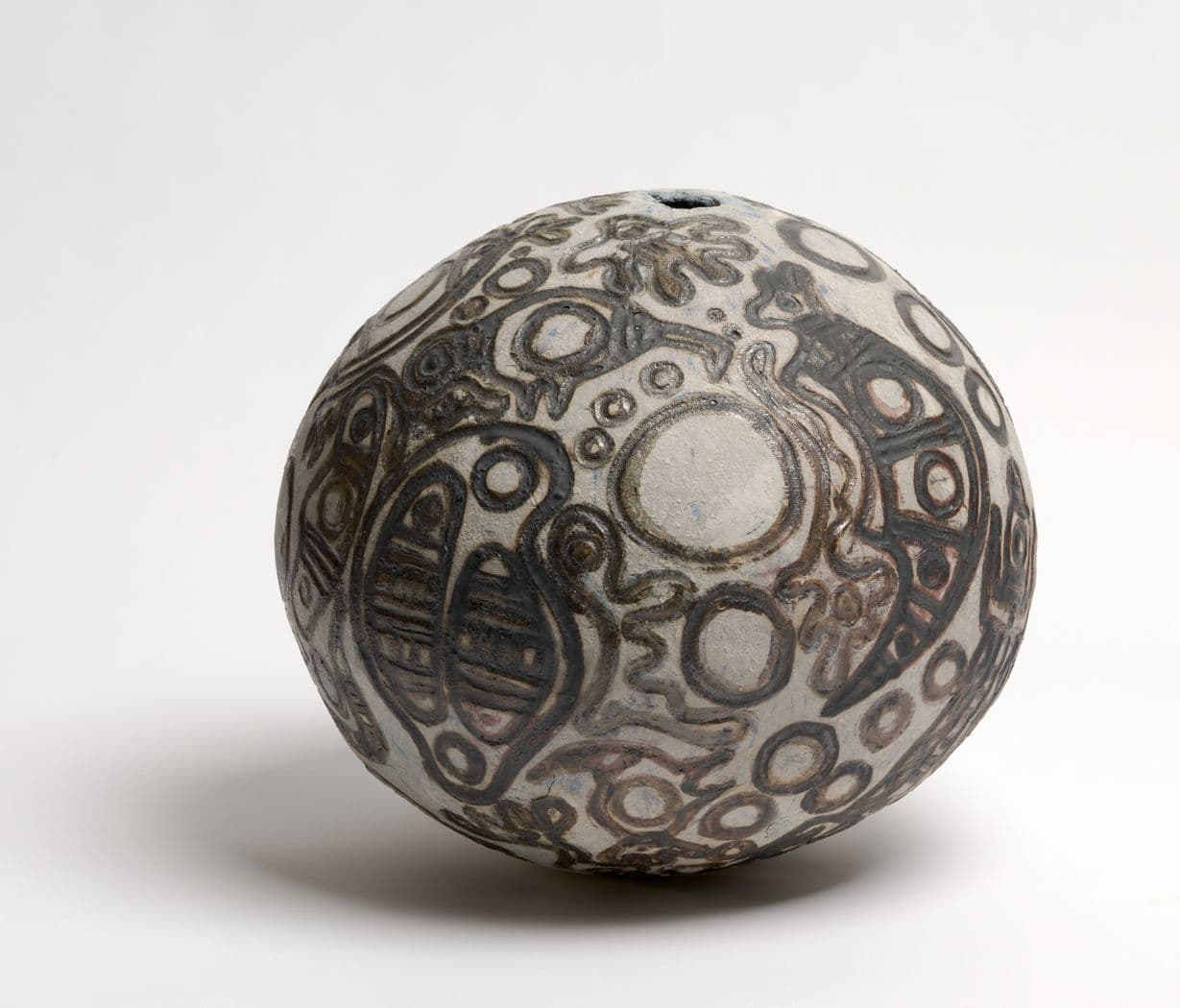 Excerpted from the Know My Name publication (2020).
Thanakupi was the first Indigenous Australian artist to build a successful career in the ceramic medium, in which clay became 'her art as well as her legends', a material to shape and a surface for storytelling.(1) She worked intuitively with clay, hand building objects of materiality and rich cultural meaning, which are acknowledged as important examples of Australian art. In Thanakupi's hands, clay was daringly released from its customary ceremonial purpose that pertained to men and transformed into a modern sculptural medium that empowered the artist to memorialise and share ancestral narratives.
In 1969 Thanakupi left her home community of Napranum near Weipa in Western Cape York, where she had grown up and attended mission school, to study ceramics at East Sydney Technical College. Here she was mentored by leading potters, including Shiga Shigeo who suggested that she should make customary designs onto her thrown pots to imbue them with vitality. Working with clay excited Thanakupi, bringing to mind powerful cultural memories, as she explained:
Clay at Weipa was sacred. We only used it for ceremonial purposes and each colour had a meaning. Red, black, yellow and white. The men used to keep the clay in a special storehouse and we kids were not allowed to touch it. We used it for decoration of our bodies and special spears and woomerahs, not to make things.(2)
During the 1980s, Thanakupi developed a distinctive hand‑built spherical form based on the idea of a circle, an unbroken unity, which became central to her ceramic practice: 'The circle to me is the tribes of Napperanum all together, the lands all connected. It is also love, fire and warmth, and the earth. It is also woman and mother.'(3) Upon the wet surface of such textured organic forms, she incised bold linear figures and symbols that unfold into Thaynakwith narratives, such as that of Cammbel the crocodile and Paour the blue tongue lizard exchanging teeth, who are featured in Garth Eran and Evarth Eran c 1988. These bold schematic outlines of animals, birds and reptiles inlaid with dark oxide glazes stand out on the vessel's tactile surface and reanimate the drawings of these creatures that Thanakupi saw her mother and grandmother make in the sand.
Thanakupi's Garth Eran and Evarth Eran has been built out of the artist's deep connection with the elements and sensations of her Country:
I enjoy pottery because I feel there is a closeness and that when I am working with clay, I am at peace and harmony with clay (earth), firing the kiln (fire), water (the sea and the wetness of clay) and air (the fresh air of Trinity Beach). That is what I mean about closeness to life.(4)
(1) Thanakupi in conversation with Jennifer Isaacs, quoted in Jennifier Isaacs, Thancoupie the potter, The Aboriginal Artists Agency, Sydney, 1982, p 35.
(2) As above, pp 34–5.
(3) As above, p 60.
(4) As above.
Citation: Cite this excerpt as: Ryan, Judith. "Thanakupi" in N Bullock, K Cole, D Hart & E Pitt (eds), Know My Name, National Gallery of Australia, Canberra, 2020, pp 346–347.
Image caption: Thanakupi, Garth Eran and Evarth Eran, c 1988, earthenware, glazed, 30.4 x 34.2 cm, National Gallery of Australia, Canberra, purchased from Gallery admission charges 1989.
JUDITH RYAN AM is Senior Curator, Indigenous Art, National Gallery of Victoria, Melbourne.