Virginia Cuppaidge
Born 1943 (Meanjin/Brisbane)
1972
---
Biography
Spending time in her mother's botanical drawing studio in Brisbane, Virginia Cuppaidge decided at a age six that she wanted to be an artist. At sixteen, while a student at Frensham in Mittagong, she was inspired by abstract expressionist paintings in art magazines and vowed to go to New York to experience them directly. Returning to Brisbane, from 1963–64 she attended painting classes in Brisbane and designed her first fabrics, handprinted in the family garage. In 1965 she moved to Sydney and founded Virginia Print Fashions in Pyrmont Sydney, while studying at at Mary White School of Art. In 1969 Cuppaidge left for New York and stayed there for 48 years.
Her only contact in New York was the Australian sculptor Clement Meadmore, who introduced her to the New York art scene and to fellow Australian Max Hutchinson, who was the director of contemporary art galleries in New York and Melbourne. Cuppaidge worked at Hutchinson's gallery in SoHo for several years. In 1973 she held her first solo show at AM Sachs Gallery and that same year exhibited a work from her Geometrics series in the historic feminist exhibition Women choose women at the New York Cultural Centre. Paintings from this series including Lyon 1972, set hard-edge rectangles afloat in dissolving fields of colour. The paintings were influenced by Hans Hoffman and Piet Mondrian, whose 1970 retrospective at the Guggenheim Museum was a revelation for Cuppaidge. Cuppaidge was awarded a Guggenheim Foundation Fellowship in 1976.
Colour, rather than form, dominates Cuppaidge's painting, mobilised through a sense of light and movement. Their radiant and sensuous surfaces reflect both the opalescent skies of New York and the expansive space and light of Australia. Although Cuppaidge aimed to be an international artist, the homeland of her childhood made its mark on her paintings: 'I always remember the Queensland sky, with the heat of the sun on a blazing hot day–it's sunbleached light and clear blue . . .I don't mind my work being called Australian now because it makes sense; we are deeply influenced by our childhood.' A residency at Hill End in 2010 resulted in a physical return to the Australian bush, interpreted in abstract works of rhythmic colour and energy. Cuppaidge taught at the City University of New York between 1992 and 2008 and exhibited in New York and Australia throughout the four decades of her residence there, returning to Australia in 2017 to live permanently in Newcastle.
Biography written and edited by Dr Nicola Teffer in collaboration with NGA curatorial and research staff as part of Know My Name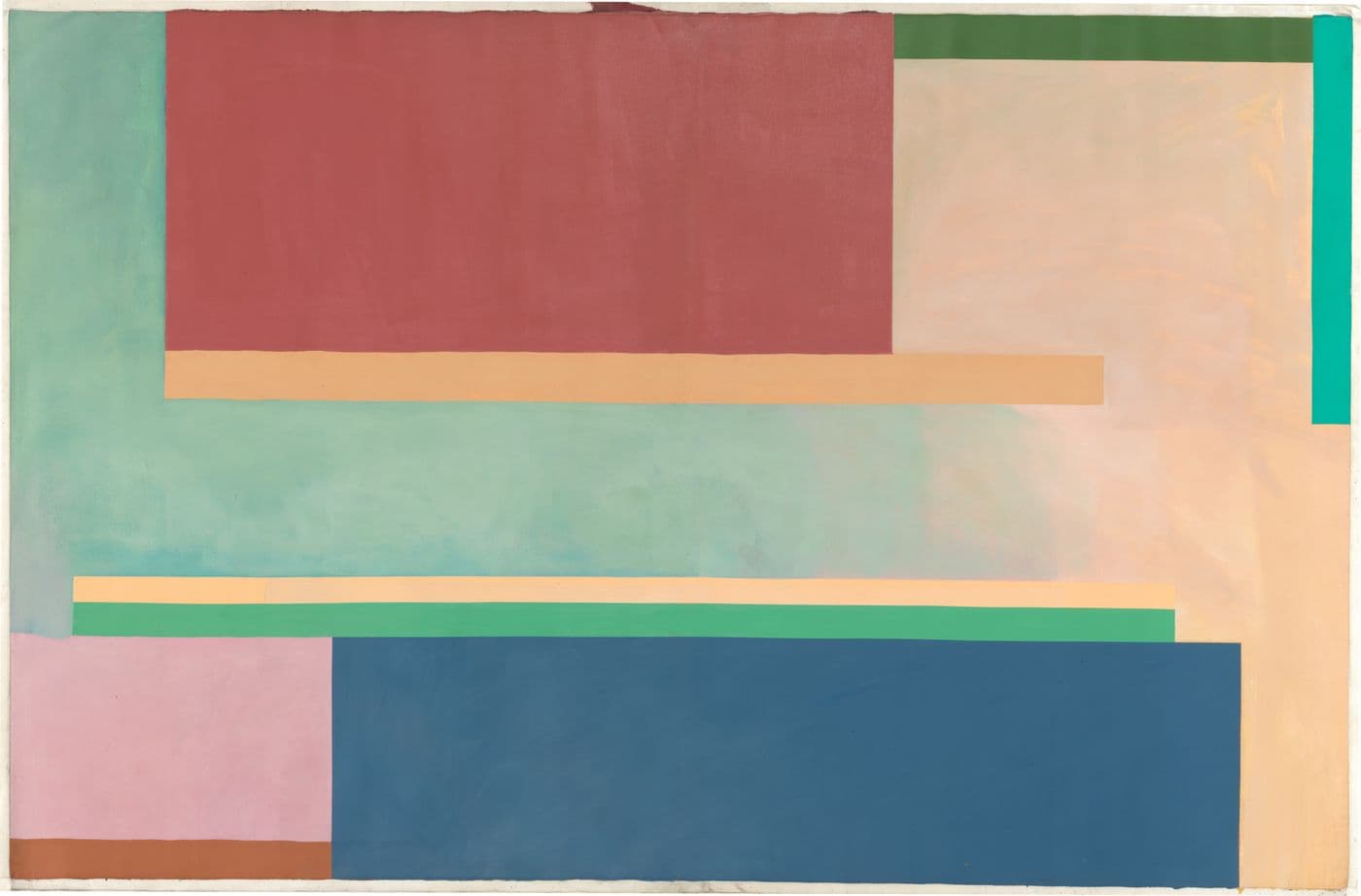 Virginia Cuppaidge by Una Rey
Excerpted from the Know My Name publication (2020).
In 1973 when Virginia Cuppaidge held her first solo exhibition at New York's AM Sachs Gallery, Lyon 1972 was the 'hero' image, reproduced on the invitation designed by Clement Lyon Meadmore. The two Australians had met when Cuppaidge landed in New York in 1969, and Meadmore's mentoring and his passion for her elemental abstractions played a critical role in her navigating the New York art world. By the time of Cuppaidge's exhibition, she had gifted Lyon to 'Clem' in a mutual exchange between muses: his monumental sculpture Virginia 1970 (commissioned by the National Gallery of Australia) was named after her, and for both artists the intimate titles were a tribute to the world of ideas they shared. Lyon remained in Meadmore's collection for the next 30 years. After his death in 2005 the painting was returned to Cuppaidge, who gifted it once again—to the National Gallery of Australia.
Lyon was painted in Cuppaidge's first studio in Hell's Kitchen when she was 29 years old. It is a striking example of the Geometrics series where she first established her 'personal geometry', a distinct idiom within the domain of Abstract Expressionism.(1) In 1976 she said it was 'work I really had in my mind in Australia, but never did'.(2) An adventurous colourist, Cuppaidge builds Lyon's power through a complementary palette of reds, blues and greens, a hard‑edged landscape charged with 'Australian space' contrary to the vertical architecture of Manhattan. Simultaneously, Lyon's weight, tension and horizontal grid reveals a dynamic formalist hand at work in tempo with the cultural milieu of 1970s New York.
A dedicated abstract painter who guarded her intellectual independence, Cuppaidge was nevertheless invigorated by the city's artistic pluralism and feminist activism. In 1973 she exhibited and participated in the curatorium of women on the groundbreaking Women choose women exhibition at the New York Cultural Center and in the 1980s she contributed to the Guerrilla Girls' projects.
Cuppaidge was born in 1943 into a cosmopolitan Brisbane home. Her mother Judy was an artist, Ian Fairweather's paintings hung on the walls, and artists Jon Molvig, Andrew Sibley and Bronwyn Yeates were regular visitors and early teachers. She studied art in Sydney between 1965–68 and established her own textile label before creative restlessness took her to New York. Half a century later and half a globe away from its material origins, Lyon signposts contemporary art's historical narratives, resisting nationalist and stylistic categories. Cuppaidge, now living in Newcastle, embodies the tall poppy who flowered abroad and maintained her stature on the soil of both countries.
(1) Corinne Robins, The pluralist era: American art 1968–1981, Harper & Row, New York, 1984, p 188.
(2) Geoffrey De Groen, Conversations with Australian artists, Quartet Books, Melbourne, 1978, p 88.
Citation: Cite this excerpt as: Rey, Una. "Virginia Cuppaidge" in N Bullock, K Cole, D Hart & E Pitt (eds), Know My Name, National Gallery of Australia, Canberra, 2020, pp 96–97.
Image caption: Virginia Cuppaidge, Lyon, 1972, synthetic polymer paint on canvas, 198.5 x 306 cm (stretched), National Gallery of Australia, Canberra, gift of the artist 2012.
UNA REY is a painter, freelance curator and writer who lectures in visual art and art history at The University of Newcastle.