Vivienne Binns
Born 1940 (Wyong, New South Wales)
---
Biography
Vivienne Binns is a pioneer of feminist, collaborative and community-based practice in Australia. Born in 1940 in Wyong, New South Wales, she attended East Sydney Technical College between 1958 and 1962 where her teachers included Dorothy Thornhill, John Olsen, Godfrey Miller and John Passmore. In 1962 Binns encountered the work of Mike Brown and the Imitation Realists at Rudy Komon Gallery. Thereafter she and Brown developed a close relationship through their shared interest in art produced outside of established schools and systems.
Binns' first exhibition, held on Gadigal land/Sydney at Watters Gallery in 1967, was widely criticised for its provocative and sexually explicit imagery. Even the artist Grace Cowley wrote a letter of complaint to the gallery. Among the works exhibited were Suggon, Vag dens and Phallic monument, all of which were later acquired for the National Gallery of Australia collection between 1977 and 1993.
Binns abandoned painting immediately after the Watters exhibition. She embarked on a range of ephemeral, cross-disciplinary and collaborative projects that precipitated her role as a leading figure in the development of community-based practices in Australia. Her career is characterised by a succession of firsts, including the founding of the Sydney chapter of the Women's Art Movement in 1974, and her participation in An exhibition of homosexual and lesbian artists at Watters Gallery in 1978, the earliest undertaking of its kind in Australia.
Binns' landmark work, Mothers' memories, others' memories, acquired for the National Gallery's collection in 1981, involved collaborating with women at the University of New South Wales and Blacktown to record matrilineal histories at a time when women's experiences were seldom valued or documented. Her subsequent work, Tower of Babel, continued her collaborative, feminist and community-based approach to production. Made from 1989 (the work is ongoing) each participant is given a box to fill in any way they choose, effectively documenting their distinct visual language. While largely comprising the art of others, Tower of Babel also forms a personal mythology of Binns herself. Its contributors include those who have influenced her practice such as teachers and mentors Muriel Shaw and Mike Brown; friends and close colleagues like the artists Ruth Waller, Bonita Ely and Eugene Carchesio; and casual acquaintances encountered throughout her career.
Binns returned to painting in the 1980s but remained deeply involved with community projects. Over the following years, she worked as an educator, teaching painting, drawing and art theory at Sydney University, Charles Sturt University (Albury), and The Australian National University. She developed a reputation as a generous mentor to artists including Geoff Newton, Dionisia Salas, Trevelyan Clay and Charlie Sofo. In 1983 Binns was awarded the Order of Australia Medal for Services to Art and Craft. In 1985 she was given the Ros Bower Memorial Award for visionary contribution to community arts.
Vivienne Binns' most recent work in painting and assemblage is an extension of her prior community and feminist practice. Her ongoing love and interest in found materials and domestic patterns are a means with which to cajole life into art. Now in her 80s, she continues to live and work in Kamberri/Canberra.
Artworks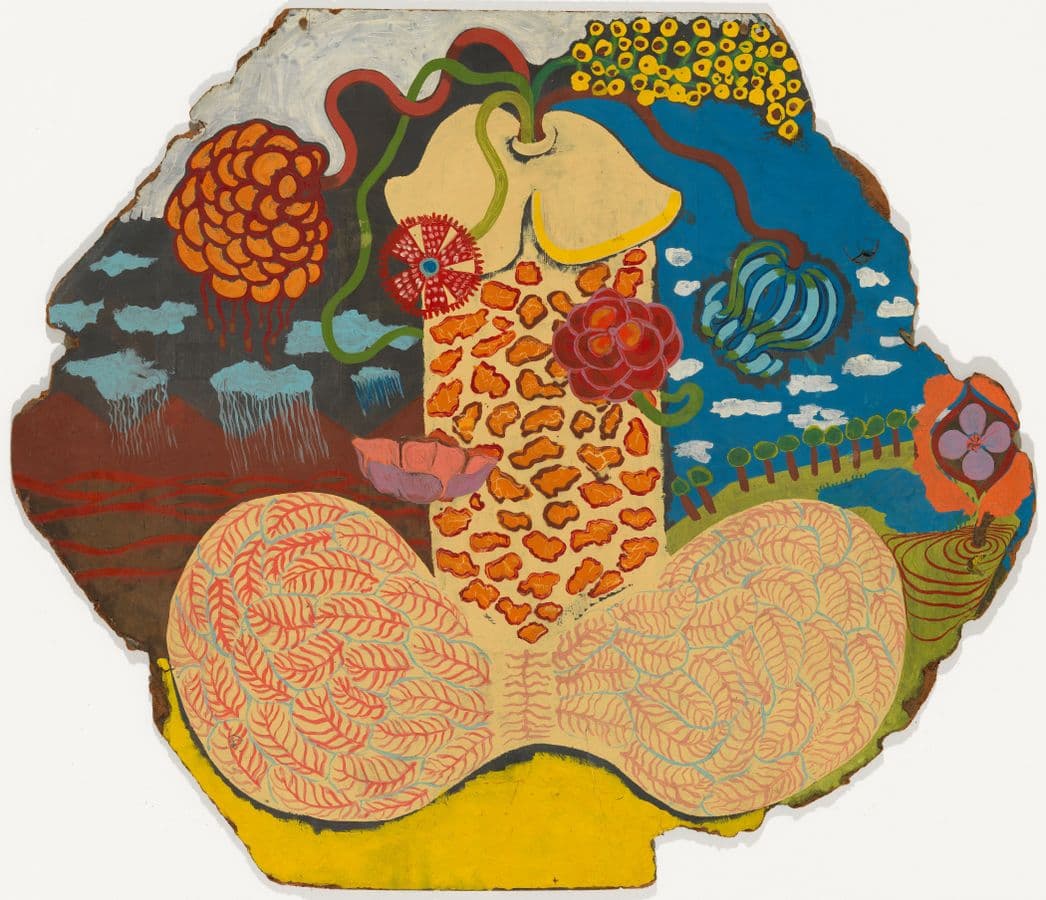 ---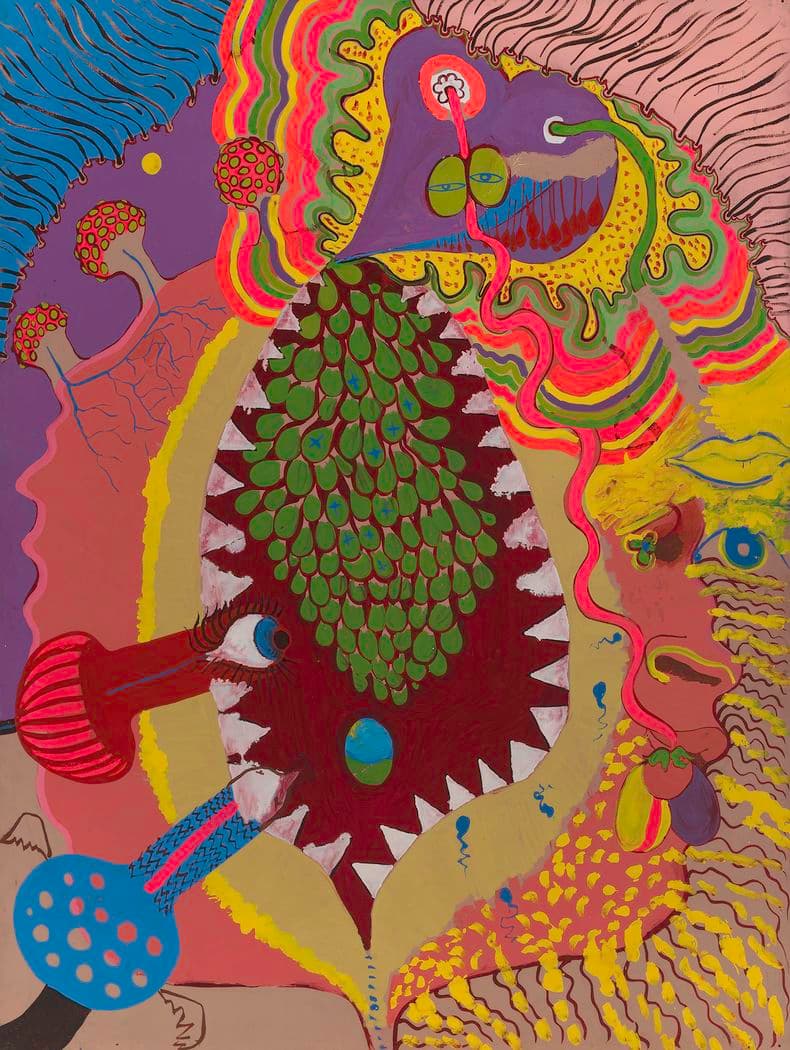 Vivienne Binns by Virginia Fraser
Excerpted from the Know My Name publication (2020).
Before it was an Australian pop and feminist art icon, Vag dens 1967 was an almost preposterously startling new painting, surprising both the artist and the vociferously agitated and abusive local critics of her first exhibition at Watters Gallery in Sydney that year. Converging in Vag dens, and its companion Phallic monument 1966, were Vivienne Binns' thoughts about gender, sexuality, portraiture, materials, Dadaism, Surrealism, Marvel Comics' graphic methods, dream images and deliberate communication with her subconscious.(1)
Binns made automatic drawings. 'Fanciful images combining human and animal forms, interior organs, pipes, etcetera' popped out.(2) She produced tense, claustrophobic, geometric paintings, 'the last stronghold of resistance against what followed'.(3) One morning she woke with the idea of making symbolic 'portraits' of gender through the female and male sexual organs—'not realistic, but expressive in another way'. From 'pretty vague organic images' the paintings emerged 'in the process of doing', from doubts and uncertainties, responses made as the work seemed to 'talk back'—or not. She wrestled with them physically, cutting, drilling, tearing, reassembling, painting over.
Her process—'rigorous and demanding, digging into oneself and searching the psyche and the emotions, trying to be ruthlessly truthful'—had the goal of finding 'what it meant for me to be an artist'. She needed to say, 'I'm not necessarily who you think I am', and know why.
Phallic monument 'completed itself without a great struggle over any part' but Vag dens didn't. 'It was a very powerful experience when the image was completed by the teeth, which came straight out of the subconscious and weren't part of my original idea at all.'
When critics wrote derisive, dismissive reviews (and senior artist Grace Crowley sent a disapproving letter to the gallery) Binns was 'amazed' at their language.(4) 'I thought they were hilarious. I felt I knew the work better than anyone and could withstand whatever was said.' She had learnt to trust her own thoughts and herself as an artist and, since 1967, has often returned to the vagina dentata image as a female archetype expressing strength not cruelty. 'I've always felt it had more to yield.'(5)
She has continued for over 50 years, applying paint thickly and thinly, glossy and matte, as narrative, figuration, landscape and abstraction; used lights, performance, installation, screenprinting, drawing and vitreous enamel (once running a commercial enamelling business); worked in a studio, in art schools and as a community artist in Sydney's west and rural New South Wales. She was awarded an Order of Australia Medal in 1983 for services to art and craft.
One writer observed that she adopted 'diversity as a deliberate artistic position'.(6) She said herself: 'I went in many directions as a purposeful way to understand art as a human activity rather than something that only Artists do.'
(1) Both works are in the collection of the National Gallery of Australia, Canberra.
(2) Some of these biro on paper drawings made from 1965–66 are held by the National Gallery of Victoria, Melbourne.
(3) Unless otherwise specified, all quotes from Vivienne Binns come from email exchanges with Virginia Fraser in November and December 2019.
(4) See for example Elwyn Lynn, 'Ruffling plumage', The Bulletin, 18 February 1967, p 35 and Stephen Scheding, 'Some art reviews', Tharunka, 28 February 1967, p 14. The information about Crowley's letter comes from Penny Peckham, 'Vivienne Binns: Biography', Vivienne Binns, Tasmanian Museum and Art Gallery, Hobart, 2006, p 35.
(5) The image appears in numerous media and forms including the cover of Meanjin magazine, issue 4, 1975; Repro vag dens 1975–76, National Gallery of Australia, Canberra; and Orgasm and a lot more besides 1984–85, University of Queensland Art Collection, Brisbane, among others.
(6) Bill Bleathman, 'Foreword', in Vivienne Binns, p 1.
Citation: Cite this excerpt as: Fraser, Virginia. "Vivienne Binns" in N Bullock, K Cole, D Hart & E Pitt (eds), Know My Name, National Gallery of Australia, Canberra, 2020, pp 44–45.
Image caption: Vivienne Binns, Vag dens, 1967, synthetic polymer paint and vitreous enamel on composition board, 122.0 x 91.5 x 3.0 cm, National Gallery of Australia, Canberra, purchased 1978
VIRGINIA FRASER was an artist and writer who lived in Narrm/Melbourne.