Yhonnie Scarce
born 1973 Woomera, South Australia
KOKATHA/NUKUNU/MIRNING PEOPLE
---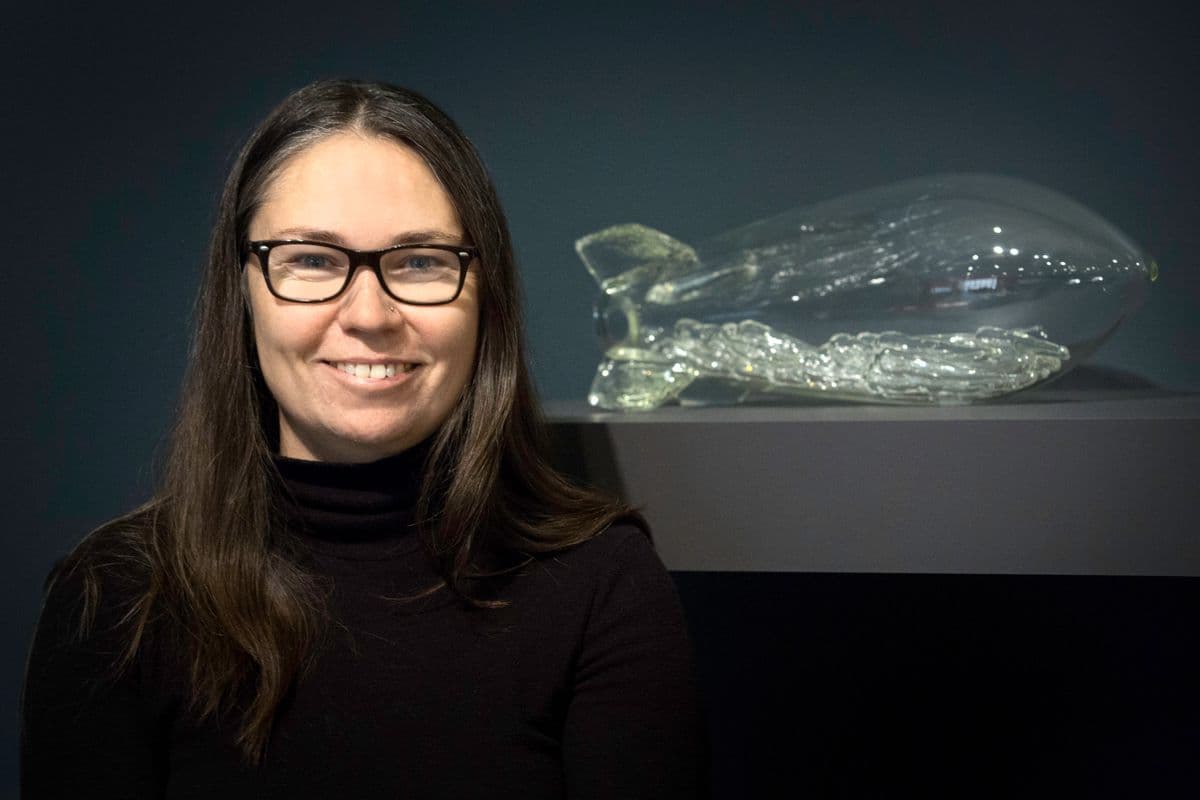 ---
Yhonnie Scarce by Tina Baum
Excerpted from the Know My Name publication (2020).
our hearts grow as we mourn
for our Land
it's part of us. we love it.
poisoned and all.(1)

The universal image and experience of rain is typically enjoyable, welcomed, and evocative. Not so for Thunder Raining Poison 2015, a monumental work by Kokatha/Nukunu/Mirning artist Yhonnie Scarce, which tells of another type of rain that fell throughout her grandfather's Kokatha Country in remote central South Australia. These 'rains came from billowing and menacing mushroom‑shaped clouds of dissipating dry black ash and debris tumbling back to earth, a result of nuclear testing done by the British Government at Maralinga in South Australia from 1956–63.
Thunder Raining Poison is about a specific site called Breakaway. Here, the detonated atomic bomb was so hot it turned the deep red topsoil to green glass. This earthly transformation is referenced by several green hand‑blown glass yams peppered throughout the translucent installation. The bomb instantly evaporated and killed all vegetation and animals within a kilometre radius leaving a distant ring of trees and shrubs as evidence. The deteriorating glass is now, after 60 years, like a crackled mosaic laying on top of the contrasting underlying sand with only stunted shrubs present. The absence of animals and bird sounds blanket the site in an eerie silence.
In her works, Scarce typically uses the organic form of the native yam, a key food source, to represent Aboriginal people. Numbering over 2000, each dangling glass yam featured inThunder Raining Poison hangs together like a crystal chandelier. They hint at the possible numbers of Aboriginal, Australian and British 'voluntary' soldiers who died, initially and subsequently, as a result of the bombs and lingering radiation. Although there were attempts, prior, during and after to relocate local Aboriginal people, the official numbers of deaths are unknown. Consequently, authorities believe that few Aboriginal people died, but oral histories tell of whole families and communities disappearing.
As one of few practising Aboriginal glass artists, Scarce's work is not only an artistic expression but a personal journey into her family's history of colonisation:
I think the fact that I can make the yams out of my own breath, I find it empowering. It's a part of who I am. It's something I feel really strongly about. It's something I think about every day. I'm quite proud that I am able to tell my grandfather's story through my artwork.(2)
Her stunning, fragile and evocative work harbours a dark, destructive secret, hidden for decades and slowly, like the degradation of radiation over time, filtering through to today. It is an important revelation and reminder of a harrowing part of Australia's history that is still relatively unknown. It pays respect to those who lost their lives, culture and ongoing access to Country and of the devastating generational legacy experienced by local communities today.
(1) This is an extract of a poem created in May 2016 by Ali Cobby Eckermann in response to Yhonnie Scarce's installation Thunder Raining Poison. For the full poem see muse.jhu.edu/article/658850/pdf.
(2) Artist statement, Defying Empire: 3rd National Indigenous Art Triennial, National Gallery of Australia, Canberra, 2017, p 113.
Citation: Cite this excerpt as: Baum, Tina. "Yhonnie Scarce" in N Bullock, K Cole, D Hart & E Pitt (eds), Know My Name, National Gallery of Australia, Canberra, 2020, pp 324–325.
TINA BAUM is a Larrakia/Wardaman/ Karajarri woman and Curator, Aboriginal and Torres Strait Islander Art, National Gallery of Australia, Canberra.