Yvonne Audette
Born 1930 (Gadigal land/Sydney)
---
Artworks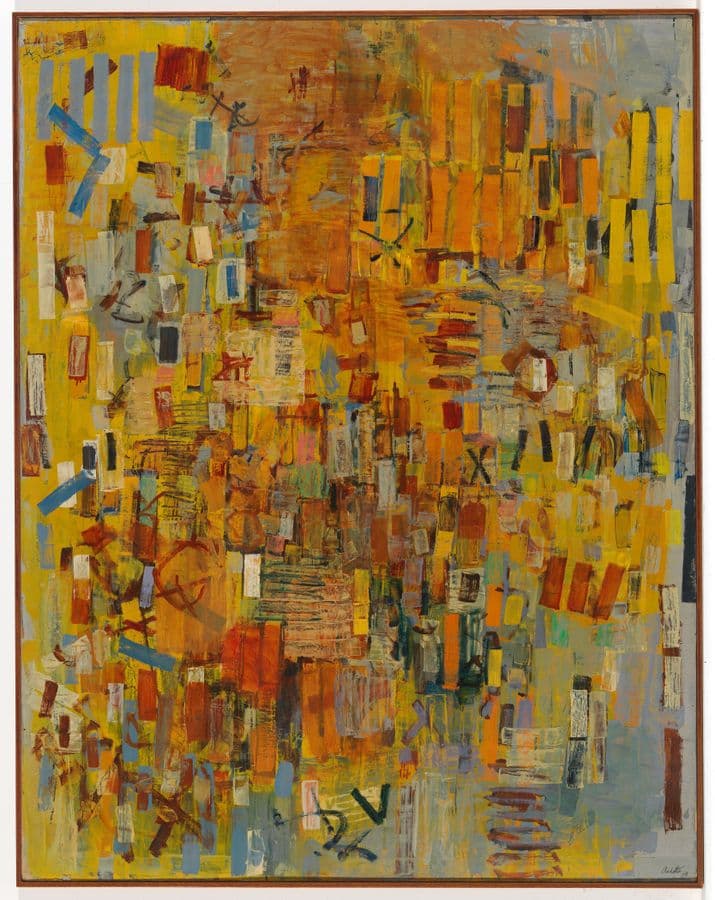 ---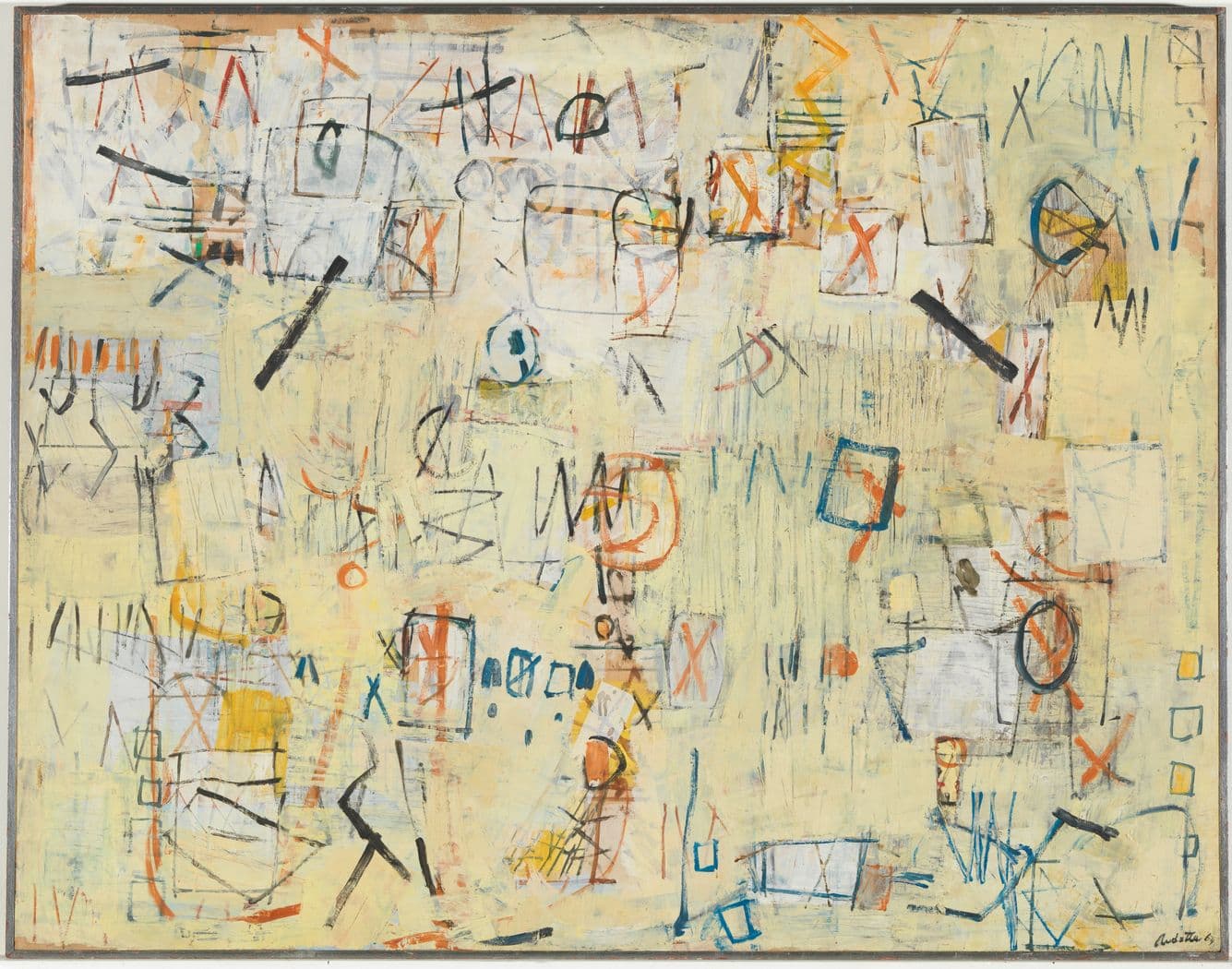 Yvonne Audette by Beckett Rozentals
Excerpted from the Know My Name publication (2020).
I was always experimenting with graffiti art. In Europe on flat ancient walls it was everywhere—in the tombs, in ancient caves.(1)
Painted in Milan in 1964, The long walk exemplifies Yvonne Audette's ongoing fascination with graffiti and calligraphic expression. Combining flat spaces with rhythmic lines and symbols, The long walk is a product of the artist's time living in Europe, and her interest in how the markings of Florentine murals transformed flat walls into powerful, dynamic planes.(2)
After studying painting at the Julian Ashton Art School in Sydney and modelling for photographers including Max Dupain and David Moore, Audette travelled to New York in 1952. There she enrolled at The Arts Students League of New York and, after being awarded a Fogg Scholarship in 1954, the National Academy of Design. She became involved with the Abstract Expressionists, meeting artists such as Willem de Kooning, Franz Kline and Robert Motherwell, as well as the art critic Clement Greenberg.(3) Audette's firsthand encounter with these artists compelled a reevaluation of her practice.(4) She embarked on a period of experimentation and worked with a Zen Buddhist painter who taught her calligraphy. Seeing the paintings of Bradley Walker Tomlin in the early 1950s also proved to be a turning point. Tomlin's use of palette knives to make structural marks of varying scale and movement was a practice Audette adopted in her own way of working.
Moving to Europe in 1955 she established a studio space in Florence and, later, a second studio in Milan, commuting between the two cities. Around 1958 she met Cy Twombly, an American artist living in Rome, who shared her curiosity in graffiti. The recording of time through these designs had a profound effect on Audette who later observed that:
… meeting with Twombly and seeing his work strengthened my own conviction about mark‑making. It was in 1957 in Rome when I started to look at ancient walls in the streets and catacombs. Layer upon layer of marks—white‑washed ones or worn with time, magical ghostly marks remaining.(5)
Audette's expatriate years demonstrate a distinctive and subtle approach to abstraction, rather than the adoption of action painting practised by many of her contemporaries. Feeling homesick, she moved back to Australia in 1966. The body of work she began on her return to Sydney announced a shift in both light and colour in contrast to her North American and European paintings. Reflecting on her work, Audette remarked that each 'stroke is done with great concentration and would be a step each time to self‑discovery. It has always been a meditative process'.(6)
(1) Yvonne Audette, lecture notes, Queensland Art Gallery, 22 April 1999.
(2) As above.
(3) For further reading on the artist's studies and move to the United States and Italy, see Julie Ewington, Yvonne Audette: Abstract paintings 1950s & 1960s, Queensland Art Gallery, Brisbane, 1999, and Christopher Heathcote, Yvonne Audette: Paintings and drawings 1949–2003, Macmillan, Melbourne, 2002.
(4) Audette, artist notes, National Gallery of Victoria artist files, 20 January 2002.
(5) Kirsty Grant interview with Audette in Yvonne Audette: Different directions: 1954–1966, National Gallery of Victoria, Melbourne, 2008.
(6) Audette, artist notes, National Gallery of Victoria.
Citation: Cite this excerpt as: Rozentals, Beckett. "Yvonne Audette" in N Bullock, K Cole, D Hart & E Pitt (eds), Know My Name, National Gallery of Australia, Canberra, 2020, pp 34–35.
Image caption: Yvonne Audette, The long walk, 1964, oil on plywood, 101.8 x 130.0 x 3.5 cm, National Gallery of Australia, Canberra, purchased 1993.
BECKETT ROZENTALS is Curator, Australian Painting, Sculpture and Decorative Arts to 1980, National Gallery of Victoria, Melbourne.