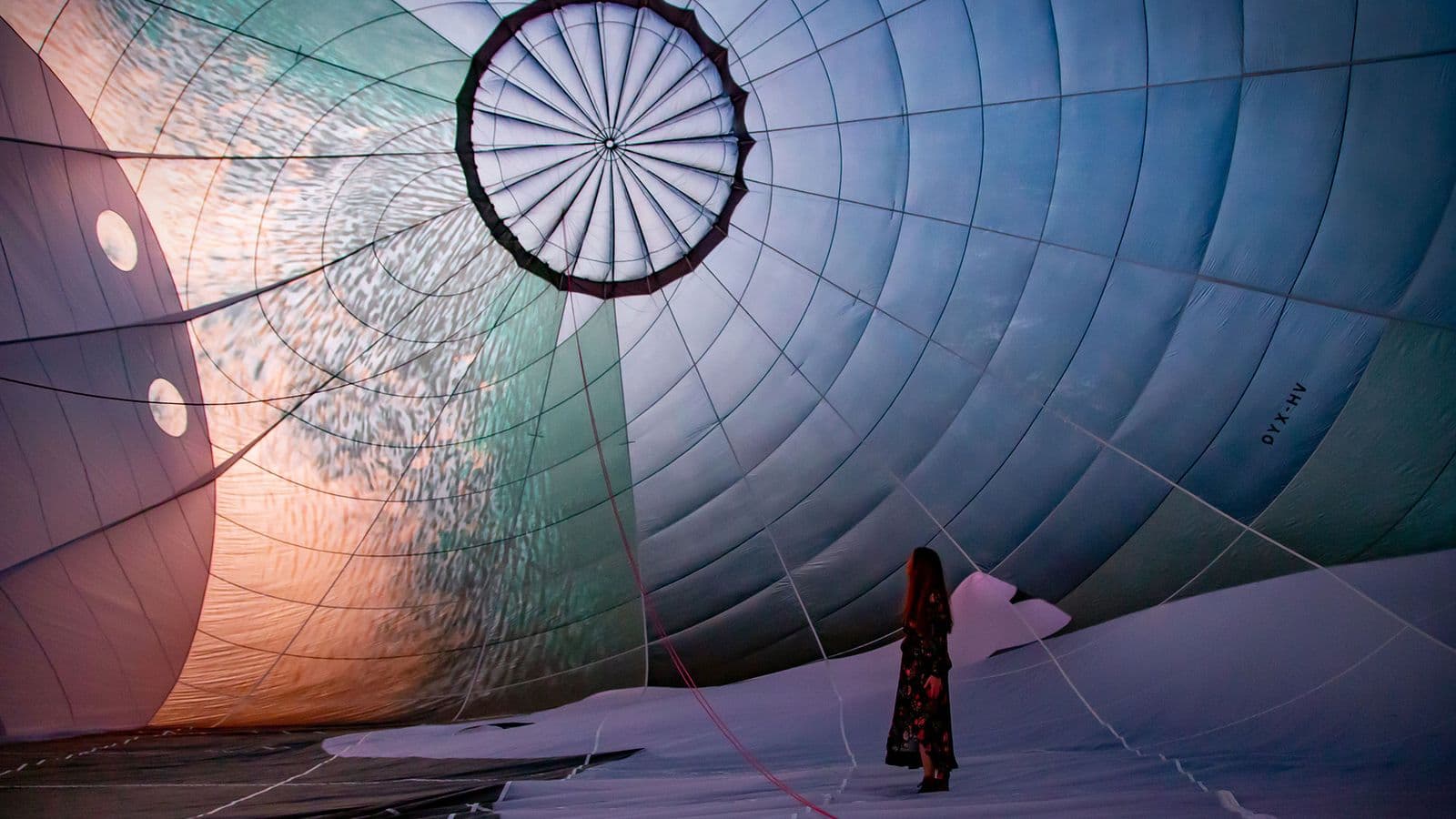 Skywhales: Every heart sings
Skywhale family flights
2021 – 2023
National tour
Weather permitting
Free with bookings
Patricia Piccinini's Skywhalepapa is a monumental sculpture in the form of a hot-air balloon and a new companion piece to Skywhale – together they form a skywhale family. Following three flight events in Canberra, the sculptures are embarking on a tour that will see them float across the skies of Australia as a National Gallery Touring Event throughout 2021 and 2022.
Centred around the two balloons, the Skywhales: Every heart sings project spans music and song to knitting and baking. The story of the skywhale family is told in Patricia Piccinini's new children's book Every Heart Sings, while an exhibition in the Tim Fairfax Learning Gallery brought together studio drawings, 3D models and an interview with the artist to look at the development the skywhales. An accompanying online learning resource for primary students look at concepts of love, care and responsibility in relation to ourselves, families, and other living beings. Musician Jess Green (AKA Pheno) has created a song, We are the Skywhales, keen knitters can make their own skywhales from a pattern developed by a local Canberra knitter, Bent Spoke Brewery in Canberra brewed the Skywhale Ale and Three Mills Bakery produced a limited edition skywhales croissant for the first Canberra flight.
Patricia Piccinini's Skywhales: Every heart sings is a Know My Name project and part of the Balnaves Contemporary Series.
Curators: Jaklyn Babington, formerly Senior Curator, Contemporary Art, and Elspeth Pitt, Curator, Australian Art
---
"Every heart sings is a project that talks about nature, family, evolution, care and wonder. They float into our lives to make us smile and think." – Patricia Piccinini
---
Dates & Venues
Following their debut flights together in Canberra in February, March and April 2021, Skywhale and Skywhalepapa are travelling nationally throughout 2021 and 2022 as a National Gallery of Australia Touring Event thanks to the Principal Patronage of the Naomi Milgrom Foundation, supported by Visions of Australia.
Canberra
7 February 2021
8 March 2021
3 April 2021
Touring dates
Murray Art Museum Albury, NSW
17 April 2021
Maitland Regional Art Gallery, NSW
15 January 2022
Walkway Gallery, Bordertown, SA
19 February 2022
Adelaide Festival, SA
12 March 2022
MPavilion Melbourne, VIC
19 March 2022
Hamilton Art Gallery, VIC
21 May 2022
Art Gallery of Ballarat, VIC
10 July 2022
Cairns Art Gallery, QLD
3 September 2022
Araluen Arts Centre, NT
24 September 2022
Tamworth Regional Gallery, NSW
6 May 2023
---
Flight dates are subject to change depending on weather conditions and COVID-19 related restrictions, please check venue websites for further information.
Follow the skywhales' journey throughout the tour with #WhereAreTheSkywhales on Twitter.
Patricia Piccinini: Skywhales – Tim Fairfax Learning Gallery
7 Mar 2020 – 31 May 2021
A sensory display in the Tim Fairfax Learning Gallery expands the ideas embodied in Skywhale and Skywhalepapa, including anthropomorphism (or the tendency to ascribe human characteristics and emotions to animals and objects), empathy and the changing definitions of family. Drawing together studio drawings and 3D models, along with an artist interview, the exhibition shows the development of the Skywhale family.
The Children's Book
Remember to look up. Among the amazing creatures that fill the sky, one day you might just see a skywhale too...
---
Every Heart Sings follows the journey of the skywhale family and talks about nature, family, evolution, care and wonder. Published by the National Gallery of Australia, it is Patricia Piccinini's first children's book.
Available from the National Gallery Art Store for RRP $29.95 (inc GST), learn more.
Colouring Sheets
Colour your own skywhales with these printable colouring sheets featuring illustrations from Every Heart Sings.
Learning Programs and Resources
The stories and journey of the skywhale family present opportunities for students and teachers to discuss, explore and learn about big ideas of sustainability, family, community, and imagination. Our free on-site program for early childhood through to secondary students centres around the Patricia Piccinini: Skywhales exhibition in the Tim Fairfax Learning Gallery, and features creative conversations and activities facilitated by our Artist Educators.
Primary and secondary students outside Canberra can learn about the skywhales online with the Skywhales Digital Excursion, a free 60-minute Zoom session with our Artist Educators promoting creative and critical thinking, and the online learning resource for primary students investigates ideas of sustainability, diversity, nurture, evolution, community and imagination.
See all programs available for early childhood, primary and secondary students.
The Song
Canberra musician Jess Green (AKA Pheno) collaborated with Patricia Piccinini in 2020 to compose the song We are the Skywhales for the Every heart sings project. Visit the We are the Skywhales song page to listen to the song and learn the lyrics, or sing your heart out the karaoke version of We are the Skywhales!
The Knitting Pattern
Local Canberra knitter Katy Griffis and artist Patricia Piccinini have collaborated on a Skywhale knitting pattern. Commissioned by Patricia, Katy developed the pattern, complete with details of knitting techniques, stitches and abbreviations, to create a 35cm Skywhale stuffed toy. Share your creation with us using #Skywhales!
The Skywhales Croissant Cone

Three Mills Bakery in collaboration with Patricia Piccinini created an exclusive Skywhale Croissant Cone to celebrate the debut skywhale family flight in Canberra. The cone is a nutritious purple wheat croissant filled with a honey milk custard and plum jam and topped with freeze-dried raspberry and puffed grain meringue. Inspired by the form, colour, and texture of the skywhales, the Skywhale Croissant Cone added a sensory dimension to the flight. 
National Tour Supporter
Visions of Australia Logo
Media Partner
ABC Radio Canberra
---