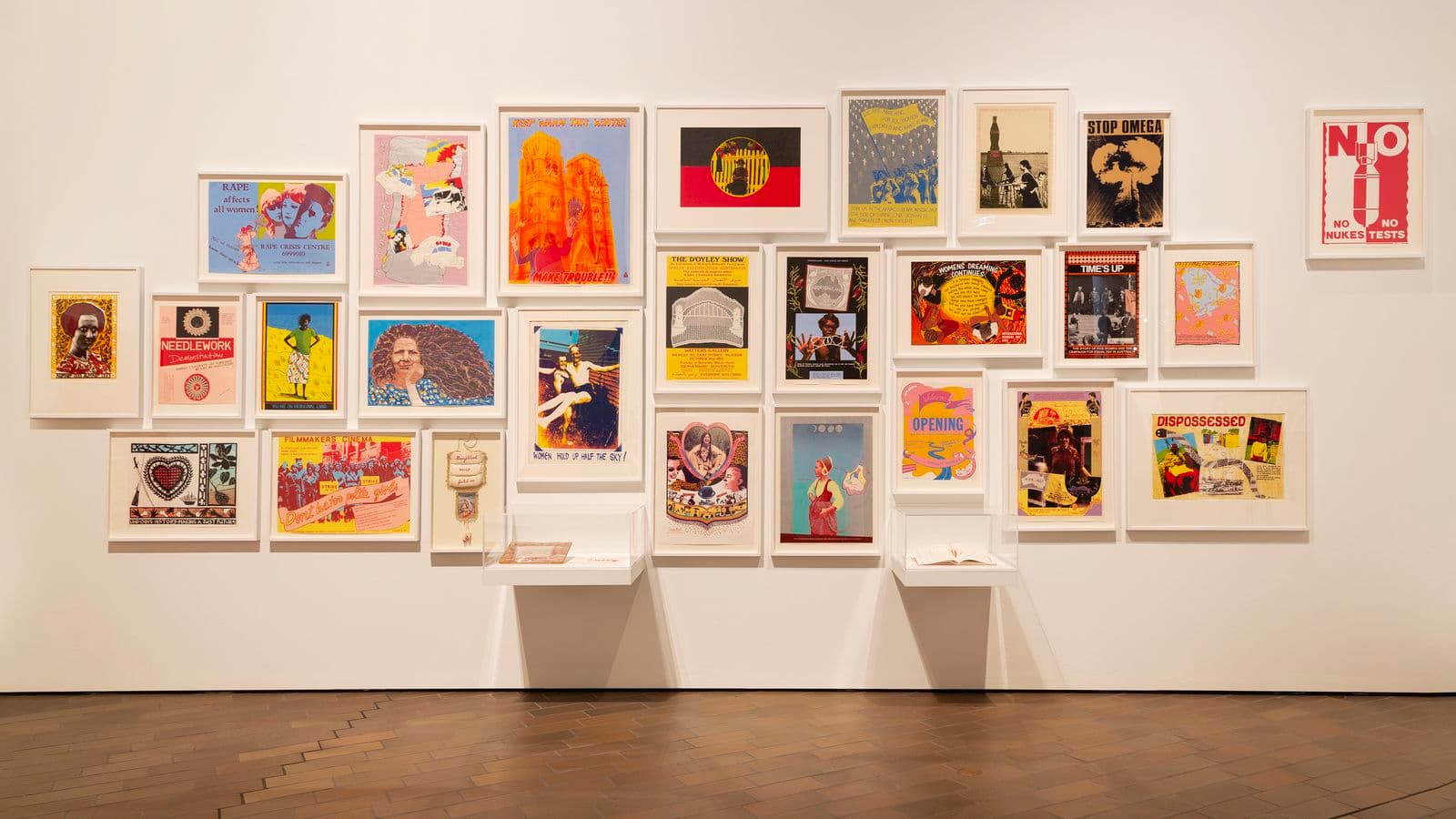 Collaboration and Care
Know My Name Australian Women Artists 1900 to Now
Secondary school learning resource
---
Responding
Look at Tower of babel 1989–2014, a collaborative work of art coordinated by Vivienne Binns. Many participants contributed to this work, including high profile artists, family members, friends and acquaintances. Considering the work overall, and looking at aspects of detail, how are diversity and inclusion represented in the visual format, content and intentions behind this collaborative project? Why do you think Vivienne Binns decided to title the work Tower of babel? The British Museum's Tower of Babel video provides some cultural and historical context.
Artist Marie McMahon was one of Vivienne Binns' collaborators on the Tower of babel. After an experience travelling through Tikilaru Country in the Tiwi Islands in 1980 with traditional custodian Piparo (Winnie Munkara), McMahon created her political poster You are on Aboriginal land. 1984. In 1996 Gamilaraay/Wailwan/Biripi artist r e a's work Resistance (flag) 1996 was hung publicly from a pole at Tobugule/Tobegully (Bennelong Point) near where the British Union Jack flag was first planted in Australian soil.[1] Compare and contrast McMahon's poster and r e a's flag. Discuss the visual conventions that each artist has used, the impact each work has on you, and their relevance today.
What does it mean to care? Share some examples of how care can be expressed and experienced on a personal level as well as in a broader societal context. Over time, Australian women artists have created works of art in response to a wide range of social issues, including women's rights, land rights, Indigenous rights, and immigration. What do you think these issues have in common? How can artists affect change through their work?
Making
Work with your class to coordinate a collaborative and inclusive art project. Select a theme and standard format that participants can personalise or transform, such as a shoebox or a post card. Agree upon any basic instructions needed, while allowing room for creative freedom. Your class might start by making their own contributions before inviting participation from the wider community. Brainstorm ideas for how to bring all the individual pieces together and discuss where the collaborative work could be displayed.
[1] Brenda L. Croft, 'Advance Australia fair', https://australianart.gov.au/exhibition/tactility/default.cfm?MnuID=6&Essay=2#_edn5