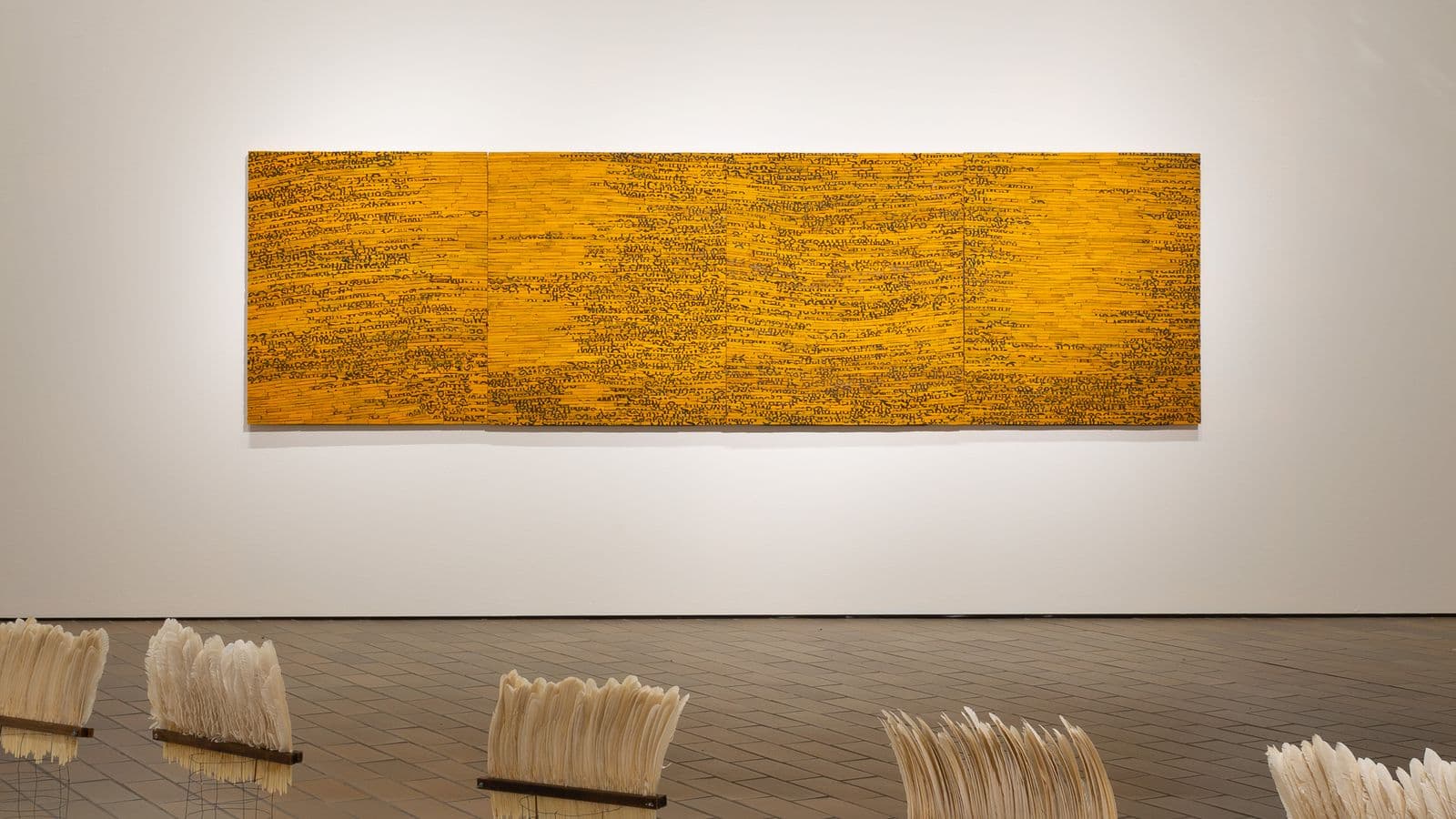 Connection with Country
Know My Name Australian Women Artists 1900 to Now
Secondary school learning resource
---
Responding
In an Indigenous context connection to Country is central to identity. What does Country mean to you? Anmatyerre artist Emily Kame Kngwarreye's ancestral Country Alhalkere (north of Alice Springs) was at the centre of her cultural life. What do you see when you look at Kngwarreye's painting Untitled (Alhalker) 1992 as a whole? What more do you see when you move closer or zoom in on the details? Emily described the subject of her art as '…whole lot, that's whole lot, Awelye (my Dreaming), Arlatyeye (pencil yam), Arkerrthe (mountain devil lizard), Ntange (grass seeds), Tingu (a Dream-time pup), Ankerre (emu), Intekwe (a favourite food of emus, a small plant), Atnwerele (green bean), and Kame (yam seed).'[1] How do you think Emily Kame Kngwarreye's connection to Country is reflected in her painting?
Rosalie Gascoigne was inspired by her local environment around Canberra. One of the places that captured her imagination was the flat, luminous environment of Lake George where she found hundreds of white feathers shed from the underside of the wings of black swans. Look at Gascoigne's sculptural floor-installation Feathered fence 1979. What materials and textures has Gascoigne used and how do they relate to each other? How does this work of art differ from the standard look and function of a fence? What feelings does it evoke? See the digital version of Rosalie Gascoigne: A catalogue raisonné by Martin Gascoigne to learn more about her life and art.
When installed in full, Bea Maddock's Terra Spiritus...with a darker shade of pale. 1993–98 runs over forty metres and depicts Tasmania's entire coastline. What does the experience of moving along this panoramic work and looking at the coast from the sea make you think about? Discuss Maddock's choice of materials, use of light and dark tones and incorporation of language. How does Bea Maddock acknowledge Country? See QAGOMA's Blog Experience the Journey: Bea Maddock's Terra Spiritus… for an insight into how this work was made.
Making
Take some time to connect with the natural environment in your local area. Go on a slow walk or simply sit under a special tree. Put away all distractions and allow yourself to be in the moment. Investigate the textures around you – how do they feel? What do you hear and smell? Try lying down and looking up at the sky, looking at the shadows on the ground, or looking closely at the veins of a leaf. Create a collage that conveys your experience and memories of being in the environment. Incorporate recycled or natural materials to achieve a variety of textures.
[1] Interview with Rodney Gooch, Soakage Bore, 1990, translated by Kathleen Petyarre. Quoted in Margo Neale (ed.) Emily Kame Kngwarreye: Alhalkere Paintings from Utopia, Queensland Art Gallery, Brisbane, 1998.