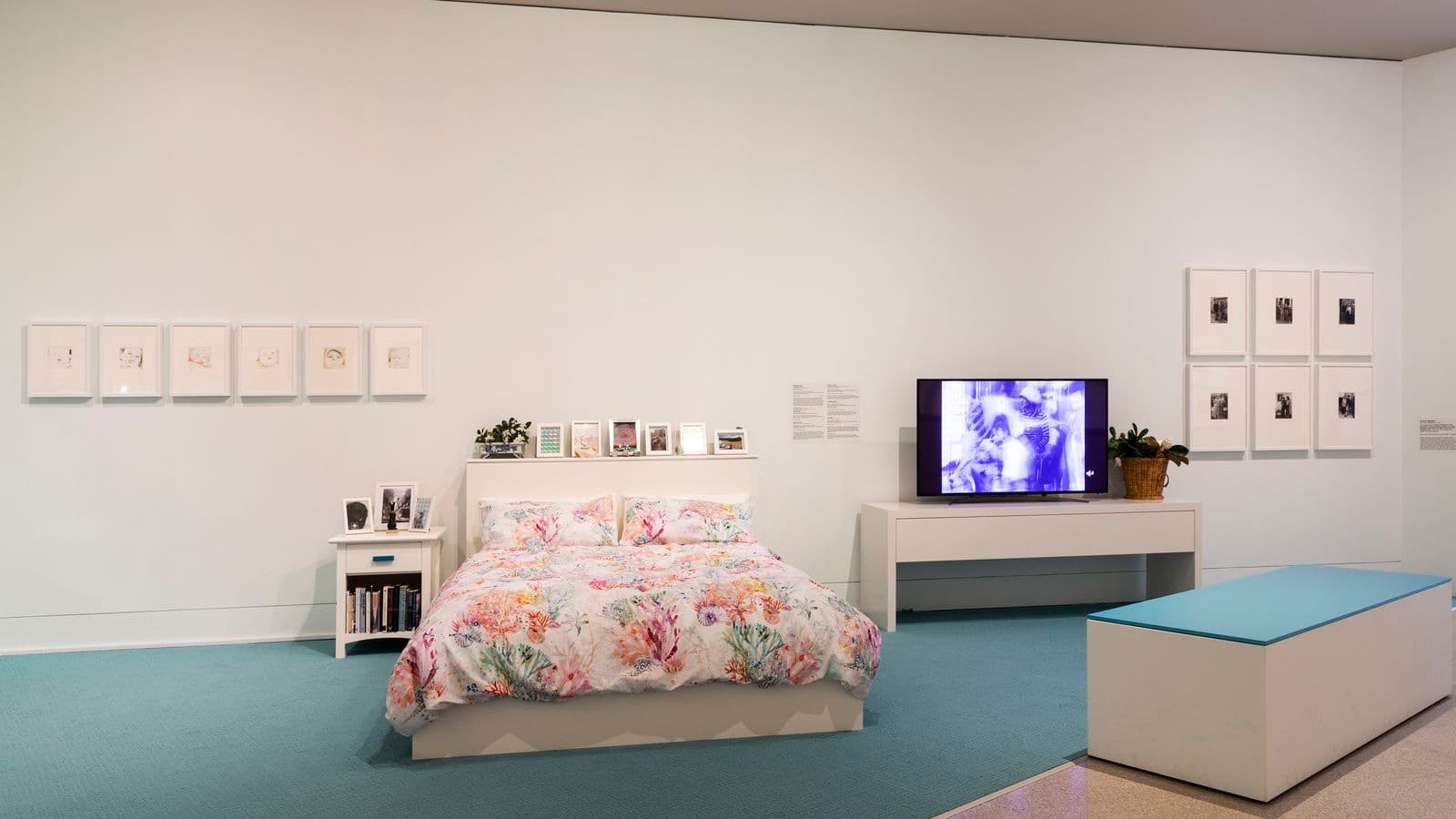 Life as Art
Know My Name Australian Women Artists 1900 to Now
Secondary school learning resource
---
Responding
Look closely at Ewa Pachucka's monumental work Landscape and bodies 1972. How would you describe the mood of this scene? What do you imagine the sculpture would feel like to touch? What sorts of people, objects or environments come to mind when you think about crochet?
Historically, in Western culture, artistic mediums such as oil painting and bronze sculpture were considered more important and valuable than 'feminine' or craft-based traditions like crochet. What do you think inspired Ewa Pachucka to give up painting and embrace crochet in the 1970s?
List all the elements that you can see in Ponch Hawkes' photograph Mrs Mimi Torsh and her daughter Dany 1976 from her series Our Mums and us. How would you describe the atmosphere in the room? In what ways might body language, facial expressions, clothing, or personal objects help to tell a story about Mimi and Dany's relationship? Discuss if and how you can relate to Ponch Hawkes' reflection that 'feminism helped me to understand that my mother was actually a woman too, and not just a mother'.[1]
Look at Micky Allan's photograph Babies IV [with dummy] 1976. Where is your eye drawn first and what visual conventions has the artist used to direct your focus? How does Allan's hand-colouring with pencil and watercolour affect the way that you feel about the subject of her photograph? Consider how Ponch Hawkes and Micky Allan's photographs compare to those you might find in a family album.
Making
Create a work of art that challenges expectations about materials and breaks down historical boundaries between art and craft. Take inspiration from Ewa Pachucka, who chose a subject traditionally associated with painting and reimagined it as a huge crocheted sculpture. Consider what materials and techniques you are drawn to and how they could be used differently. For example, you could use embroidery or cross-stitch to draw a streetscape.
[1] Stephen Zagala, 'Ponch Hawkes: works from the MGA Collection' , https://issuu.com/mgaphotography/docs/ponch_hawkes_works-from-the-mga-col, accessed 23/9/20.