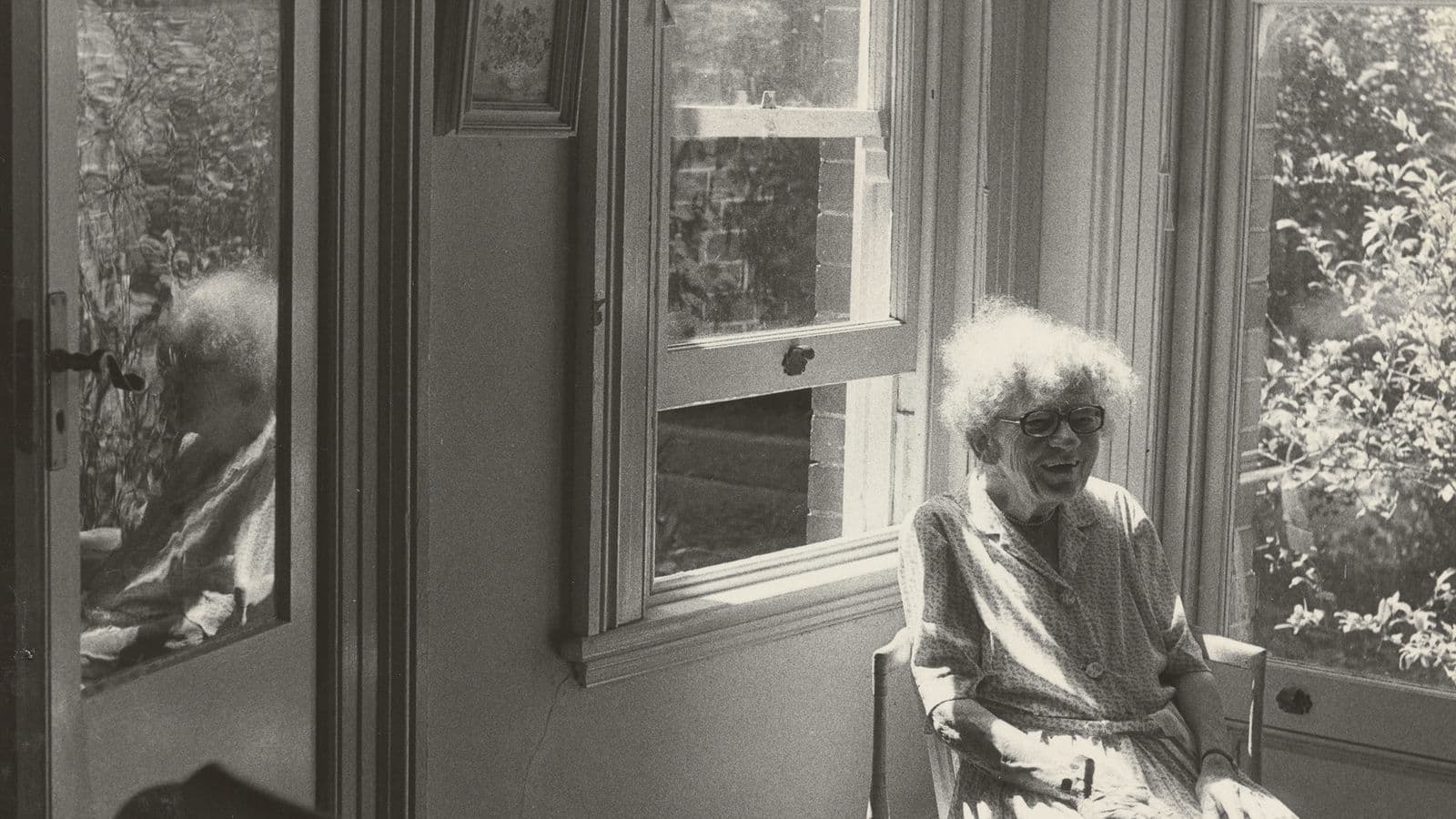 Lineages
Know My Name Australian Women Artists 1900 to Now
Secondary school learning resource
---
Responding
Grace Cossington Smith's The sock knitter 1915 is considered to be one of the first Post-Impressionist paintings created in Australia. This image has become a symbol for women's involvement in World War I, contrasting 'the usual narratives of masculine heroism in wartime by focusing instead on the quiet steady efforts of the woman at home.'[1] Examine Grace Cossington Smith's use of visual conventions, such as shape and colour. Why do you think this work of art was ground-breaking for its time, and why is it still relevant now?
In 2004, Ku Ku/Erub/Mer artist Destiny Deacon recreated Cossington Smith's iconic painting. Deacon's photograph, Fiona Hall, artist shows the artist Fiona Hall knitting one of her own works of art out of VHS video tape. Compare and contrast Deacon and Cossington Smith's work. What does Deacon's recreation add to the conversation about women in art? How does Deacon express the importance of legacy and lineage in her work?
Photographer Carol Jerrems' and writer Virginia Fraser's 1974 book, A book about Australian women, comprises 134 photographs and accompanying interviews – a collective portrait of women at the time. Compare Grace Cossington Smith's 1916 Study of a head: self-portrait and Carol Jerrems' 1974 portrait (Grace Cossington Smith, OBE). Discuss the similarities and differences that you can see. Why do you think Grace Cossington Smith was included in A book about Australian women?
Making
Using a zine template, create your own zine about the Australian women artists that inspire you. Some artists in the Know My Name: Australian Women Artists 1900 to Now exhibition are visually, conceptually or historically linked together, while others are connected by relationships and influences. Plan the design and layout of your zine to highlight the links between artists.
[1] The sock knitter, Grace Cossington Smith, Art Gallery of New South Wales, https://www.artgallery.nsw.gov.au/collection/works/OA18.1960/, accessed 24/8/20.