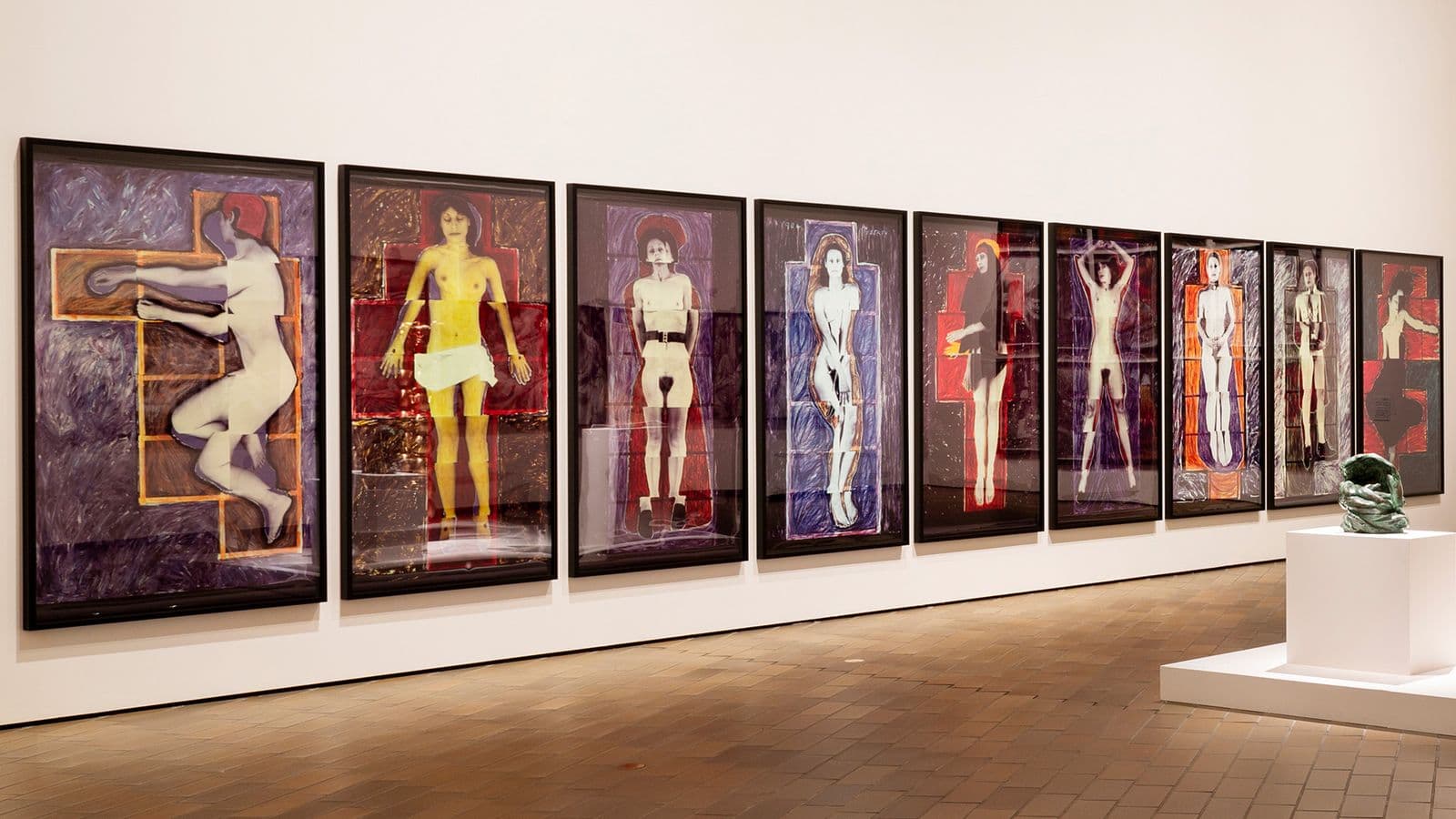 Performing Gender
Know My Name Australian Women Artists 1900 to Now
Secondary school learning resource
---
Responding
Look at Julie Rrap's works Persona and shadow: puberty and Persona and shadow: Virago from 1984. How would you describe these works to someone who hasn't seen them before? Compare and contrast Persona and shadow: puberty and Persona and shadow: Virago paying attention to the emotions and attitudes expressed through body language.
Julie Rrap often uses her own body in performances and photographic works. In her Persona and shadow series, Rrap acts out images of female nudes from art history. Compare and contrast Rrap's Persona and shadow: puberty with Edvard Munch's painting Puberty (National Museum of Norway). Discuss the roles of artist and model in relation to Rrap's and Munch's works. What do you think Rrap hoped to achieve by appropriating Munch's painting and placing herself as the figure?
Tracey Moffatt is a photographer and filmmaker whose work draws upon the visual vocabulary of television and movies that she watched growing up. Moffatt's work Something more #4 1989 is a scene from her staged photo drama Something more, comprising 6 colour photographs and 3 black and white photographs. Based on what you can see in Something more #4, what do you imagine the storyline for this fictional narrative might be? Why do you think the artist decided to depict certain moments in black and white?
Making
Tracey Moffatt uses her camera to create her own version of reality: 'I can use fiction to comment on my own personal history or serious issues of social history or reflect on what is going on in the current political landscape.'[1] Create your own staged photographic series inspired by the work of Julie Rrap and Tracey Moffatt. You might insert yourself into a historical image or invent a fictional narrative that comments on a social issue.
[1] Tracey Moffatt interview with Natalie King, 'I can see a shadow thinking', Art Monthly Australasia, May 2017, issue 298, p.36