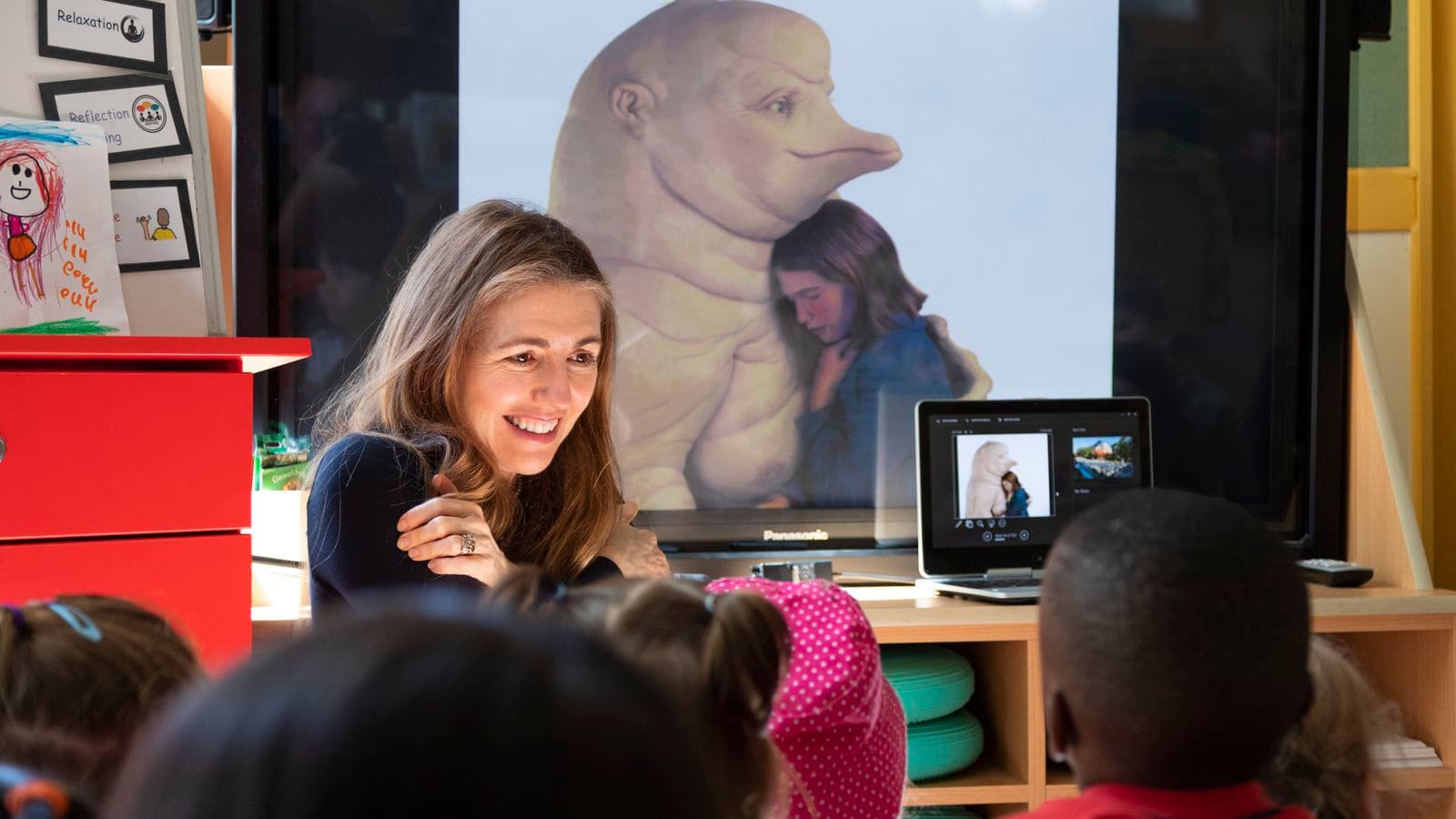 Skywhales Learning Resources
---
Overview
Meet the artist
I grew up in Canberra and I first realised I wanted to be an artist when I visited the NGA as a teenager. I now live and work in Melbourne and, as an artist, I am interested in what it means to be alive in the present day. I hope to create a world somewhere between the one we know and one that is almost upon us, and to focus on the emotional lives of the new creatures that might emerge. I am interested in our relationships with them and with nature. I don't consider myself an expert and I have more questions than answers. I work with a studio of people to help make my work, starting with my drawings and ending up with a sculpture, or a video or even a hot air balloon.
Skywhalepapa, 2020, is a new work that continues my relationship with the people of Canberra that began with Skywhale in 2013. Together they form a skywhale family that will take to the air over Canberra and go on to explore the country and the world. Commissioned as part of the Balnaves Contemporary Series, Every Heart Sings is a project that talks about nature, family, evolution, care and wonder. They float into our lives to make us smile and think. There is also an exhibition in the Tim Fairfax Learning Gallery and Studio that follows their journey.
I am excited to see what students think, say and create as a result of the time they spend with this resource. For me the artwork is just the beginning of the journey, the destination is the conversation that happens when people see them.
Notes for teachers
Skywhales: Every heart sings learning resource is designed to encourage primary school students to explore concepts of love, care and responsibility in relation to ourselves, families, the wider world and other living beings. It provides rich scope to investigate family, community and interspecies relationships with relevance to the Sustainability cross-curriculum priority.
The six key themes include Sustainability, Diversity, Nurture, Evolution, Community and Imagination. In line with the Visual Arts curriculum strands, student engagement with each theme promotes critical and creative thinking and inspires active learning through making, writing, discussing and reflecting.
Teachers may adapt or extend this resource for use with secondary students, recognising learning opportunities across the Arts, the Sciences: biodiversity, sustainability and ethics, and the Social Sciences: community structure, rights and responsibilities of individuals and communities, and human impact on the wider environment.
The NGA values the feedback of students and teachers on the resources we produce. To share student work or your feedback please email learning@nga.gov.au.

Digital Excursions
Patricia Piccinini's Skywhales
When: Tuesday, Wednesday and Thursday
Available for: Year 3-6 students and Year 7-12 students
Live connection accompanied by pre- and post-session activities and resources
Imagine flying in the sky! With our knowledgeable artist educators share stories about Patricia Piccinini's Skywhale family – sculptures in the form of hot air balloons – in an interactive and image-rich session. Program provides links to the learning areas of the Arts, Science, Health and the cross-curriculum priority of Sustainability.
Find out how to book your program here.