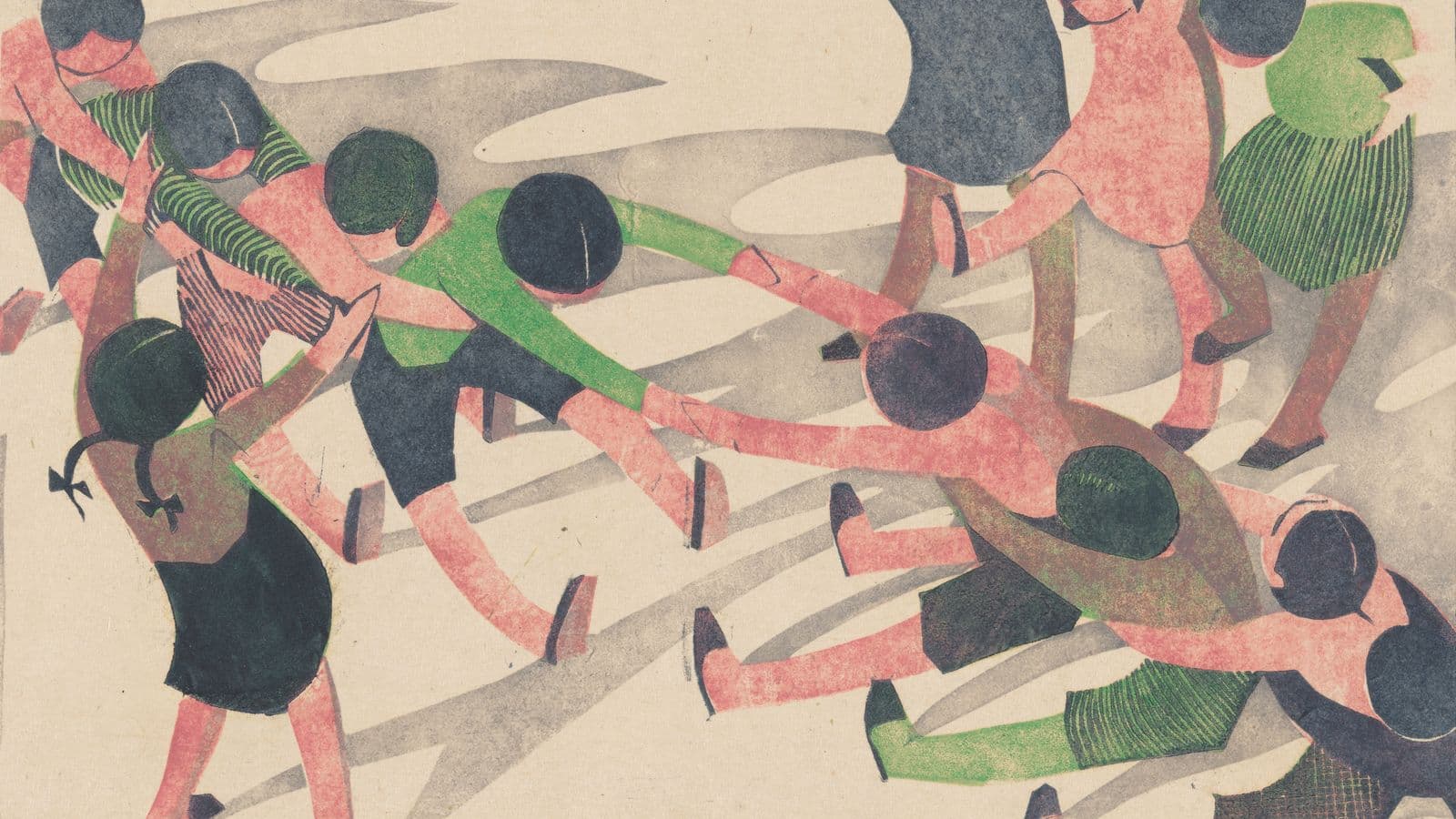 About the artists
Spowers & Syme: Primary School Learning Resource
---
Introduction
Ethel Spowers and Eveline Syme were lifelong friends who inspired and encouraged each another in their artistic pursuits. They were pioneers in printmaking and modern art and their careers reflected the changing circumstances of women after World War 1. Spowers and Syme were among a core group of progressive Australian artists who travelled widely and studied with avant-garde artists. They were at the forefront of Modernism in Australia.
Both women grew up in Melbourne in very comfortable circumstances. Their fathers ran rival newspapers, so their families had many common interests. Spowers' father was involved with The Argus and The Australasian, while Syme's father helped run The Age. Both families were dedicated to many causes and generous in their efforts to help others. They also supported war efforts and the Red Cross.
Spowers was the second child of six siblings and her home life was filled with rich and varied creative experiences. Her family lived in a large home in inner Melbourne called Toorak House, a graceful mansion with large gardens to play in and explore. Syme was also one of six siblings and lived nearby in a large house in St Kilda called Rotherfield.
Spowers and Syme studied and travelled together in Australia and overseas. Both were inspired by the artist Claude Flight who taught them at the Grosvenor School in London. He encouraged his students to capture the joy of movement through colour and rhythmic line and the new method of colour linocut printing. Spowers and Syme became strong supporters of being brave as artists, prepared to experiment and promote new ways of doing and seeing.
Throughout their lives the two friends advocated for important causes. Spowers' focus was always on the welfare of children through her involvement in kindergarten education and volunteering at the local children's hospital. Syme was particularly dedicated to the advancement of women's university education.
Look
One of the ways of keeping in touch with friends, long before social media, was to make and send cards for special celebrations. We still do it today. Look at the decorative nature of Spowers' Greeting card: A happy new year c 1926 below. Text is used as a greeting but is also part of the composition. What do you notice about the style of the lettering?
What do you think the people on this greeting card are doing? What might their clothing and body language tell us about them?
Think
Have you received a special card that you have treasured and kept? Why did you keep it and what made it special?
What kind of card have you enjoyed receiving and why? It might be a birthday card or a card from someone important like a grandparent just to keep in touch.
Create
Make a card for someone in your life who you are fond of. Find some cardboard and create an image with a greeting in decorative print. Have fun with the lettering. Experiment with the shape and size of each letter or word to make it as decorative as possible.
Spowers also wrote letters to her friends describing what was happening in her daily life. Back then, there would have been two mail deliveries a day as it was the main form of communication. Spowers wrote a funny letter describing her teachers and all the dramas of the day at art school to entertain her good friend Frankie. Write your own letter to an absent friend describing your day and what is happening in your life.