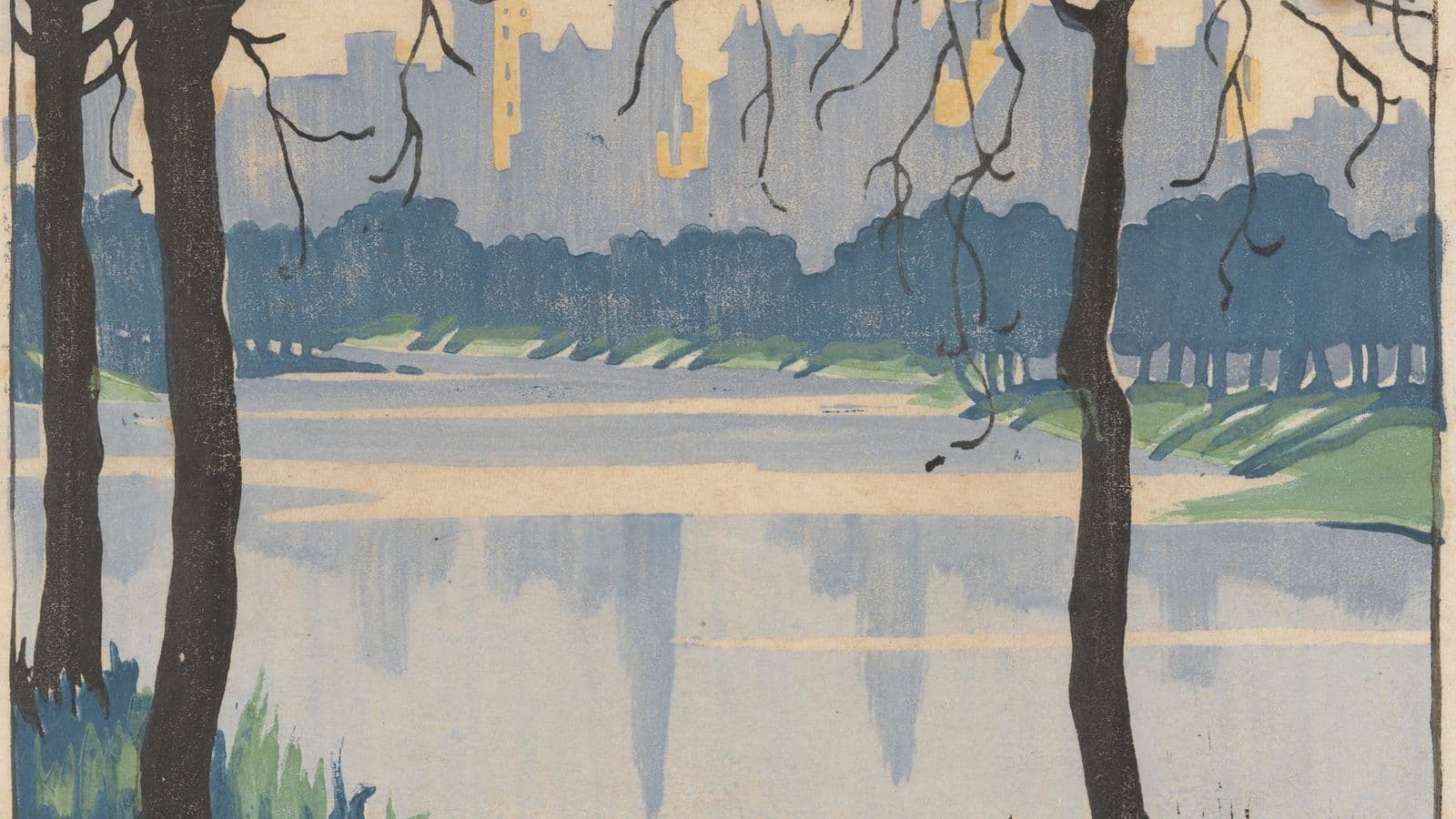 Landscapes
Spowers & Syme: Primary School Learning Resource
---
Introduction
A sense of place is important to all of us. For Spowers and Syme, Melbourne (Naarm) was their home and held a special place in their hearts. In the 1920s, Melbourne was an important city. Lively and busy, it was also very accessible to the river and beautiful landmarks. The Yarra River (Birrarung) winding gently through the city and the industrial landscape at Yallourn were worthy subjects to focus on. Spowers' earlier work Melbourne from the river c 1924 (below) was created looking at the river and is framed by spindly trees.
However, Spowers' The works, Yallourn 1933, which is a power station some distance from Melbourne city, and Symes' Bulla Bridge 1934 (following) both capture the industrial, engineered landscapes and create a sense of movement and activity.
Look
Look at Spowers' Melbourne from the river and notice the colours she has used. Imagine sitting on the bank of the Yarra River—what would you see and hear? Look at the water and the delicate outlines of the reflection of the city.
Compare Spowers' woodcut Melbourne from the river to her linocut The works, Yallourn. There is stillness as opposed to movement. Note the horizontal and vertical lines that race across the image.
Think 
Can you think of a landscape that is important to you? Reflect on the colours and textures of the vegetation or the structures and buildings of your favourite place.
Create
Create a landscape of your special place or an imaginary landscape with collage materials. Write a sentence explaining why this place is special to you.
Look
Syme's Bulla Bridge is a small image of an impressive bridge over a waterway known as Deep Creek outside Melbourne. The bridge was made from bluestone and built a long time ago in 1869. The image was carved into wood and then printed onto paper. Notice how the texture is created and the angles and arches are made. Where do you think the artist was positioned when she created this landscape?
Think
Think about how light and shade give solidity to Syme's Bulla Bridge. Explore different types of bridge structures and notice how different materials and technology influence the structure of the built form.
Create
Using white pencil on black paper, create a landscape with a built feature like a bridge. Incorporate varying degrees of light and shade by pressing harder or softer with your pencil. Experiment with how line can be used to create interesting patterns and textures.