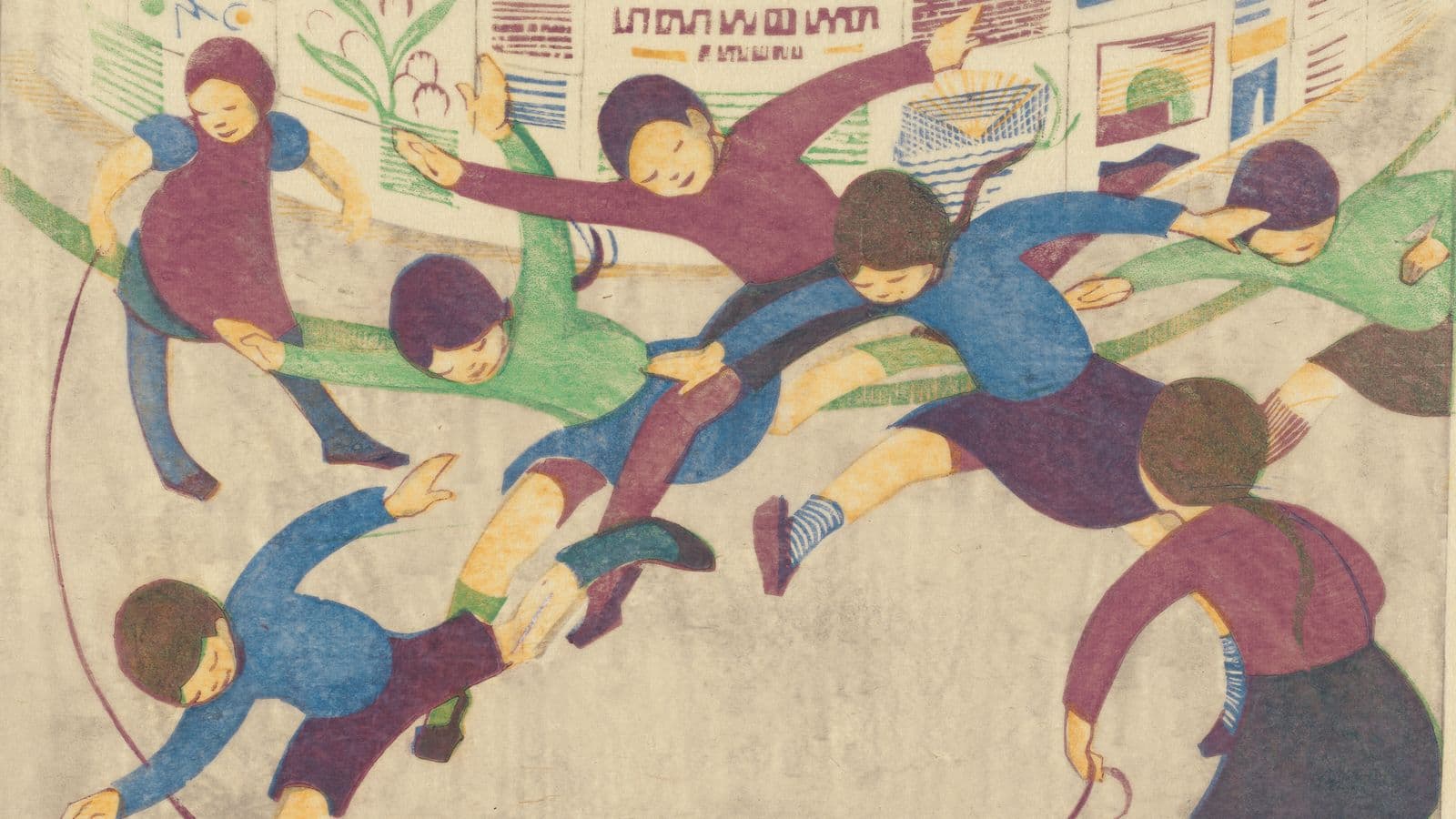 Play and Games
Spowers & Syme: Primary School Learning Resource
---
Introduction
Ethel Spowers and Eveline Syme captured the joy and dynamism of movement in sport and play. Through colour, pattern and intersecting lines we see the speed and energy of children skipping, running, reaching to catch a ball and the pace of skaters circling the rink in the icy coldness. Who could forget the wonderful feeling of swinging as high as possible, looking down at the world?
Spowers' images of children playing are reminiscent of her own childhood and have a whimsical charm about them. They capture the sense of wonder and curiosity seen in young children.
Linoleum (lino) was a floor covering that was invented in 1860. Imaginative artists discovered how effective it was for creating prints. With the right tools, it was easy to carve an image into it and make prints using coloured inks on the exposed surface.
Look
In Spowers' Fox and geese the children, with arms and legs outstretched, are being called in as the skipping rope is turned and a rhyme is sung. The cue to jump in will be part of the rhyme. How would it feel to be waiting for the right moment?
What are the visual elements that Spowers has used to create a sense of energy?
Think 
Can you think of a rhyme that would work with the rhythm of skipping? Can you recite it and clap to its rhythm?
How have children's games changed over time? What games, as found in the work of Spowers and Syme from the 1930s, are the same now, more than 100 years later?
Create
Make a frozen tableau similar to Spowers' image Fox and geese with your classmates. Take a photo and have some fun with collage materials to create a work of art that captures the sense of rhythm and speed of skipping.
Look
Look at the children on the swings in Spowers' Swings 1932 (above). Some are standing while others are sitting. How high and how fast do you think they are going? What would it feel like to be one of those figures? How has Spowers created the effect of sunlight and shadows on the figures?
Think
Think about the way line and colour in Swings have been used to create movement and the excitement of being up high. Count the figures and wonder—is there going to be a crash? So many children are crowded together in the space. Do you think the artist has created a feeling of daring or wonderful freedom?
Create 
Is there a sport or game you play that gives you a thrill? Use line and a limited range of colours in a drawing to focus on the energy of the activity and express how you feel when you are playing or doing it.
Look
Syme's Beginners' class 1934 depicts skiers on a snowy slope. Look at the way she has used colour to draw our eyes into the image. Is there a colour that stands out to you?
Think
Skiing, in the beginning, is hard work. Note the two figures at the bottom of the slope trudging up to the top. Have you ever tried a new sport that was challenging? How did you feel?
Create
Create an image of a skier using cardboard and scissors. Think about how the body posture communicates the anticipation of the skier, knees bent and stocks in position, ready to fly down the slope. Cut out your figure and paste it onto a snowy landscape with others from your class to create a sense of busy slopes.