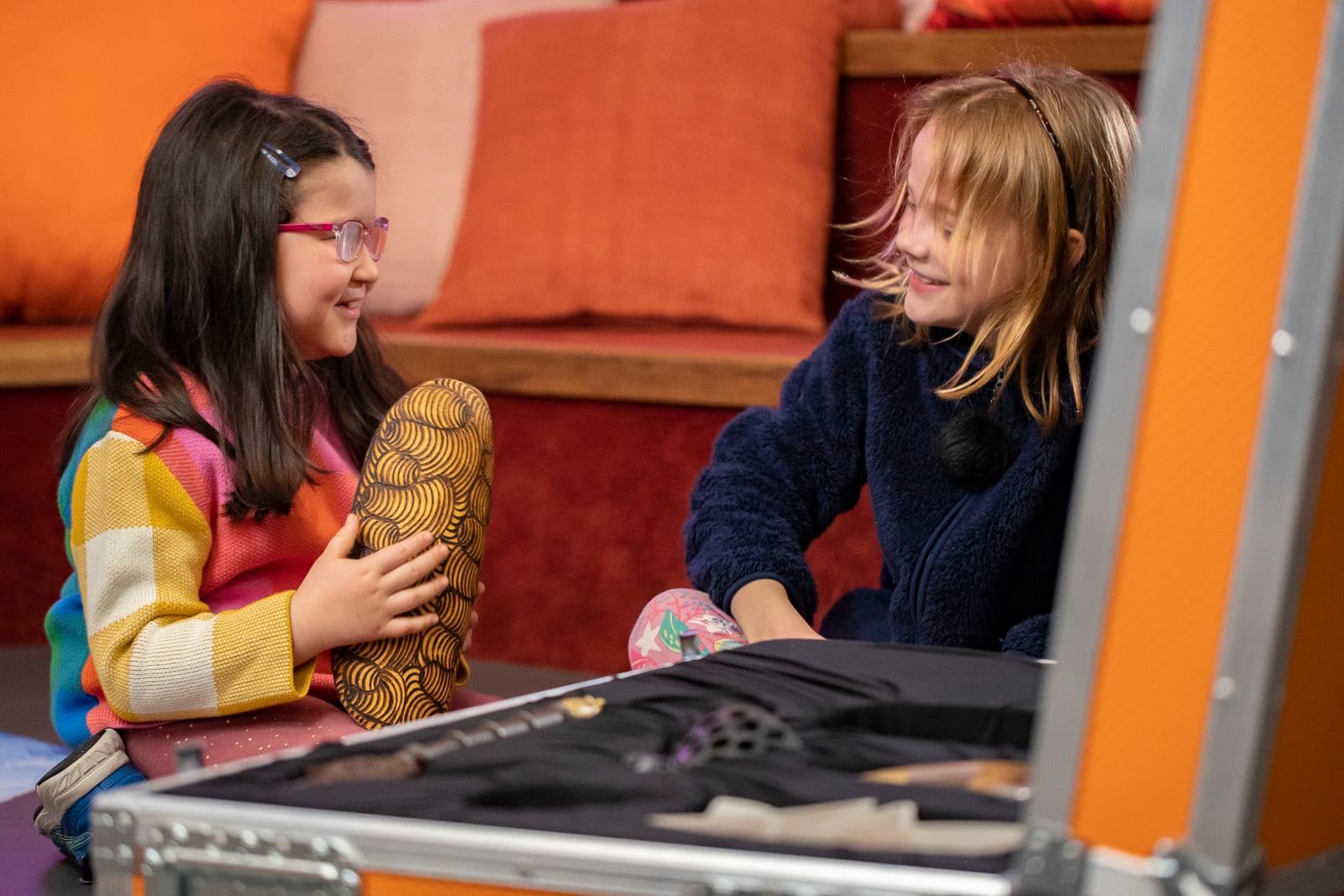 The Art Cases program is a core part of the National Gallery's Touring Exhibitions program. The program comprises five art-filled cases that travel to schools, libraries, community centres, arts centres, galleries and aged care homes, where the works are discovered and handled by adults and children of all ages for both exhibition and hands-on programs such as art making and story-telling.
In 1988 Jim and Elaine Wolfensohn generously donated funds to purchase interesting and durable works to tour to metropolitan, regional, and remote areas of Australia. Then known as the Jim and Elaine Wolfensohn Gift, two cases began touring in 1990 and were joined by a third case in 2004.
After three decades of touring, the program was expanded in 2021 thanks to the generous support of the Neilson Foundation. Five cases now tour Australia with revised artworks and themes inspiring creativity, inclusivity and learning.
The five cases and their themes are:
Host venues have used the cases for a range of art related activities including storytelling, artmaking, school visits, mobile library programs, museum and gallery professional development, Art and Dementia groups, and tactile art experiences for vision impaired visitors.
The program is accompanied by a printed learning resource which has been designed to support object-based learning, encouraging participants to actively explore works of art by looking, handling and making.
Contact
Are you interested in hosting an Art Case in your local community? The program is free of charge and freight and insurance are arranged by the Gallery.
Please contact touringprogram@nga.gov.au.
The National Gallery's Art Cases are generously supported by the Neilson Foundation with grateful acknowledgement of founding patrons Elaine and Jim Wolfensohn.
Neilson Foundation
Touring Dates 2023
13 Feb – 10 Mar: Tamworth Regional Gallery, NSW
24 Apr – 26 May: Telopea Park School, ACT
12 Jun – 7 Jul: Devonport Library, Tas
24 Jul – 18 Aug: Redland Art Gallery, Qld
4 Sep – 29 Sep: New England Regional Art Museum, NSW
16 Oct – 10 Nov: Penrith Regional Gallery, NSW
13 Feb – 10 Mar: Tumut Library, NSW
24 Apr – 26 May: Telopea Park School, ACT
12 Jun – 22 Jul: Ngununggula, NSW
7 Aug – 22 Sep: Korumburra & Leongatha Libraries, Vic
9 Oct – 3 Nov: Devonport Regional Gallery, Tas
20 Nov – 15 Dec: Snowy Monaro Council (Cooma Library, Bombala Library & Jindabyne Library), NSW
Until 1 February: Museum and Art Gallery Northern Territory, NT
16 Feb – 17 Mar: Libraries ACT (Civic Library), ACT
24 Apr – 26 May: Telopea Park School, ACT
12 Jun – 16 Jul: Mandurah Community Museum, WA
31 Jul - 25 Aug: Gippsland Art Gallery, Vic
11 Sep - 6 Oct: Friends of the Ballarat Botanical Gardens, Vic
25 Oct - 14 Nov: Barossa Regional Gallery, SA
Red Case: Bodies
The Bodies Art Case brings together works that explore the lived experience of biology (flesh and blood) and how our bodies influence memory, space and form. Several of the artworks take the form of internal organs – heart, brain, digestive system – encouraging us to pay closer attention to what is going on inside our bodies, and how these organs influence our experience of the world. Other artworks consider how bodies relate to the external forces, through their ability to manipulate space or how they are shaped in relation to larger social structures. The works in this case encourage us to think about the physical composition of our bodies and how they shape our experience of the world.
Artists & works
Lionel Bawden
Brain coral 2003
Richard Byrnes
Digestion haiku 1993
Karla Dickens (Wiradjuri people)
Block and tackle 2020
Matt Harding
Sacred heart 1999
Emily O'Brien
Hair chairs 2004
Neil Roberts
The space inside my fist 1995
Copper Case: Country
The Country Art Case brings together First Nation works showcasing Aboriginal and Torres Strait Islander perspectives, ideas and stories about land and Country. Many of the works in this case are made by using natural material, sometimes sourced via cultural collection. Knowing how material is collected from the environment can give an insight into the relationship Aboriginal and Torres Strait Islander people have with the natural surroundings. This case also looks at the shared histories of First Nation and non-First Nation peoples since colonisation, and the adaptive nature of First Nations peoples when looking after and utilising their land and Country. First Nations ideas and philosophies provide a holistic view of land and Country, connecting Aboriginal and Torres Strait Islander peoples through place, spirit, culture, practice and ceremony.
Artists & works
Penny Evans (K/Gamilaroi people)
Burnt banksia 2020
Carol McGregor (Wathaurung people)
Gather bags ll 2018
Jimmy John Thaiday (Erub Mer people)
Kebi nam 2018
Aubrey Tigan (Bardi/Djawi peoples)
Riji 2009
James Tylor (Kaurna people)
Kaurna wirri katha 2020
Lena Yarinkura (Rembarrnga/Kune peoples)
Bush mice 2002
Blue Case: Earth
The Earth Art Case brings together artists who reflect on the importance of the natural world and our place within it. From the early beginnings, the natural world has been a source of inspiration for artists to articulate the different yet profound ways that cultures connect and respond to the environment. The works in this case span long-standing and contemporary art practices, demonstrating a variety of spiritual, cultural and artistic connections to nature. From the biological to the geological, the microscopic to the visible, the artworks ask us to consider our responsibilities to protect and preserve the intricate and extraordinary diversity of the natural world.
Artists & works
Elisa Jane and Sonja Carmichael (Quandamooka people)
Dabiyil wagari (water carrying) vessels 2020
Megan Cope (Quandamooka people)
Pieces from RE FORMATION 2017
John Edgar
Light stone and Red eye 1993
John Prince Siddon (Walmajarri people)
Purlkartu (spider) 2020
Unknown artist
Marka mask late 19th – early 20th century
Angela Valamanesh
from Miscellaneous items G 2006 (re-made 2020)
Yellow Case: Past, Present and Future
The Past, Present and Future Art Case brings together works that reflect on or are invested with the passing of time. These forms could be time itself, the human experience of history, or the influence of events in determining the possible future. Exploring the past, present and future in insightful ways, the works in this case allow audiences to engage with specific moments in history and speculative futures. From futuristic creatures to bronze sculptures of worship, the Past, Present and Future case asks us to consider our personal relationship with history and the future we are making together.
Artists & works
Emily Beckley (Meriam Mer/Kala Lagaw Ya peoples)
Sabagorar susueri (bridal necklace) 2019
Ian Howard
The arms of the people 1990
Carol McGregor (Wathaurung people)
Cornerstone 2011–18
Patricia Piccinini
The offering 2009
Unknown artist
Seated Ganesha 9th–10th century
David Wallace (Eastern Arrernte people)
Stockman and horse 1997
Orange Case: Form and Function
The Form and Function Art Case brings together works that blur the line between art and design. Each object can be used for everyday tasks - serving tea, giving light, or even grinding pepper - but has been created with great care and attention to detail that goes beyond the simply functional. Combining historical objects with contemporary works, this case asks us to consider the relationship between an object's use and its form. How does an object's decoration, shape or method of creation change the way we engage with it or its meaning to the user? From the ceremonial to the personal, these objects illustrate the complex systems and rituals that humans have developed over centuries and suggest new ways of relating to one another.
Artists & works
Lulu Cooley (Pitjanjatjara people)
Wira (collecting bowl) 2018
Cinnamon Lee
Palmlight #2 2000
Karl Lawrence Millard
Lizard grinder 2000
Shireen Taweel
Noor 2016
Unknown artist
Ankus [elephant goad] late 19th – early 20th century